FREE SHIPPING & RETURNS WORLDWIDE!

DUTIES & TAXES COVERED WORLDWIDE
Find your nearest boutique
Our beautiful GLbride of the week is: Aviva Skall. She wore the GALA 604 wedding gown from the GALA Collection No. I and truly looked magnificent.
It was the last day of a business trip in Las Vegas when Aviva decided to meet up with some girlfriends who happened to be at the Wet Republic Pool Party. There, she ran into an old friend from high school who mentioned he was there celebrating his friend Yoni's brother-in-law's bachelor party. Her friend also added that this Yoni was six feet tall and had a 6 pack (sounds great, right?). Aviva returned to her friends and later saw a group of boys hanging out in the pool. She instantly spotted the obvious "Yoni" of the group and boldly jumped into the pool to introduce herself. The rest was history!
Aviva and Yoni quickly discovered that they both shared a love for the beach! Over the next few years they visited as many beaches as they could, and on each stop, Yoni would always write "I love Aviva" in the sand.  Shortly after celebrating their five year anniversary, the couple took a trip to Sayulita, Mexico to visit some friends who own a surf shop in the area. While their friends manned the shop, Aviva and Yoni decided to take a romantic walk on the beach as the sun began to set. Along the way, Yoni stopped and proclaimed he hadn't yet written his usual message in the sand! He bent down to start writing, but from the first letter, a "W", Aviva knew this message would be different. After getting as far as "Will you marry" the answer was an obvious YES!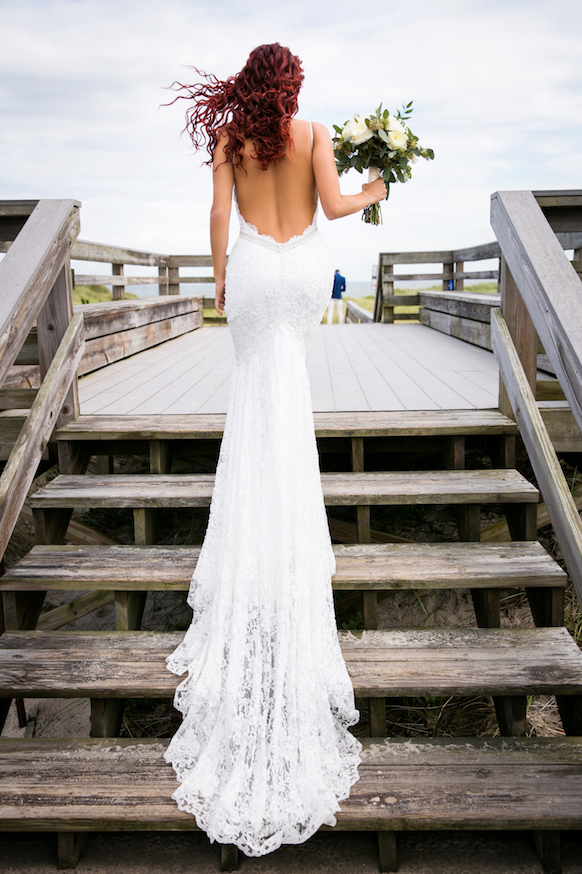 After her engagement to the man of her dreams, Aviva knew she needed her dress to be perfect. She always knew she wanted a Galia Lahav dress and was thrilled when a Trunk Show came to Bridal Reflections in NYC. She went with her mom, future mother-in-law, matron of honor/future sister in law and three best friends! Despite being advised against having too many opinions while dress shopping, Aviva felt that having everyone together made the experience so much more special! Seeing both moms together chatting and discussing the different dresses was such a special moment and having them both approve the super sexy dress made her feel confident with her decision!
Because of their love for the beach, Aviva and Yoni were determined to be married on one!  Aviva also wanted her 90-year-old Grandma Pearl to be the flower girl, so a destination wedding was out of the question. The couple settled on Westhampton beach over labor day weekend and turned it into a mini destination wedding.  They hosted a trip to their favorite vineyard, Wolffer Estate, for a Live Music Sunset Series, went out for dinner and drinks in Westhampton Beach, and relaxed with their friends and family at their oceanfront resort!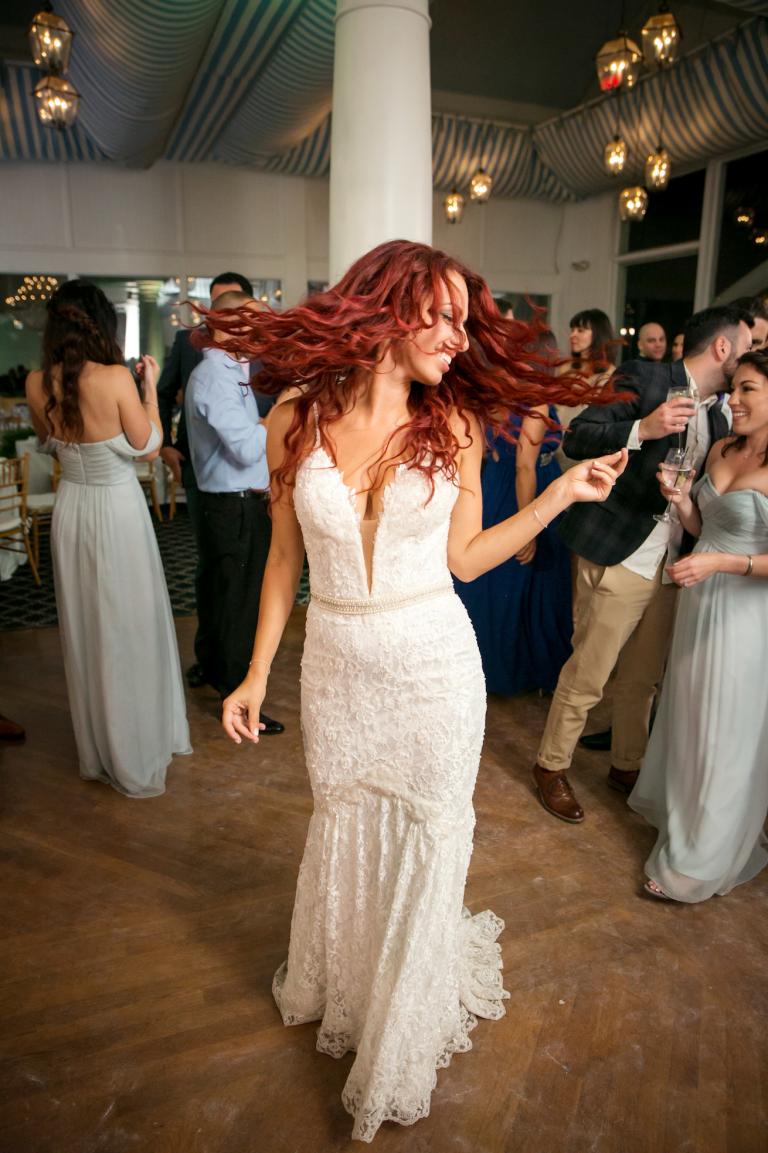 Aviva wanted every detail of the reception to be perfectly about her and Yoni, so she customized every bit of the wedding. One of her friends baked our delicious chocolate Nutella cake, another did all the hair and makeup, one worked tirelessly photographing the event and one of her bridesmaid's mothers picked up 200 shells from the shores of Long Beach Island which served as DIY place cards!
The ceremony was beachside with huge waves crashing down and a beautiful Macrame backdrop made by another of Aviva's friends. Her cousin, a classically trained Opera singer, even performed a beautiful ballad at the ceremony! Her family and friends danced all night long, with the night ending with a bonfire on the beach with yummy snacks like grilled cheese sandwiches, and s'mores. It was amazing to watch all of her family and friends together celebrating their love and watching two families become one. But overall, Aviva will always remember how wonderful it was to see her Groom for the first time and seeing his reaction to her in her dress.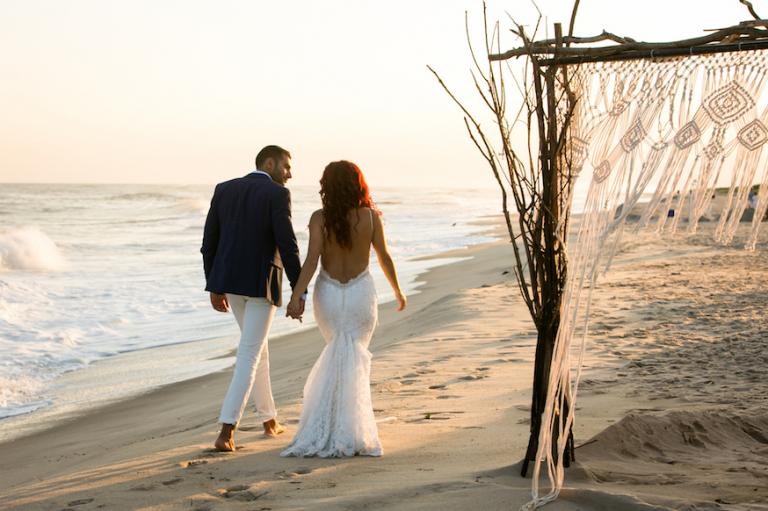 Finish your registration for {City} Trunk Show