FREE SHIPPING & RETURNS WORLDWIDE!

DUTIES & TAXES COVERED WORLDWIDE
Find your nearest boutique
Our #GLBride of the week is the beautiful Ashley Wechsler, who fell in love and married her fiancé David in our Juniper from the Florence by Night collection. The two held their timeless and romantic wedding in their hometown at the stunning Michigan Opera Theatre. In the following interview, Ashley shares with us the details of her wedding day and what made her fall in love with our Juniper gown. As told by Ashley: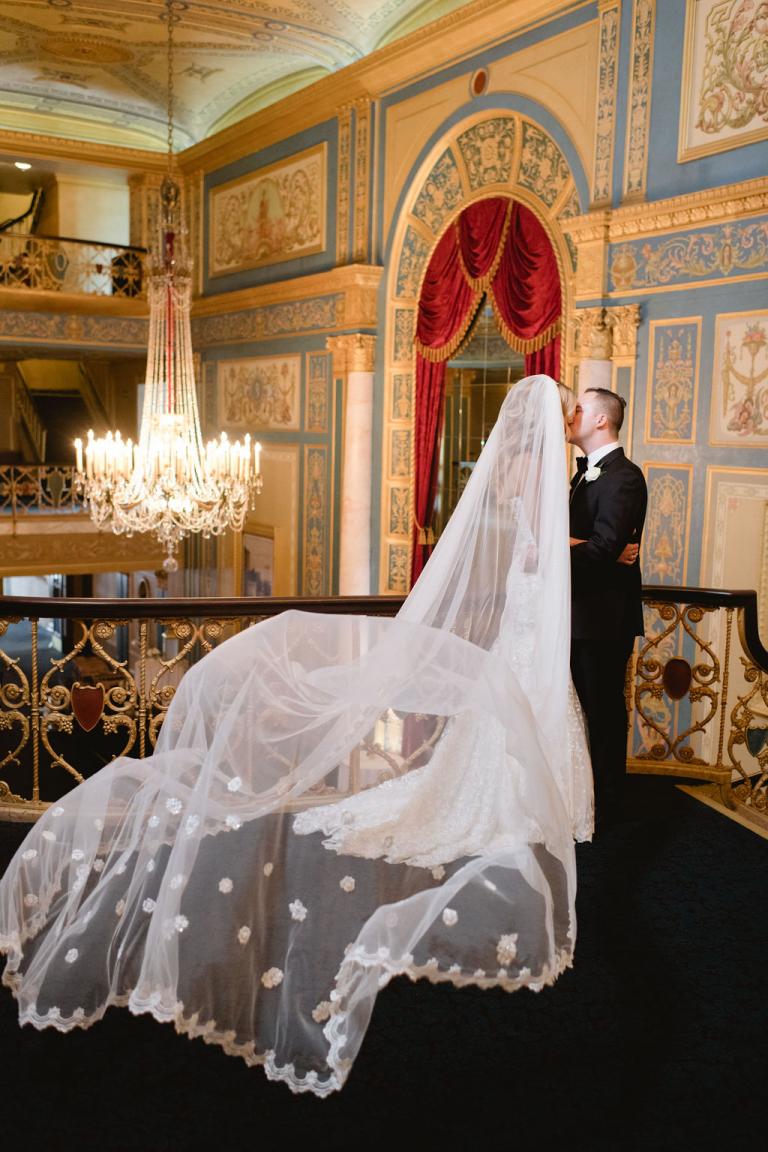 How did you meet your husband? Tell us a little bit about your relationship.

My husband and I met through mutual friends in the summer of 2013. Our exes were friends and decided to attend a concert in Chicago where we initially met. We remained friends throughout the years, even attended each other's birthday parties. It wasn't until 2016 when we started dating. Through the powers of social media, we discovered we were both single and agreed to go on a date. Little did I know, David had front row Detroit Lions tickets for the next day if everything went well that evening. We went to the game the next day and have been inseparable ever since.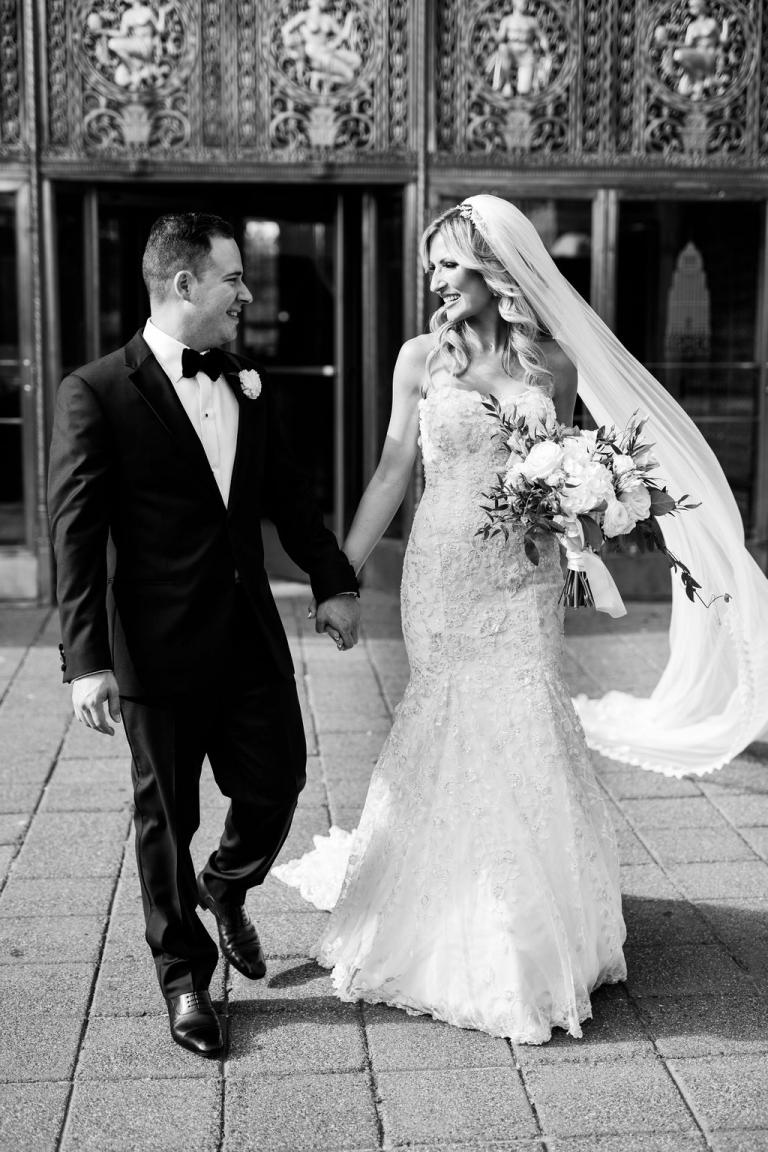 How did he propose?

For months leading up to the engagement, our friends and family were taking bets on when the proposal was going to happen. Most were expecting this to happen on our vacation with my parents in Hawaii. However, in true David fashion, he wanted to keep everyone on their toes. One week after we returned home from Hawaii, David told me his sister bought us plane tickets to come to visit for a weekend in NYC. Winter in the midwest can be challenging at times and can certainly wreak havoc on travel plans. Our flight was canceled and I told David it might be best to stay home. David was determined for us to make it there and scheduled an earlier flight.

One day while I was out with Amy, David suggested we meet him at the Plaza Hotel for a drink at the champagne bar. When we arrived David was sitting at a table with a reserved sign. He told us this table was actually reserved for someone else and he was waiting for a table upstairs. When this "table" was finally ready, he led me up the grand staircase and stopped midway. He told me 37 years ago his father proposed to his mother at the Plaza Hotel and that day he asked me to spend forever with him. We celebrated with champagne and moved our suitcases from Amy's apartment to stay at the Plaza.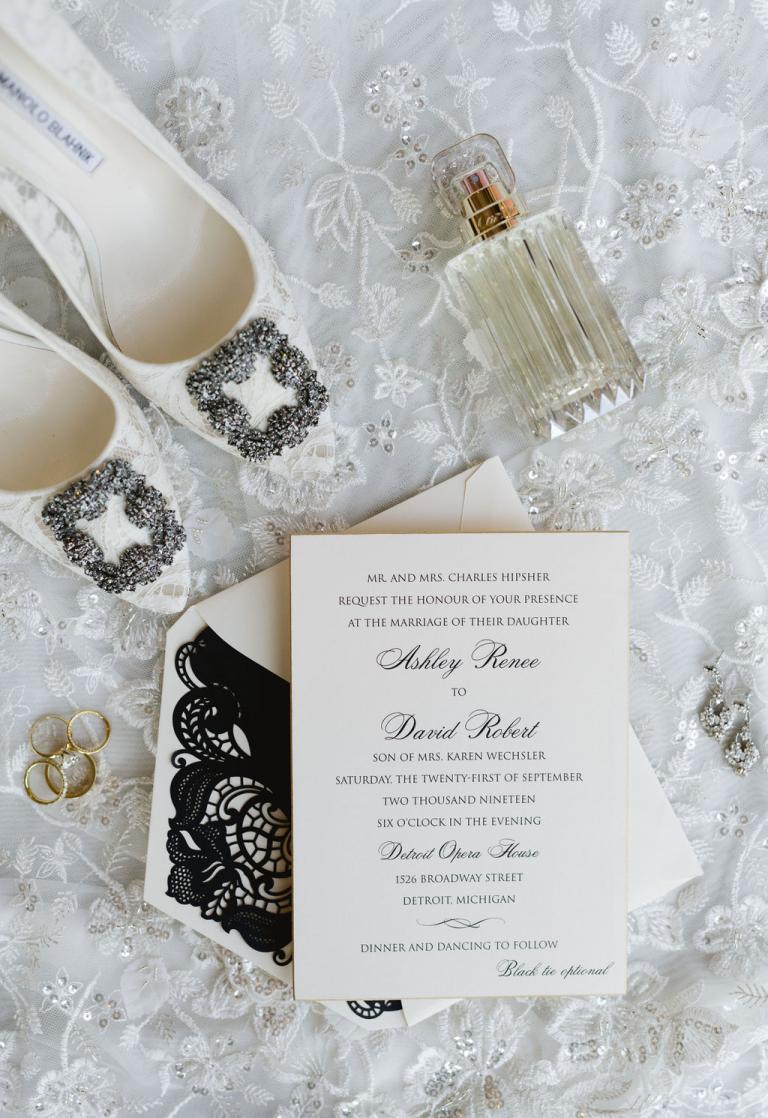 How did you start planning your wedding? What were the first steps?

We hired a wedding planner almost immediately after finding our venue. The Fleur Detroit team helped us with every single step along the way. We discussed our overall vision with them and had regular meetings throughout the process.

Their team communicated with our vendors to ensure everything was on track. They also handled our day-of coordination. This was the best decision we made and it truly made the entire wedding process seamless and so much fun! They helped us think of things we probably would have never thought of and made our dreams a reality.
Did you do any beauty or fitness prep for your big day?

I have been a long-time fan of barre workouts. Before my big day, I tried to incorporate more yoga and strength training into my fitness routine. I also scheduled hydra-facials every few months to keep my skin glowing.
What was your wedding theme?

Our wedding theme was timeless and romantic. We wanted to be able to look back at our wedding photographs and video fifty years from now and get excited all over again! We chose a simple color palette with small pops of gold to highlight the natural beauty of the opera house.
How did you choose your location?

My husband and I both grew up in the Metro Detroit area. We both lived in downtown Detroit at separate times and love everything about the city. We knew our wedding would take place there and once we toured the Michigan Opera Theatre, we knew that was the special place we were looking for.
How did you decide on your bridesmaid style?

I really wanted my bridesmaids (and man of honor) to stand out. I chose long gold sequin dresses and a gold sequin pocket square to compliment the detail in my dress and to also highlight the pops of gold throughout our wedding.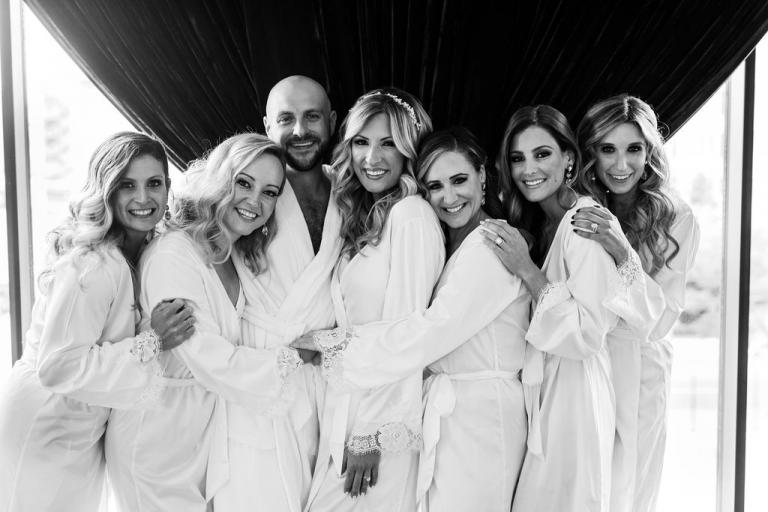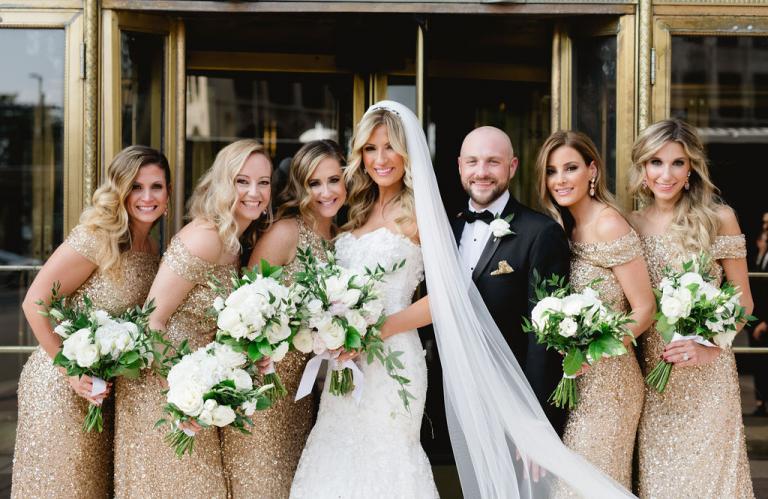 How did you find your perfect dress?

One of my best friends took me to Roma Sposa in Birmingham very quickly after getting engaged, where Galia Lahav was having a trunk show. The moment I tried on the first dress I knew this was the designer for me. The fit, detail, and beauty of these dresses were like no other.

My mom was out of state at the time and I really wanted her to be part of the experience so we agreed to come back for the next Galia Lahav trunk show. Meanwhile, I visited my sister-in-law in NYC for a weekend of trying on more dresses. None of the dresses I tried on compared to how beautiful the Galia Lahav dresses were.

A few months later we were back at Roma Sposa with my mom, mother-in-law, and my husband's grandmother. The sales assistant brought me a few recommendations to try on and the moment I tried on the Juniper dress, we all fell in love. We knew this was the dress and I was so excited to have finally found the perfect one.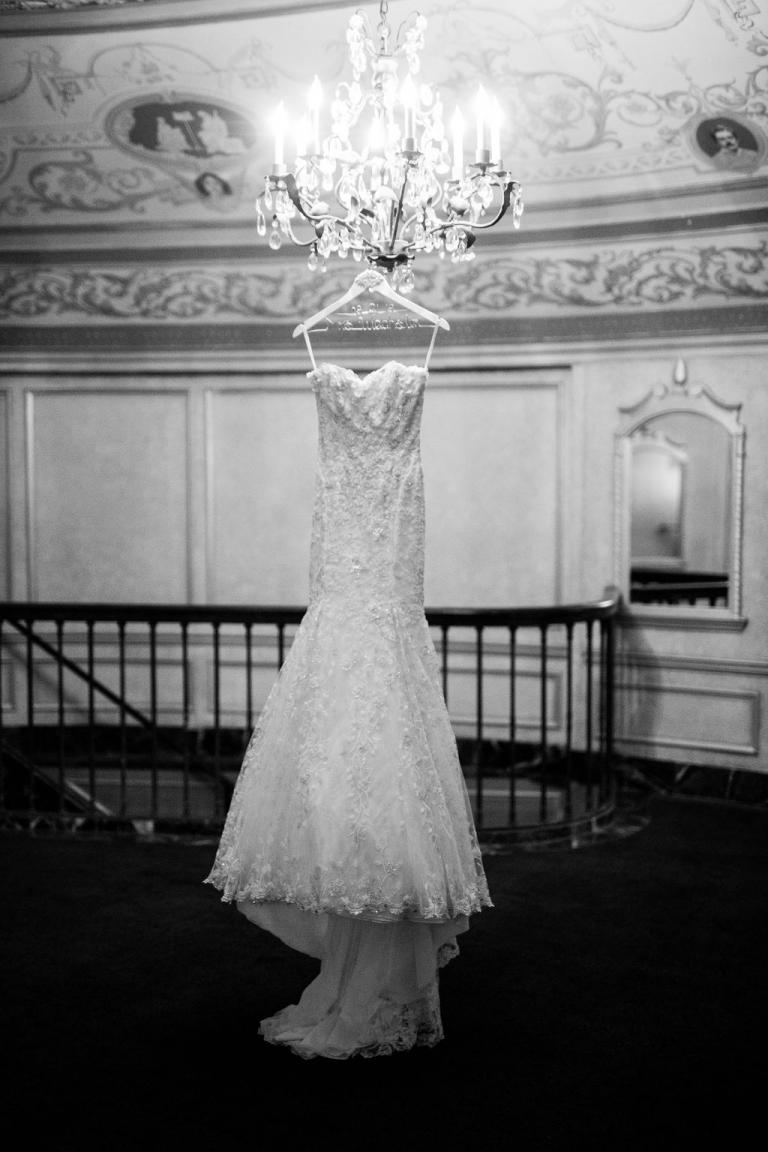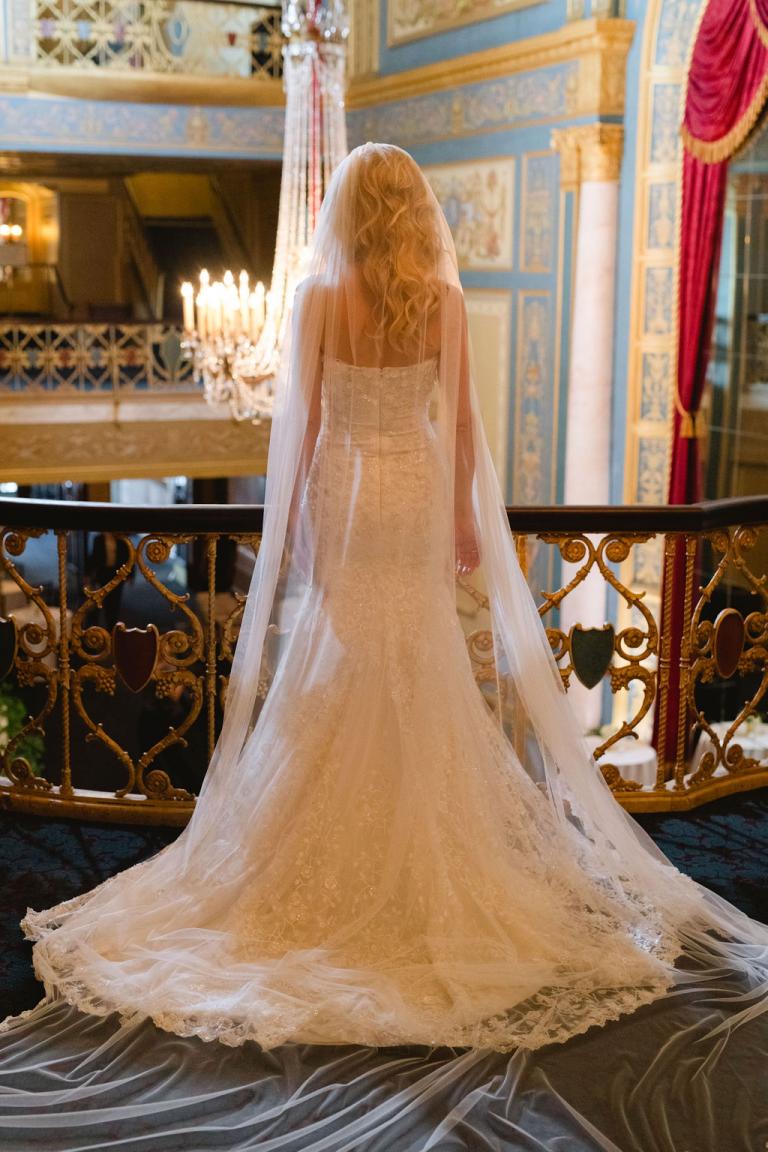 How was your experience with the Galia Lahav brand?

I loved the entire experience with Galia Lahav. Once I found my dress at Roma Sposa there were a few changes I wanted to make. We changed the neckline to a sweetheart and also added more volume to the bottom. I also wanted a long veil that matched the details in my dress. Once I tried on my actual dress and veil for the first time, I fell even more in love. It was so exciting to have my dream dress come to life.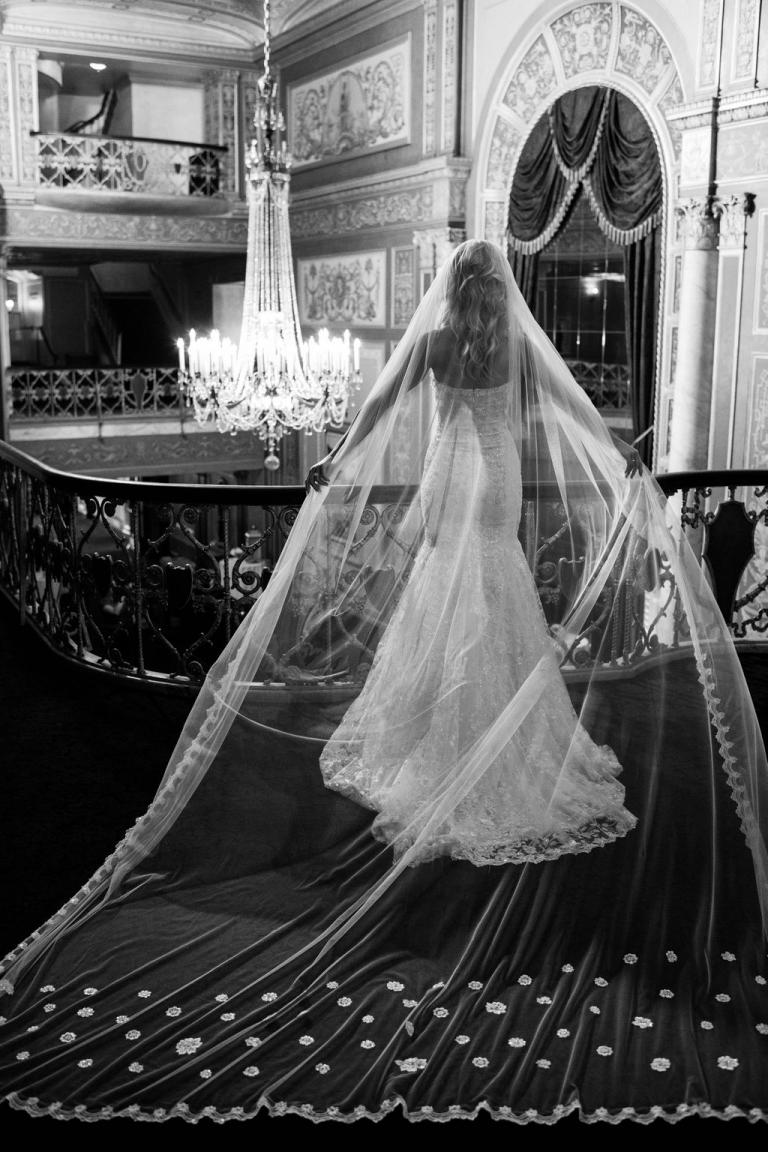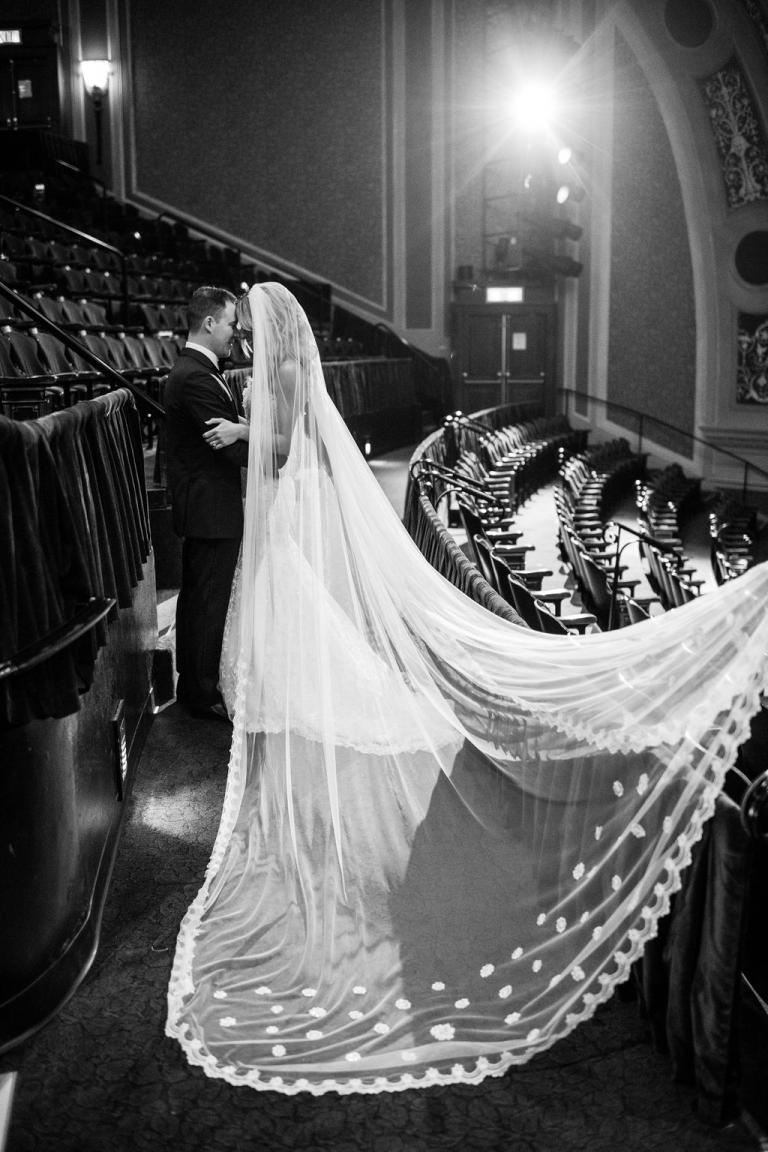 What was the most important thing for you and your husband when planning your wedding?

The most important thing for us was creating an experience for our guests. We wanted to create something very special from the moment they walked into the last song our band played. Our guests were greeted with cocktails and hors d'oeuvres upon arrival while saxophones and keyboards played in the background. They were then called into the theatre and took their seats.

We had a violinist and pianist play while our family and wedding party walked down the aisle. I walked down the aisle with both of my parents and joined David under the chuppah on the stage. As soon as our ceremony ended, the curtain rose and guests were invited up on stage for the reception. It was so magical watching our night unfold surrounded by our loved ones. We ended the night sharing a special dance just the two of us.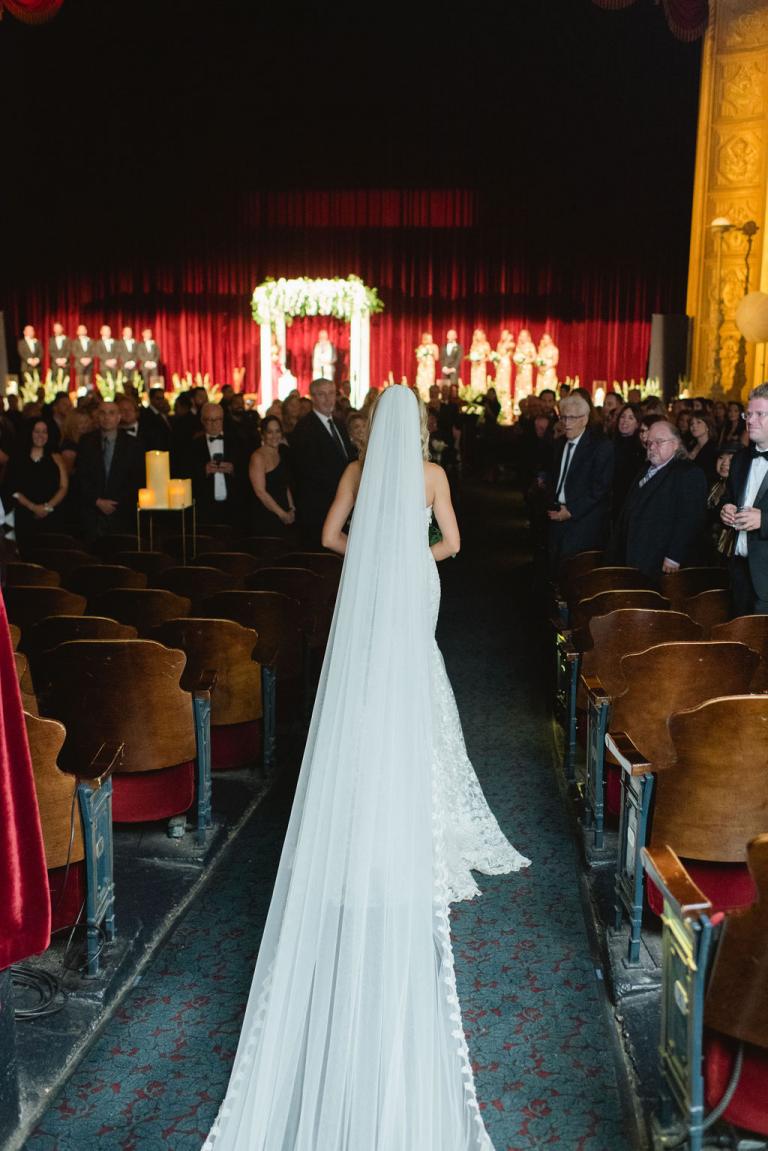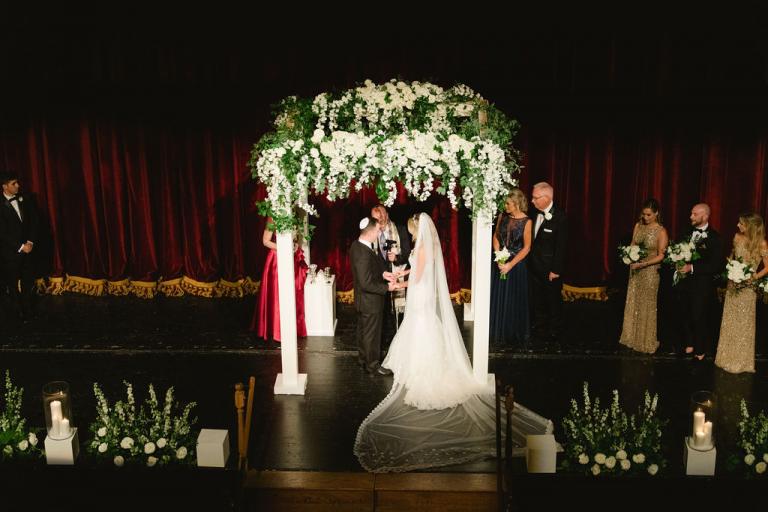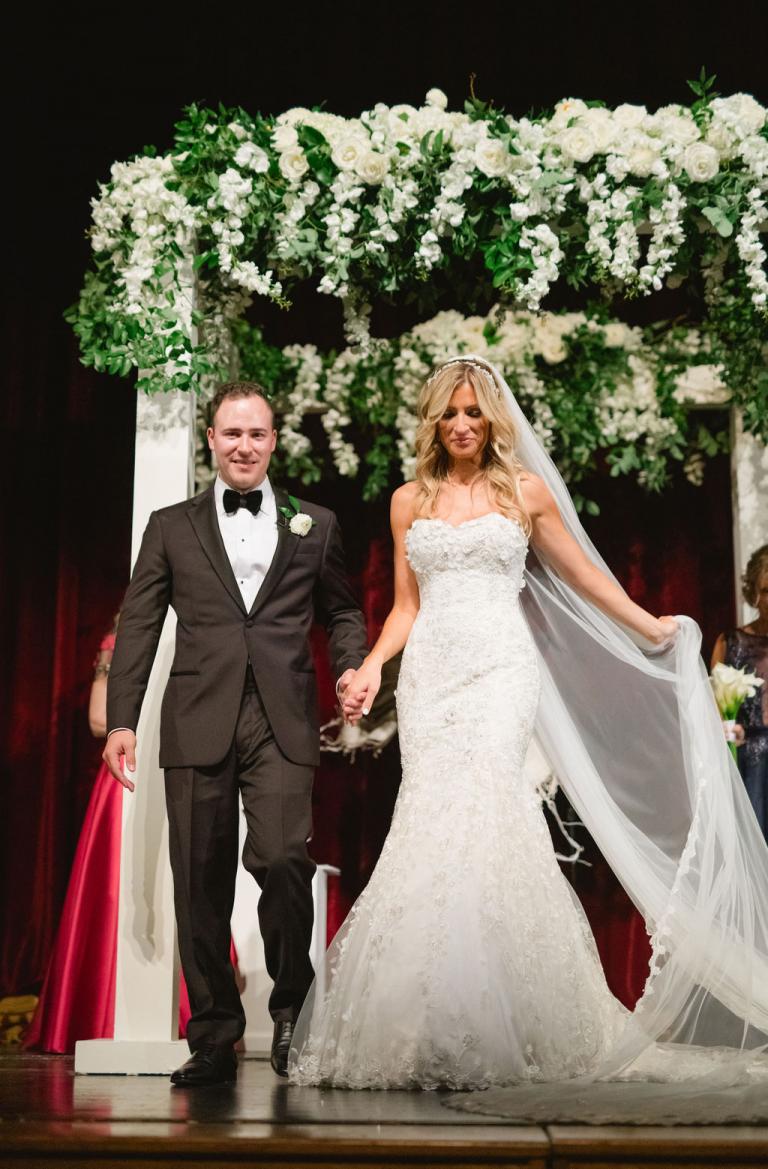 What was your first wedding song?

"Be My Baby" by The Ronettes. We even took dance classes to help us perfect our first dance.
What did you enjoy the most about planning your wedding?

I enjoyed the entire process. From deciding on our wedding venue to finding my perfect dress, to every step of the wedding planning process. We discussed our vision with our wedding planner at the beginning and it was so much fun seeing our dreams and visions come to life! We loved involving our family and getting to spend time with the most important people in our lives. I also had a blast celebrating my #bASHlorette in Palm Springs with my closest friends!
What advice would you give to all our future brides?

Enjoy every single moment. Even during the planning stages where things can seem daunting and stressful at times, enjoy it! The entire planning process and wedding day (especially!) goes by so quickly. This is such an exciting stage in your life, embrace it, and enjoy the ride! Most importantly, do what makes you and your fiance happy. This is your day.
What moment from your wedding will you never forget?

Right after we were married on the stage, we went up to a box in the mezzanine. We had a few moments to ourselves before our reception began. The opera singer began to sing while our guests were still seated from the ceremony. The curtain began to rise revealing our beautiful reception where guests would then be invited up on stage. It was so magical to watch our guests' reaction as the curtain came up and we were able to see our reception for the first time.
Finish your registration for {City} Trunk Show