FREE SHIPPING & RETURNS WORLDWIDE!

DUTIES & TAXES COVERED WORLDWIDE
Find your nearest boutique
Our #GLBride of the week is Asha Gabriel, who enjoyed a fairytale wedding with her fiancé Andrew in our Alma gown. The two held their nuptials at Edgewood Tahoe Resort which is nestled along the breathtaking shores of Lake Tahoe, Nevada. In the following interview, Asha shares her most unforgettable moments leading up to her special day and how she found the dress to match. As told by Asha: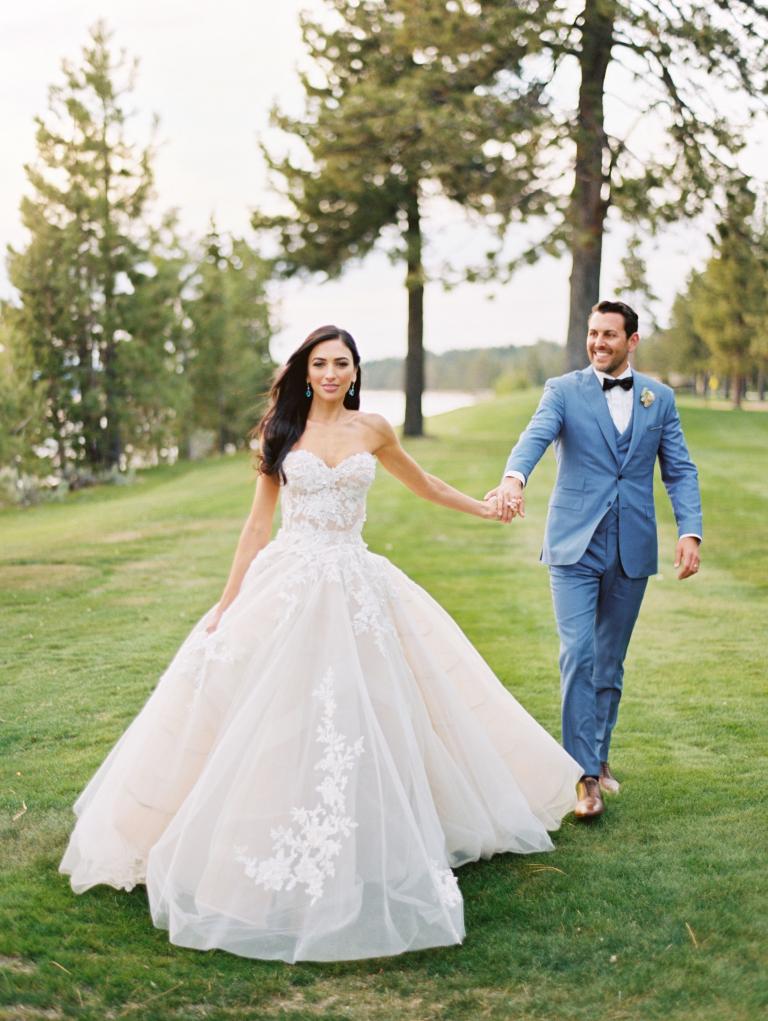 How did you meet your husband? Tell us a little bit about your relationship.

Andrew and I met through mutual friends. I was living in LA at the time, and for the first several months of dating, Andrew would drive all the way from Newport Beach through rush hour traffic to take me to dinner in my neighborhood after I got off work. Whenever I had time, he was there in a heartbeat. His patience and sincerity are the most refreshing qualities I've ever observed in a person. From the moment he first knocked on my door with a huge dahlia in his hands and smile on his face, I've had butterflies for him! As a couple, we love to travel and try new things together. We are both really active and love the outdoors. We also love to cook together and to entertain friends. He makes me laugh every single day, and I'm so grateful for that.
How did he propose?

Our proposal story and some photos can be found here! It was the most romantic and sweet surprise of my life!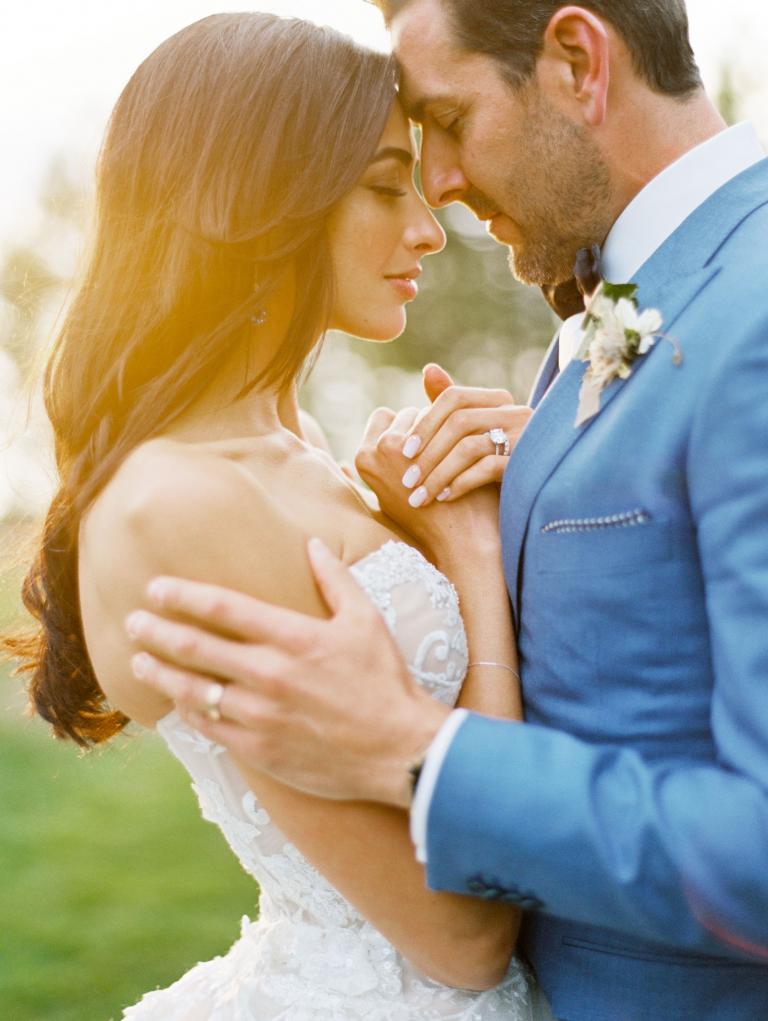 How did you start planning your wedding? What were the first steps?

When Andrew proposed in New Zealand, we were there during my Spring Break from my MBA program at USC. We decided to set the big day after my graduation the following Spring. We had each met the other's parents, but our parents had not yet met each other. We all met up in Lake Tahoe for what we affectionately refer to as "Meet the Fockers weekend" shortly after we returned from New Zealand. Thankfully, our families meshed like PB&J! We picked Lake Tahoe as our wedding location and my amazing mother-in-law suggested our wedding planner, Danielle Tolleson of Elise Events in that area. I knew Danielle was a great match for us because her creative vision has a natural elegance to it– I was able to describe my vision to her, and trust her to execute it while I balanced finishing grad school as well. After booking Danielle, the next big steps were booking our super talented photo and video teams, Ryan Ray and White In Revery. They were everything we hoped for and more!
Did you do any beauty or fitness prep for your big day?

A month after we were engaged, I was diagnosed with stage two Papillary Thyroid Cancer. It definitely wasn't how I envisioned that summer playing out, but in retrospect, the experience gave me an opportunity to see how steadily Andrew held my hand through crisis. I had a full thyroidectomy surgery and radioactive iodine treatment that summer, and he was my rock. In remission, my goal was to build strength before our wedding day. I grew up as a dancer, and had always been active with lots of pilates and yoga. After cancer, I started lifting heavy weights and doing more HIIT with a trainer at the Stark gym in Irvine. I really loved it and felt healthier than ever on our big day! I also paid extra attention to my skin in the months before the wedding. Melissa Halloossim at SkinThesis in West Hollywood is a skin whisperer and good friend– highly recommend!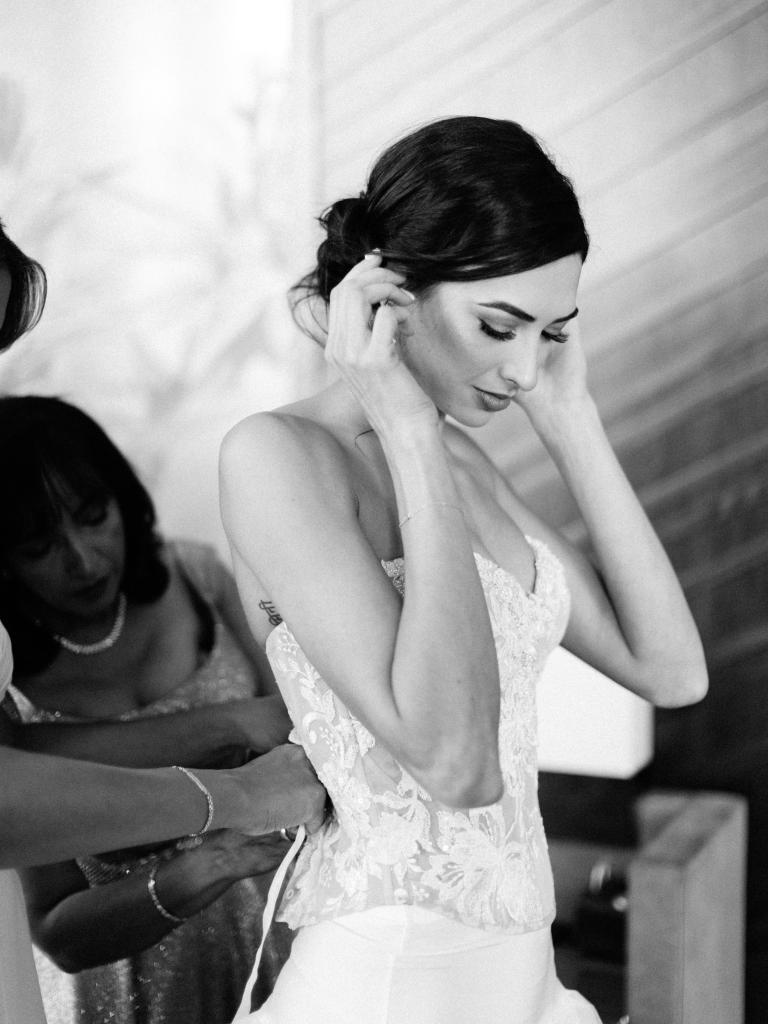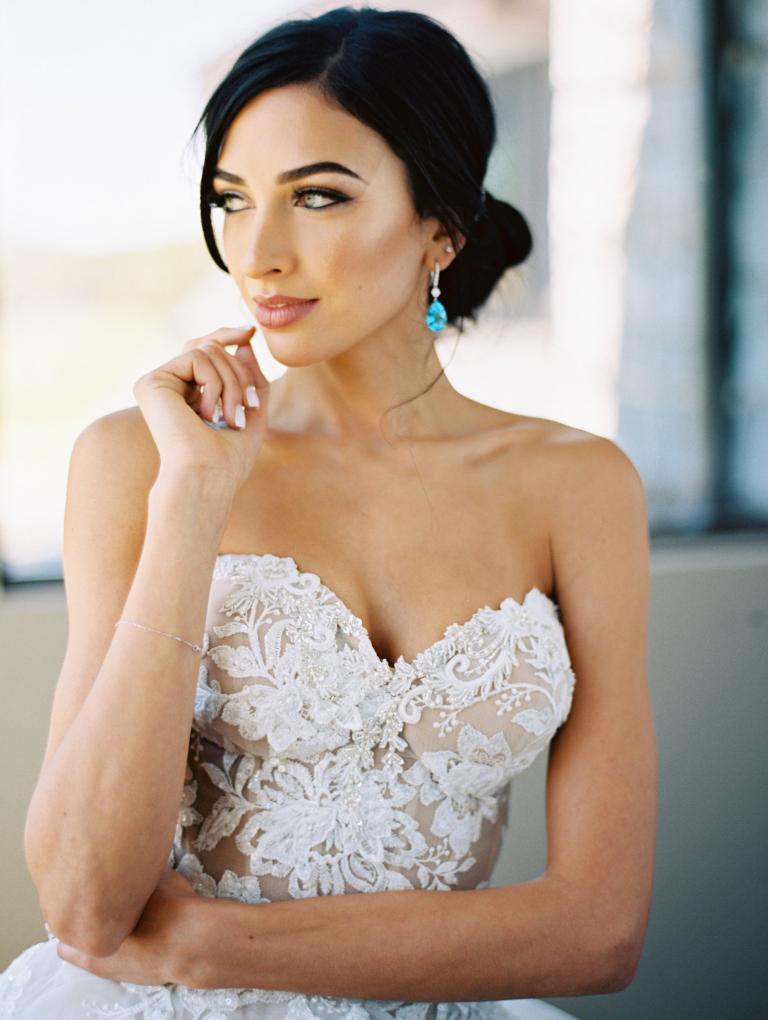 What was your wedding theme?

Our wedding theme was romantic and sentimental. We wanted to tie in some soft blue and peach colors with some personal elements, in a way that would still let the breathtaking beauty of Lake Tahoe take center stage. Natasha Kolenko created the most beautiful, whimsically natural garden rose and wildflower arrangements. My favorite was our custom "A-shaped" altar (our names are Asha and Andrew, so we go by the A-Team!) woven with loose florals, with the blue lake water in the background. Our wedding planner also brought on Carey Lowe from The Idea Emporium to help bring our personal details to life, and she nailed it. The symbol for thyroid cancer is a butterfly, and butterflies have always reminded me of my late grandpa. Carey laser-cut 3D paper butterflies and tastefully integrated them into our paper goods. She sprinkled little ideas like that throughout our wedding, and it made my heart sing!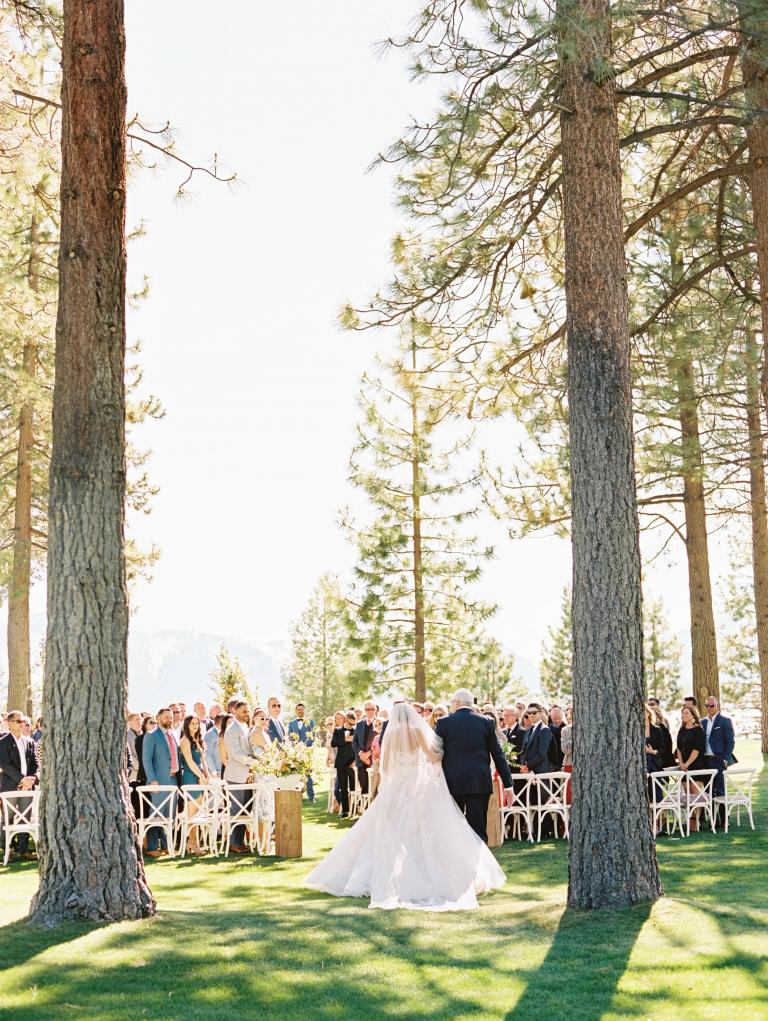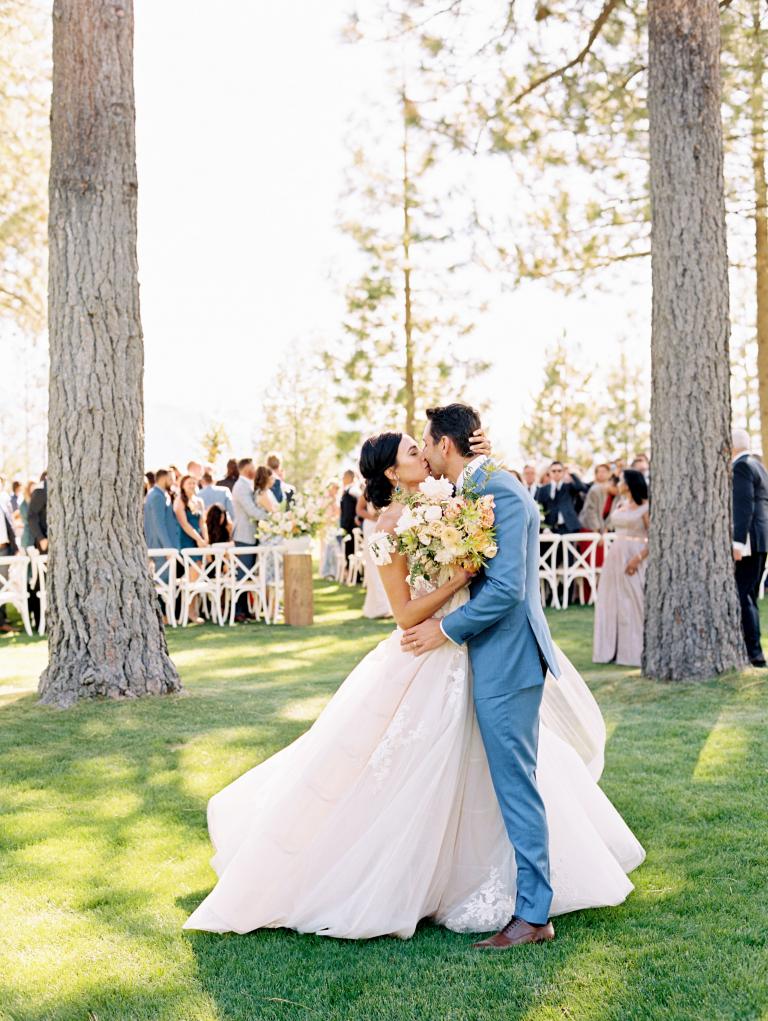 How did you choose your location?

As a little girl, I always dreamed of a wedding surrounded by trees and mountains. Andrew and I spend a lot of time in Lake Tahoe. When we were visiting there one day, Andrew looked over at me and said, "We should get married here." He hadn't even proposed at that point, and something in my heart just clicked into place– it was like he ready my little girl mind! We didn't look at any other venues once we got engaged. Edgewood Tahoe is stunning, so that was the easiest decision ever!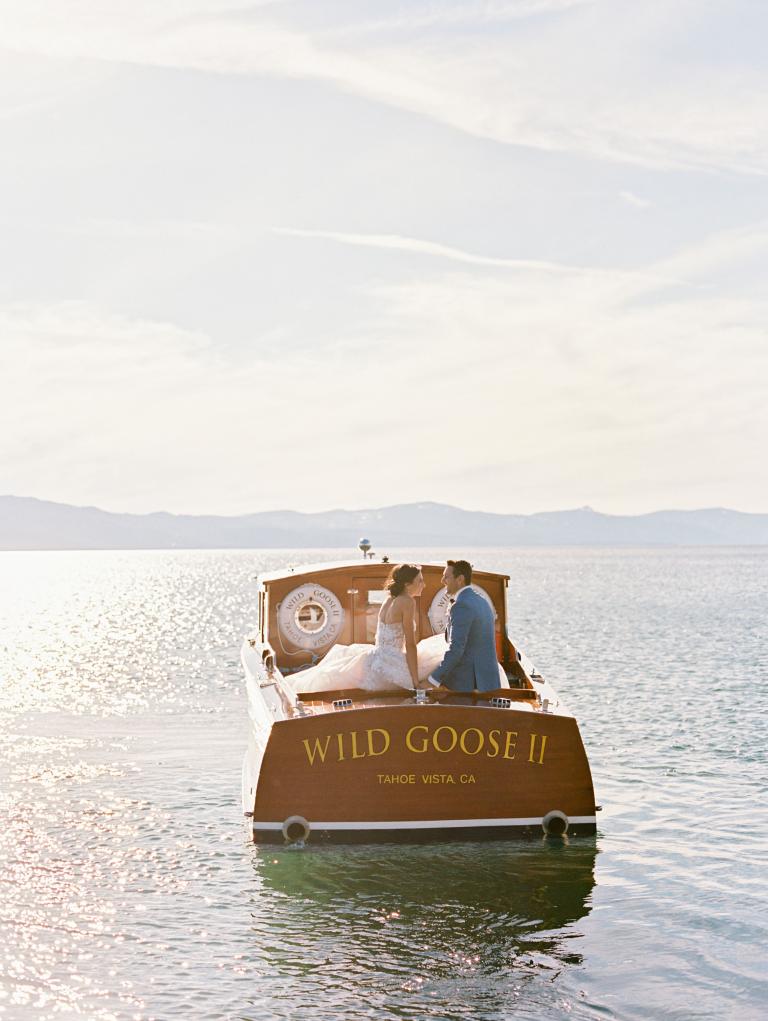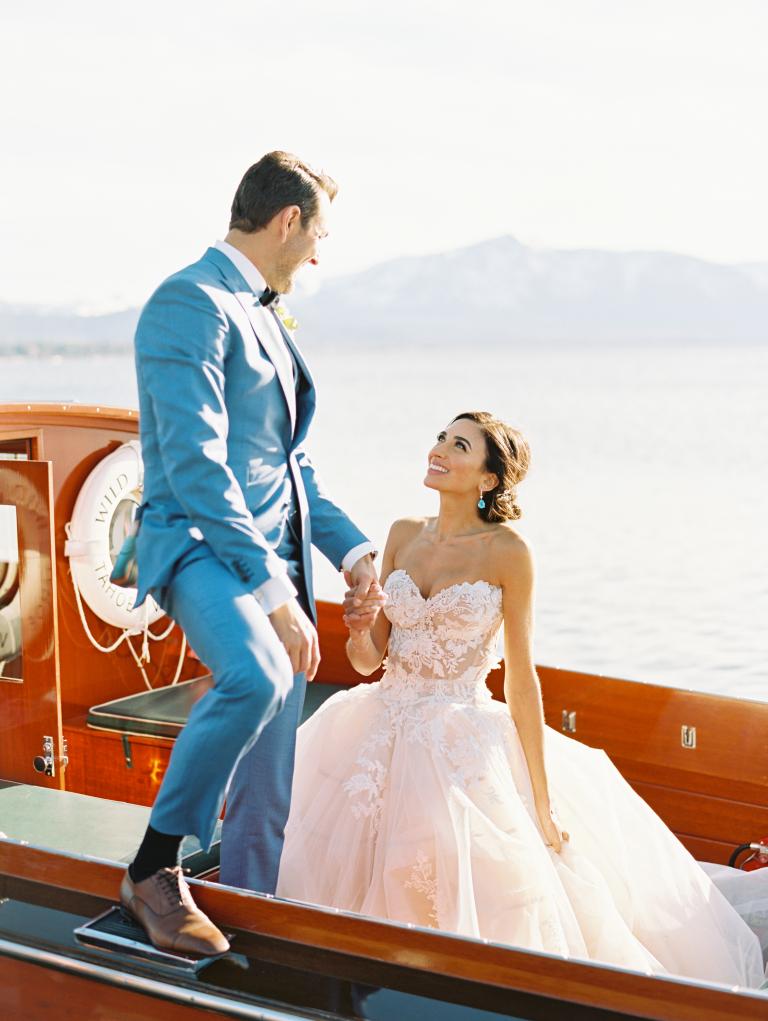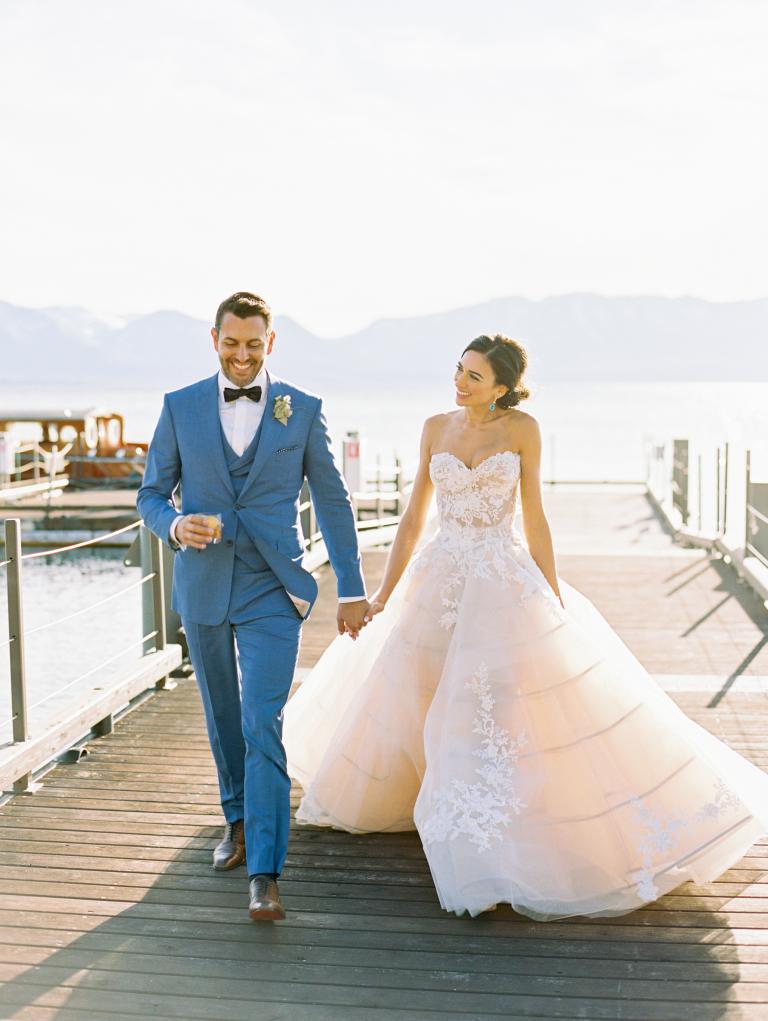 How did you decide on your bridesmaid style?

My bridesmaids are all so stunning, that they honestly could have worn paper bags and looked like goddesses! I loved the idea of having them in a light shade close to the ivory and blush tones of my dress and veil. Jenny Yoo had multiple style options in a soft champagne chiffon, and it was fun to give the girls the freedom to pick a style that best suited them individually. I wanted them to feel carefree and beautiful. My only non-negotiable was that they wore shoes built for dancing the night away!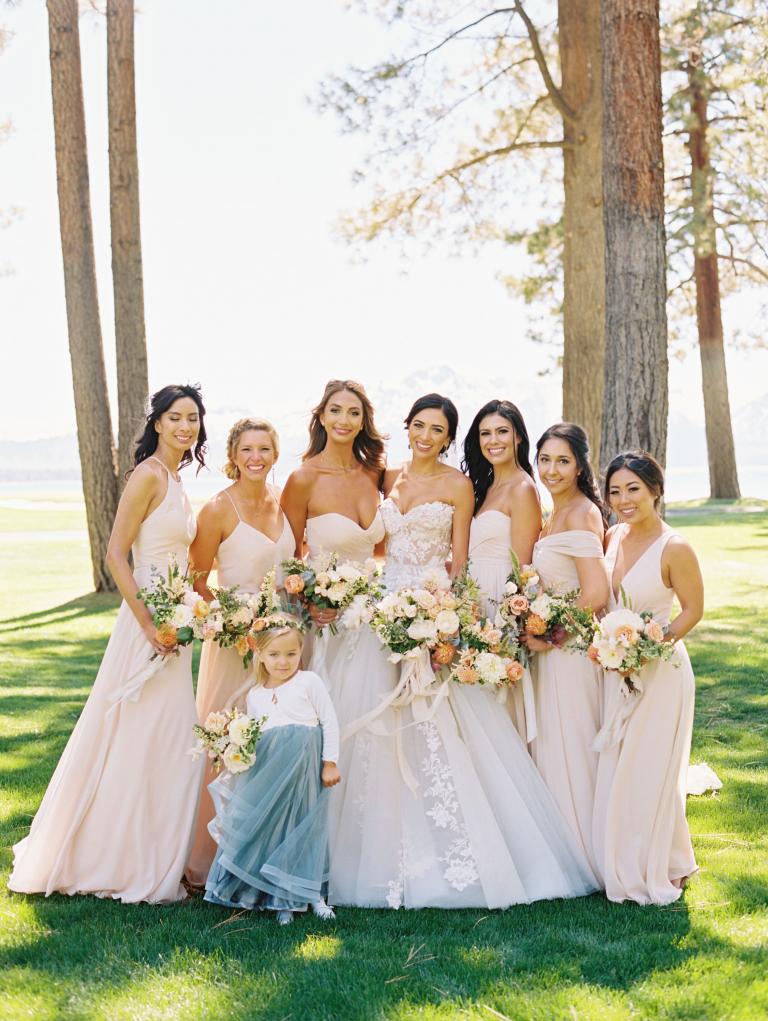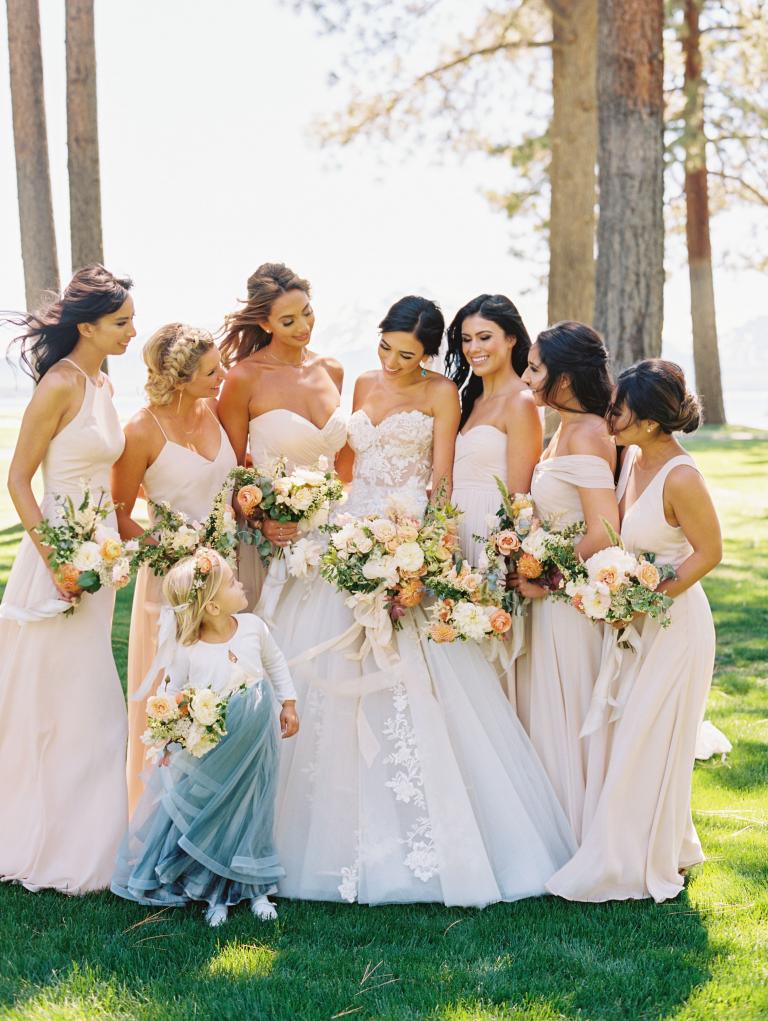 How did you find your perfect dress?

As a former runway model I had worn hundreds of wedding dresses, so I kinda thought it would be impossible to find a dress that felt obviously like "the one." I had no idea what shape or style I wanted to wear. I just knew that I wanted to feel a bit like a princess, but a comfortable princess. I ended up choosing the third dress I tried on at Galia! I walked out of the dressing room in it and my sister and best friend had this look on their faces that I'll never forget. It was like magic.
How was your experience with the Galia Lahav brand?

I loved working with the Galia Lahav brand! So much care was taken to make sure the dress fit exactly to my body, and the details and intricacy of the dress design were incredible.
What was the most important thing for you and your husband when planning your wedding?

The most important thing for us was enjoying the process together and taking in all of the moments. At the end of the day, the ceremony and vows meant infinitely more than any decorative detail. Keeping the focus on our marriage, and not just our wedding, kept the little things in perspective and made planning our life together so special.
What was your first wedding song?

Our first dance was to Brett Eldredge's "Mean to Me." The song is simple and sweet… it's about falling in love and how it changes the way you see everything.
What did you enjoy the most about planning your wedding?

I just loved thinking about the moment we would become husband and wife forever. It was so exciting to think about celebrating our love, surrounded by our favorite people in our favorite place. The anticipation of that joy was my favorite part of the planning process for sure!
What advice would you give to all our future brides?

When all the details seem overwhelming, take a deep breath and focus on the ceremony itself. We spent a lot of time thinking about our vows, readings and the general flow of the ceremony. It was the best part!
What moment from your wedding will you never forget?

My daddy walked me down the aisle and officiated our ceremony so beautifully. I will always remember feeling the squeeze of his arm as I saw Andrew's face waiting up there at the altar. Andrew's vows took my breath away. He is usually a man of few, but impactful, words. He poured his heart out through his vows, and I will remember that forever. 
Finish your registration for {City} Trunk Show