FREE SHIPPING & RETURNS WORLDWIDE!

DUTIES & TAXES COVERED WORLDWIDE
Find your nearest boutique
Our GL Bride of the week is the lovely Amelia Sepulveda, who married her fiancé Nate in our GALA 708 gown. The couple held an old Hollywood/modern-day cinema themed wedding in sunny Clearwater Beach, Florida. In the following interview, Amelia shares with us her whirlwind proposal and the moment she knew our GALA 708 was the one.

How did you meet your husband? Tell us a little bit about your relationship.

My husband Nate and I first met as co-workers at a local bar back in 2013 and after a short while of working closely together, we became really good friends. We ended up finding out we shared many of the same interests and often bonded over our shared love of music, movies, and most importantly the American sitcom 'How I Met Your Mother' (it's our favorite show). As time went on we decided we belonged with one another, then transitioning from 'good friends' to being in a relationship, and as they say…the rest is history.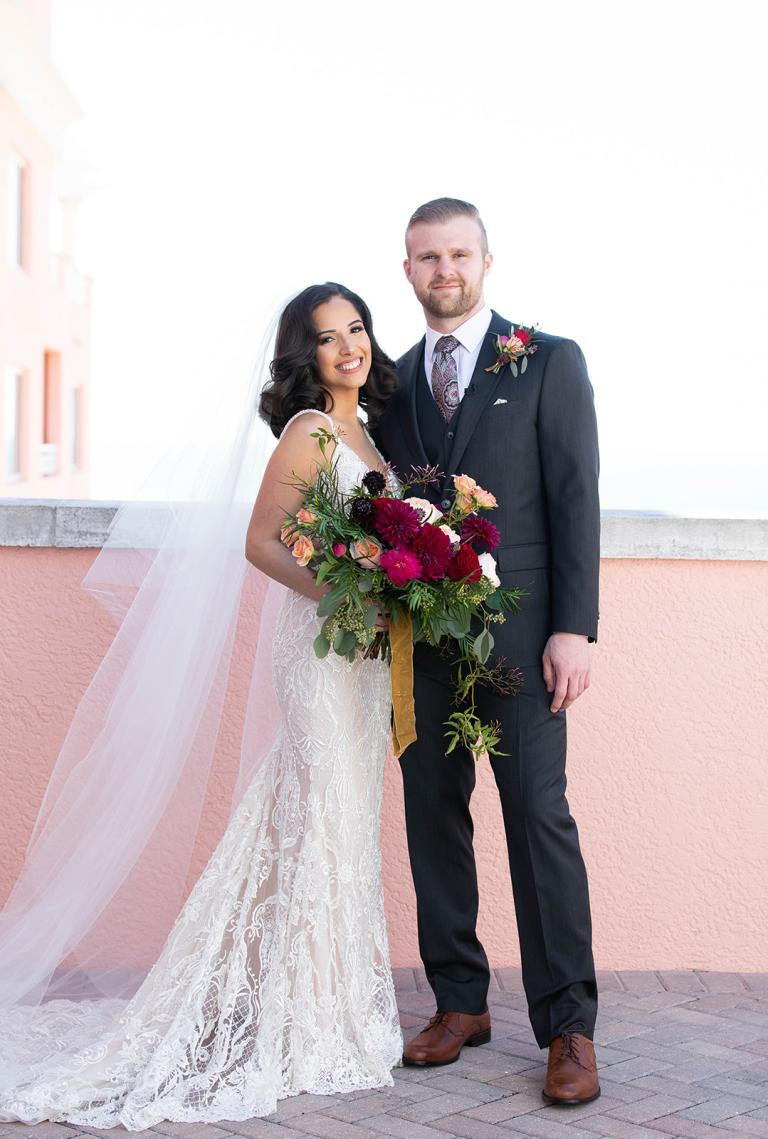 How did he propose?

In 2017 Nate and I had been together for about 4 years, and every September we made it a tradition to spend a weekend in Orlando together and attend the Disney parks for holiday. Before we were scheduled to leave, we were informed that a category 5 hurricane (now known as Hurricane Irma) would make landfall in Florida that same weekend, and our city (Tampa, FL) was a direct target for the eye of the storm. Nate and I were in full panic mode trying to decide where to go for shelter, what to pack and literally preparing for the worst-case scenario. But somehow in the middle of all the chaos which we were surrounded in, Nate decided this was an opportune time to take a moment and express his love for me and then asked THE question…those 4 words "Will you marry me?"… Of course, I cried like a baby, reached for a big hug and excitedly yelled, "Yes!" to the man of my dreams. Nate, later on, shared the reason he decided to propose on one of the most chaotic days we had ever experienced together was because we had been through it all, and there wasn't anyone else he could ever picture or choose to be by his side to experience this life with.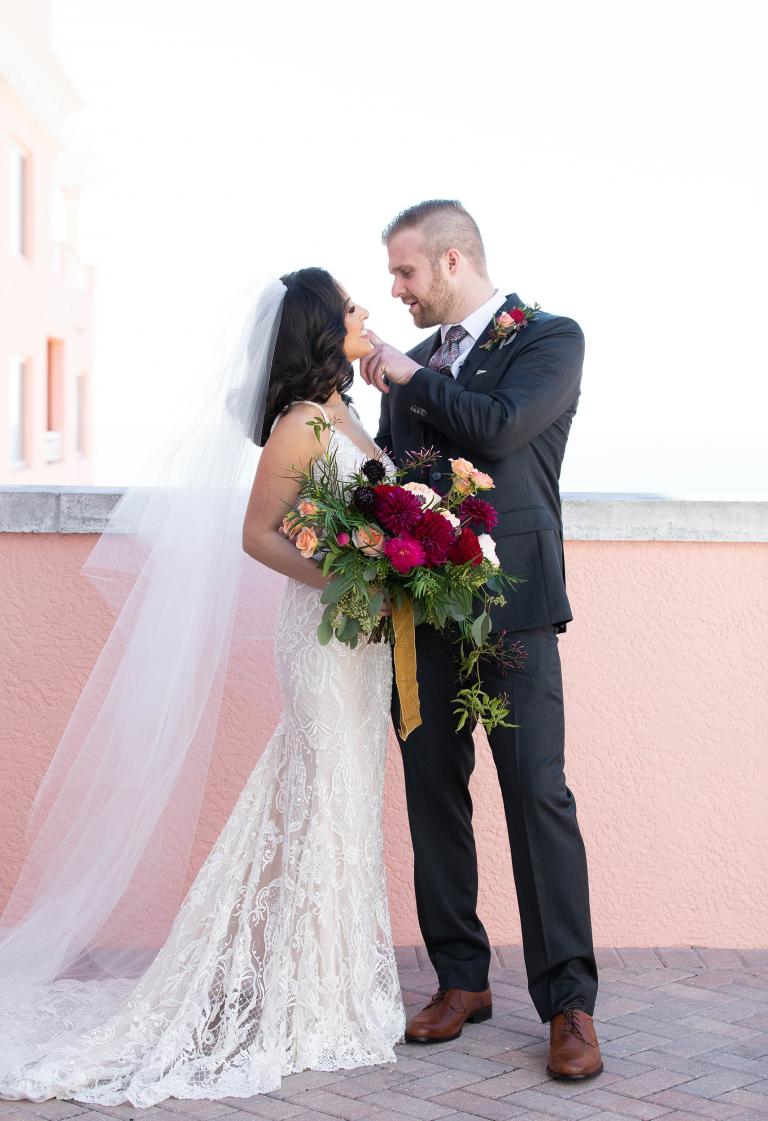 How did you start planning your wedding? What were the first steps?

I first started with researching venues and finding my wedding gown. Every detail of the wedding was going to revolve around my gown and the location of the venue, so those were the 2 most important things I wanted to get started right away.
Did you do any beauty or fitness prep for your big day?

I had committed to yoga 2-3 times a week for about 3 months before my wedding day, and it was one of the best decisions I made. Not only did yoga help me alleviate my stress levels but it brought me clarity and made me feel fantastic! I also received facials and massages every couple weeks which prepped my skin for a fresh glow and helped me relax during the most crucial months before the big day.
What was your wedding theme?

Our wedding theme consisted of a mix between old Hollywood and modern-day cinema. Inspiration came from my personal deep obsession with old Hollywood Glamour along with my husband and I's deep obsession with films (seriously, our house is filled with movie-related décor and quoting movie lines on a daily is our native language). So we figured there was no better way to display our mutual love and bond for cinematic films than to make it the theme of our union.
How did you choose your location?

The location of choice was Clearwater Beach, FL because we wanted our friends and family to enjoy a true Floridian experience all weekend long. Most of our guests traveled from all over to celebrate our big day, so a getaway location that showcased incredible sunsets, ocean breezes and the tropical beauty our sunshine state has to offer was essential.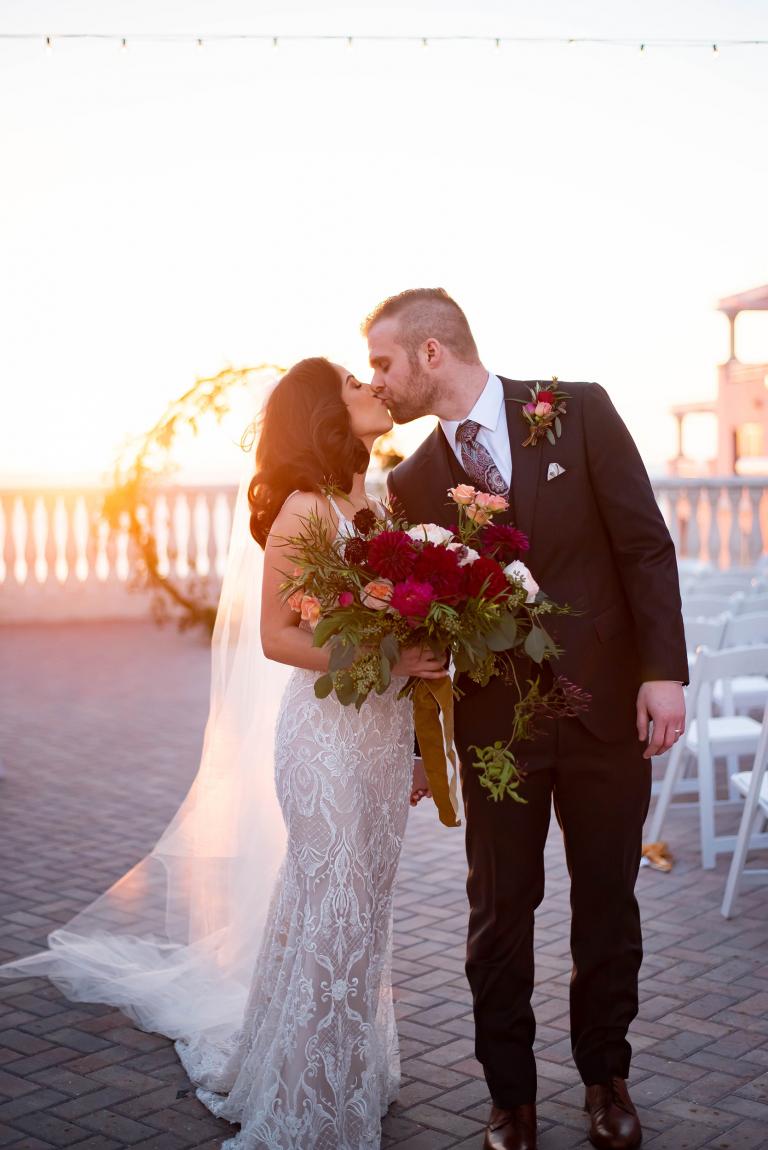 How did you decide on your bridesmaid style?

When it came to style I wanted my bridesmaids to have a classic look that was simple yet timeless, so I aimed for an old Hollywood glamour look that was modern but still true to the overall theme of the wedding. My bridesmaids wore designer 'Jenny Yoo' mismatched halter neck (Cameron) and draped off the shoulder (Serena) satin gowns in the color latte which complimented each individual's body shape and skin tone. When it came to hairstyle, make-up, jewelry, and shoes I was pretty hands-off because I found it important for the ladies to have a say in choosing their own look for the big day. I believe women look and feel their best when they are able to express elements of their personalities through their own style, so since I choose the color and style of their gowns I gave them free rein to choose all the other details. Plus, the contrast amongst the bridesmaids added a nice touch to the overall look of the wedding.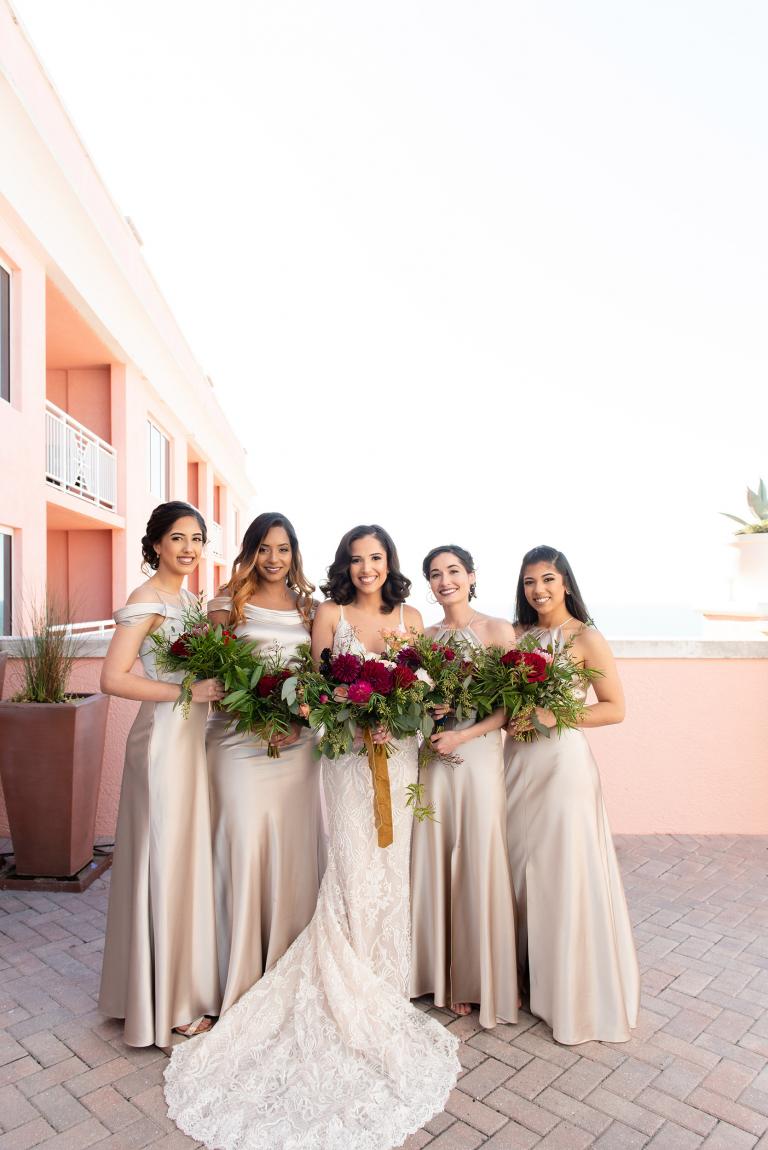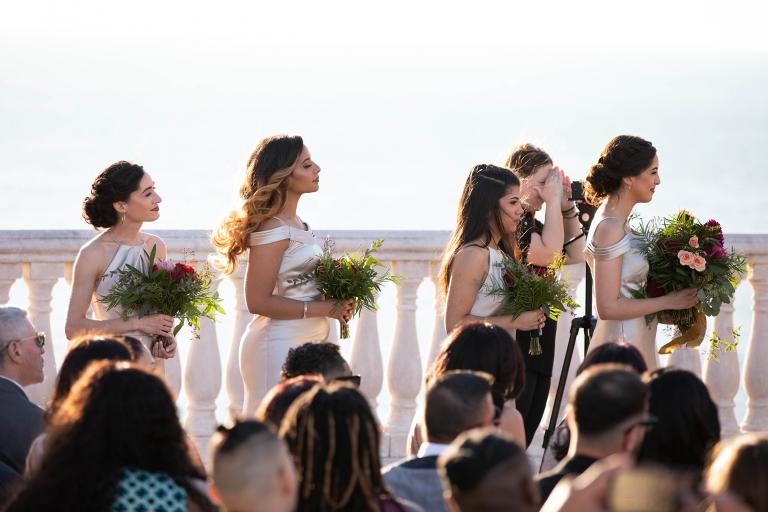 How did you find your perfect dress?

Before I had been engaged, I always knew the designer's work I would wear walking down the aisle. Galia Lahav's bold and glamorous designs had captivated me for years and the Gala_708 was my dream wedding gown. It's deep plunge V neck, open back, body-hugging silhouette and intricate lace design was everything I wanted for my big day. So when it came to tracking down my dream gown, I found a local bridal boutique (Isabel O'Neil Bridal in Tampa, FL) which was one of the only local boutiques that carried Galia Lahav gowns. Once I made my appointment and tried on the GALA_708 it truly was love at first sight and I immediately knew I had found 'The one'.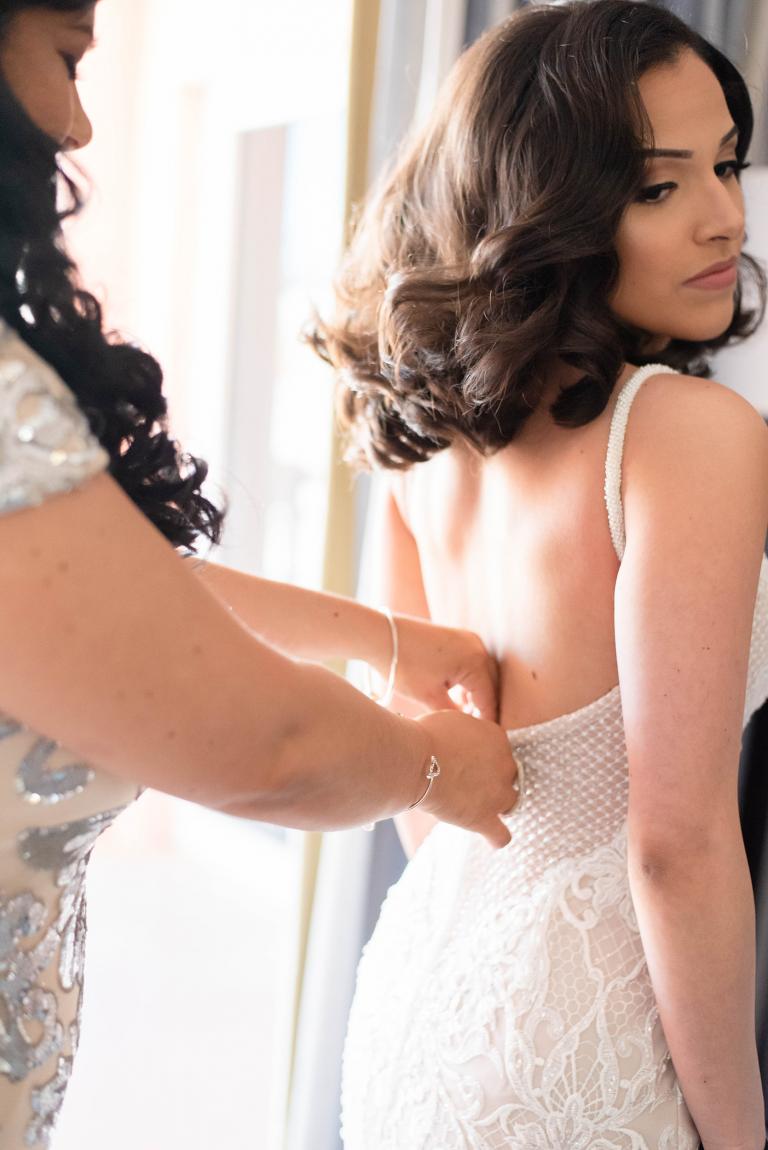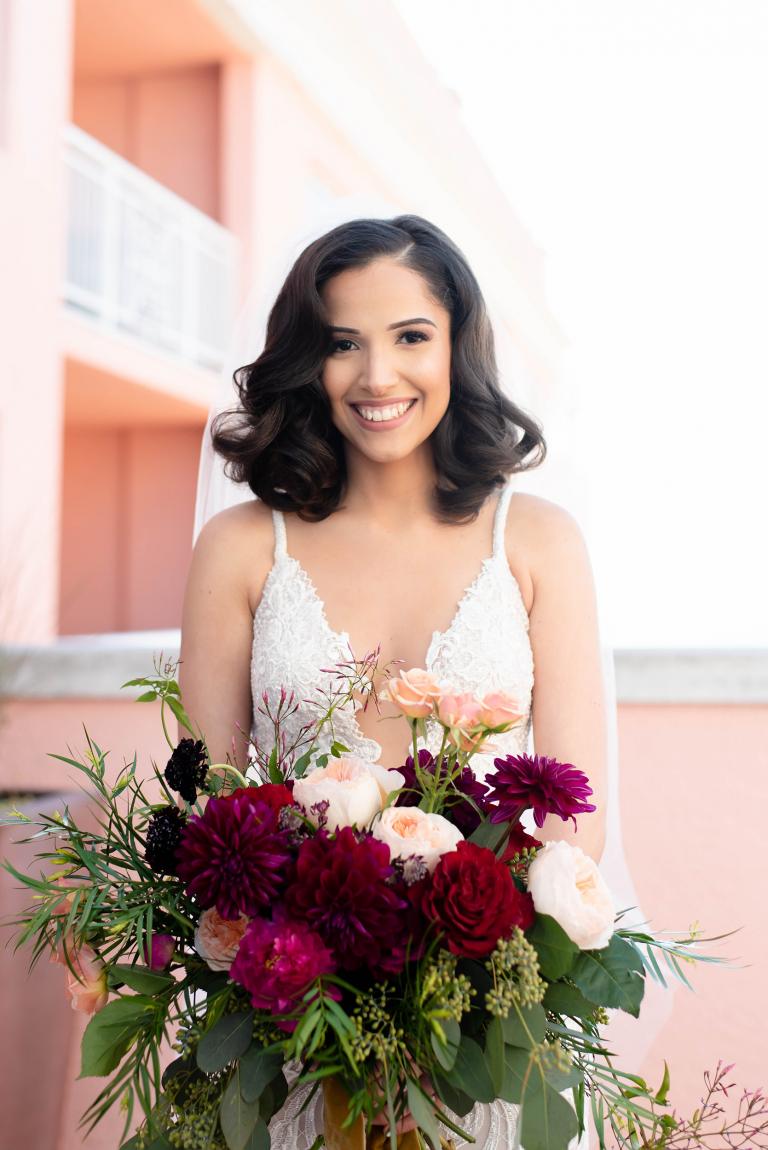 How was your experience with the Galia Lahav brand?

GL brand quality is nothing short from exquisite. From the gown itself to the hanger and wedding dress tag, everything was top notch. My GALA_708 hugged my body perfectly, was comfortable to wear all night long, and even remained in pristine condition post-wedding night.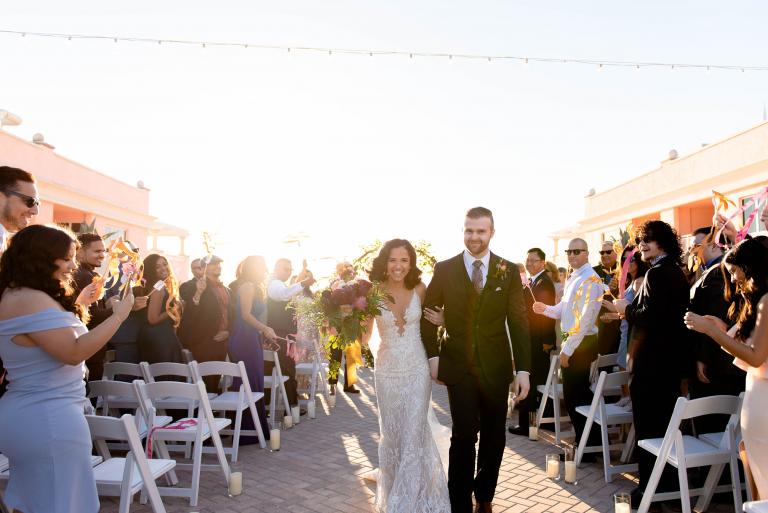 What was the most important thing for you and your husband when planning your wedding?

My husband and I are true party people, so it was important to us that our shin-dig truly represented us as a couple and the party-goers that we are. We also wanted to make sure that we got to spend time with all our guests who came to celebrate our love, enjoy the food we handpicked and show off some bad dance moves on the dance floor. Many times you often hear of the bride and groom barely having time to enjoy the day they spent months planning for, so overall it was important that we have fun and create an epic experience we not only would enjoy ourselves but would be able to enjoy with our loved ones as well. 
What was your first wedding song?

Our first wedding song was 'I Don't Want to Miss a Thing' by Aerosmith. It's the soundtrack to one of our favorite movies (Armageddon) and was always considered 'our' song, so we thought it was the perfect track to play for our first dance. 
What did you enjoy the most about planning your wedding?

I enjoyed many things, but I think the one thing I enjoyed most was being able to work alongside my husband as a team to make our vision come to life. Planning our wedding together and both being equally involved taught us a lot about ourselves as individuals and as a couple. So the process of it all was rewarding in the end and it was something special to have planned a big life event together and enjoy the result of its completion with one another surrounded by loved ones closest to us.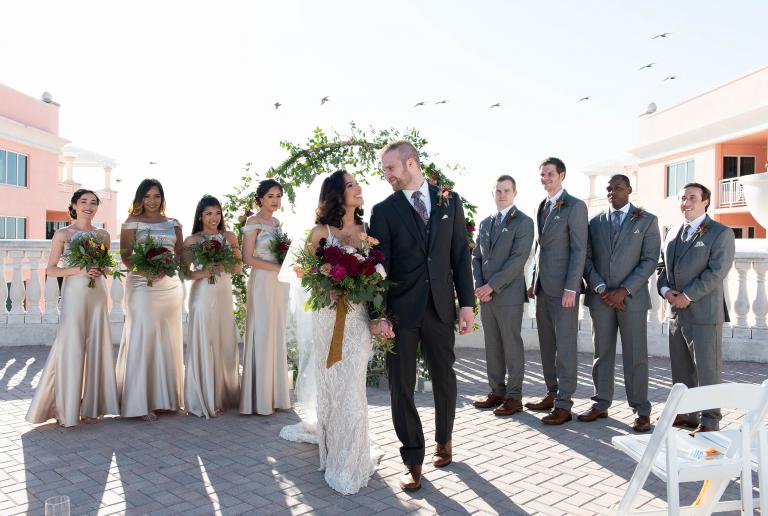 What moment from your wedding will you never forget?

The most memorable moment for me had to be our first look. I couldn't wait to see my groom and give him a big ol' hug and kiss, plus, I couldn't wait to see his reaction when he was finally able to see me in my wedding gown that I'd been dying to show off for months. But before I showed off I played a little trick on my groom and surprised him by sending out his best man (his brother, Matthew) dressed in a T-Rex costume (my husband had been joking days leading up to the big day that instead of his custom suit he would wear a Trex suit) so when my husband turned expecting to see me he instead would be greeted by his brother dressed as a Trex. The harmless prank lightened the mood and we all had a good laugh. Once it was my turn to come out I was so excited, extremely emotional and could hardly wait! We were so happy to see each other and it felt like no one else was there – it was just the two of us in our own little world. That moment was so special for us both and the energy that poured out of us was unreal, it truly felt like love was in the air.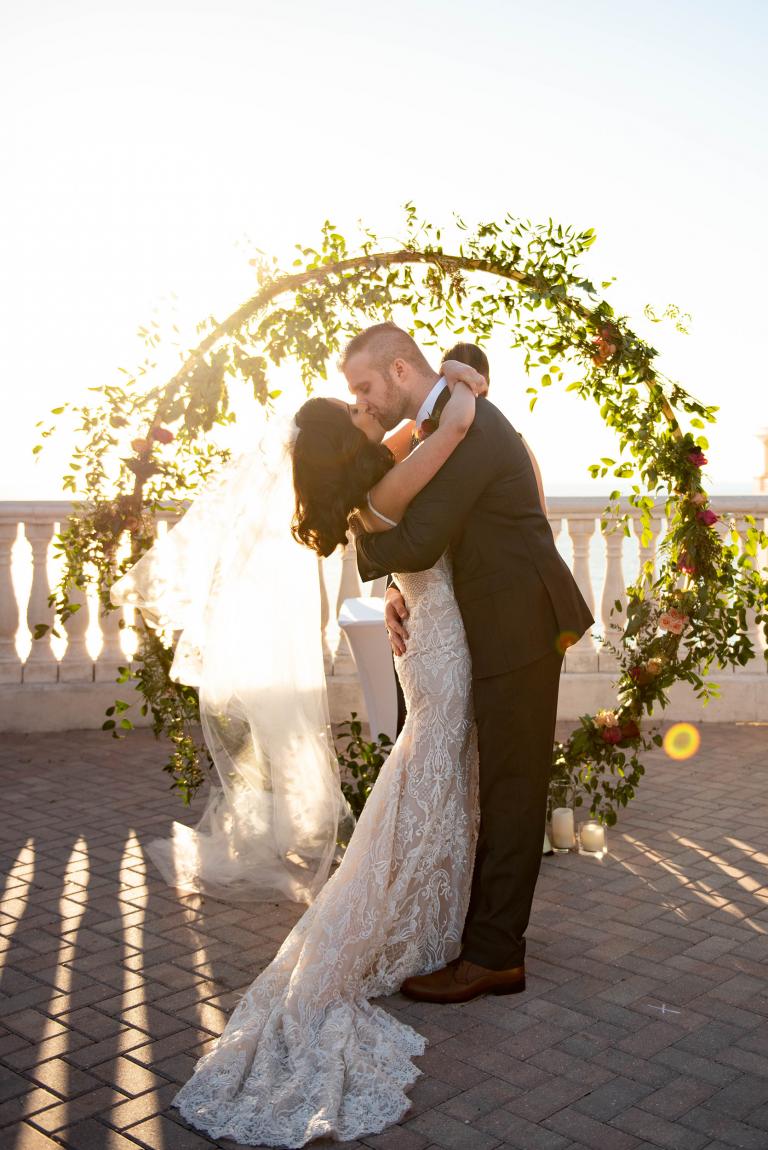 Finish your registration for {City} Trunk Show