FREE SHIPPING & RETURNS WORLDWIDE!

DUTIES & TAXES COVERED WORLDWIDE
Find your nearest boutique
Our #GLBride of the week is Amanda Zeffiro, who married her fiancé in our Aelin gown from the Queen of Hearts collection. The couple celebrated the start of their new life together with an ivory and gold wedding surrounded by friends and family. In the following interview, Amanda shares with us the best parts of planning her wedding and how our Aelin gown unexpectedly became her dream dress. As told by Amanda: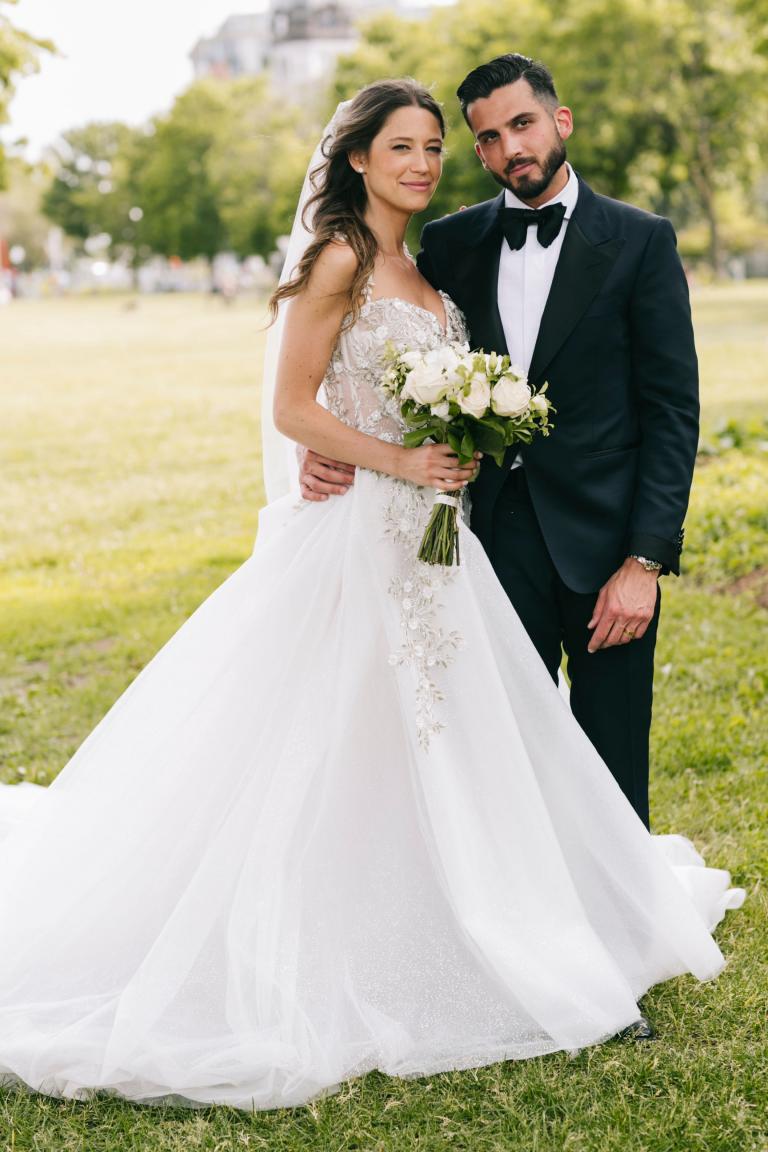 How did you meet your husband? Tell us a little bit about your relationship.

My mom is the reason behind it. In 2014, my mom walked into a Nissan dealership to purchase a car and ended up walking out with a son-in-law. She requested to see the manager before signing the contract and when he walked into the room, she fell off her chair and immediately pulled out a picture of me from her purse (she's an Italian mom). My mom and brother then managed to trap me in going to the dealership to "fix" something in the car. Little did I know it was to meet my future husband. Although the timing wasn't right when we met back in 2014, we came across each other a year later and here we are happily married. Mom definitely knows best!

I would say my relationship with my husband is perfect. Not because everything is perfect, because it isn't. But because we communicate with one another and we pay attention to our wants and needs. I am so lucky to have found someone with a similar sense of humor and with whom I can share the same core values and beliefs. We miss each other when we're not together. We both have busy schedules with our careers, but we always look forward to the weekend where we get to spend quality time together and just do what makes us happy. We always try to find different ways to show that we care about each other and I hope that never ends.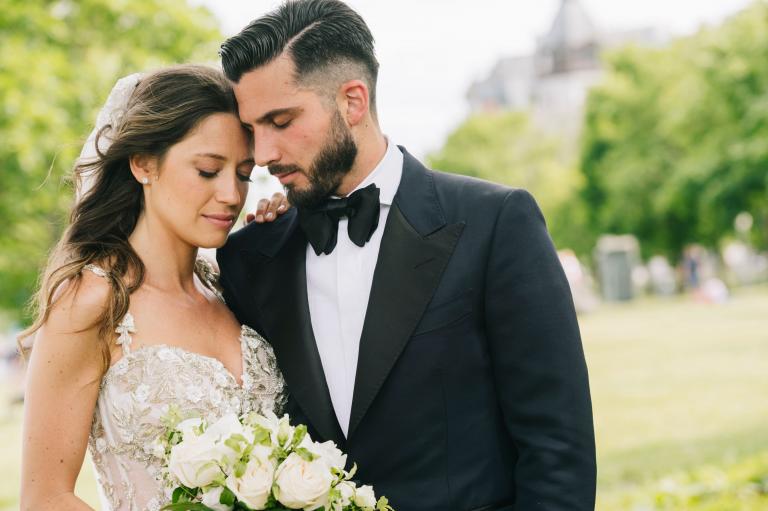 How did he propose?

After having dinner with some friends at one of our favourite restaurants in the Old Port of Montreal in late November 2017, my husband decided that he wanted to meet up with his sister and best friend that so happened to be at this nearby restaurant-bar. As we started walking to meet up with them, my husband was insisting that we'd take this path through this ally in order to get there. As we started walking into the ally, our favourite song "Perfect by Ed Sheeran" randomly started playing out in the open. As we continued walking, this "flash" started to appear at the end of the street. Being absolutely clueless, I just continued walking and kept searching where this song was coming from. As we finally reached the end of the street, where I finally noticed a photographer was taking pictures of us, I turned around and noticed pictures of us were being projected on a big brick wall. Memories of us kept rolling until the last picture came on and said: "Will you marry me". It was the most beautiful and unexpected day of my life.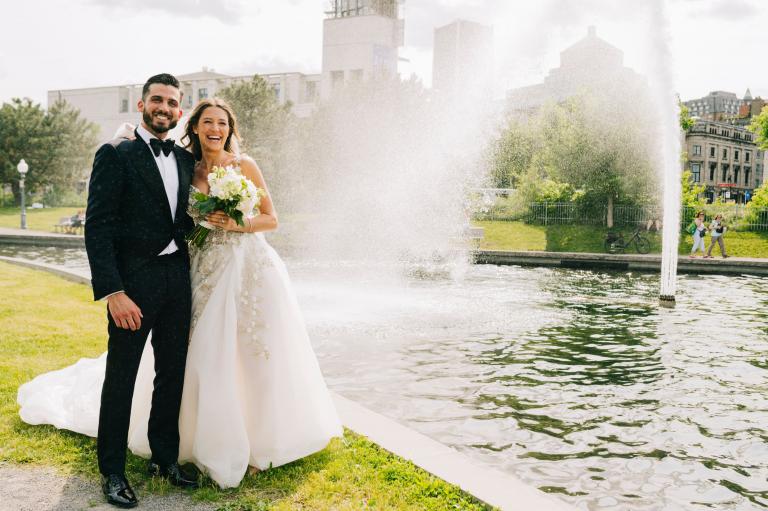 How did you start planning your wedding? What were the first steps?

Our first step was to determine a range of dates that worked for us and the number of people we were expecting. We then started researching the possible venues we wanted to get married at and reserving the available dates. Then came the fun part, wedding dress shopping, and bridal party announcement!
Did you do any beauty or fitness prep for your big day?

No, not really. I live a healthy lifestyle and workout on a regular basis so my main goal was just to maintain that and avoid binge eating when I felt stressed. I really just wanted to maintain my weight so I could fit in my perfect dress and made sure my skin was well hydrated to have healthy and glowing skin!
What was your wedding theme?

We didn't really have a specific wedding theme. We went with an Ivory & Gold colored scheme wedding, with a touch of blush. I also wanted it to look very floral so we went with garden-style flowers as our centerpieces and bouquets as well as a big circular flower arch behind our sweet table. We wanted to make sure our guests were very entertained throughout the whole night, so we incorporated a live band as well as a DJ.
How did you choose your location?

My husband and I are both Italian, therefore our main focus was the food (an abundance of food) and also the space. We wanted everyone to be able to dance comfortably on the dancefloor. I also always wanted to have an outdoor cocktail and this venue had a beautiful garden. 
How did you decide on your bridesmaid style?

I really wanted my bridesmaid to be in white. Since my dress had a lot going one with the bronze sequinned flower petals and sparkles along with the skirt, I was looking for a simple but elegant white dress. We went to a few different locations and ended up falling on a high neck plain white dress with an open back. I really wanted my whole bridal party to have the same dress so I simply added a silver sparkling belt to my maid of honor dresses in order to differentiate them.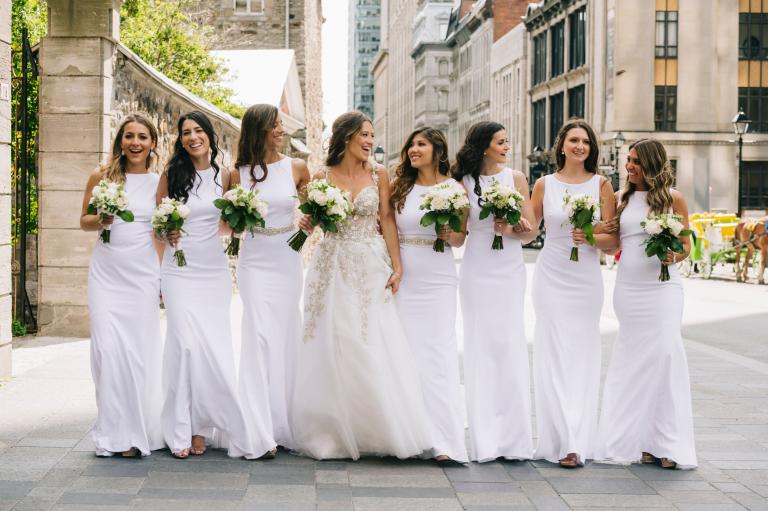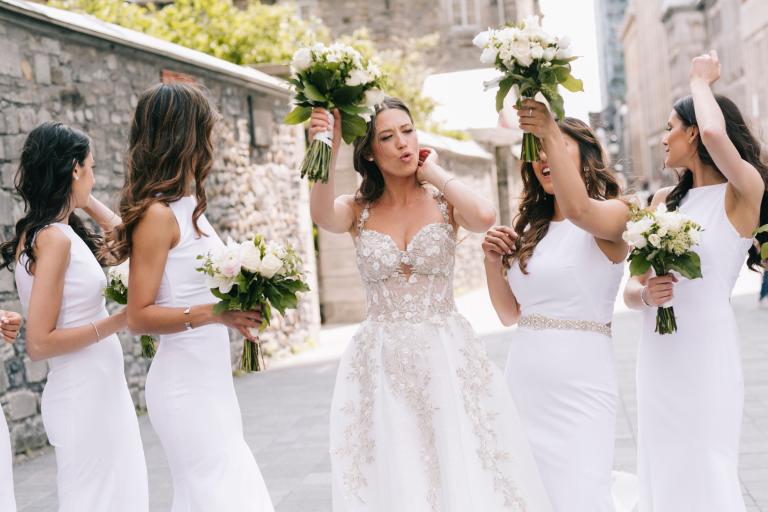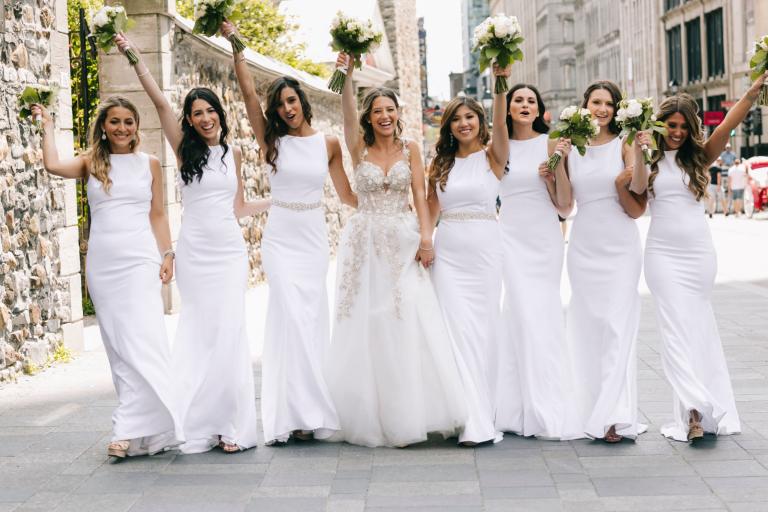 How did you find your perfect dress?

I purchased my dress at White Montreal, where I believe I went back for 6-7 different appointments. I was going to every trunk show in order to make sure I had seen every new gown and tried every possible style. I always saw myself wearing a fitted gown, but just after my first two appointments, that rapidly changed into a princess gown. I went into the September 2018 Galiah Lahav trunk show having a few models in mind. As I was browsing through the different dresses, I fell on the "Aelin" dress which I had remembered seeing all over Instagram. I didn't think it would suit me so I refused to try it. However, my consultant Natasha from White Montreal insisted that this dress looked completely different on the body than on a hanger and that I should absolutely try it. Amongst all the dresses I had picked to try on, the "Aelin" was the last dress I wanted to try as I thought it would be my least favourite… But that all changed the moment I slipped into this sparkling skirt and endless train. I instantly became speechless as I stared at myself in the mirror. When I stepped out of the dressing room to show my mother, we were both beyond words and suddenly started tearing. That was the moment I had been waiting for. I didn't want to take it off, I was ready to get married right away. It was beyond anything I had ever imagined myself wearing and just made me feel like a real princess.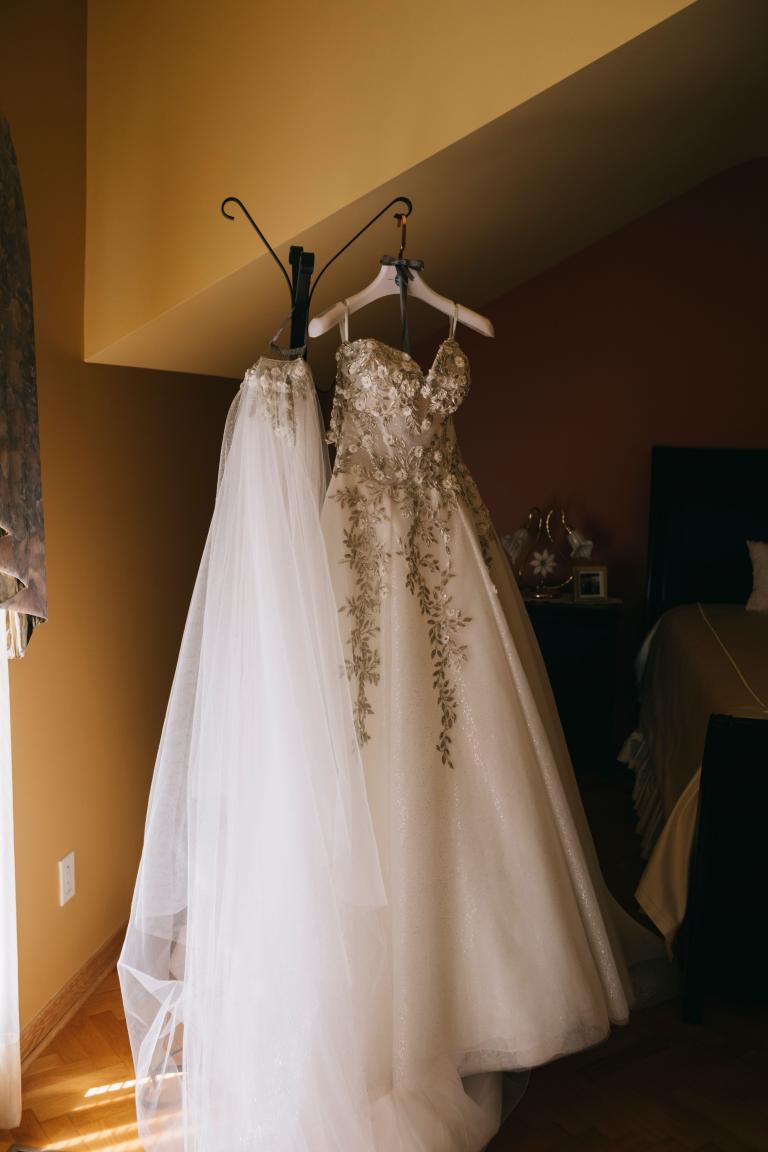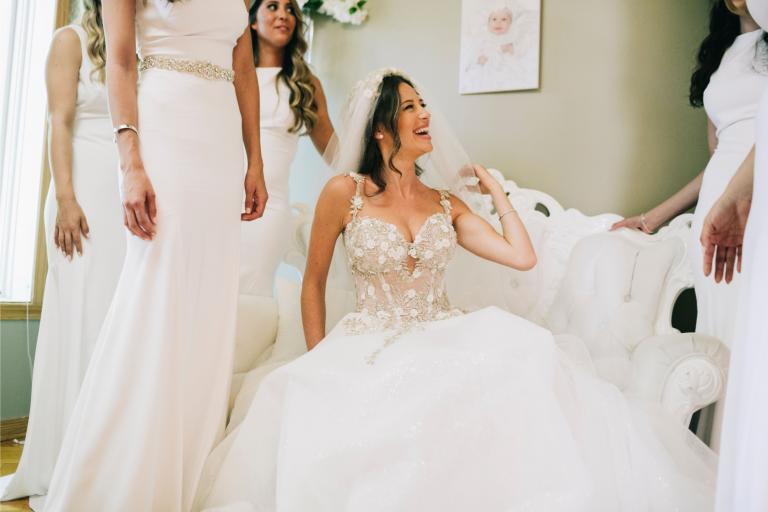 How was your experience with the Galia Lahav brand?

Absolutely amazing. A completely new made-to-measure dress was made just for me due to my unproportionate body measurements and it fitted like a glove from the first fitting. I've tried many different Galia Lahav dresses, and not just on the dress I purchased, but the details and quality of every single gown are simply impressive. They are one of a kind dresses. 
What was the most important thing for you and your husband when planning your wedding?

We just really wanted our vision to come to life. We wanted to do something different that would reflect not only our story and us as individuals but also make our guests live this beautiful journey with us and feel the love we share. We wanted everyone to have a great time and remember this day forever.
What was your first wedding song?

Our favourite song "Perfect" by Ed Sheeran, the song my husband played when he proposed to me.
What did you enjoy the most about planning your wedding?

Definitely shopping for my wedding dress. I've been dreaming about this day since I was a little girl watching all these wedding TV shows!
What advice would you give to all our future brides?

The best advice I can give any bride is to enjoy your day to the fullest. Everyone around me kept stressing on how fast the day goes by and let me tell you, it really does. In the blink of an eye, the day is over. There's so much going on that day so you really need to take in every moment and not let anything get to you. Another advice I can give is to make sure you allocate enough time for pictures with your husband. These are lifetime memories and probably the only alone time you have with your husband so you don't want to rush it.
What moment from your wedding will you never forget?

The moment the doors of the church opened and I saw my husband at the end of the aisle. Everyone is just staring at you as you walk slowly down the aisle and it's just one of the most fairy-tale like moments of your life. 
Finish your registration for {City} Trunk Show