FREE SHIPPING & RETURNS WORLDWIDE!

DUTIES & TAXES COVERED WORLDWIDE
Find your nearest boutique
Our #GLBride of the week is Alis Bogumian, who married the love of her life Paul in our New Suzanne gown. The couple held a glowing floral wedding at the opulent Taglyan Arts and Cultural Complex in Los Angeles. In the following interview, Alis shares with us the wonderful details surrounding her gorgeous wedding, and the moment she realized our New Suzanne was 'The One'. As told by Alis: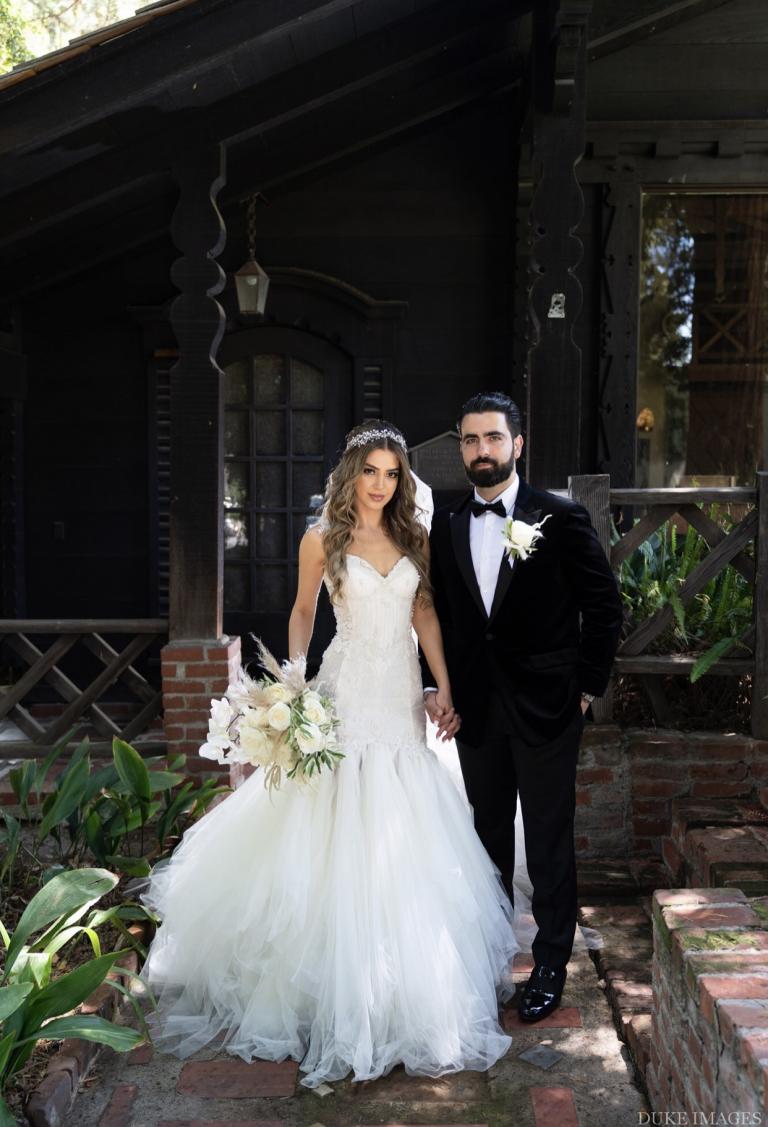 How did you meet your husband? Tell us a little bit about your relationship.

Paul and I … the story of how we met is very LA. In 2013, I spent my summer studying for my physics class at a Starbucks and there was this green-eyed boy who kept walking by every day. At some point, our friends became friends but still, he was the quiet one. There came a point when Paul started to throw in a couple of words into the group conversations. Within a couple of months, he asked me out on a date and we had our first lunch at In-N-Out (there, we got even more LA). The rest is history.

So, if you or anyone else is interested in finding love, try your local Starbucks.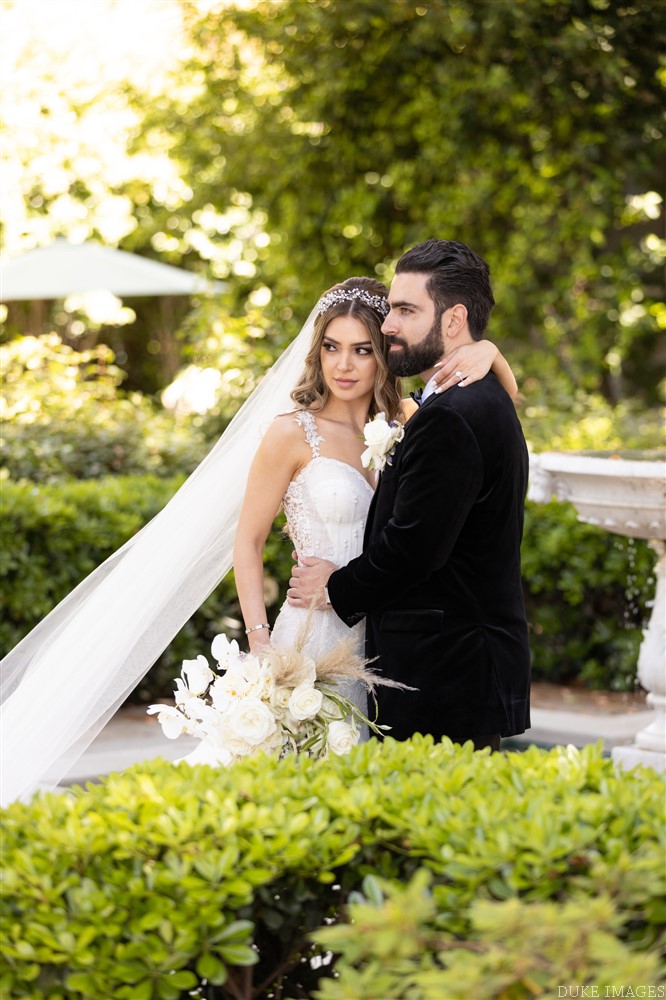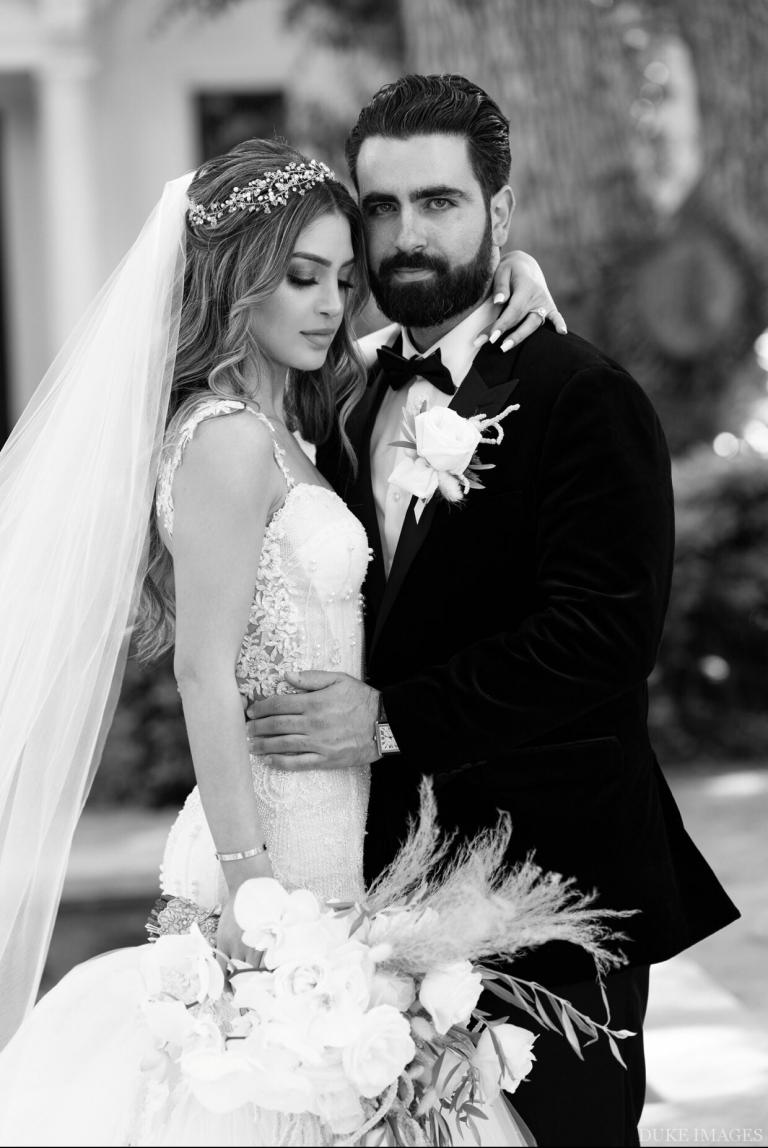 How did he propose?

Our proposal happened about a year before the wedding. It was a couple of weeks after Paul's birthday, and he told me that he wanted to throw a party with our close family and friends and rent an Airbnb in Malibu. I even helped him plan it a bit. Of course, everyone was in on it- my mom and my friends were desperately trying to get me to wear a fancy dress. I was getting frustrated and confused because these parties are typically casual. The night before the birthday, I reminded Paul that we should order a birthday cake (I don't think he was planning on getting one….). When we got to the Airbnb, he told me to leave all the catering inside the car so we could take a quick look inside the house and scope things out. I wanted to take this "Happy Birthday Paul" cake with me- a good thing he stopped me. We walked in, and well…. there was a videographer, photographer, violinist (my favorite part) and a rose petal path that led to the balcony facing the ocean where he proposed.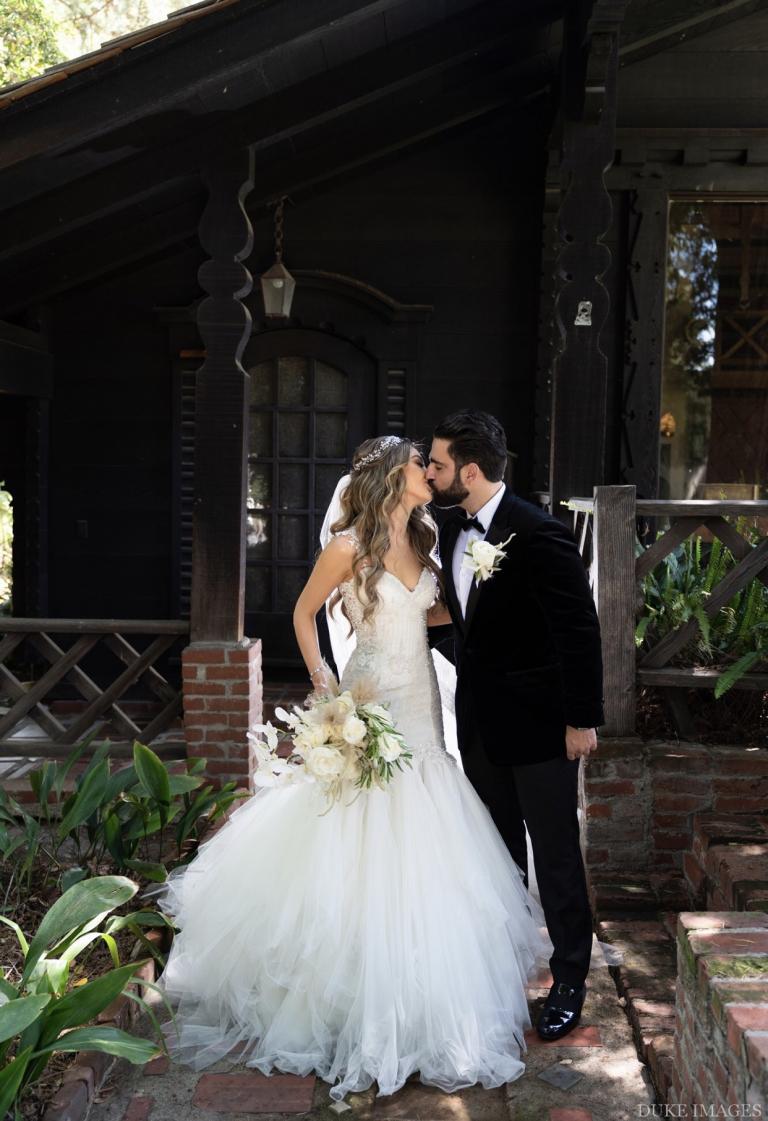 How did you start planning your wedding? What were the first steps?

When Paul proposed to me, I was finishing off my third year in pharmacy school. He told me he did not want to wait to get married in 2020, so we started scavenging for the best date in 2019. We were kind of limited because I was going to be graduating, and starting residency. So our biggest challenge was figuring out the wedding date. After that, we kind of knew the vendors we wanted to go with. I'd just had multiple friends get married, and learned all about the wedding process (it helped a lot) and bridal gown designers as well. The first and only designer I tried was GALIA LAHAV.  
Did you do any beauty or fitness prep for your big day?

Because of my busy school schedule on top of everything it takes to plan a wedding all crashed into one year, I didn't have a lot of time on my hands for the gym (although I wish I did). But what I tried to do was go to the gym any time I did get a chance, to clear my mind and regroup.  
What was your wedding theme?

Our wedding theme was enchanted, floral, wooden and glowy. 
How did you choose your location?

Paul and I are both from Los Angeles, and Armenian weddings are big. Really big. We went with one of our top choices, Taglyan Cultural Complex, that accommodated our vision. 
How did you decide on your bridesmaid style?

I chose to not have any bridesmaids for our wedding. We had a best man and a maid of honor. 
How did you find your perfect dress?

Finding the perfect GL dress, for me, was not hard. With the help of my amazing GL stylist Kara, I literally tried on four dresses. She provided the best experience for me. And then, I knew it was the one when I didn't want to take the New Suzanne off.
How was your experience with the Galia Lahav brand?

My experience with Galia Lahav was perfect. The only difficulty I had with GL as a brand is that every dress is more breathtaking than the next… I was and am still in love with my gown but from time to time I find myself wishing I could wear every other dress and have a few more receptions.
What was the most important thing for you and your husband when planning your wedding?

Paul and I are both calm individuals, so our goal during the hectic process of planning a wedding was to ensure that neither one of us stopped actually enjoying the process. We believed that it was not meant to be something to stress over details for, and made sure to keep in mind the bigger purpose of our wedding day – starting our marriage. 
What was your first wedding song?

Originally, the song to our first dance was going to be Amazed by Lonestar, which is the song we chose for our proposal video. But when we decided to play a surprise snippet of the video for our guests right before we walked into the reception, we changed it. We had a live performer, Armenian artist Gor Yepremyan, and he performed a beautiful ballad titled Sireci Kez. 
What did you enjoy the most about planning your wedding?

One of my favorite aspects of planning our wedding was all of the other events that came along with it. It felt like we were living a fairytale leading up to the big day. From the proposal day, to the engagement party in my backyard, to our bachelor/bachelorette trips, my bridal shower, the photo-shoots and finally, the wedding day – everything was so much fun and we felt like we were walking on clouds the entire time. Well, we still do. 
What advice would you give to all our future brides?

To future brides: if anything doesn't go the way it was supposed to go, stop and remind yourself what the day is for. It's the celebration of your new journey with the love of your life. So, if the flowers aren't the exact shade you wanted, your curls aren't as loose as you wanted, or your bridesmaid is running late – it just doesn't matter. You have love.
What moment from your wedding will you never forget?

There are two moments from my wedding that I will never forget.

Paul is the sweetest, sincerest and most heartfelt man I've ever met. But even so, I hadn't seen him cry. And that was his reaction during our first look moment.

And my dad. My mom always claims that he is an emotional man but… again, I'd never seen him cry. When the videographers asked him to give a little memorable speech to me for the video, he said two words and started crying. I'll never forget that moment.
Finish your registration for {City} Trunk Show