FREE SHIPPING & RETURNS WORLDWIDE!

DUTIES & TAXES COVERED WORLDWIDE
Find your nearest boutique
Our #GLBride of the week is Alexandra Helga, who wore our Lily Rose gown as she wed her fiancé. With Lake Como in the background, the couple held an unforgettable all-white wedding in Lombardy, Italy. In the following interview, Alexandra shares with us the details leading up to her big day and the moment she fell in love with our Lily Rose. As told by Alexandra:

How did you meet your husband? Tell us a little bit about your relationship.

We got introduced by my cousins in 2010. Our first date was on christmas eve that year after spending hours talking online as he was living in Germany at the time. Our first few months were long distance as I moved to Dubai in 2011 but joined him in Germany later that summer. Now 9 years later, having lived in a few different cities we have a home in Manchester with our king charles spaniel Koby.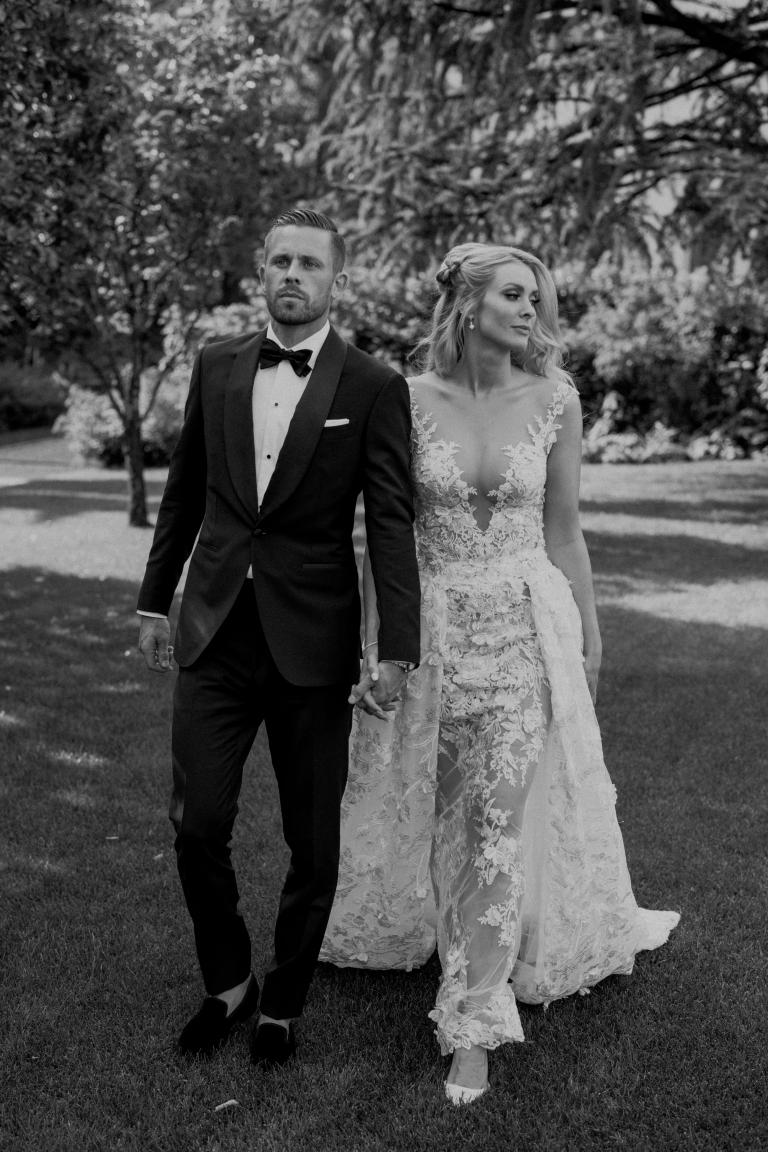 How did he propose?

We were in the Bahamas in july last year and had the most amazing day on the islands of Exuma swimming with sharks and seeing the pigs. That evening we had planned a dinner on the beach with a private chef but he had been planning a surprise as well. Next to the house we stayed in there was a gorgeous little pier that was my favourite spot . We usually had our morning coffee out there watching the sunrise as it was so beautiful and quiet. After dinner he took me out there, where we followed a trail of rose paddles and candles and he proposed in the sunset. It was so romantic and intimate. A moment I'll never forget.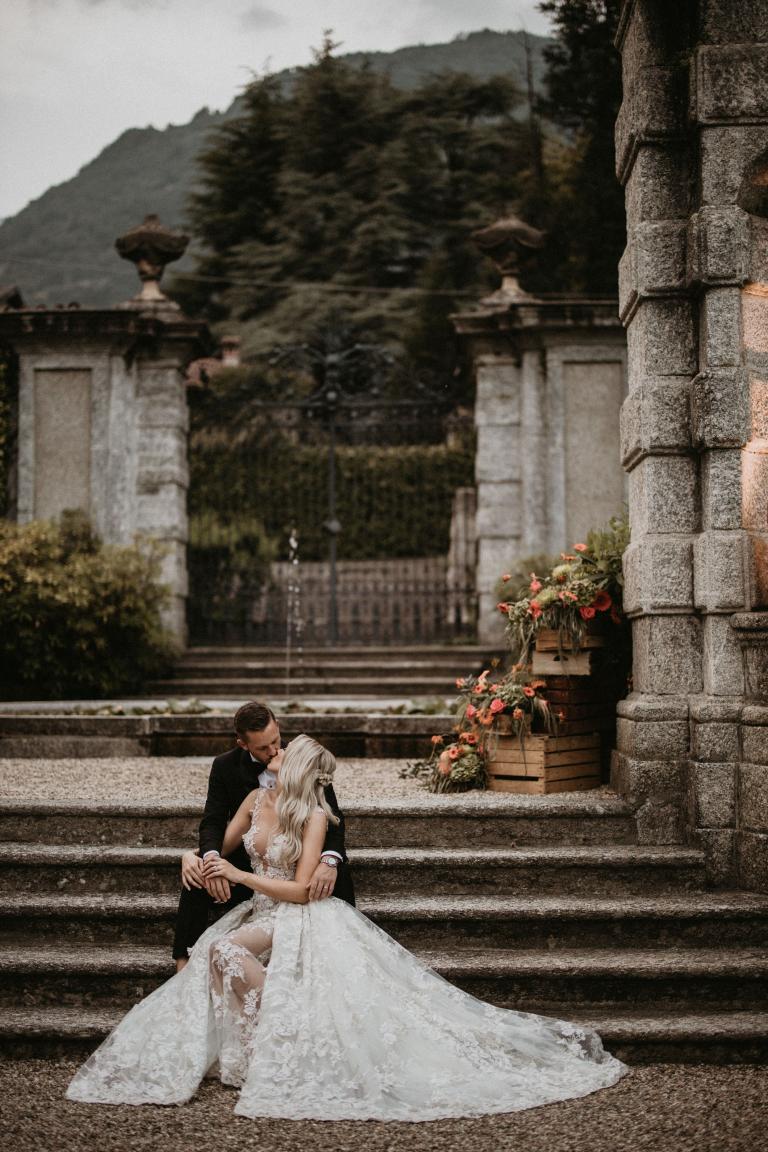 How did you start planning your wedding? What were the first steps?

After we came back from our holiday we knew that we wanted to get married the following summer. With my husband being a footballer it had to be a "mid-June" wedding so I started looking out for wedding planners very soon as we already had less than a year to plan. That's where I came across Charlotte Elise who was an absolute dream to work with. One of the first things I  did was to book an appointment with Browns Brides in London that August as I knew a dress like that can take months to make.
Did you do any beauty or fitness prep for your big day?

It was hard to have a specific routine as I was traveling a lot the months leading up to the wedding. I did keep on top of my skin treatments as I tend to struggle with my skin and wanted to prep it as best as I could for the big day. I did a course of hydrafacials & peels, along with some LED light therapy.
What was your wedding theme?

All white. Literally everything was white. It was stunning against the greenery and backdrop of Lake Como. 
How did you choose your location?

We had discussed getting married abroad and my husband suggested Italy. When we started researching and looked at Lake Como we knew it had to be there. Although neither of us had been there before we were so drawn to it. I went to look at venues in September last year with Charlotte and after seeing Villa Balbiano there was no turning back. It is one of the most beautiful places I've ever seen. And the atmosphere there is so calm and romantic. With it being a two day event it was the perfect location as  we were able to use different parts of the grounds for our Friday pre-party at the back of the villa, and then had the ceremony and reception at the front overlooking the lake. We stayed in the villa over the weekend with our closest family members which made it even more special.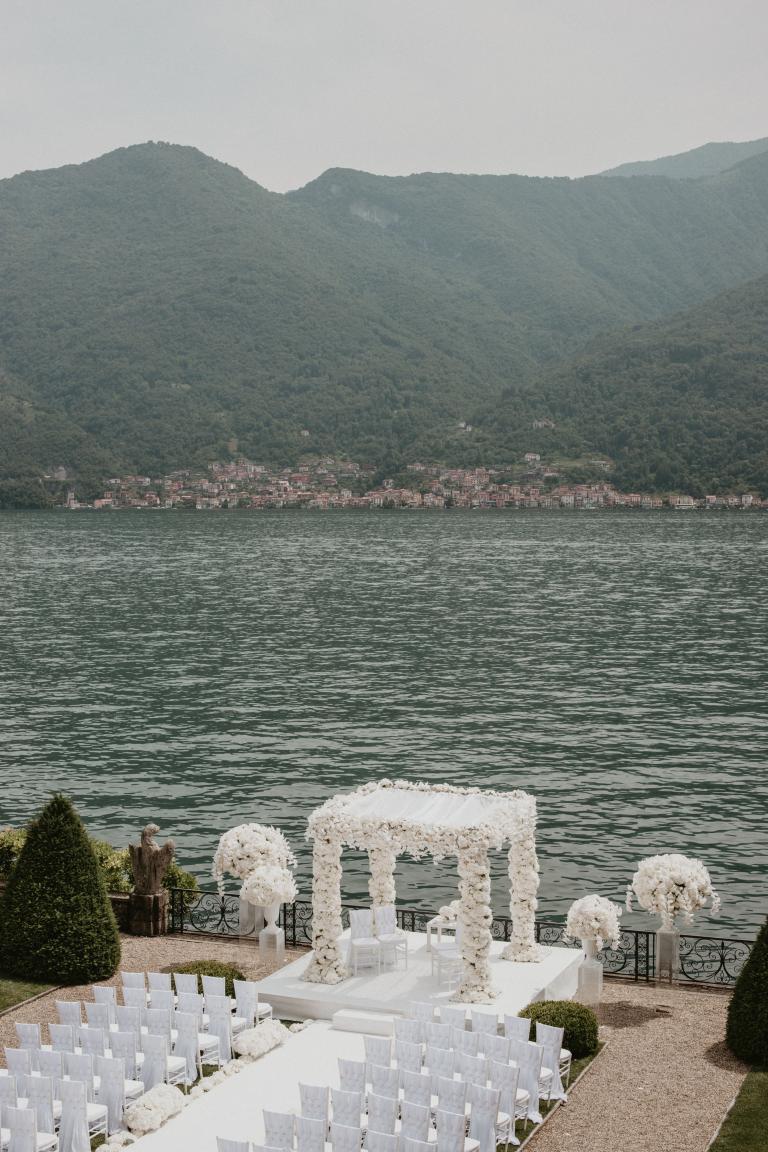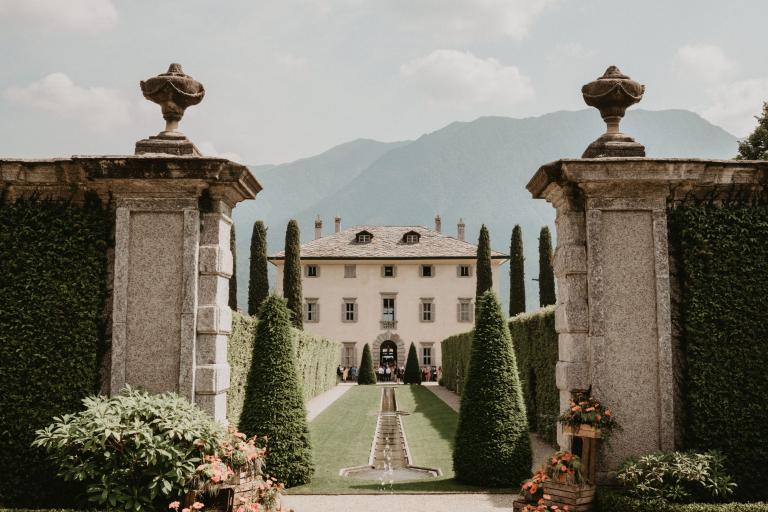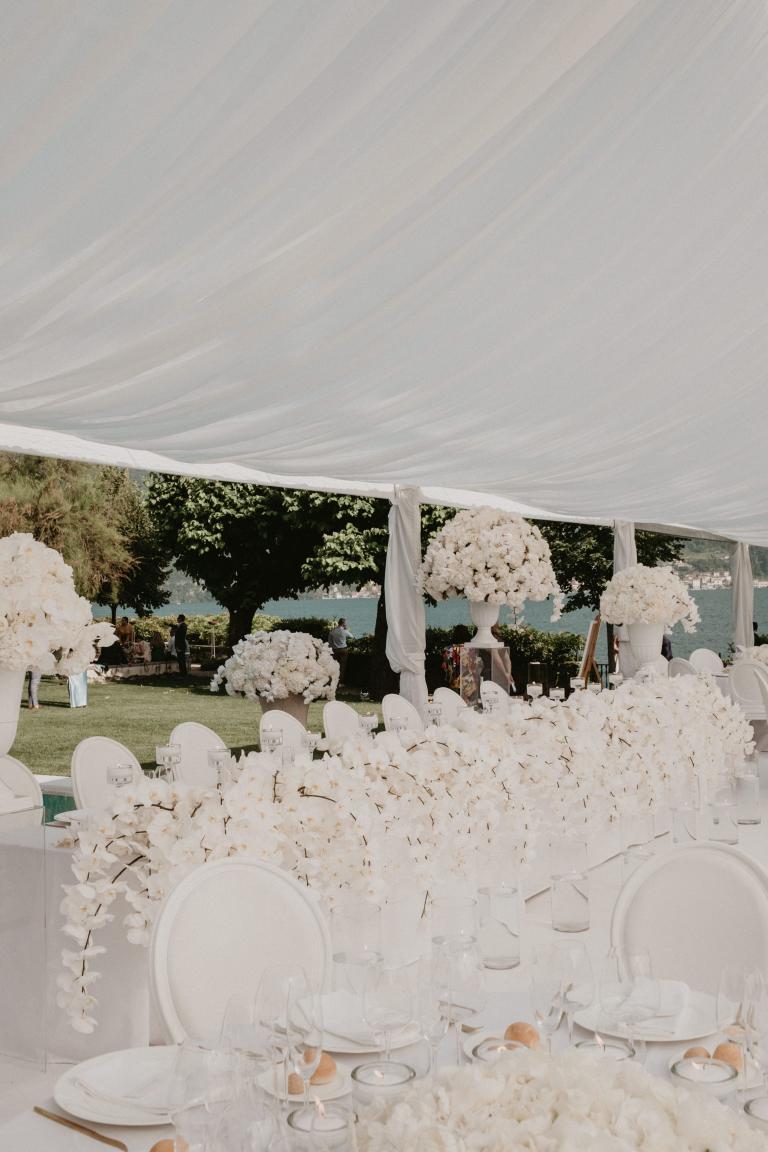 How did you decide on your bridesmaid style?

In Iceland where we are from we don't have a bridesmaid tradition. In a way it was a bit of a relief not having to choose bridesmaids gowns. My niece was a flower girl and she wore a long white gown to match the theme. 
How did you find your perfect dress?

Lily rose was the first wedding dress I ever tried on. I went into my appointment with Browns brides in London with a photo of that gown on my phone as something about it really captured me. As I tried on other styles I always kept going back to that dress and loved it more every time I tried it on. I did make a few changes to the dress like the colour and adding lace, layers to the skirt etc. In the end I had the most beautiful custom made gown I had ever laid eyes on. 

I also have to mention Lauren, a bridal stylist at Browns. She was such a sweetheart and made my whole experience from trying on different dresses to the fittings so much fun, along with the rest of their team.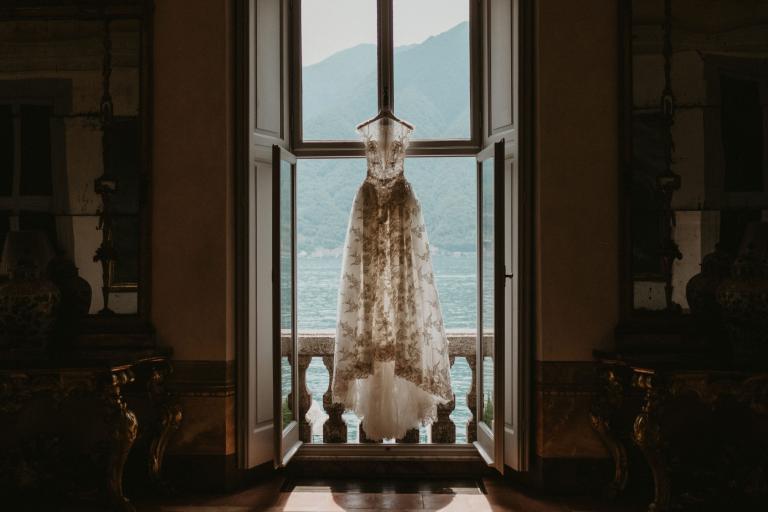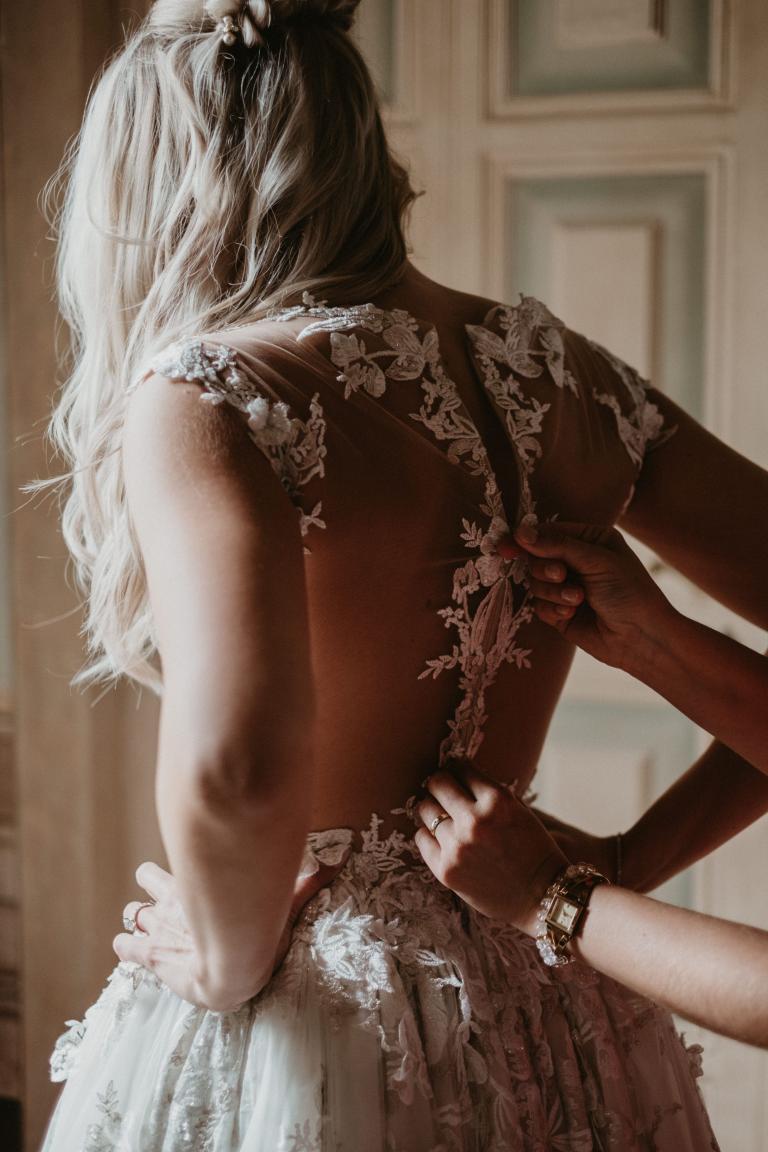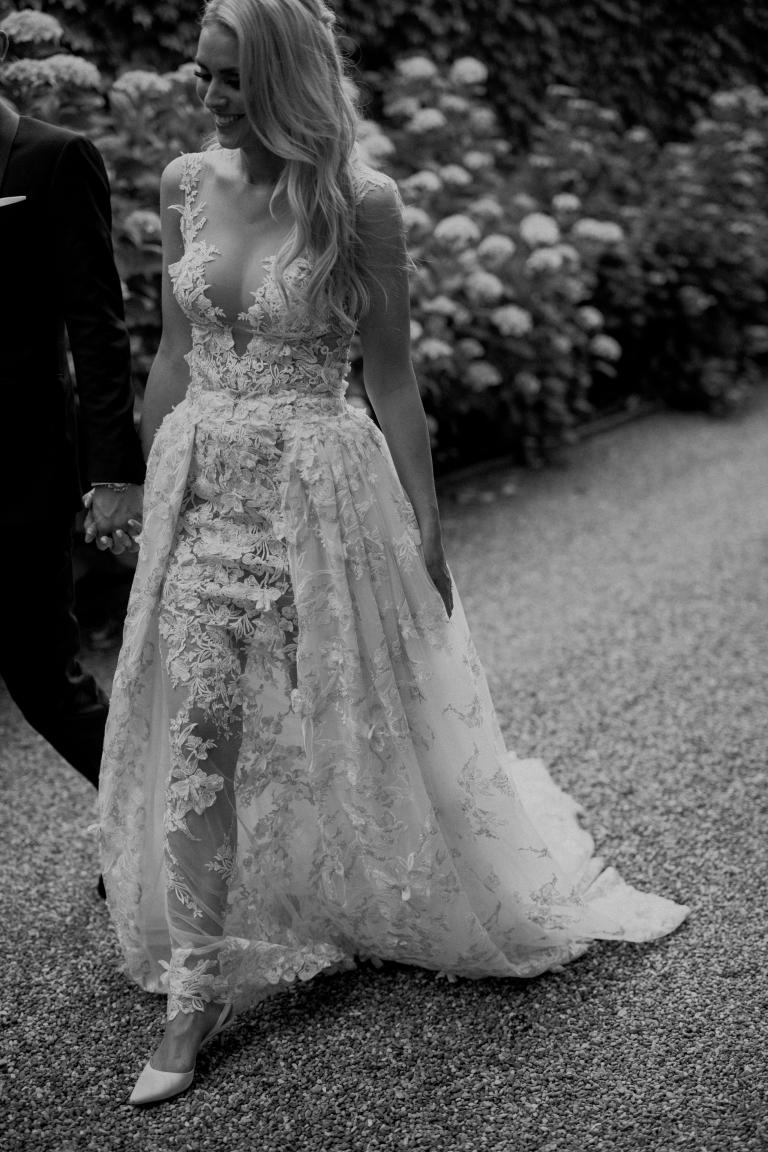 How was your experience with the Galia Lahav brand?

It was amazing. I had the pleasure of meeting Sharon the head designer for Galia Lahav at a London trunk show that September which made my experience truly special. I had the opportunity to discuss the details of my dress with him and he was so helpful and sweet in every way. Once he had done all the measurements and we decided on the changes I wanted I felt so confident I would get married in my dream dress.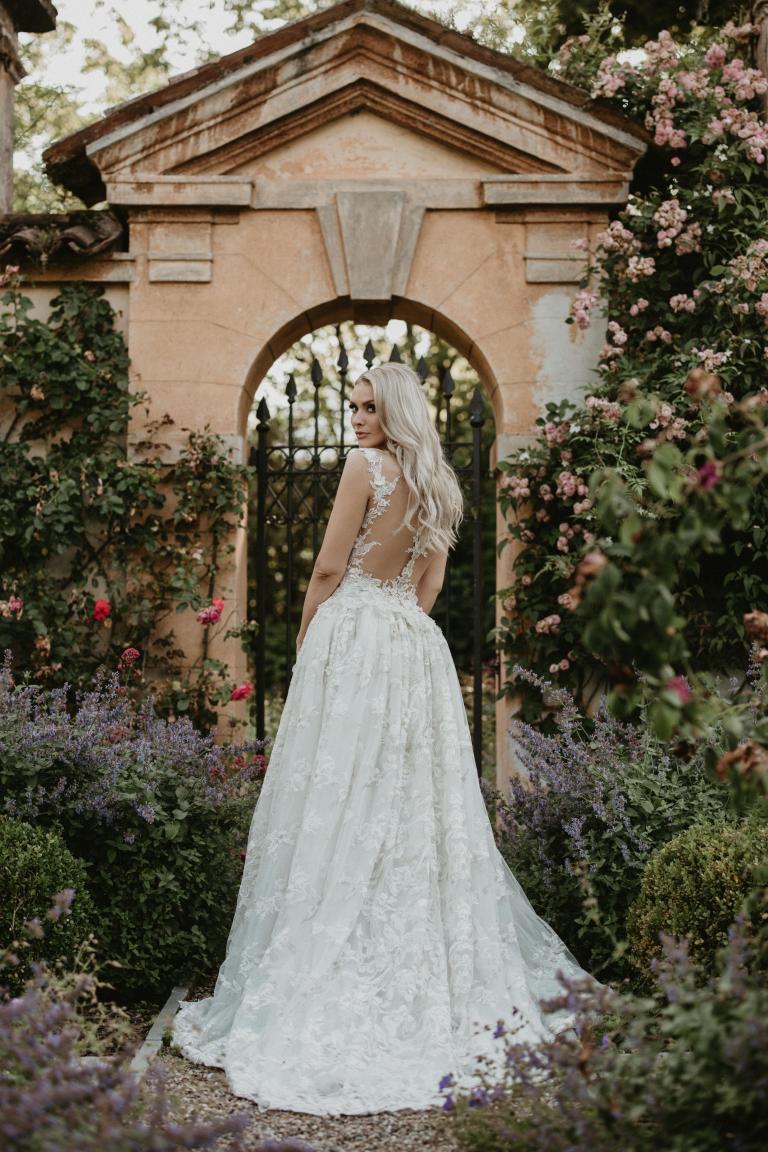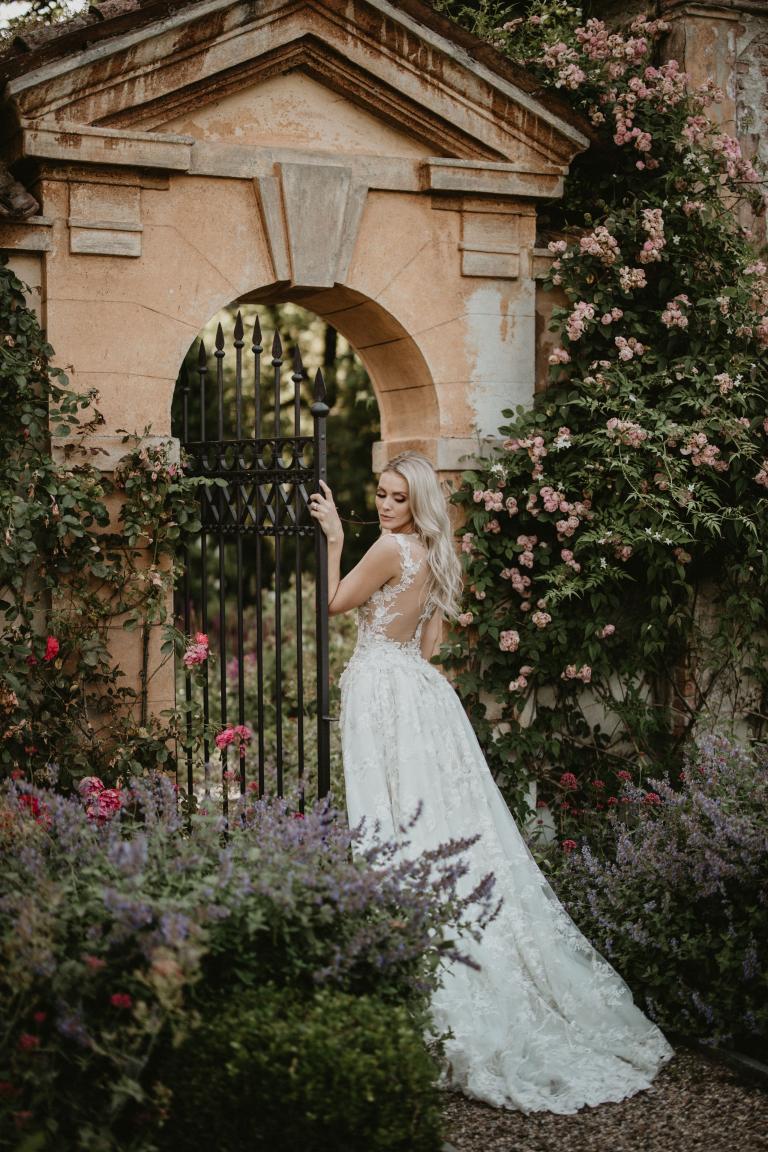 What was the most important thing for you and your husband when planning your wedding?

Having our dog there was really important as he's such a big part of our lives. He was a ring bearer and made the ceremony so memorable. He also wanted to get in on the first dance and wouldn't stop barking until we picked him up and danced with him. 

Being a natural chef myself the food was a really big thing for me as well. I was so happy to get Þráinn, the chef from my favourite restaurant in Reykjavik called Sumac to put his twist on the dishes. It made the whole thing a lot more personal and everyone loved the food. 
What was your first wedding song?

We had our first dance to "Perfect" by Ed Sheeran. 
What did you enjoy the most about planning your wedding?

The whole thing was so much fun. Getting my dress was probably the best thing for me, along with the trips to Italy for the tastings and venue hunting. Having a good wedding planner takes the planning to a whole different level and Charlotte Elise did such an amazing job. We managed to really enjoy the planning as she was there for us every step of the way and made all of our ideas become a reality. It was so special seeing it all come to life that weekend after spending months planning it. We are so thankful to all the amazing people that played a part in building our dream wedding.  
What moment from your wedding will you never forget?

The walk down the aisle with my dad. Seeing my husband smiling at me on the other end while walking past all my friends and family. It was a moment I'll forever cherish. 

Having all our friends and family out there to celebrate with us was so special and we'll be forever grateful for this weekend.
Finish your registration for {City} Trunk Show