FREE SHIPPING & RETURNS WORLDWIDE!

DUTIES & TAXES COVERED WORLDWIDE
Find your nearest boutique
Our #GLBride of the week is the beautiful Alexa Chase Crain, who said 'I do' to her fiancé Sam in our Mia gown. Surrounded by a lavish garden and Spanish style architecture, the couple held their wedding in Santa Barbara at The Four Seasons Biltmore. In the following interview, Alexa shares with us her beautiful love-story with Sam and how she found her dream dress with us. As told by Alexa: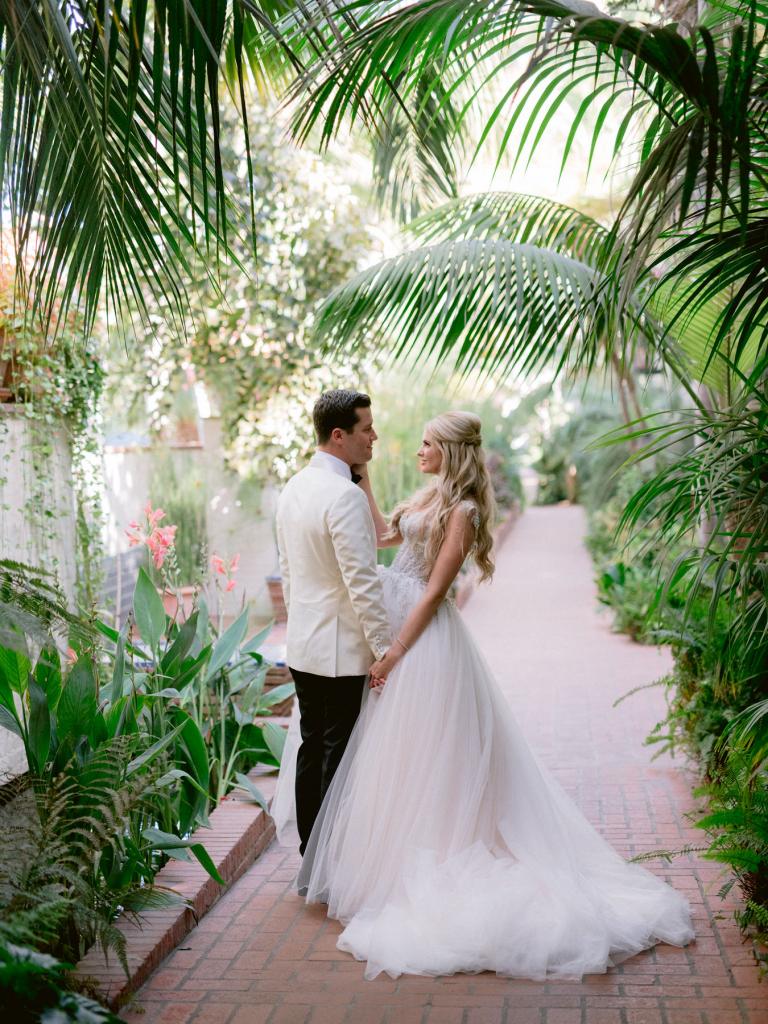 How did you meet your husband? Tell us a little bit about your relationship.

We met on an app called Hinge. I had just moved to Dallas and not knowing anyone was wanting to meet girlfriends to go out, have fun with, and potentially meet a guy. One night bored in my apartment I typed in friendship app in the App Store and Hinge popped up. I downloaded it and quickly realized it wasn't to make girlfriends but decided to give it a try and shortly after received a message from Sam. What set Sam apart aside from thinking he was very handsome was his directness in asking me on a date. Our first date was at Taco's and Tequilla and from there, our relationship blossomed steadily and he became my best friend.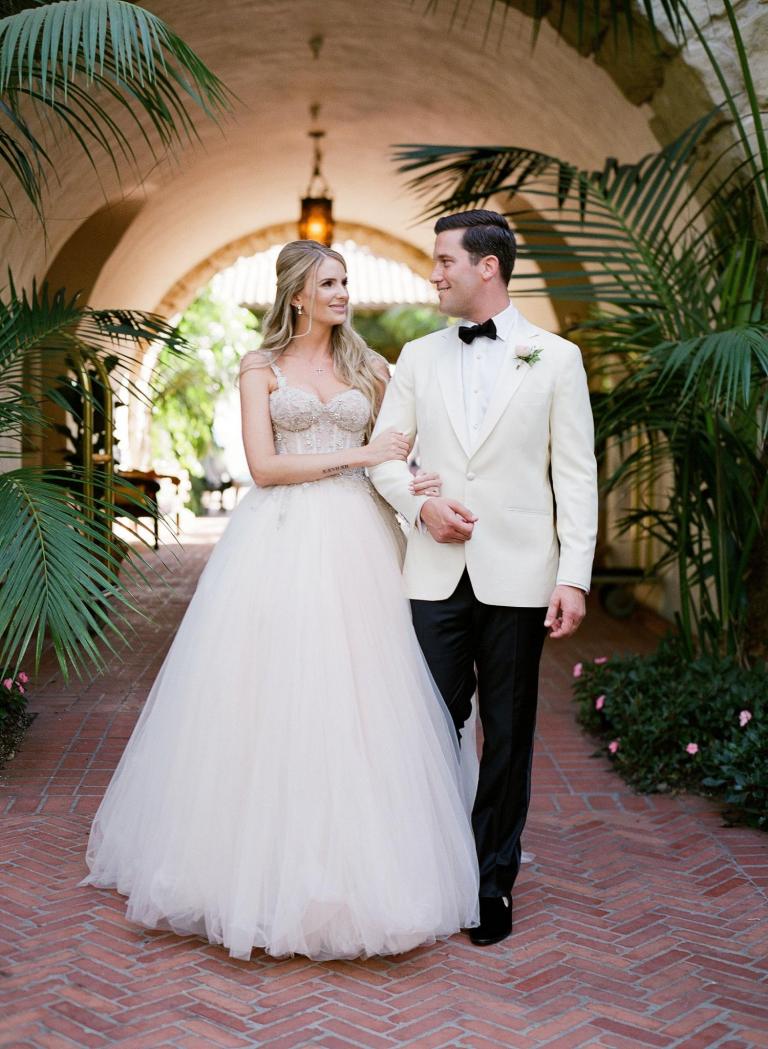 How did he propose?

Sam had told me he had made reservations at our favorite Dallas steak house Al Biernat's to celebrate our 3 year anniversary. As we were headed to dinner he suggested the scenic route which passes by our favorite park Lakeside. As we were driving by he pulled over and suggested we ask this man sitting on the bench to take a picture of us and as soon as he handed over his phone the guy pulled out a camera and he was down on one knee asking me to be his wife. My favorite part of the proposal was after the photographer left, we were sitting on a bench overlooking the lake and 3 beautiful geese walked right up to us. I have always had a special connection with animals so it made the moment that much sweeter. After we left the park we headed to what I thought was a dinner with just us but it ended up being an engagement party with our closest family and friends on a rooftop restaurant overlooking the beautiful Dallas skyline. It was an amazing night and Sam did such a wonderful job making it special for me.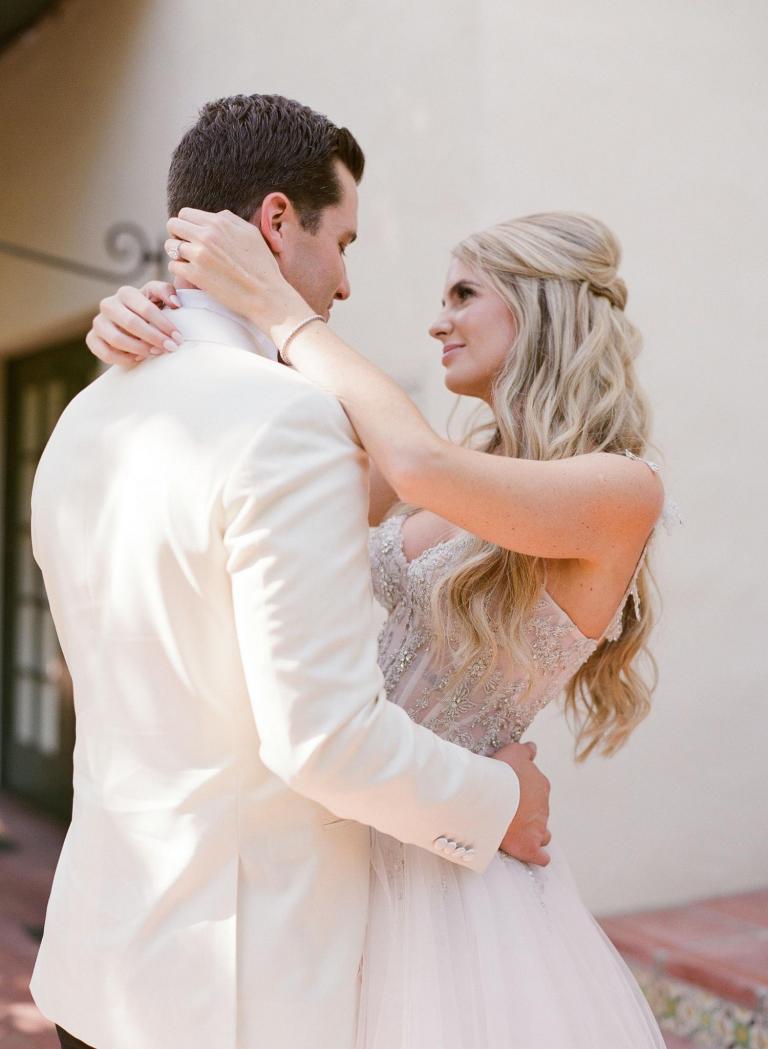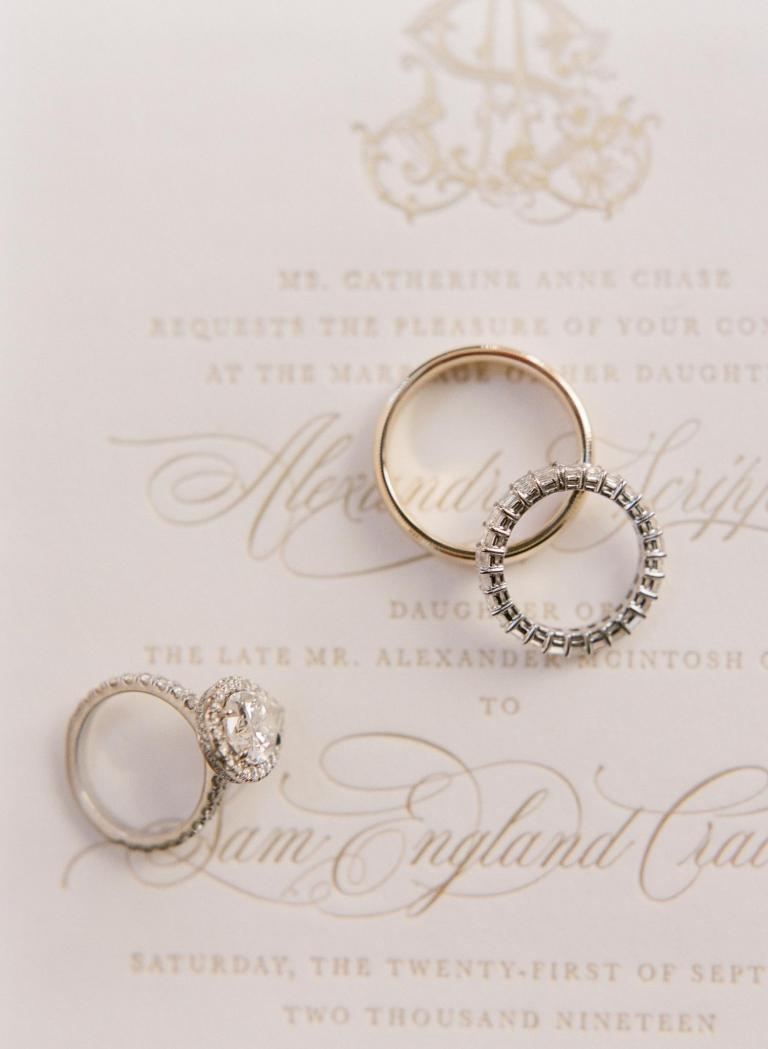 How did you start planning your wedding? What were the first steps?

I started visualizing and planning my wedding when I was a little girl so I was very excited to start the planning process. I knew that with our wedding being out of state working with a planner would be very important so that's who we booked first. After that, I prioritized what mattered most to us and that was the music and photography so we booked those shortly after.
Did you do any beauty or fitness prep for your big day?

Oh yes! It was really important for me to look and feel my best for our big day so about a year before I started a Pilates regiment and then a few months before the wedding started incorporating cardio into the mix. I'm not a huge cardio fan so I would walk at an incline a few days a week. For beauty, aside from my regular skincare routine, I did monthly facials and then a week before the wedding I did the Aquagold facial.
What was your wedding theme?

I don't know that we really had a theme but I would say feminine, soft, and romantic were some of the elements I was going for. I have always loved the color pink so I knew from the beginning I wanted varying shades of pink in our florals and tabletop.
How did you choose your location?

I grew up going out to Santa Barbara and have always known I wanted to get married at The Four Seasons Biltmore. I love the elegance of older hotels and also love Spanish style architecture so I knew it was where we would get married as soon as he proposed.
How did you decide on your bridesmaid style?

I wanted something elegant, timeless and in the blush family so choosing the bridesmaids dresses was pretty easy. I found a dress I loved, blush chiffon off the shoulder and that was it.
How did you find your perfect dress?

I went to several bridal studios around Dallas and tried on a ton of dresses! I had found a dress I liked but wanted to wait until my mom was in town before making any decisions. We made an appointment at Stanley Korshak which I hadn't been to so she could have the full Dallas bridal experience and my dress was the first one I tried on. Before Stanley Korshak, I hadn't tried on anything by Galia but once I put it on I knew it was my dress. The fit of a Galia gown is incomparable to any other designer I had tried and aside from how beautiful it was, the way it complemented my body was the reason I chose the dress.
How was your experience with the Galia Lahav brand?

My experience was amazing from start to finish! Stanley Korshak took such great care of me and the alterations were very minimal because it was made to my measurements.
What was the most important thing for you and your husband when planning your wedding?

Sam isn't a big planner which was a relief to me as I knew what I wanted from the beginning. The one thing that was important to him was to have a great band so we got that taken care of early on. We also booked all of our vendors pretty early for the most part because it was really important to me to have the vendors we wanted to work with secured for our big day.
What was your first wedding song?

"You're All I Need To Get By" by Marvin Gaye and Tammi Terrel.
What did you enjoy the most about planning your wedding?

That's hard! I had so much fun every step of the way but I would say it was the little things that stood out most. Seeing my vision come to life when we did our table mockup and tasting was a lot of fun. We also did a choreographed first dance so I had a great time preparing with Sam in dance class.
What advice would you give to all our future brides?

I would say to not rush and to give yourself time to enjoy the process. Planning can be stressful at times but it really is such a special time in life so try to cherish all the little moments and soak it in. We had a 14-month engagement but it flew by so fast and I can now look back on it as one of the happiest times in my life.
What moment from your wedding will you never forget?

Seeing Sam for the first time before the ceremony and enjoying time with just the two of us. I had been opposed to a first look in the past but I am so happy we did it because it gave me time to enjoy the moment with him before the party started.
Finish your registration for {City} Trunk Show