FREE SHIPPING & RETURNS WORLDWIDE!

DUTIES & TAXES COVERED WORLDWIDE
Find your nearest boutique
Our #GLBride of the Week is Alexa Given, who married the love of her life Tyler in our GALA-803 gown. The couple held a romantic garden-inspired wedding complete with over 800 pounds of flowers in Salt Lake City, Utah. In the following interview, Alexa shares with us how she created the wedding of her dreams and when she fell for our GALA 803. As told by Alexa:
How did you meet your husband? Tell us a little bit about your relationship.

Tyler and I met while we were both attending school in Hawai'i. We met through mutual friends and continued to be friends for about a year and a half before he built up the courage to make a move! We have been inseparable ever since.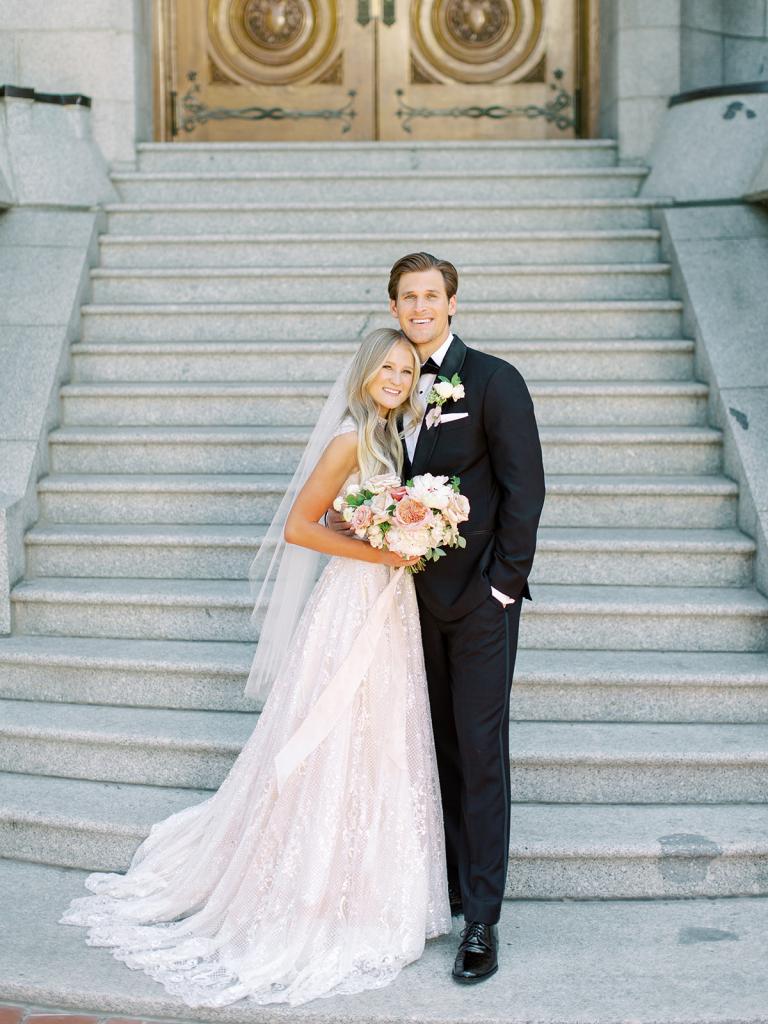 How did he propose?

He totally surprised me!!!!!! As you can probably clearly tell just by looking at what I was wearing hahaha. We had spent the entire day together just doing regular everyday stuff and he was acting totally normal all day. We had planned to watch the sunset at our favorite beach and get dinner together that night. I was running late as usual and so we were rushed to get to the beach in time before the sun went down. When we got there we ran across the entire beach to get to our favorite spot. Tyler had taken a picture of me and was showing it to me when he pulled the ring out of his pocket and started off by saying, "So I know you're not expecting this at all right now…" I started screaming and freaking out hahaha. We weren't planning on getting engaged for another month or so because the jeweler couldn't ship the ring all the way to Hawai'i so we were waiting to have a family member bring it over to Tyler. But he wanted me to be 100% surprised so he flew his dad out to Hawai'i to bring him the ring so that he could propose when I didn't see it coming! I was so surprised and it was the happiest, most surreal moment.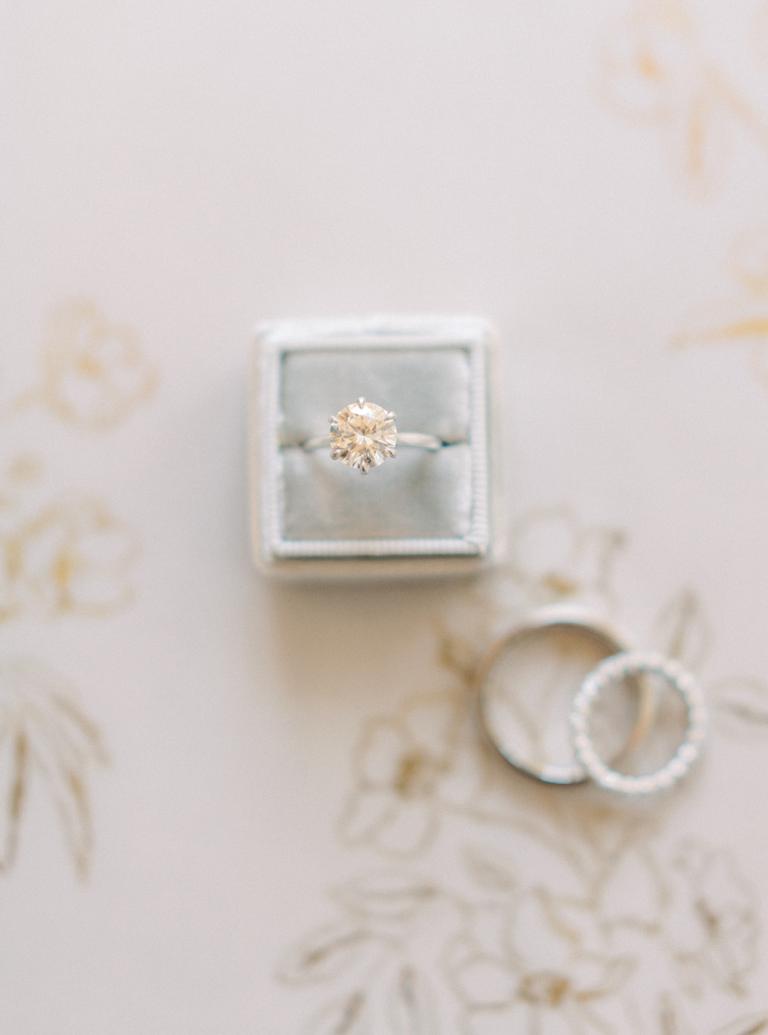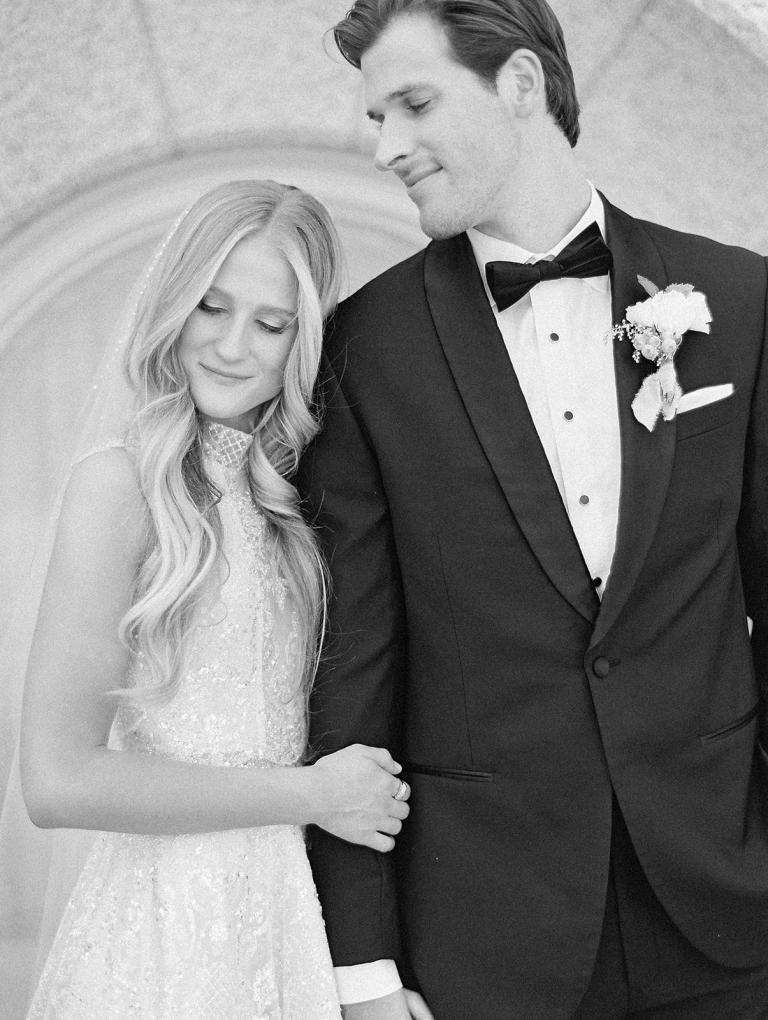 How did you start planning your wedding? What were the first steps?

GOT MY DRESS, OF COURSE!!! Then we got our wedding planner, Rachael Ellen Events, and started putting together our massively long guest list.
Did you do any beauty or fitness prep for your big day?

Yes! I followed the PWR program by Kelsey Wells on the Sweat app for 12 weeks and went to a barre class 2 times a week.

As for beauty prep, I got a facial once a month for 6 months leading up to our wedding to keep my skin looking fresh and glowy! I switched off monthly between hydrafacials and microneedling. I am seriously religious about my skincare routine and have quite the daily/nightly regime.
What was your wedding theme?

I have been planning my wedding since I was a little girl and have always known that I wanted it to be romantic, feminine, and garden-inspired. This meant twinkling lights, silk ribbon, and TONS of flowers – seriously, this is no joke. Our wedding had 800 pounds worth of flowers!
How did you choose your location?

We chose to have an intimate, religious marriage ceremony in the temple of the Church of Jesus Christ of Latter-Day Saints' in Salt Lake City, Utah. Several generations of my family have been married there so it was special! We then celebrated with a reception that evening in my parents' stunning yard. It was everything I could have ever dreamed of and more!
How did you decide on your bridesmaid style?

I had a total of 20 bridesmaids – 14 friends, 5 sister-in-laws, and my sister was the maid of honor! I knew I wanted them to wear something formal and rose pink. My wedding planner found all of the dresses and they turned out so STUNNING! We chose to do petite bouquets with white stock tied with various shades of pink silk ribbon. Stock flowers are actually a symbol of happy life so it was perfect for the girls who have made my life so happy!
How did you find your perfect dress?

I brought both my mom and dad with me to go dress shopping. I tried on so many dresses by so many different designers. They were all pretty but none of them were "the one." My dad was wandering around the dress shop and saw my gown on a mannequin and suggested I try it on. When I came out of the dressing room everyone in the store was gasping and my parents were both obsessed! We all knew it was the one!
How was your experience with the Galia Lahav brand?

Amaaaaaazing! Everything they create is absolutely stunning and I wish I could wear my wedding dress every single day! I feel so lucky to be a Galia Lahav Bride.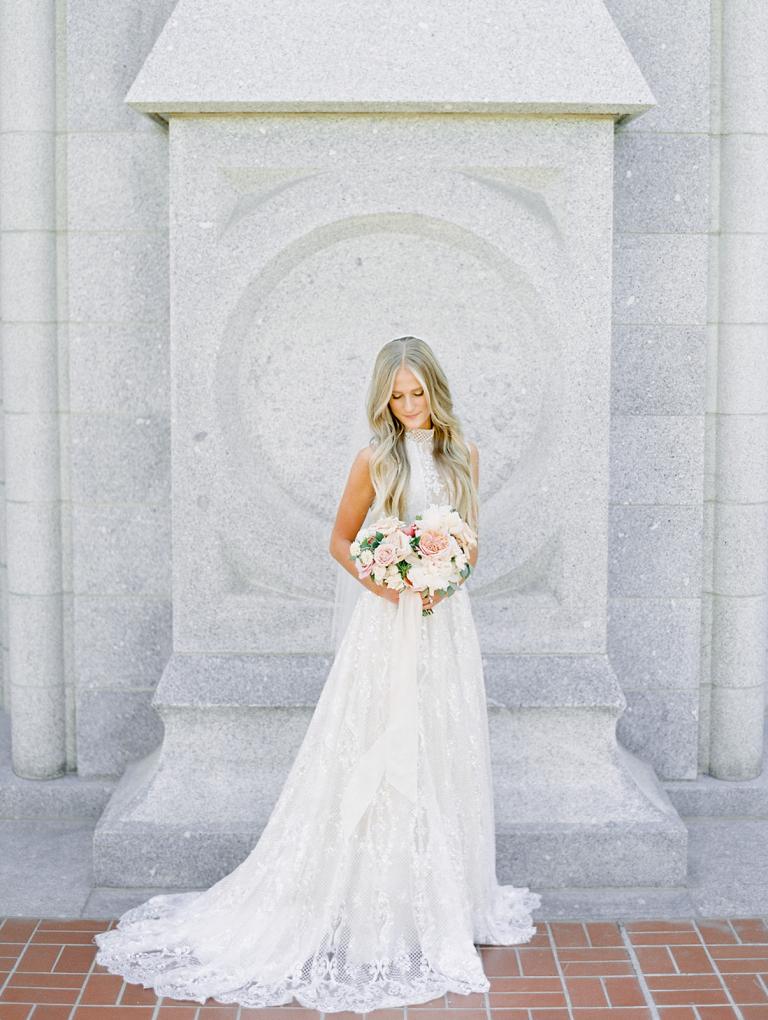 What was the most important thing for you and your husband when planning your wedding?

We really wanted to incorporate unique touches to make it feel more personal to us instead of just a pretty party. For example… I wore my recently deceased grandmother's wedding ring and we incorporated some of her favorite flowers into our arrangements. Tyler picked Samoa girl scout cookie flavor for our cake because of how much he loves cookies. We asked Tyke James to do our music because it was a fun reminder of the time we spent dating in Hawaii.

We used blue and white china at our rehearsal dinner as a tribute to my mom, the queen of blue and white dishes. We had our catering company learn how to make our favorite dessert from our favorite restaurant – a creamy lemon gelato topped with local honey, sea salt, and fresh-squeezed lemon. Our flower girls wore dresses and flower crowns that mimicked those that I wore in one of my favorite weddings I was a flower girl in when I was little. It was special to share these things that are favorites of ours with our favorite people.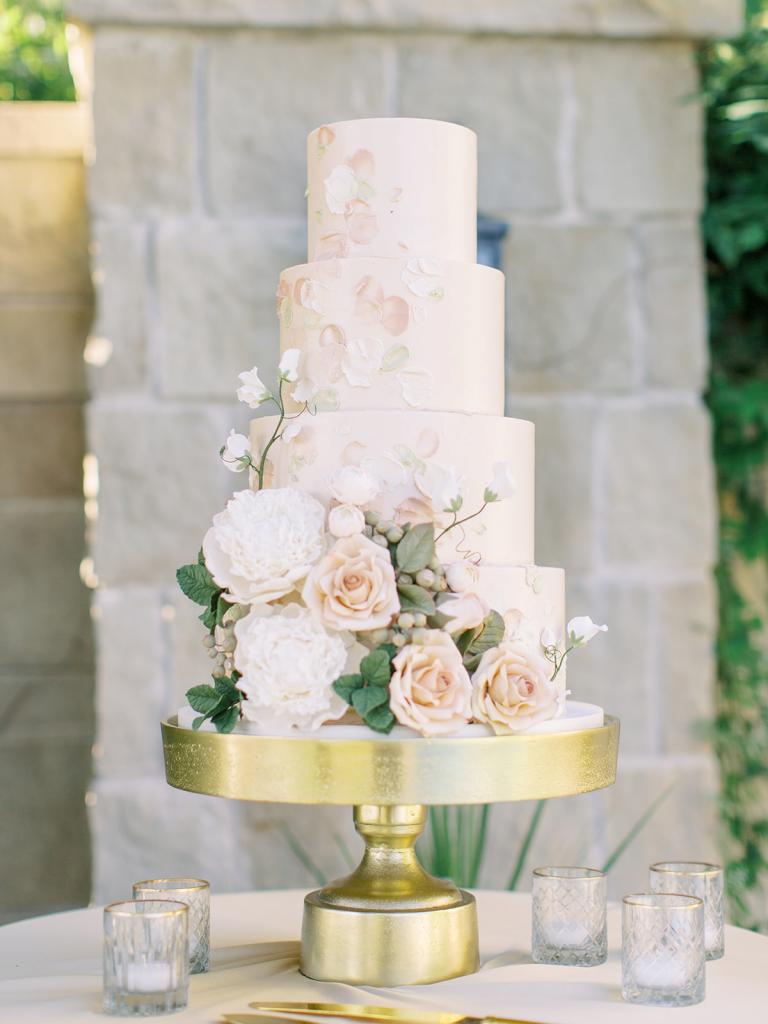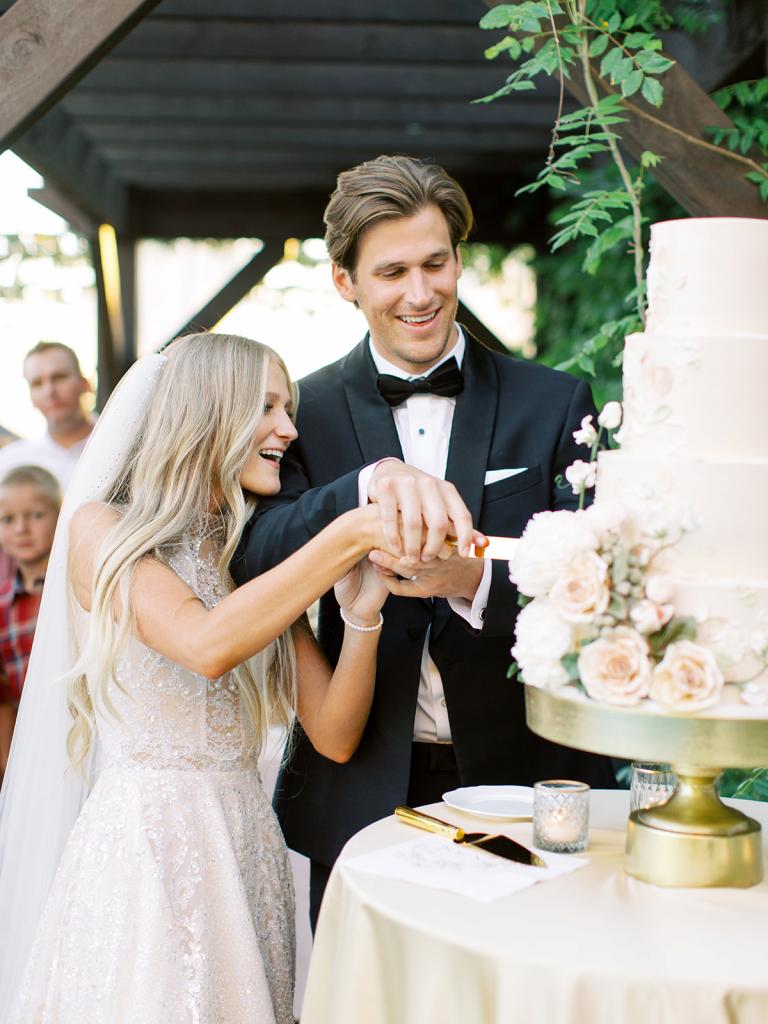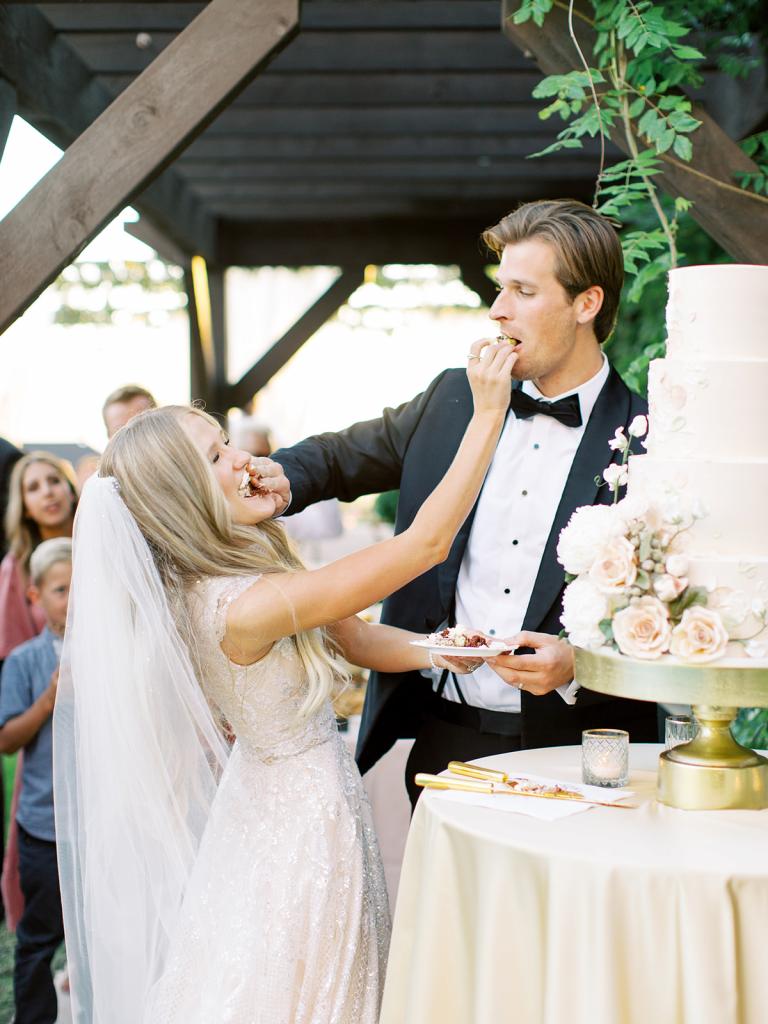 What was your first wedding song?

We danced to "Baby" by Tyke James for our first dance. Tyke is a good friend of ours and we absolutely loved watching him while he was on The Voice this past year. We were so excited when he agreed to sing at our wedding and to sing one of his original songs for our first dance!
What did you enjoy the most about planning your wedding?

Getting to meet and work with the BEST team of vendors in the world! We had the dream team!
What advice would you give to all our future brides?

Go on a date with your fiancé the week of your big day and make it a goal to not talk about the wedding at all. It was THE BEST to just spend quality time together and take a break from the craziness of last-minute wedding planning, bridal showers, and bachelorette parties.
What moment from your wedding will you never forget?

Ah I seriously cannot pick one! Our first dance, cutting our cake, getting to see and talk to so many of our favorite people, running through rose petals to our getaway car… Every single minute of our day was absolutely perfect and unforgettable. I wish we could do it all over again.
Finish your registration for {City} Trunk Show