FREE SHIPPING & RETURNS WORLDWIDE!

DUTIES & TAXES COVERED WORLDWIDE
Find your nearest boutique
Galia Lahav's bride of the day is Emma Sharav, a spectacular bride who wore the Loretta gown. Emma sharing her story brings faith and hope in love, it is such an honor to hear and be a part of every one of our brides' experiences.
The wedding day and the bridal experience that our brides have is an important aspect in making our bride's dreams come true and with that, we adore and respect each and every one of our brides that share their story to other inspired brides to be.
I tried on about 20 other dresses and just couldn't take Loretta out of my mind.

Emma
I had lots of options as Browns Bride London have so many different designers. But I knew Galia Lahav was the dress for me as its beautifully made with stunning details and the perfect combination of elegance and glamour.
It was the first dress I tried on. I described I wanted a big glamorous sparkly princess dress in fishtail style so Lauren from Browns Bride brought the Loretta dress up from their stock room downstairs (it wasn't on the shop floor).
When me and my friend Dahlia saw the dress we just said "this is it!"
I tried on about 20 other dresses and just couldn't take Loretta out of my mind ? it's just simply was the perfect dress for my perfect day ?
I met my husband 10 years ago in London and we were friends at first. I always liked him a lot but it wasn't the right time for both of us. Then after 6 years of being friends and we always knew we fancied each other so we decided to give it try. I had moved back to Mongolia at that point but we both kept in regular contact making sure we were ok and always keeping in touch….
Then one day I realised I have an amazing man on the other side of this world who cares about me so much… We decided to go on holiday together to Marbella to see if we think can be together. Moment I saw Barry I knew we were going to be together. We had a beautiful time in Marbella and then I moved back to London as it felt right.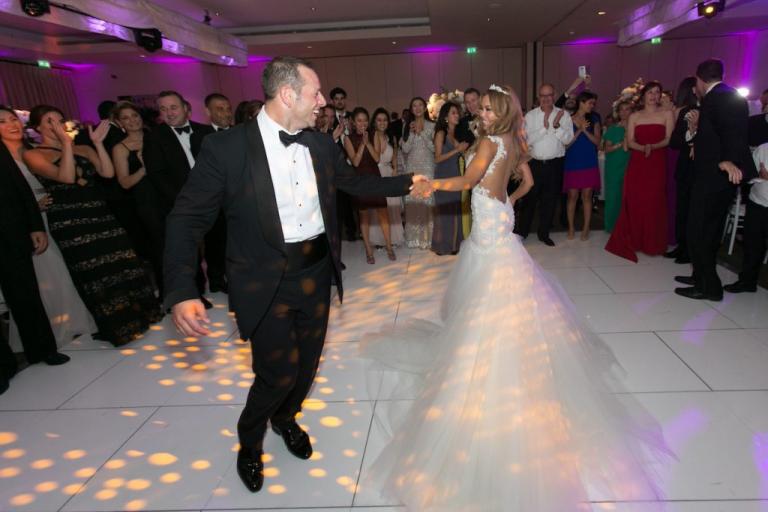 Then I met his lovely family and got to know how generous, and what an incredible person he is, and I knew this is it and I will stick with him forever if he wants it too ? after living together for three years and the happiest time of my life together he proposed. I was the happiest girl in the world that day ?
Highlight of my special day was the whole night ? having my family and friends all the way from Mongolia was special. My husband's speech was so sweet and touching. My mum made the most amazing speech too :).
Also having my little niece Bujin who is 5 years old, extremely excited and so happy to be a flower girl – she practiced her walk for a whole year, refused to sleep, danced and was running around hyper and happy all night long – she was just hilarious!
The Hora dance was so much fun although I had to change from my gorgeous dress because of the excess heat from excitement and crazy dancing hehe! I was happily surprised no one stepped on my very long trail of the dress too ? the whole night was just magical and special ?
There were a lot of funny moments but this was just hilarious. One of my bridesmaids had a few drinks and thought she was part of the band, so she took one of the instruments with her to the dance floor and danced all over the place – as she was chased by the musician who needed it back!
Galia Lahav's staff are amazing. They came to Browns Bride for a trunk show and were extremely helpful and professional. Now I tell all my friends when you get married don't look anywhere else other than Galia Lahav. They all agree ? x
Finish your registration for {City} Trunk Show