FREE SHIPPING & RETURNS WORLDWIDE!

DUTIES & TAXES COVERED WORLDWIDE
Find your nearest boutique
Our #GLBride of the week is the radiant Bianca D'ambrosia Wollman, who married her fiance, Ryan in our Bella gown. In the midst of a pandemic that caused unexpected cancellations, the two were able to find what was meant to be - the serene Post Ranch in Big Sur California, and tie the knot with an intimate wedding. In the following interview, Bianca shares how she planned the wedding of her dreams in spite of the obstacles and became a GL bride. As told by Bianca:

How did you meet your husband? Tell us a little bit about your relationship.

Ryan and I met in 2017 through our careers in destination marketing and hospitality management. I was hosting a museum opening event in Washington, DC on a random weekday morning, and Ryan's team (one of our clients) had the opportunity to attend. We ran into one another as we made our way through the exhibit, and realized we lived barely two blocks from each other in DC! Not only that, but we were both originally from Connecticut as well. That shared upbringing really sparked my interest.

Lacking his phone number, I boldly Facebook messaged him the next day to tell him how nice it was to meet at the event, and we decided to meet for coffee that Saturday morning! Coffee turned into brunch and an hours-long date by the pool, and we've been truly inseparable ever since. Our shared love of travel, art, fine dining, and spending time outdoors has kept us in sync, even throughout our major move across the country to Los Angeles.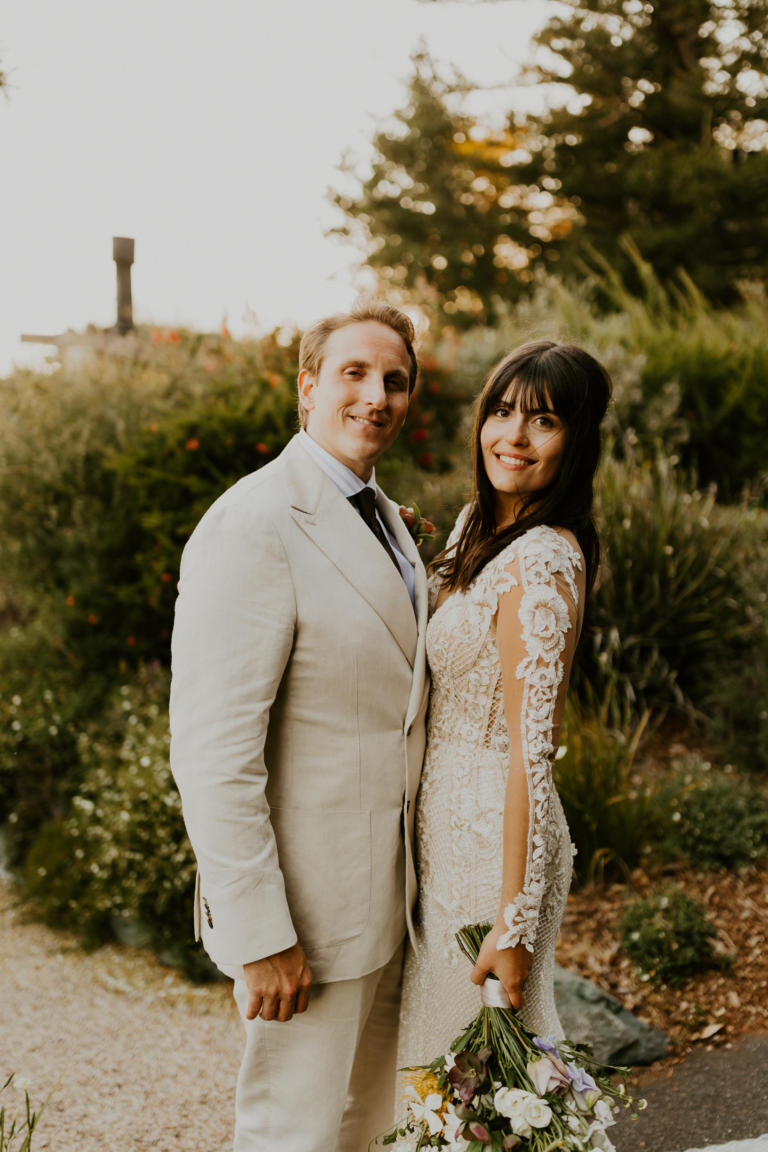 How did he propose?

In the fall of 2019, we planned an 8-day vacation to Four Seasons Maui. On the second day of our trip, I noticed Ryan was acting a bit scattered and nervous- definitely not what I would expect from him in such a tranquil place! That evening, after an unexpected rainstorm, he surprised me with plans for a 'special dinner', and prompted me to dress in an outfit I 'love'. Those clues definitely put me onto the scent!

After taking a beautiful stroll along the beachfront walk-in Wailea, he brought me to a cliffside lawn and proposed! I was completely surprised, especially to see a gracious, talented photographer pop out from behind the tree in front of us. Members of the hotel team brought us long-stemmed roses, Hawaiian leis, champagne, and a picnic basket field with our favorite goodies. We toasted to our next chapter and headed to a romantic dinner. It was more than I could have ever imagined!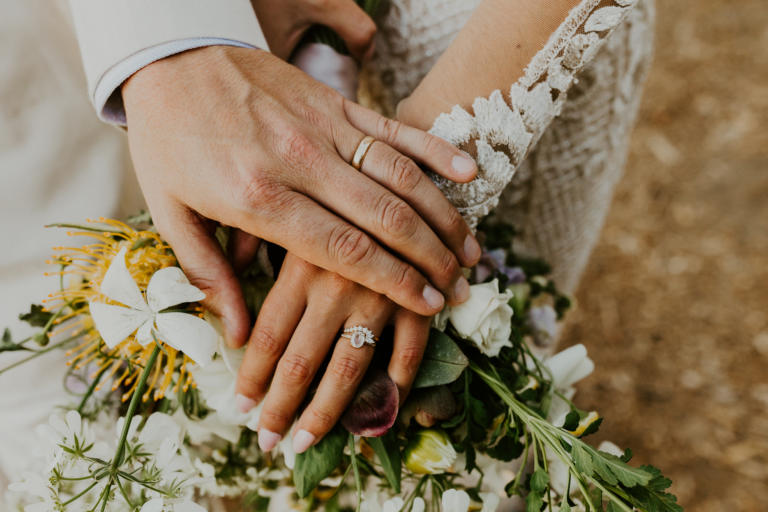 How did you start planning your wedding? What were the first steps?

After getting engaged, Ryan and I knew we both wanted to enjoy a long engagement together. I was only 24 at the time, and wanted to enjoy being a fiance! We first narrowed in on a general location, Central/Northern California, and then considered venues.

We knew from the start that we wanted an intimate wedding with solely immediate family in our presence, so we focused on smaller wedding packages and venues that could accommodate smaller groups. We decided to plan for about 18 months out from our engagement in October of 2019, which ended up being quite helpful once the pandemic hit.

For my wedding dress, I spent the first 6 months of my engagement scouring every website and designer Instagram account I could find; I am notoriously discerning and wanted to find the perfect dress that would express my individuality. After coming across numerous Galia Lahav designs, I knew I wanted to work directly with the GL team in LA! About 10 months before the wedding, I chose my dress and began the fitting process.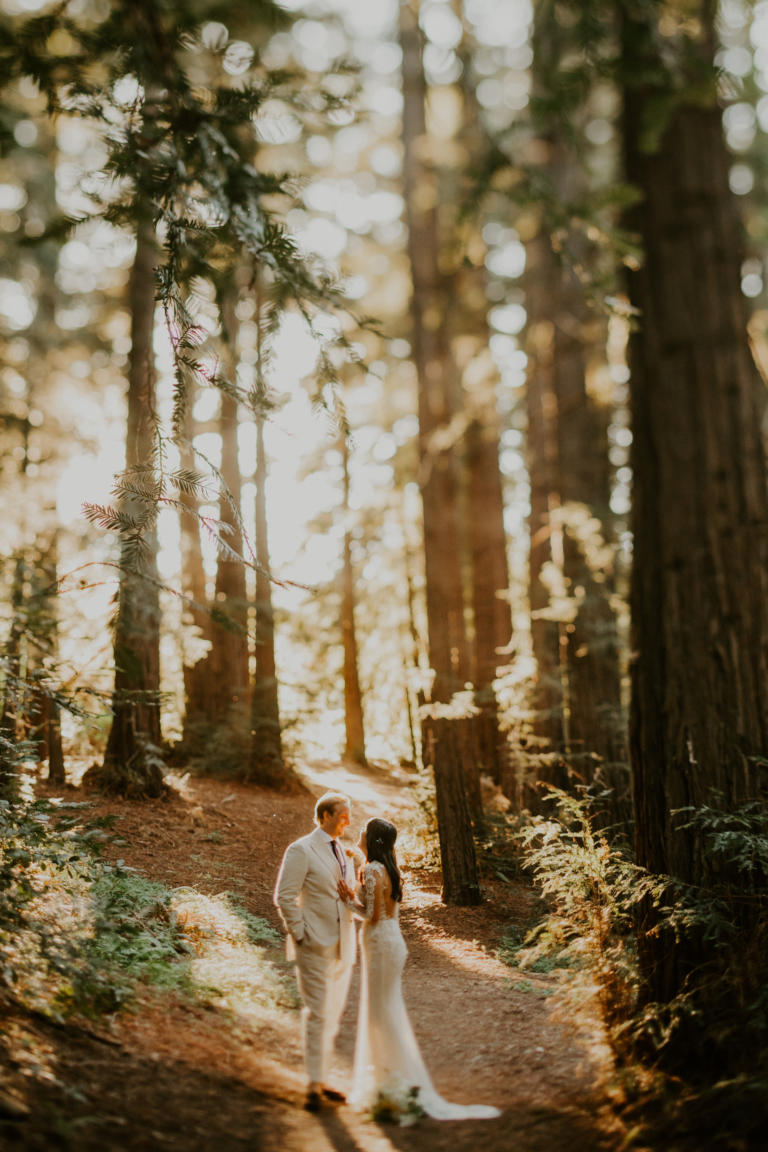 What was your wedding theme?

Our wedding theme was very ethereal, romantic, and rustic. We love how Post Ranch Inn so seamlessly incorporates the natural beauty of Big Sur into their guest's experience, and the massive redwood forest on property provided the spiritual environment we wanted for our intimate ceremony with immediate family. I loved the contrast of my Galia Lahav dress against the all-encompassing terrain in Big Sur!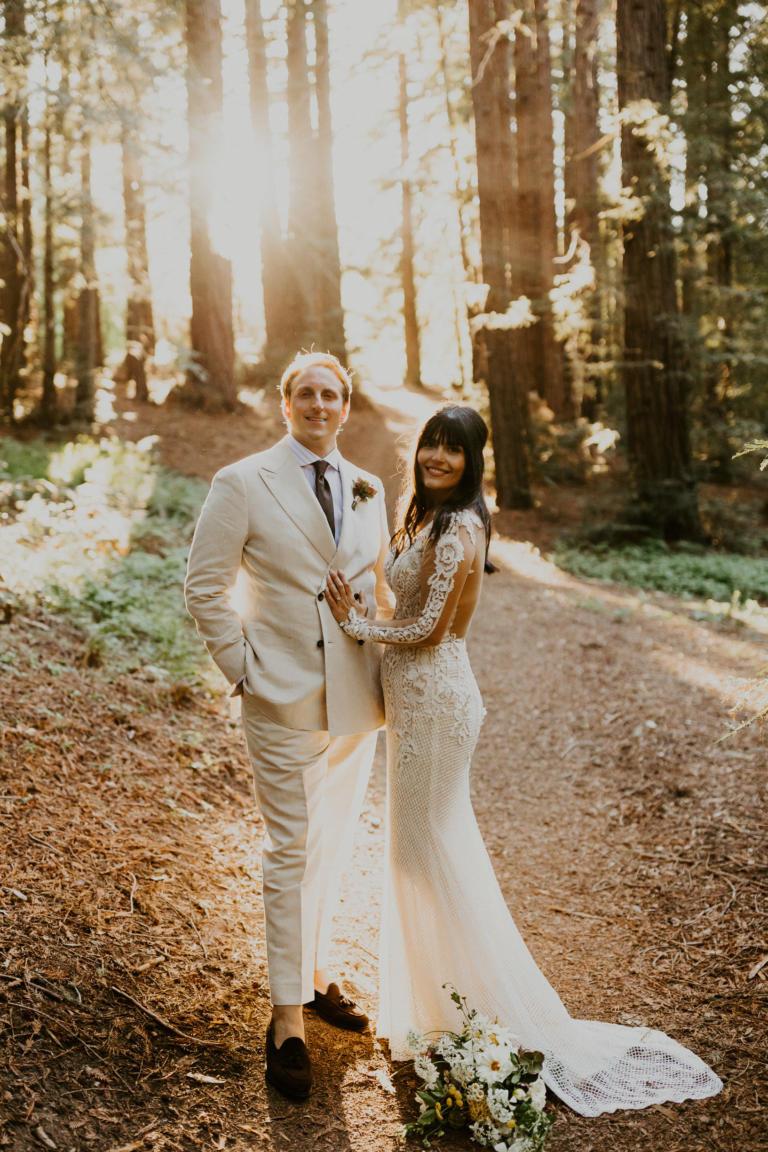 How did you choose your location?

Due to the COVID-19 pandemic, our initial venue in Napa Valley had to cancel our celebration. However, this was definitely meant to be, as we had recently visited Post Ranch Inn for Ryan's birthday and absolutely fell in love. When our initial plans fell through, we knew we were meant to celebrate our marriage at Post Ranch. Ryan and I wanted to be very 'present' on our wedding day, and the peaceful environment of Post Ranch was a perfect fit for that goal.

Post Ranch completely tailored the ceremony and celebration to our specifications, allowing us to leverage their relationships with some of the most renowned chefs, wedding officiants, and photographers in California. From my wild, whimsical floral bouquet to the locally-sourced fine dining options and rustic wedding cake, the location provided the perfect mix of luxury and nature. I would recommend Post Ranch to anyone looking for a truly 'bespoke' experience that focuses on quality and sustainability above all else!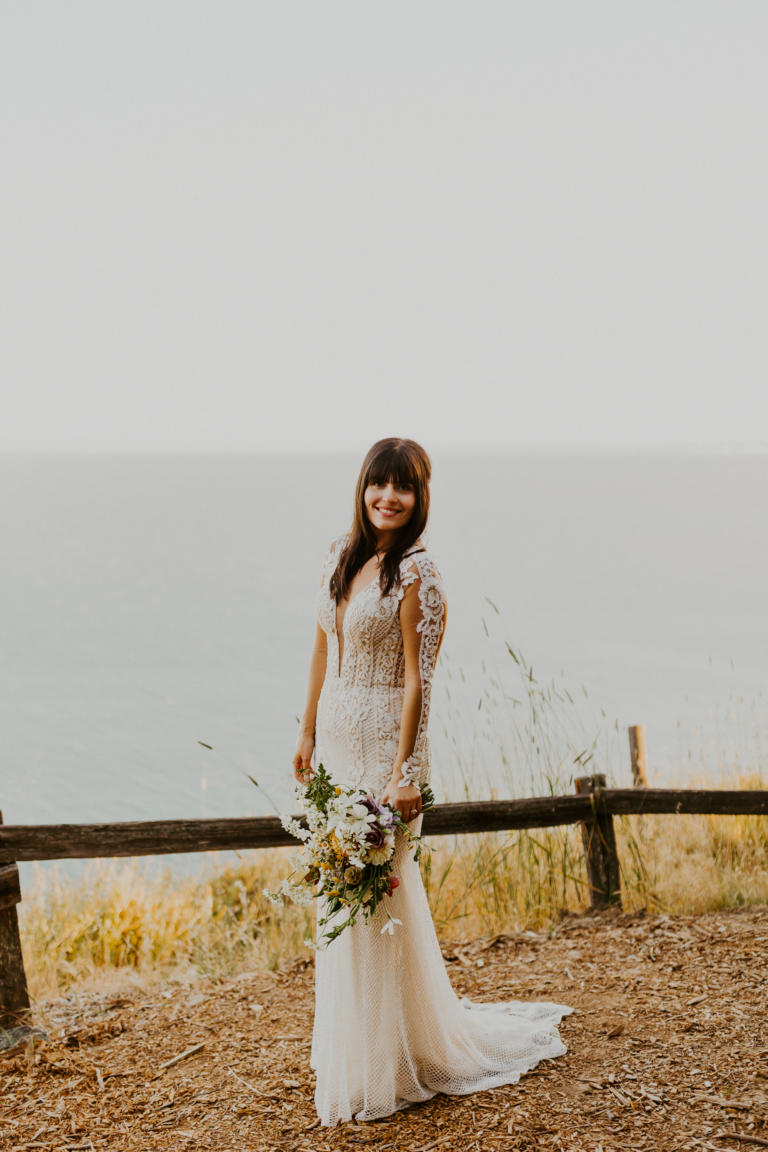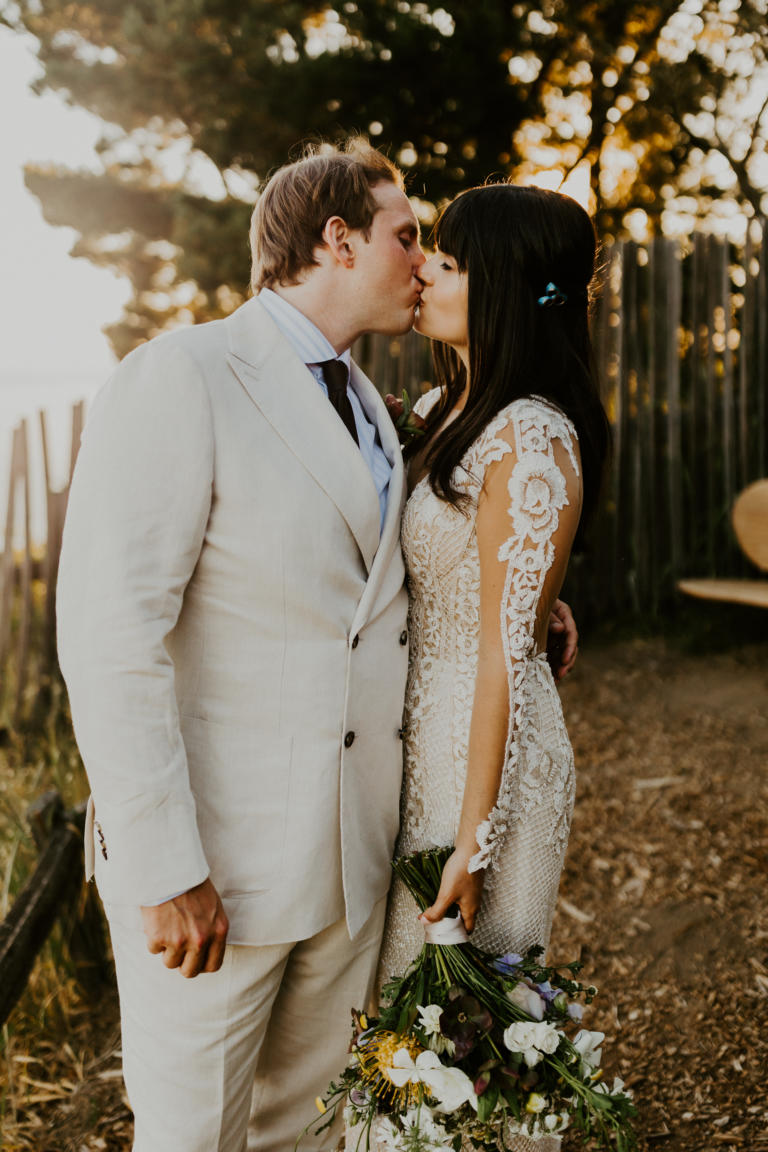 How did you decide on your bridesmaid style?

I'm a rarity in that I had no bridesmaids present for my ceremony! My mother, sister-in-law, and mother-in-law were in attendance and provided me with a ton of love and support. However, if I had to select a bridesmaids style, I can envision lilac or light grey flowy dresses, which would play so well with the natural light in Big Sur!
How did you find your perfect dress?

After copious research, I had my heart set on a fitted dress, which would emphasize my back and my natural height. I've always appreciated detailed lace and bead-work, and Galia Lahav dresses are truly the epitome of something of that style. After trying on about 7 dresses at my first appointment in Los Angeles, I knew exactly the dress I wanted and said 'yes' that very same day! I asked for feedback from numerous members of the GL team, and their candid advice helped me decide on a dress that would work best for my vibe and that of my venue.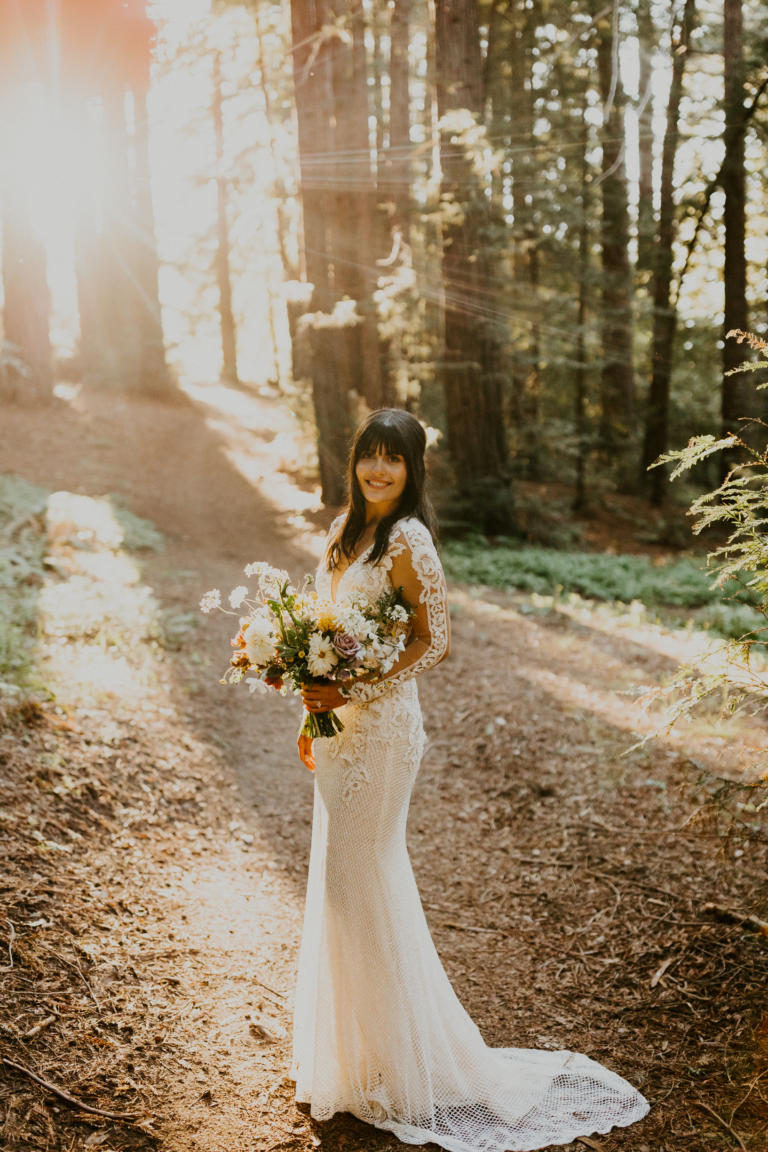 How was your experience with the Galia Lahav brand?

My experience with Galia Lahav was a dream! The entire team at the Los Angeles flagship boutique was so accommodating, friendly, and supportive! They provided spot-on feedback, which was exactly what I hoped for. I had to Facetime with friends and family due to COVID during my search, but the GL team shared in my excitement and helped me style the dress for my venue.

The entire fitting team was excellent as well. Pat was highly detail-oriented and helped me feel comfortable and confident in my dress, which she ensured was perfectly fitted to my body. Given the intricate lace, beading, and mesh details, the team quelled all of my worries- especially since I'd be walking down an aisle of twigs! I can't thank the team enough for their attention to detail.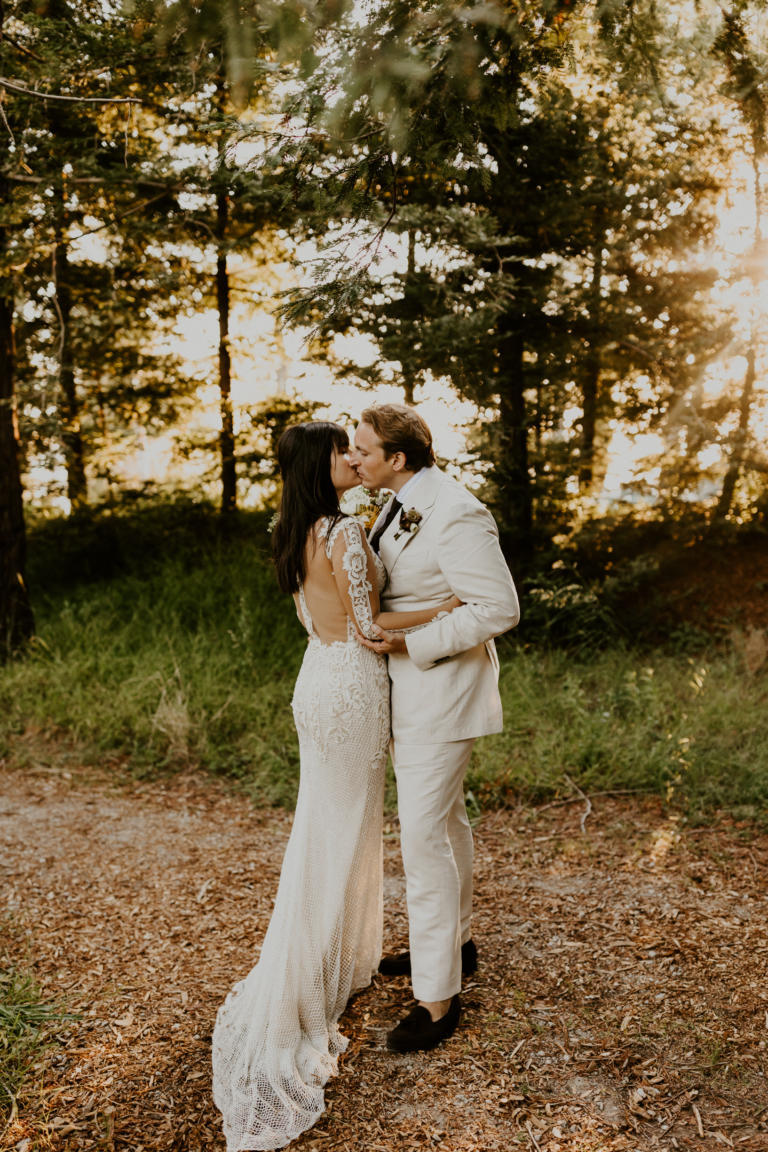 What was the most important thing for you and your husband when planning your wedding?

The most important thing for Ryan and I was ensuring we would stay 'present' and 'mindful' during our wedding day. We've attended so many weddings that seem to fly by due to all the action and people in attendance, and we wanted a peaceful, intimate environment. Also, natural beauty is important to us, so we were set on marrying somewhere outdoors.

Aside from natural beauty, we both have very particular preferences when it comes to events and hospitality since it's a major part of our careers. Post Ranch's ability to customize our experience is something I don't think we could have found anywhere else!
What was your first wedding song?

Ryan and I love to sing and play the guitar, and recently learned Jack Johnson's 'If Ever' in the weeks leading up to our ceremony. We had the song playing in the redwoods as we walked down the aisle as husband and wife! During our cake cutting ceremony in the Chef's Garden, we played Neil Young's 'Harvest Moon' and Billie Holiday's 'Easy Living' for our first dances as a married couple!
What did you enjoy the most about planning your wedding?

I absolutely loved planning the events surrounding our wedding weekend! From our accommodations at Post Ranch, to designing my floral arrangement and our dinner menus each night, I LOVED investing in all the details. Our family truly enjoyed every moment, so I'm happy my plans translated as I hoped! It's one of the most important moments in one's life, and I didn't want to leave any aspect of it up to chance.
What advice would you give to all our future brides?

I would say definitely start planning well in advance! Even if you want a long, lovely engagement like Ryan and I, wedding venues book up years in advance. Allow the location to lead you in your search for your wedding dress as well! And if possible, work directly with a designer, just like I did at Galia Lahav. They know their designs better than other retailers and will ensure it fits you to a T!

Lastly, nothing else matters if you aren't prioritizing your health and wellbeing! Don't put too much stress on your body with a crazy routine, or on your mind with too much wedding planning! Find activities and outlets that replenish your mind and body. You want to feel your best on your big day, and your appearance will always reflect that.
What moment from your wedding will you never forget?

I will never forget walking down the 'aisle' with my father. Looking up at some of the oldest, tallest redwood trees in California, and seeing my soon-to-be-husband beyond a path of white rose petals on the forest floor, I felt so much relief and happiness. It was a moment I will cherish for the rest of my life.
Finish your registration for {City} Trunk Show