FREE SHIPPING & RETURNS WORLDWIDE!

DUTIES & TAXES COVERED WORLDWIDE
Find your nearest boutique
Mike Colon has a knack for giving viewers of his photographs feel like they're right there with him, whether that's backstage at Galia Lahav Bridal Fashion Week show or hiking an actual mountain to get the dreamiest engagement picture possible. Even A-listers and celebs (including Usher!) trust him to attend their wedding and photograph some of their most vulnerable moments. Here, Mike tells us more about his career and even offers some tips on how to get the best possible photos from your special day.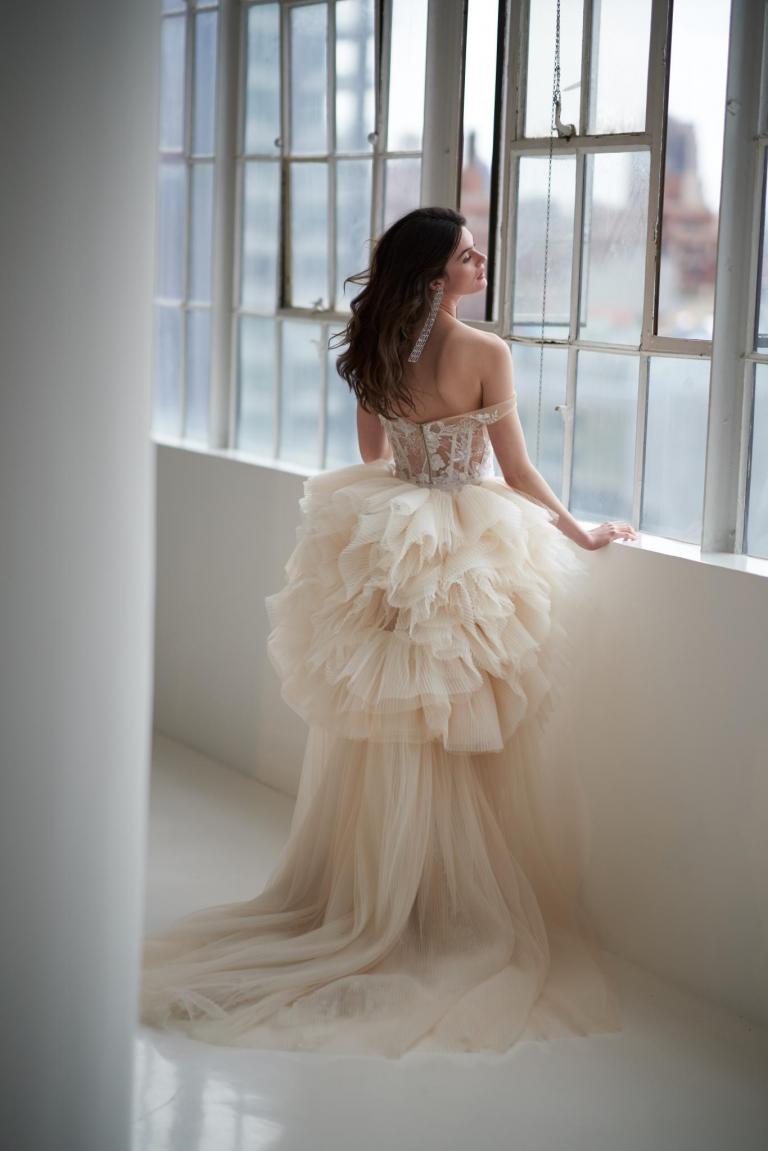 How did you get into photography?

I fell in love with photography during college when I started taking pictures of my friends snowboarding. I took a few classes and decided to apply as a lab tech at Cal State Fullerton, so I could get my own keys to the dark room. I remember getting so into printing my photos that I would lose track of time and spend the entire night there. My brother came in one night to watch me print and he was the one who planted the first idea in my head that I could be a professional photographer. I was taking engineering courses at the time and was actually four years into my degree. I ended up abandoning it altogether and completely changed my major to marketing so I could learn how to start my own photography business. I never looked back and have never regretted it, for even a second!
Amazing! So, what drew you to shooting weddings and bridal content?

Originally, I wanted to shoot action sports but quickly realized my passion was in portraiture. I started shooting weddings and found it to be endlessly creative and fulfilling. A few years into my wedding photography career, I pursued a position as the exclusive runway photographer for Grace Ormonde Wedding Style magazine. I can still remember the excitement of shooting my first NYC bridal market, which consisted of 30 runway shows over the course of a few days. My physical exhaustion was far outweighed by my exhilaration of what I had just witnessed. The level of detail, the artistic talent and the labor that went into the gown designs had my head spinning. Runway shoots led to behind-the-scenes and fashion shoots for top bridal designers around the world.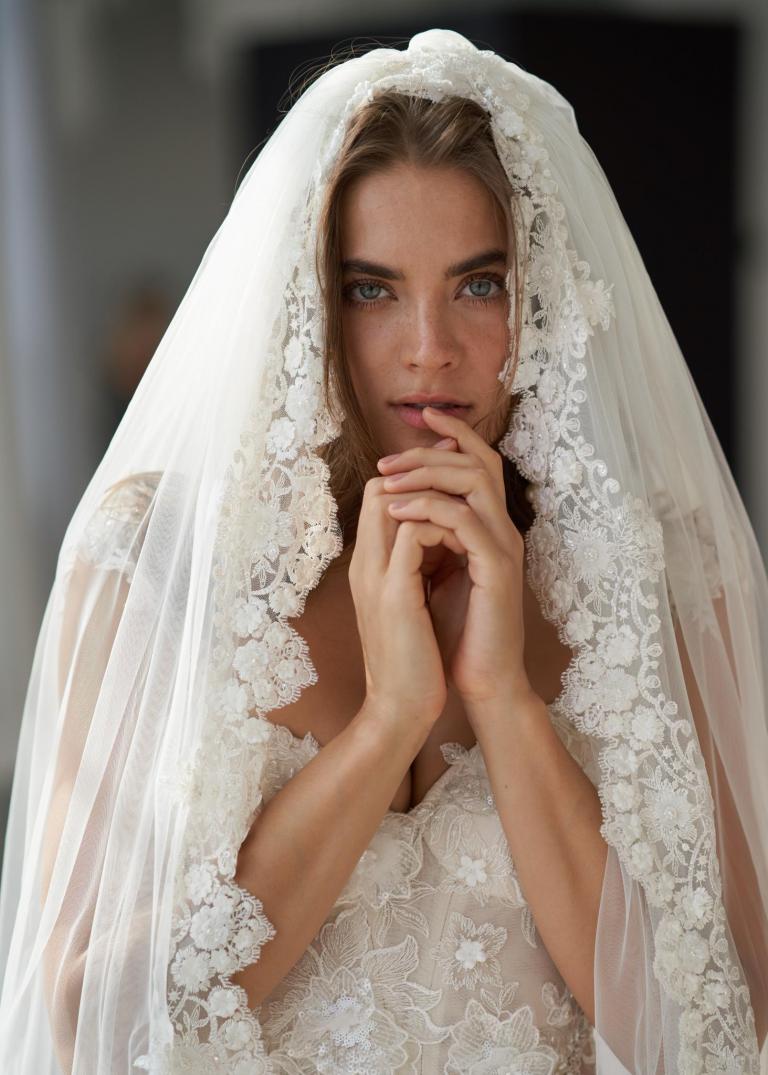 What has been a professional career highlight for you and why!?

When I got the call to shoot Usher's wedding. It was a crazy experience that led to so many other celebrity and high-end weddings shoots throughout my career.
Fashion shows and weddings aside, what else do you love to photograph?

Crazy as it may sound, I'm also passionate about shooting fights! I got into Brazilian Jiu-Jitsu 12 years ago, so I applied to get press credentials at big tournaments and UFC fights, which gave me the chance to photograph them from the edge of the mat or cage-side. Shooting fights also led to me taking portraits of fighters and even shooting weddings for many of them.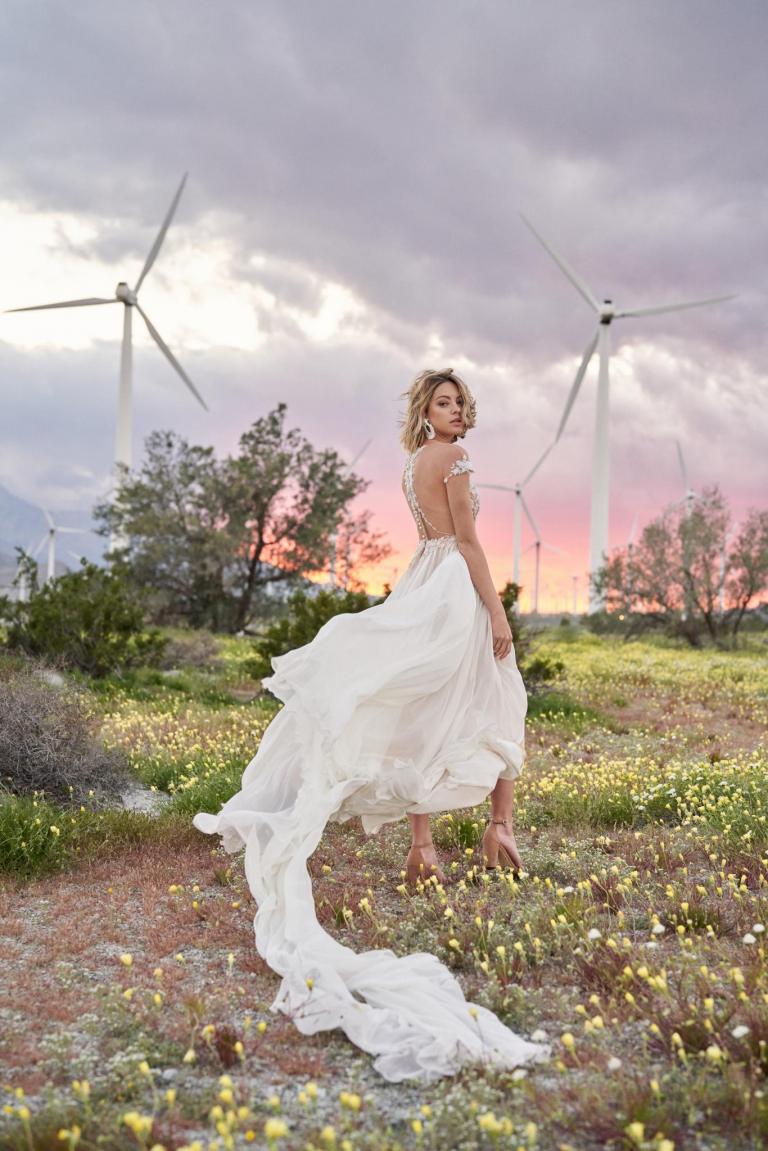 You shoot a lot of videos for GL brides, especially at their last fittings. How do you make sure to capture the full emotion of these touching moments?

We love shooting these fittings for GL brides! We basically just keep the cameras rolling and let the beauty and the magic of these truly extraordinary gowns take over. The bride can't help but get emotional when she sees herself in her dream gown. They get so excited imagining themselves walking down the aisle towards their future husband. They can't wait to see his reaction! A bride looks forward to these moments her whole childhood. I believe, and when she tries on the perfect gown, the tears of joy are soon to follow.
What have you learned about the importance of finding the right wedding dress?

I've learned that a wedding dress can contribute up to 90 percent of a bride's dream wedding! If she finds the right gown, the rest will fall into place. Brides will not compromise when it comes to the gown (and rightly so!). Other things can be compromised, but not the perfect dress.
Do you have any favorite shoots with Galia Lahav? 

Every shoot for Galia Lahav is a new favorite! My very first experience shooting Galia Lahav was actually an assignment for Grace Ormonde at a New York presentation during market week in October 2014. It was an installation show with a glam, 1950s theme. The models were standing around like mannequins under dramatic lighting and several of my all-time favorite images were from that evening. I even have a canvas in my office from that shoot.
What are some of the most important details you make sure to capture while shooting behind-the-scenes at Galia Lahav's Bridal Fashion Week show?

There are so many intricate details in lace and embroidery that need to be highlighted for the world to see. I crop in tightly on these details and show off how perfectly the material lays on the skin. 

I also shoot the models moving to show how beautifully the gowns flow as she walks. Each dress has its own unique features, so I make sure to choose the angles and points-of-view that highlight those features. Lastly, I like to shoot portraits of the models to show off the confident vibe these dresses inspire in them.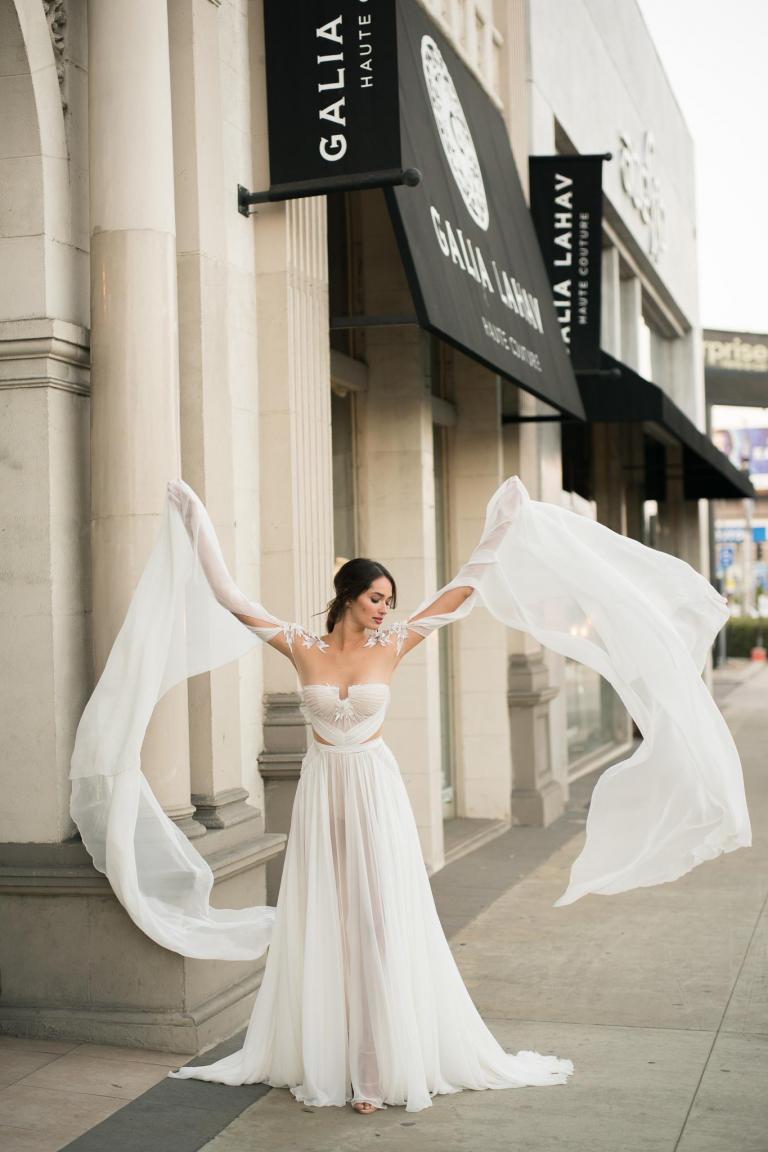 What are the most important things that couples should communicate with you, regarding how they want their weddings shot?

I always ask my couples why they chose me. I ask what stood out to them in my work and request that they send me screenshots of any images that inspire them. It's important to communicate their style as well as any specific shots or types of shots they have always dreamt of having from their wedding day. I ask questions like "Do you want perfect looking images (aka posed)? Or a more candid/photojournalistic approach?" and "Do you want Vogue, Vanity Fair or Time?"
What can brides (and grooms!) learn from models, in terms of getting the best possible wedding pictures?

I've brought the experience working with models back to my wedding work; I've learned about different types of body language, natural poses and movements from the great models I've worked with, all of which helps me direct my real brides when needed. I've also learned from working with so many models, that feedback is important. When there is no mirror around, I need to be that mirror, telling the subject how they are doing. Whether I'm working with a model or a real bride, my job is the same: to create flattering and believable images that have depth and impact.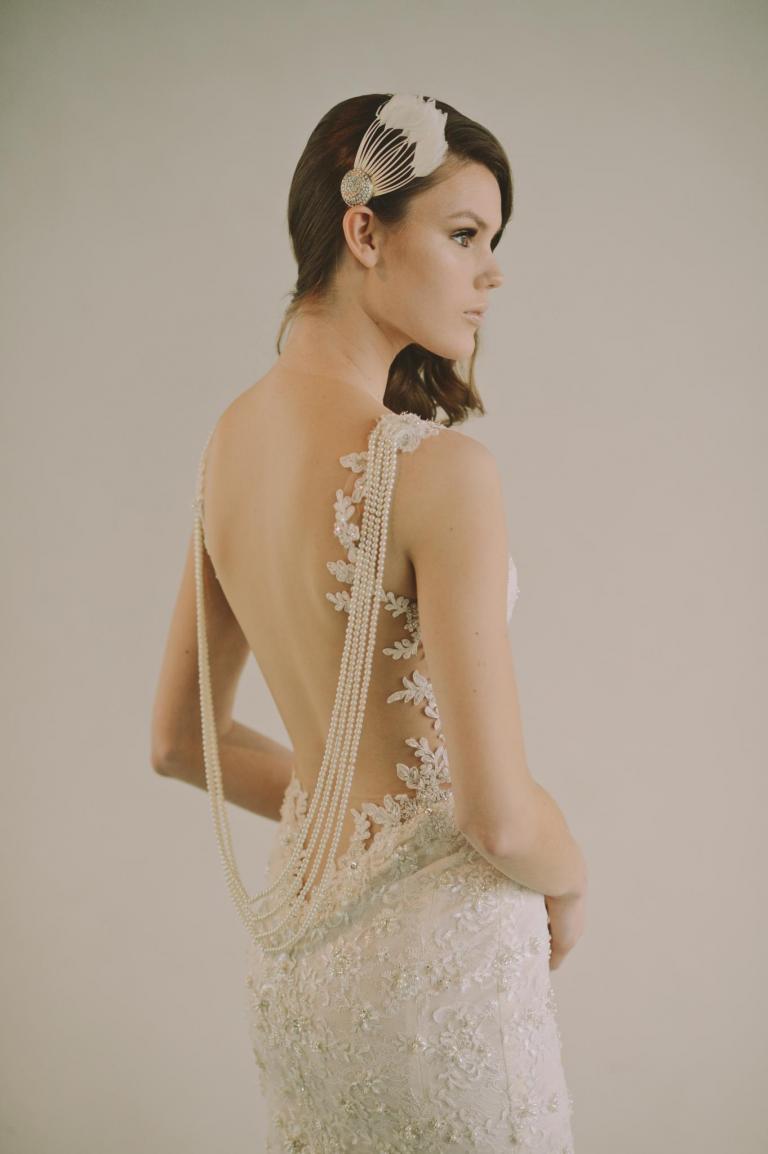 What is the coolest location an engagement shoot has taken you to?

I love to take my couples out to create some fun and romantic images. One of my favorite e-sessions was a few years back. I met up with the couple at the airport in Las Vegas and started our road trip together through Sedona to Horseshoe Bend in Utah. We hiked into each location, some of which were a few miles in.
Any tips for brides and grooms on finding a setting for an engagement shoot that feels unique to them?

I think any place that is special to them could work. But make sure to include your photographer in the decision-making process, as lighting, timing of sunset and tides and backgrounds plays such an important role in creating great images. One couple wanted to surf, skateboard, go out for sushi, and shoot pool in a dive bar for their engagement session. Was I down? Heck yes! We spent the entire day together and I loved every minute! Just think of how much more comfortable you'll be with your photographer on the wedding day if you've spent some quality time with them.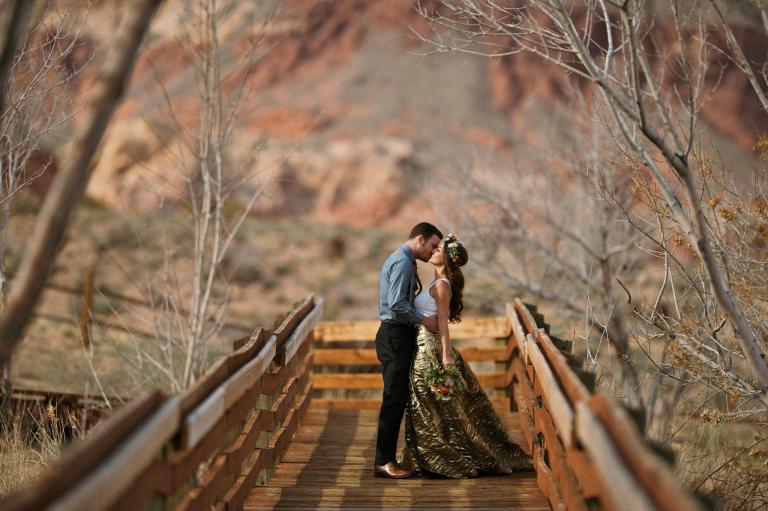 What is one of the most memorable weddings you've shot and why?

I shot a wedding for U.K. royalty in Dallas, TX and it was absolutely insane. They hired Willie Nelson to give a private concert—and that was just the Thursday night welcome party. There were several days of events leading up to the actual wedding. To kick off the ceremony, the groom rappelled 200 feet out of a black helicopter looking like Tom Cruise with the music from Mission Impossible blaring on the loudspeakers. The reception tent was built from the ground up and had seven levels with different ballrooms that rivaled any major luxury hotel. Sylvia Weinstock was personally flown in from NYC to assemble the 25-foot skyscraper of a cake. Basically, the whole thing was mind blowing.
Finish your registration for {City} Trunk Show