FREE SHIPPING & RETURNS WORLDWIDE!

DUTIES & TAXES COVERED WORLDWIDE
Find your nearest boutique
Our #GLBride of the week is the gorgeous Annie Jaffrey, who married the love of her life, Mo, in our Fabiana dress. The couple held their nuptials in Ibiza with a romantic bohemian-inspired wedding. In the following interview, Annie shares how she found the dress of her dreams with us and her most cherished wedding moments! As told by Annie: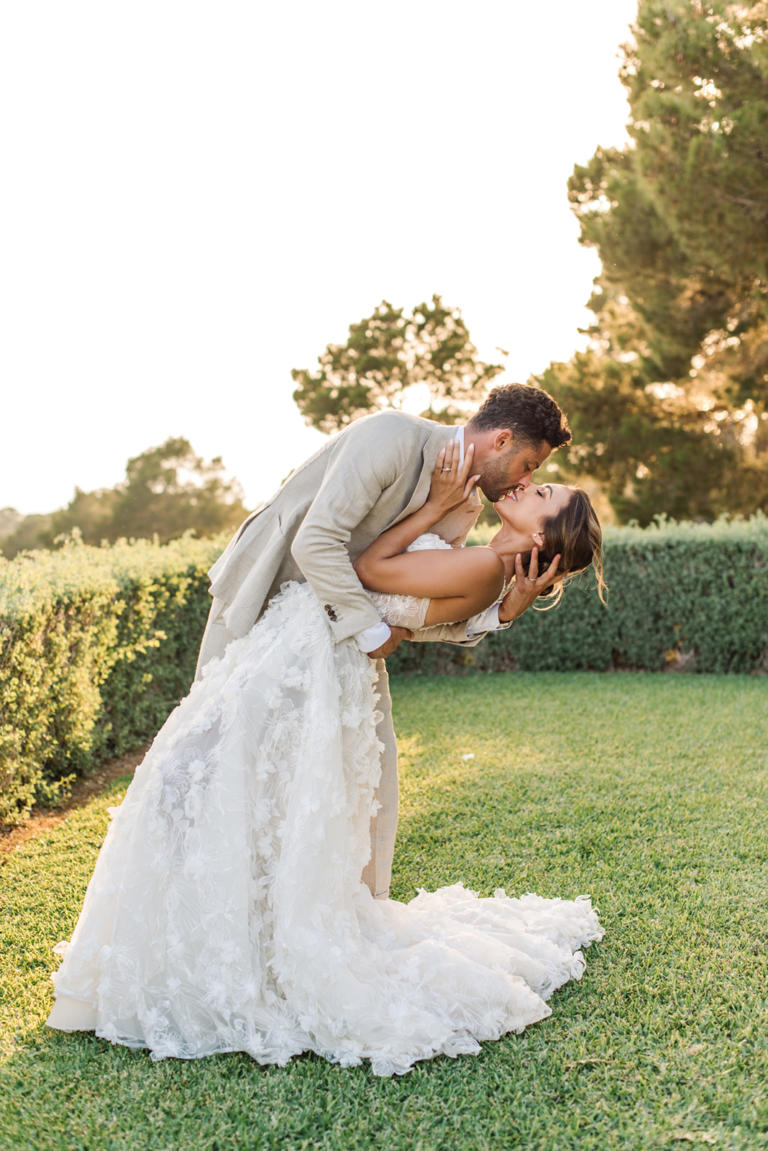 How did you meet your husband? Tell us a little bit about your relationship.

I was living in Switzerland at the time, and one of my closest friends, living in Germany, invited me to her boyfriend's birthday party weekend in Ibiza. My husband, Mahmud (aka Mo), was one of the guests there, and that's where we met! We hit it off right away. It felt like discovering someone your soul already knew. Five years later, now married, our relationship is beautifully layered and ever-evolving. We have a skincare & wellness brand (Nourished3) so we work together every day, we love to travel and explore new places, we recently moved into a new apartment so creating a home, and hopefully starting a family soon! We have a lot going on, and our relationship is far from "perfect", we've had our fair share of ups and downs, but it is rooted in love, compassion, and communication – and that's what keeps us moving forward together as a team.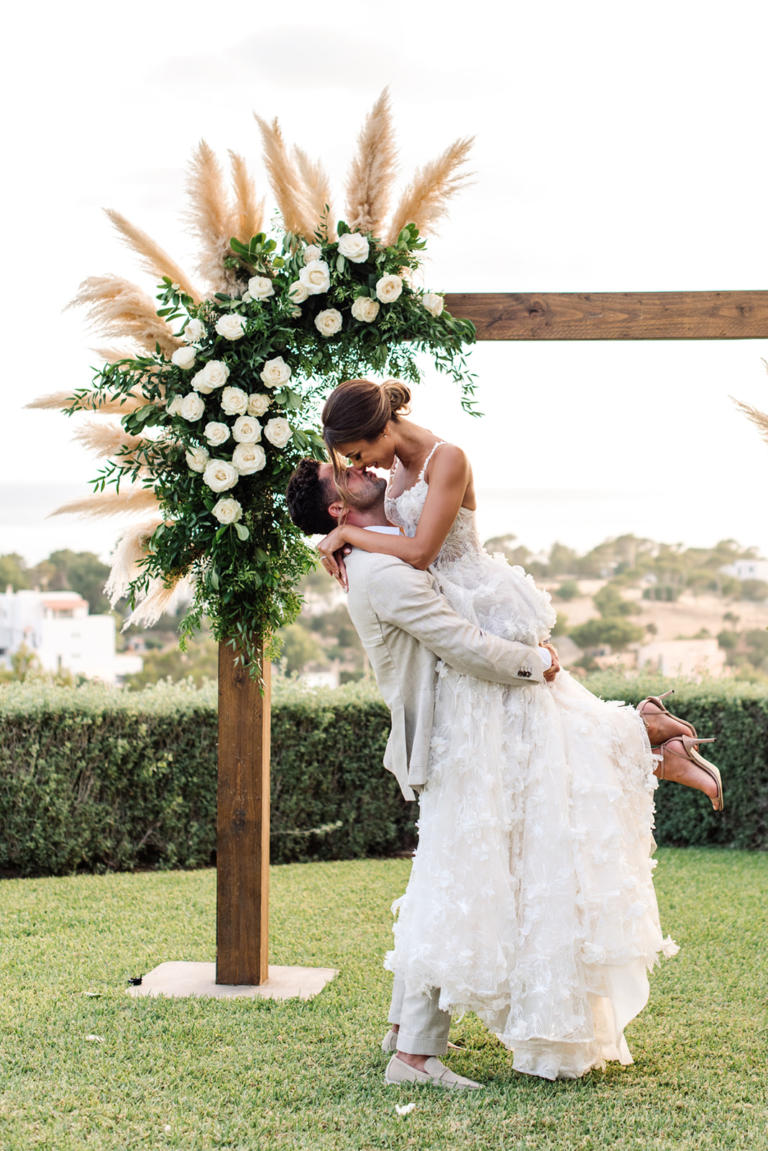 How did he propose?

He proposed to me about 6 months after we met, on our first big vacation together in the Maldives. On our second day there, after breakfast, we took a stroll on the beach, and that's where he went down on one knee and proposed. It was simple and relaxed, but with the most insanely gorgeous setting. I will remember that moment forever.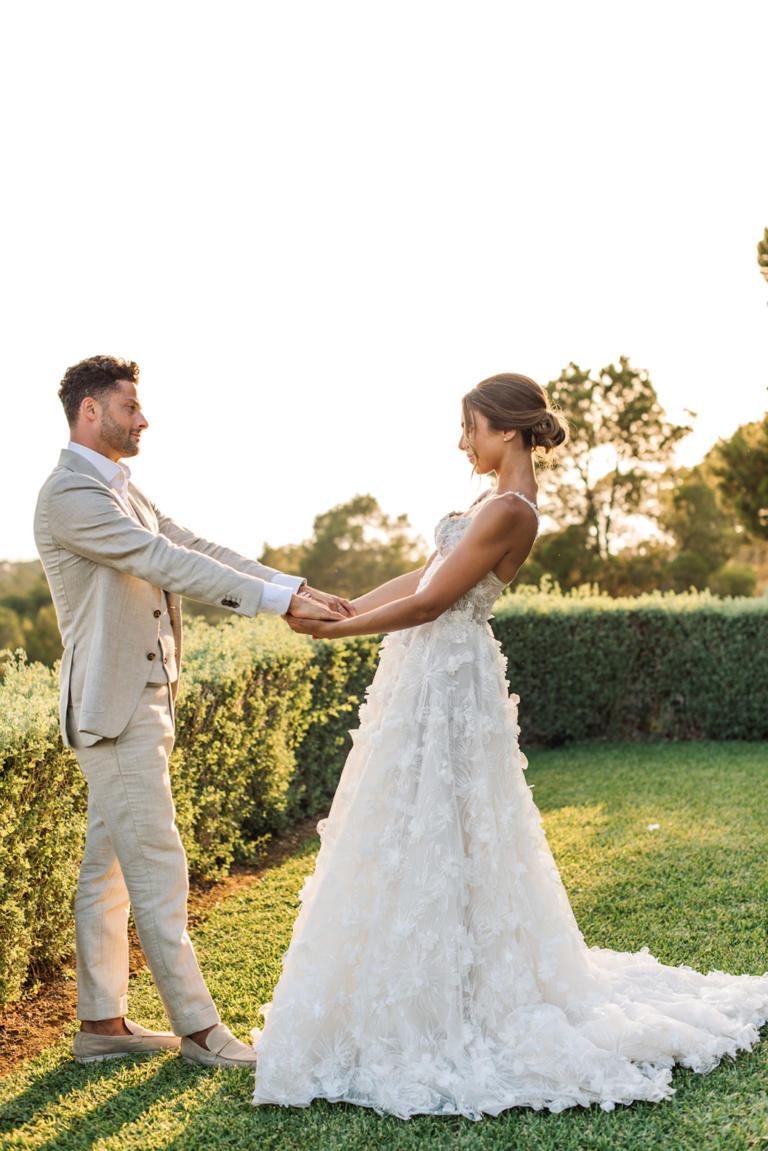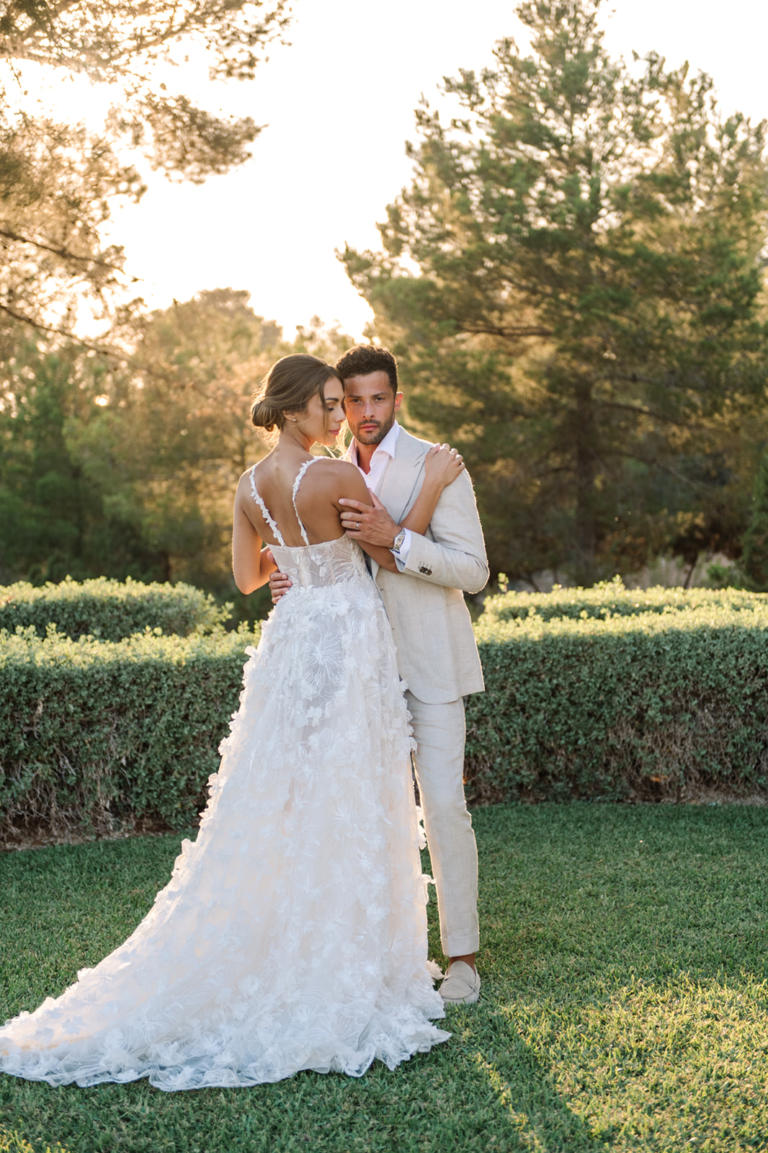 How did you start planning your wedding? What were the first steps?

First, we thought about the location (as most of the planning truly stems from there), and we decided on Ibiza, as that's where we met and it holds so much sentimental value for us. A full-circle moment. Next was organizing a venue and a wedding planner to help us with all the logistics, decor, catering, set up, etc – they were such a help, especially for a destination wedding. We flew out to Ibiza to meet with our planner, see venues in person, do food tastings, etc. The most exciting and special part however was working with the GL team to find my dream wedding dress! When I tried on the first dress, that's when everything truly felt real – a total pinch-me moment! Fun side note, the first dress I tried turned out to be the one!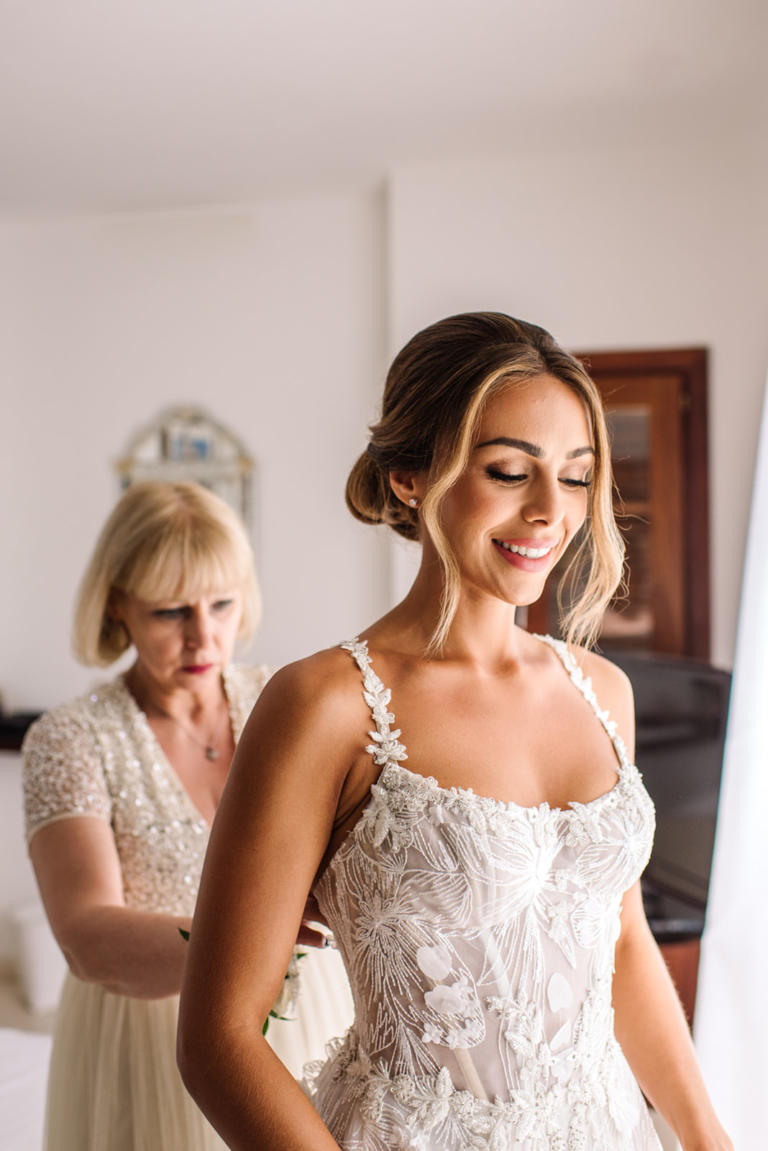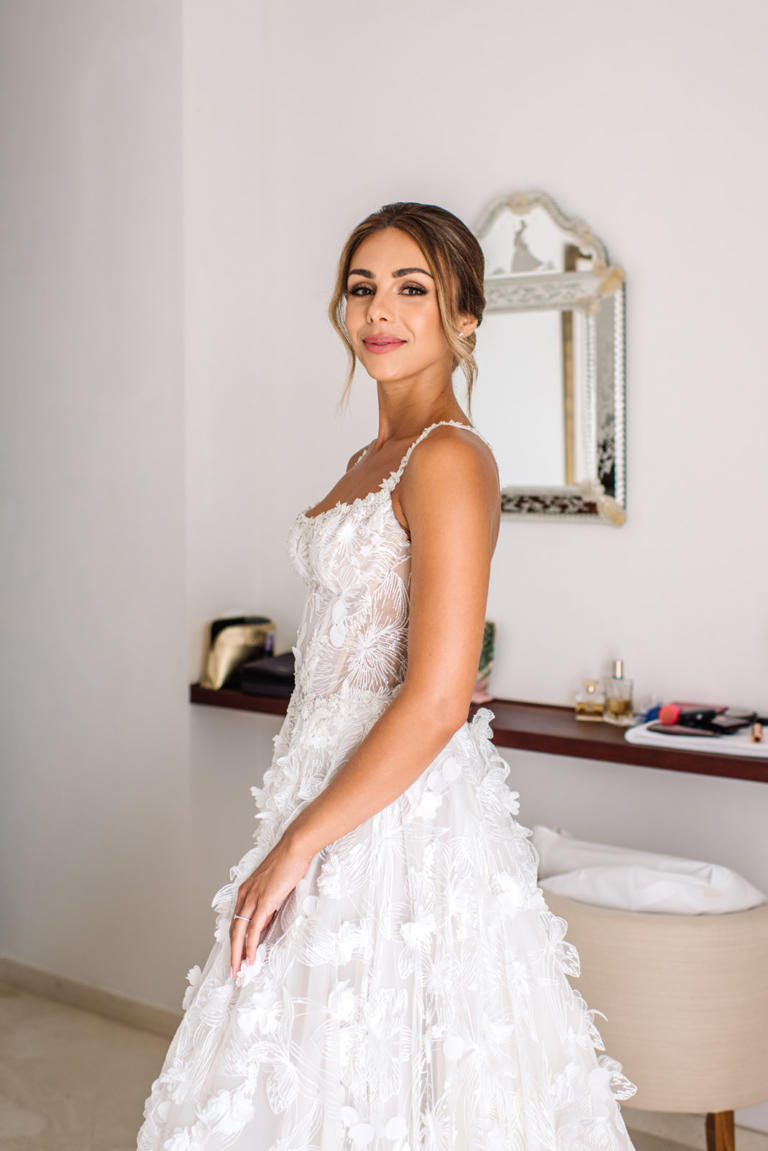 Did you do any beauty or fitness prep for your big day?

I enjoy living a healthy well-balanced lifestyle day-to-day. It's something that truly makes me feel so good and it brings out the best in me. So I kept this up leading up to the wedding, focused on getting lots of restful sleep, my green juices in the morning, healthy home-cooked meals, for the most part, balancing stress levels, staying on top of my skincare routine & HydraFacials, and moving my body however it felt good that day. The 80/20 approach works great for me! 
What was your wedding theme?

Our wedding theme was romantic and fresh with a touch of boho in the essence of Ibiza. Lots of neutral and white florals, with a sprinkling of green, beautiful lighting and of course with the gorgeous backdrop of the mediterranean sea. 
How did you choose your location?

We definitely wanted a destination wedding, somewhere warm and sunny, as a lot of our friends and family would have to fly in anyway. We thought about a few locations that we loved, such as Mykonos and Barcelona – but of course, decided on Ibiza as that's the place we met and holds the most sentimental value to us! 
How did you decide on your bridesmaid style?

We did not have bridesmaids and groomsmen, however, we did have a dress code theme which was all neutrals, soft beiges, and whites. We thought it would look so beautiful with the backdrop of Ibiza as well, and it would unite everyone on the day. The photos also came out incredible with this theme!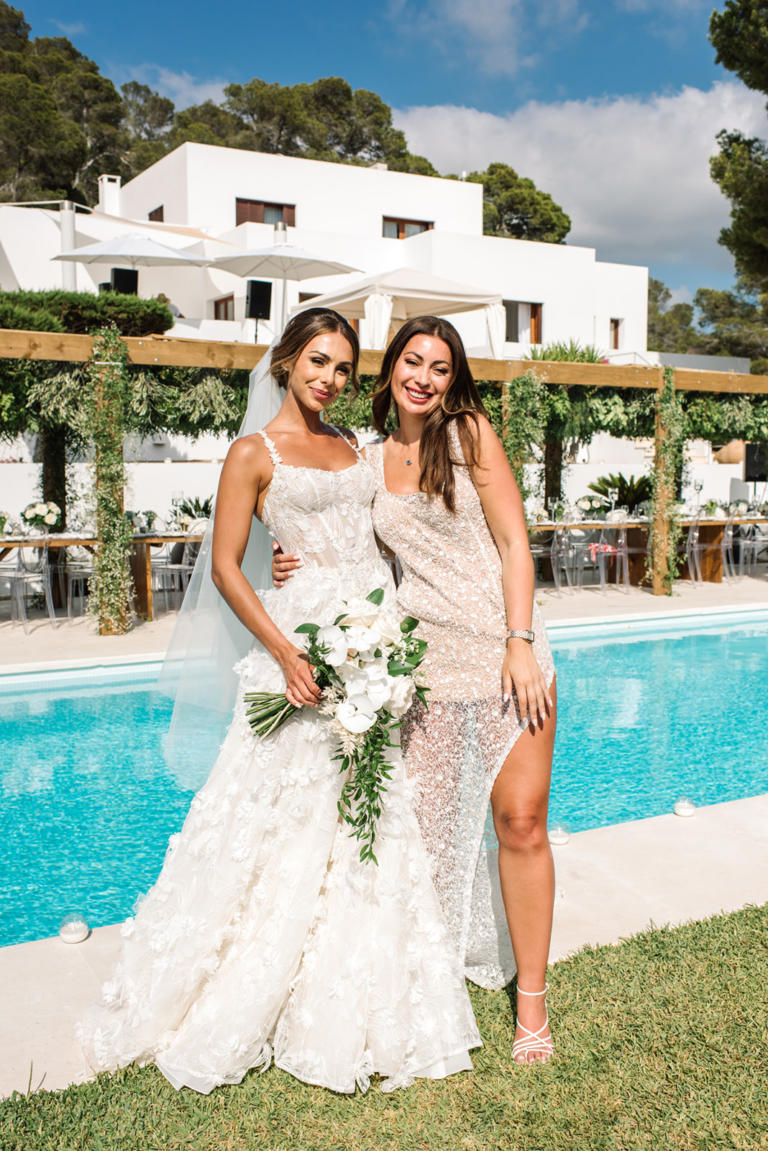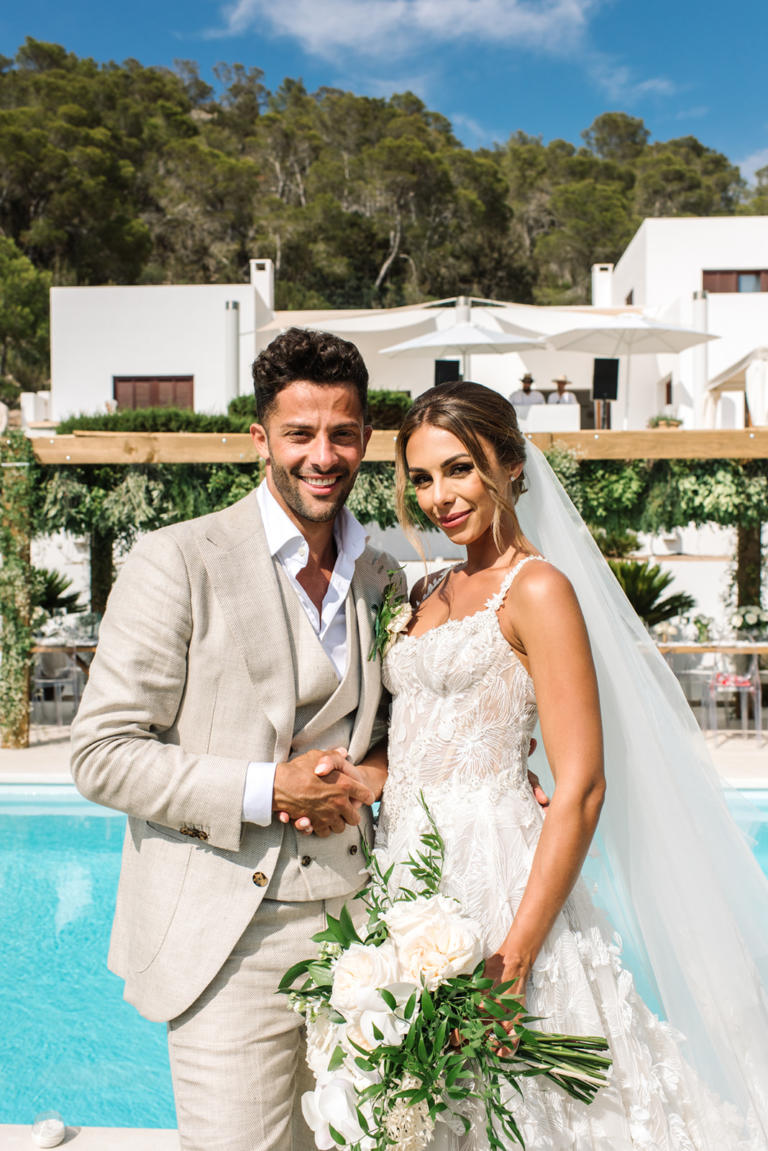 How did you find your perfect dress?

The process of finding my wedding dress was luckily super easy and enjoyable! I knew I wanted something feminine, romantic and modern, that was still relatively comfortable to wear. Galia Lahav has SO many gorgeous styles, so to not overwhelm myself in the boutique I first browsed the collection online to find my absolute favorites. I narrowed it down to about 10 styles, and those are the ones I tried on in the boutique. As mentioned, the first one I tried, the Fabiana dress, felt like the ONE from the moment I stepped out in front of the mirror. It was PERFECTION! Exquisitely designed, with the most beautiful delicate embroidery. The fit was elegant, classic with a touch of sexy, and very comfortable!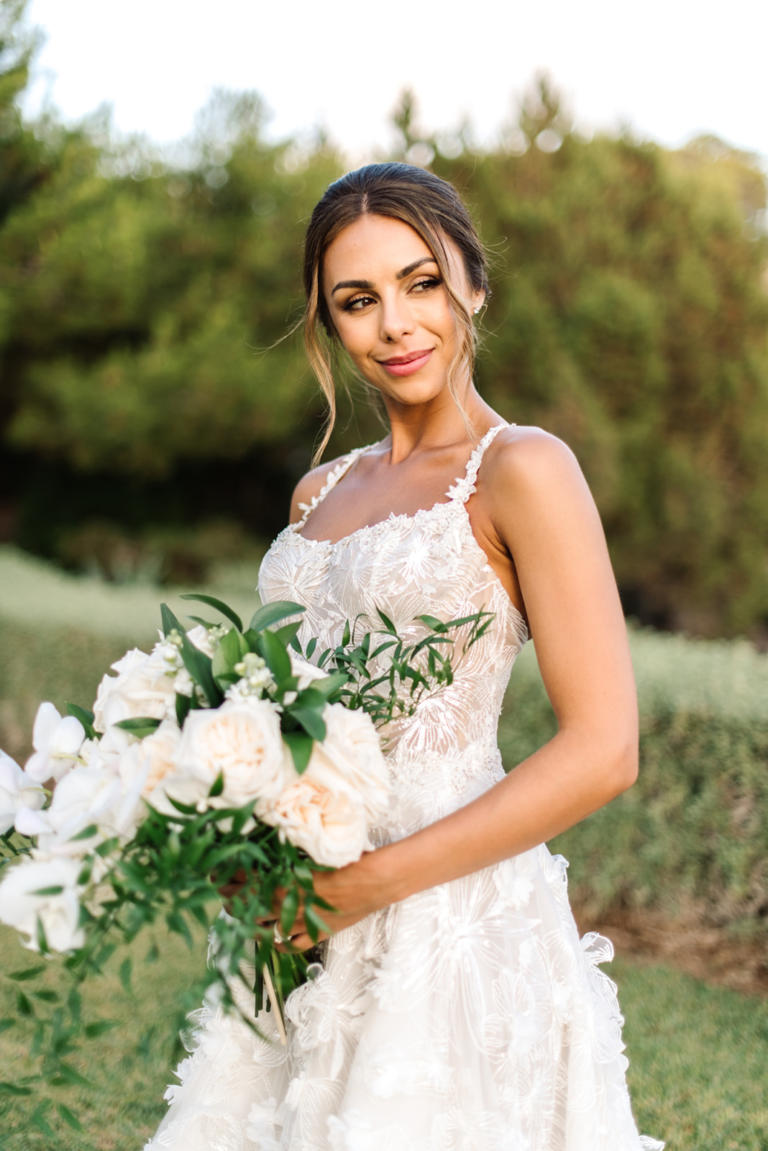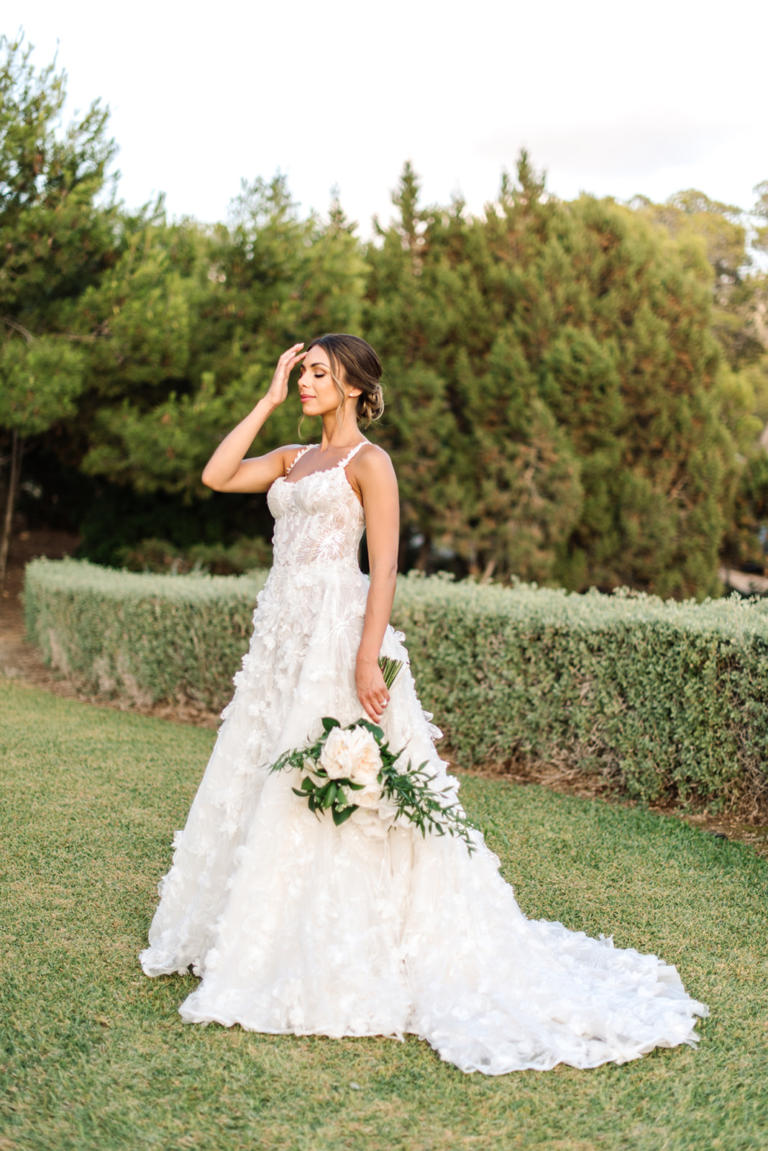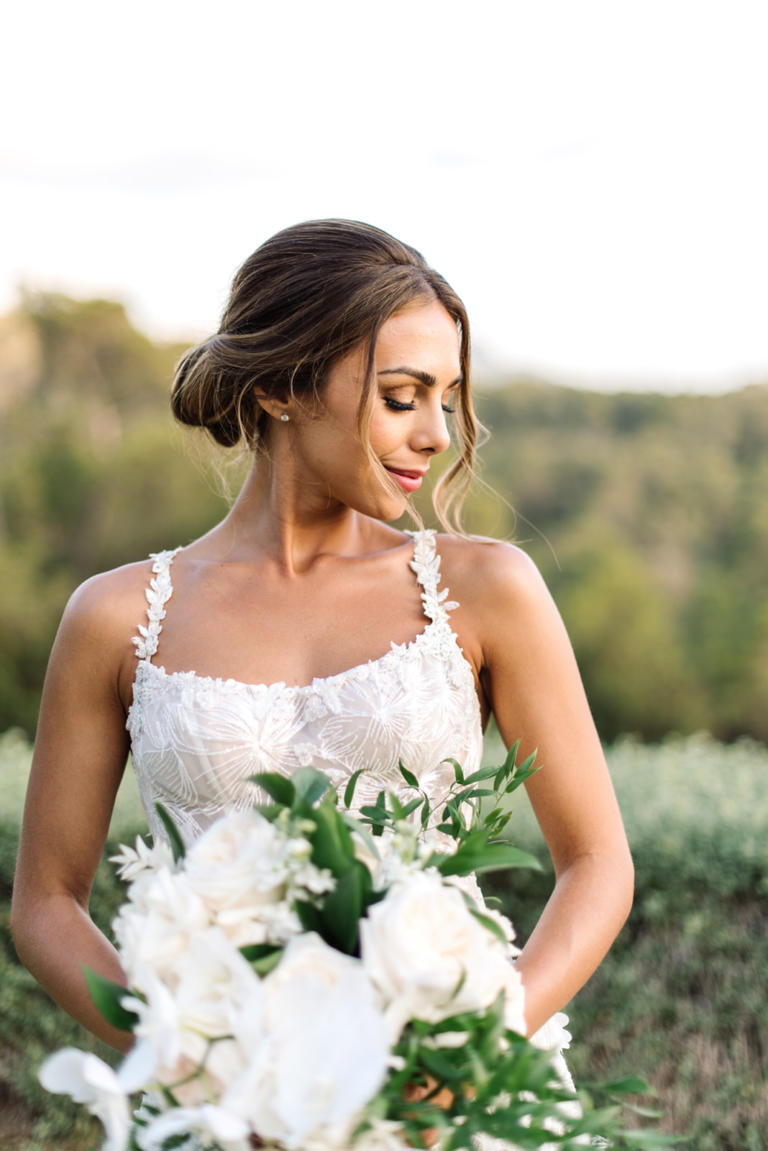 How was your experience with the Galia Lahav brand?

Incredible from start to finish! We started planning our wedding just before the pandemic hit, which meant lots of last-minute cancellations, changes, and rescheduling. With such uncertain and unfortunate times, simultaneously having to postpone our wedding one year, it was so nice having the Galia Lahav team be so supportive and committed to making our ultimate wedding experience come true. I so appreciate their flexibility and incredible client support. 
What was the most important thing for you and your husband when planning your wedding?

To create a space to celebrate LOVE – not just our love, but love for everyone there and their bonds as well. Our friends and family live far away from us, and from one another, so to have everyone closest to us, gathered in one special place, truly meant the world. We danced, laughed, took lots of photos, ate incredible food, and just really tried to soak in the moment as much as possible. 
What was your first wedding song?

Elvis Presley Can't Help Falling In Love With You – gives me goosebumps each and every time. I've always loved that song and it will forever hold a special place in my heart. 
What did you enjoy the most about planning your wedding?

Definitely the decor element – planning out the table setting, florals, lighting, etc. We wanted to create a beautiful ambiance, mood, and environment for our guests, and I think we did just that! The wedding took place in a villa, where we stayed with our friends for one week, so seeing it be transformed for our wedding day was truly incredible! 
What advice would you give to all our future brides?

Do your best with planning, and then let it go! Enjoy your wedding day to the fullest, with minimal stress and worry. I was all about the calm and relaxed energy on our wedding day, even though we definitely had a few hiccups – I let it all roll off my shoulders as I just wanted to soak in the moment as much as I could. It goes by so quickly, so sit back and enjoy it! 
What moment from your wedding will you never forget?

Walking down the aisle with my dad, in front of all our friends and family, feeling like an absolute princess in my GL gown, seeing my future husband in front of the gorgeous floral arch, with the Mediterranean sea in the background. This is in my heart forever. Dancing the night away with our friends and family, gathered from all corners of the world, is definitely up there too! 
Finish your registration for {City} Trunk Show