FREE SHIPPING & RETURNS WORLDWIDE!

DUTIES & TAXES COVERED WORLDWIDE
Find your nearest boutique
Our #GLBride of the week is lovely Anastasia Matchanova, who married her fiancé in our Rhiannon gown. The couple decided on a destination wedding, tying the knot in beautiful Playa del Carmen Mexico at Villa la Joya. In the following interview, Anastasia shares with us the most special moments of her wedding and what made our Rhiannon dress the one for her. As told by Anastasia:
How did you meet your husband? Tell us a little bit about your relationship.

Eliot and I met through mutual friends in middle school and quickly became best friends. We made it official at the prime old ages of 16 and 18, and have been inseparable since.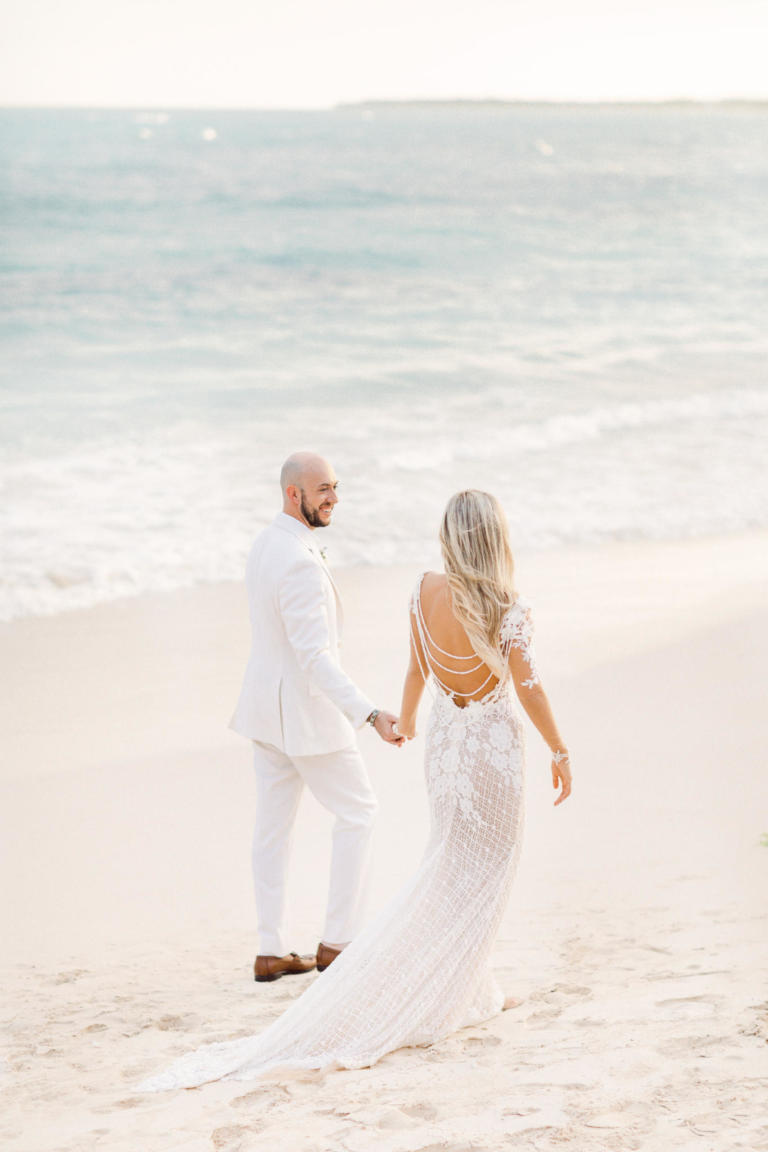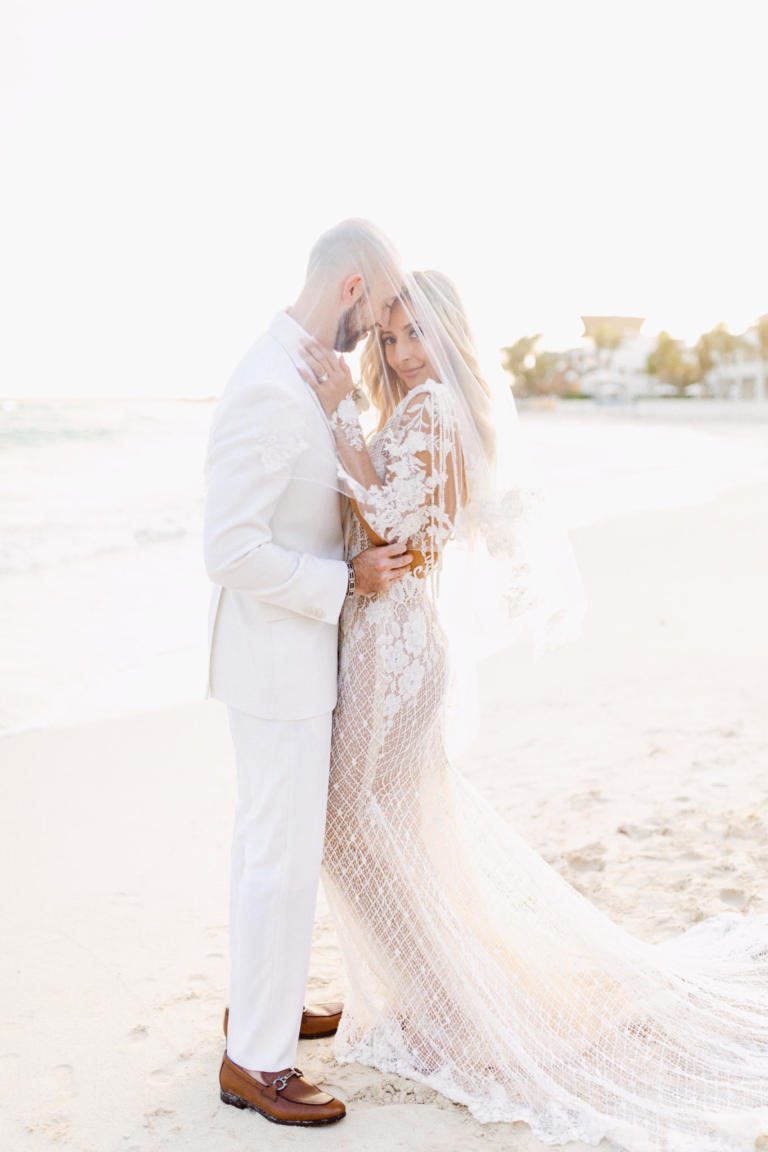 How did he propose?

At some point, I told Eliot that I loved the idea of a public proposal and celebrate with all of our friends, but I also love the intimacy of a private proposal. I knew it was impossible to have both, but he certainly rose up to the challenge. My 25th birthday was coming up and we planned to do a big vacation with all of our friends in NOLA.

Upon arrival, Eliot told me we were going to have a romantic dinner, just the two of us, on Saturday night. We got to the restaurant and he actually booked a private room, which was full of our friends waiting to surprise me. Little did I know that the night of surprises was just beginning. Eliot had all of my friends and family make me a beautiful, moving video wishing me a happy birthday and showering me with compliments, and then he surprised me with a trip to one of our favorite places on earth, Universal Studios in Orlando. 

With so many surprises coming my way, I never suspected what Eliot had planned next.  There was a professional photographer there to "photograph the party", and Eliot convinced me to go to the perfect proposal spot by telling me that the photographer had to leave soon. He led me away from the group of partygoers in pursuit of the perfect New Orleans birthday picture. We took pictures all through the city, ending at a gorgeous rooftop at sunset, which was laid out in roses, candles, and huge letters spelling out: Marry Me. A few minutes later, all of our friends joined us on the rooftop to celebrate, ending the night with my perfect private/public proposal.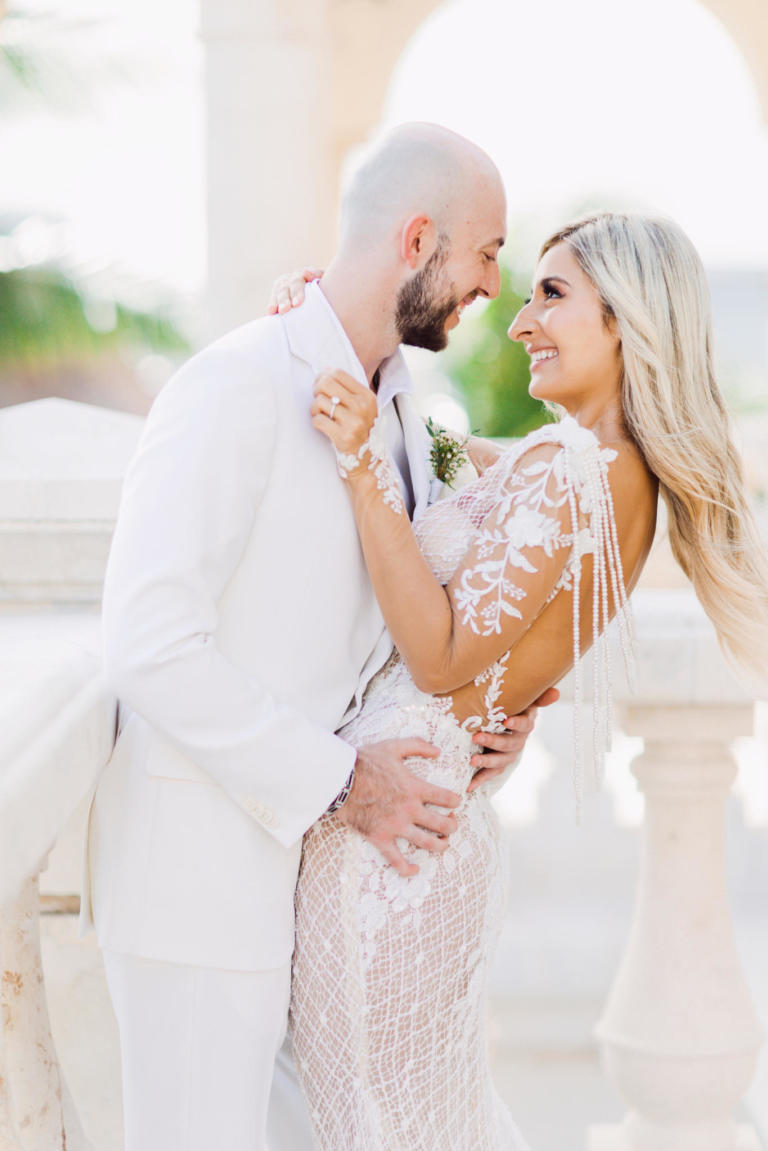 How did you start planning your wedding? What were the first steps?

Since we decided on a destination wedding, I made it my mission to find a great wedding planner, knowing that they can help us do the rest. We ended up interviewing over 40 different planners all over the world in potential locations. Finally, we found the most amazing planner in Mexico (Fernanda from Taller Gourmet) and she brought our dream wedding day to life. 
Did you do any beauty or fitness prep for your big day?

Fitness and eating healthy have always been a priority for me, but I wanted to feel the best version of myself on the day, so I made sure to stay on top of self-care a few months out. I ramped up my workouts to 5 days a week, cut out any crappy processed foods, and became much more diligent about using my retinol oil (Sunday Riley Luna Sleeping Night Oil is my favorite). 
What was your wedding theme?

"Timeless, grand, romantic, and magical" were the words I used with our planner, who somehow knew exactly what I meant. A stunning villa overlooking the ocean, a ton of ivory florals, fireworks, twinkle lights draped over the property, and a spectacular sunset in Mexico turned out to be the key ingredients in accomplishing this dream. 
How did you choose your location?

We always dreamed of having a destination wedding and we wanted the venue itself to be the "WOW factor" as Eliot calls it. I told our wedding planner that I wanted the beach view, but I wasn't ready to give up the luxury and grandeur of an indoor venue. Again, she knew exactly what I meant. Villa la Joya was beyond anything I could imagine. It was private, had an enormous backyard overlooking the ocean, and allowed us to customize every single detail of the wedding.  
How did you decide on your bridesmaid style?

My priority was to make sure that each of my bridesmaids felt beautiful and comfortable on the big day, with my only request being that the color was neutral. We went with the Vera Wang line from David's Bridal. All the girls got to pick their own style and they ended up looking stunning.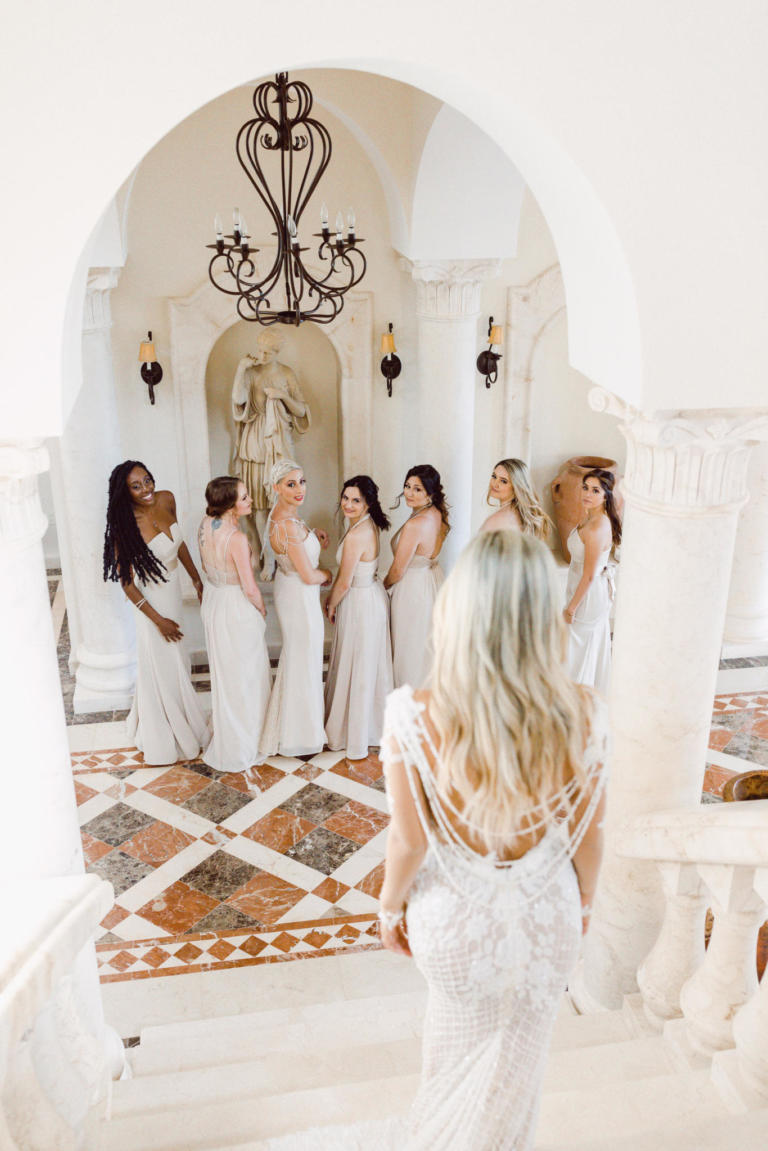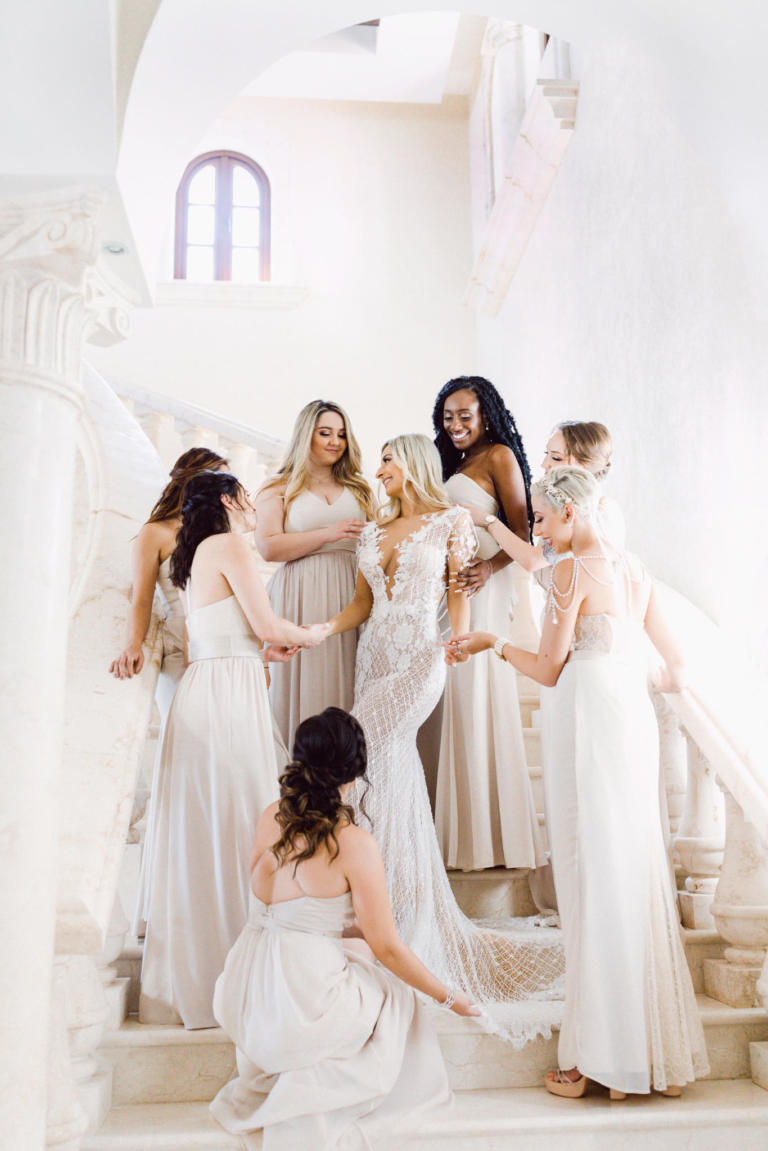 How did you find your perfect dress?

I stumbled upon the Antonia dress from GL on Pinterest in 2015 and fell completely in love! In my mind, it was the perfect wedding dress and I remember checking the site yearly to keep up with the new collection drops. After the proposal, I eagerly booked an appointment at Ivory Bridal Atelier in Houston to finally try it on. The dress had been discontinued, but the team had one similar style in the back. While they looked for the dress, I happened to try on the Rhiannon gown and to my surprise at the time, that was it! It looked nothing like Antonia but was absolutely perfect in every way. Every dress that I tried on afterward could not even compare!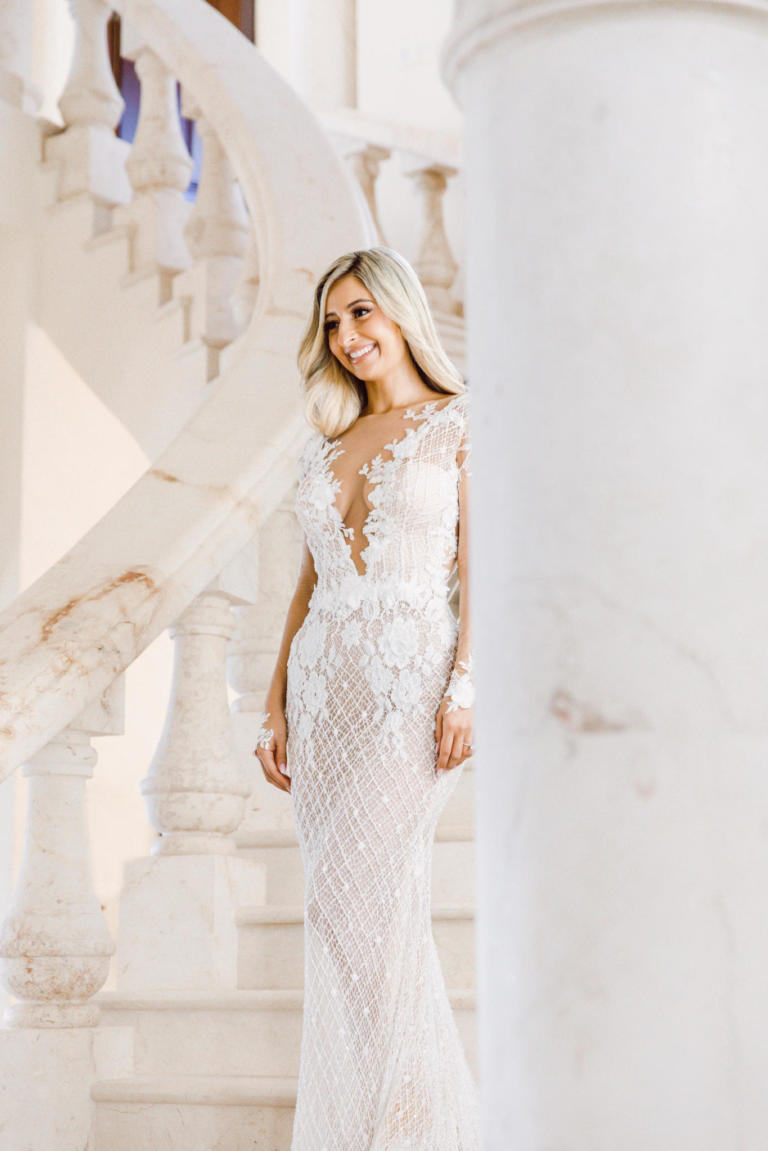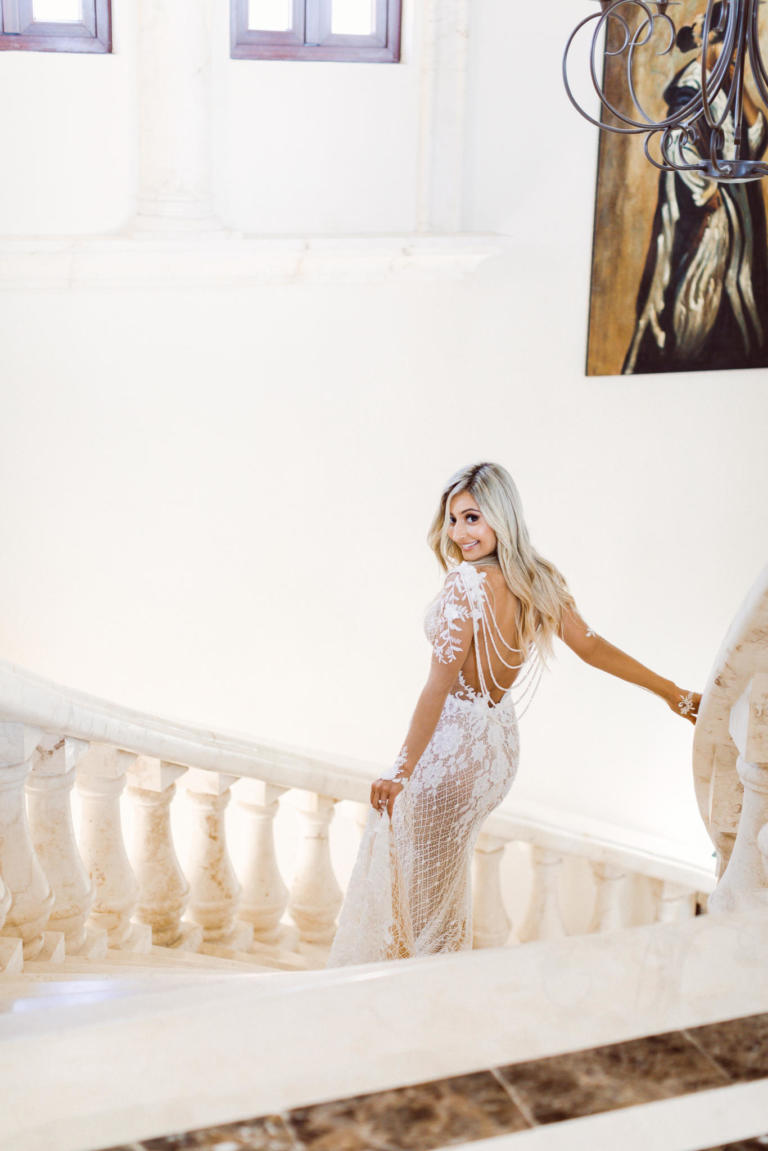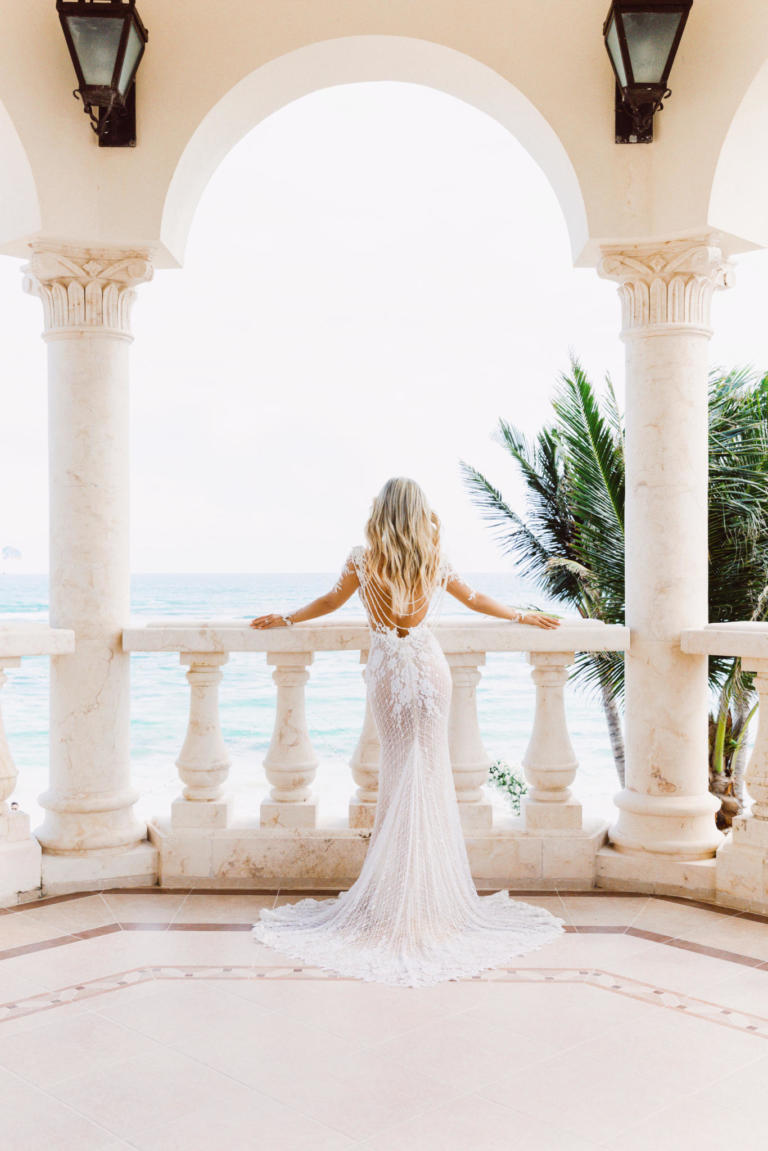 How was your experience with the Galia Lahav brand?

It was spectacular. Two of my bridesmaids joined me and we were welcomed by champagne and warm greetings from the team. Everyone was so supportive and made me feel like a Rockstar! It was definitely one of those "movie moment" experiences that I dreamed about growing up.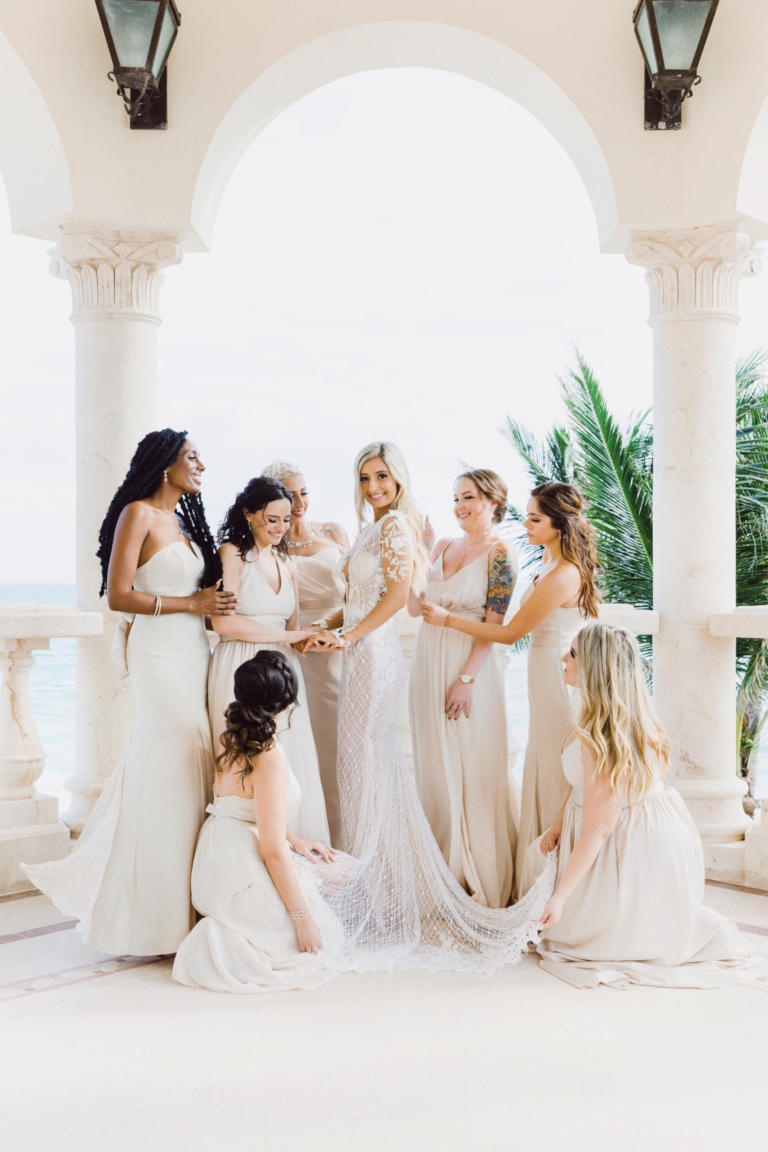 What was the most important thing for you and your husband when planning your wedding?

Our 10-year dating anniversary was on Christmas and the wedding took place on January 2nd, so really, we got to celebrate our marriage and a full decade of loving and growing with each other. The most important thing for us was to celebrate properly with our closest friends and family. Having a destination wedding accomplished that in more ways than one! We got to get married in paradise and have a week-long vacation with our loved ones. We really soaked it all in with many events throughout the week, including a welcome dinner, celebrating NYE at the resort, a full day exploring Tulum, a boat day riding around the stunning Isla Mujeres, and, of course, many hours of laying on the beach. It was perfect.
What was your first wedding song?

Sway by Rosemary Clooney. I still get goosebumps listening to it. 
What did you enjoy the most about planning your wedding?

The part I enjoyed the most was the "planning" trip we took to Playa del Carmen, Mexico. We got to see the venue in person for the first time and it truly took our breath away. We also did a full menu tasting and got to meet the chef and catering team from Taller Gourmet, who were all incredible. It's common knowledge that the bride and groom usually don't get to eat much during the wedding with the excitement and all that (and as much as I tried to rebel, this ended up being true), so it was an absolute gift to spend a full day trying all of the delicious dishes and picking our favorites. Of course, we also got a little vacation time at the resort as well.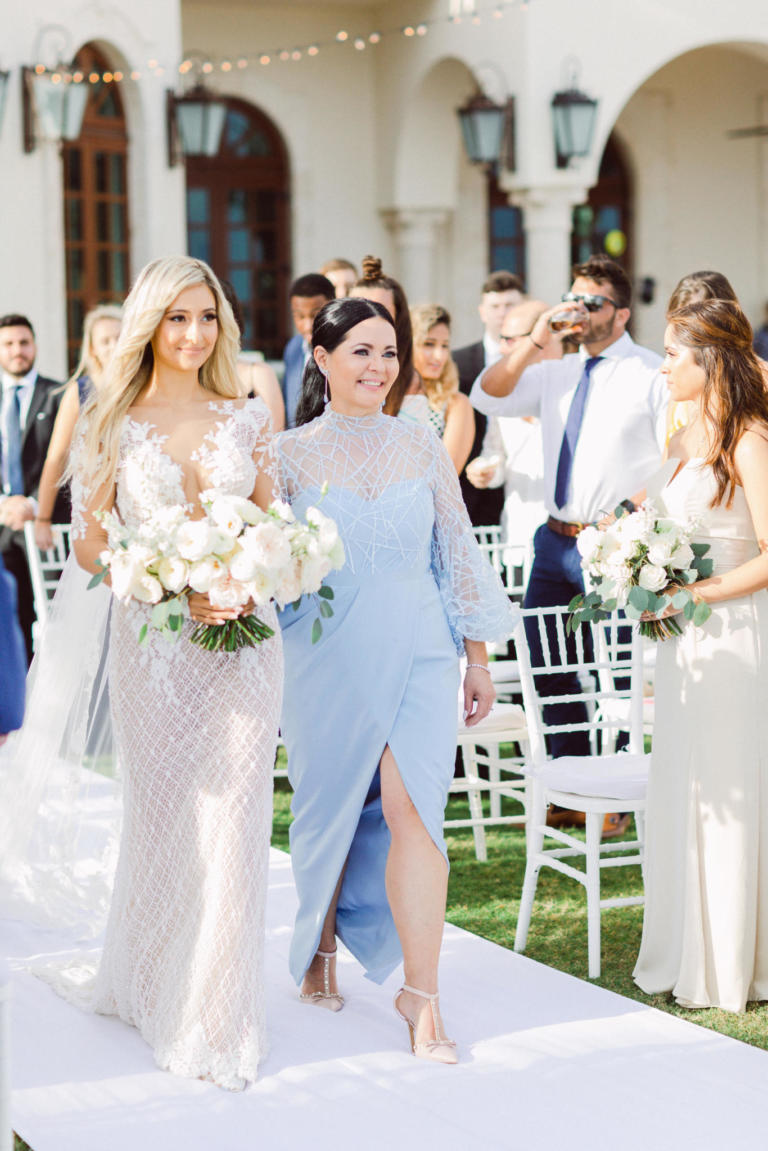 What advice would you give to all our future brides?

Wedding mornings are inherently exciting, fast-paced, and hectic. The number one piece of advice I kept getting was to take moments to be present as much as possible. This is easier said than done, but I made myself a promise not to stress over the little things and just soak it all in. I'm so grateful I did because those moments are the ones that stand out the most looking back. Some other gems of advice I got were to do an unplugged ceremony, providing flip flops to replace those killer heels for the girls and last but not least, serving a snack at midnight (we did tacos, but pizza or wings are just as amazing, trust me on this one).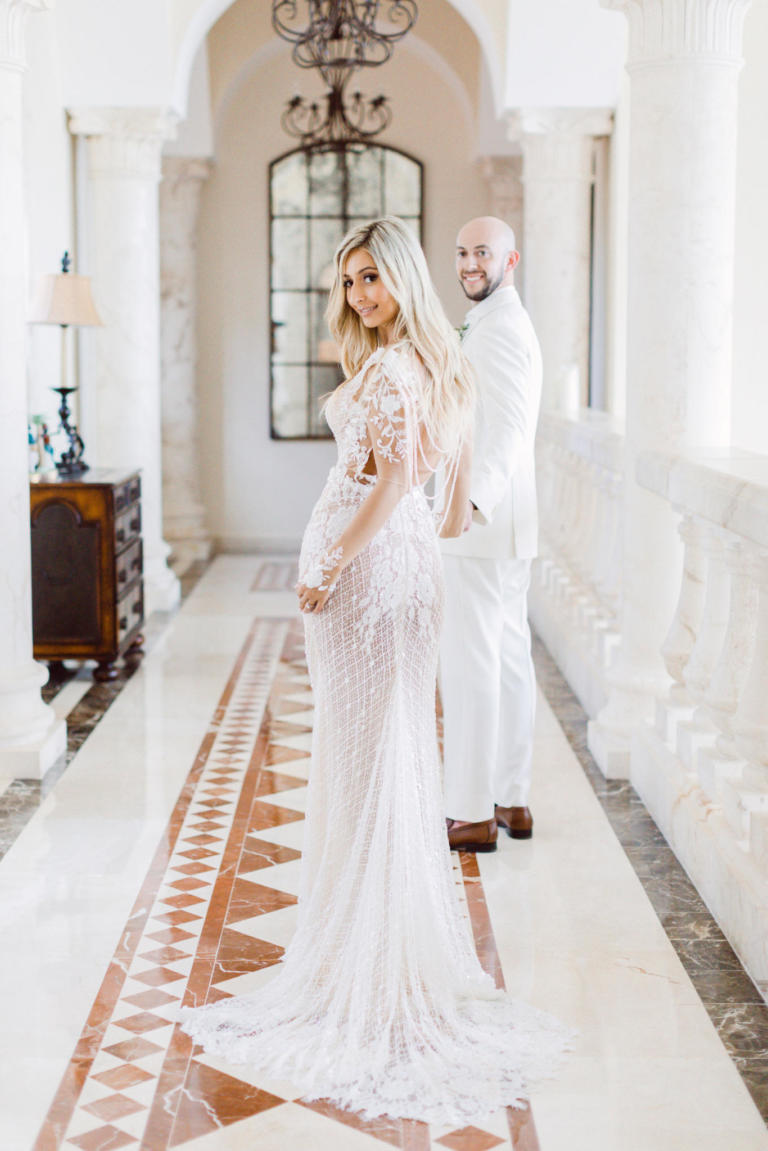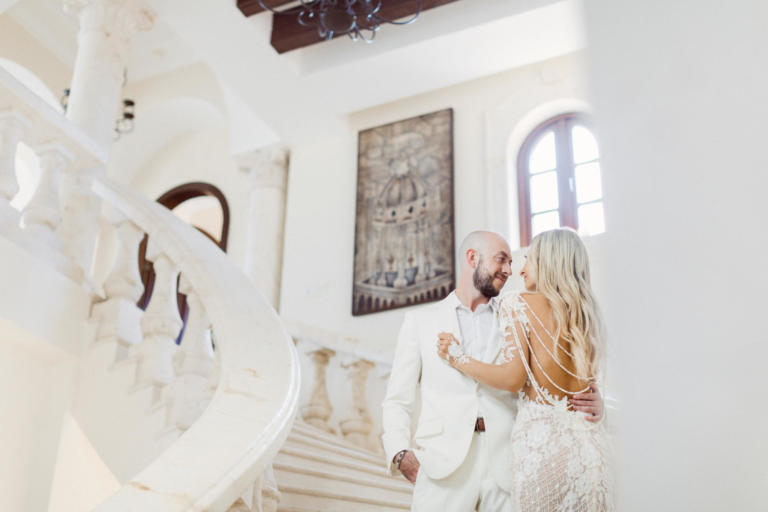 What moment from your wedding will you never forget?

It's a tie between our first look and our first dance. We planned a destination wedding in the midst of a pandemic, which is no small feat. The first look for me was this epic moment when I finally got to look at my best friends' eyes and say, "We did it, we're here". So many pieces had to come together perfectly to make this day happen and they did.  

The dance was just as much my favorite for a different reason. One of the best decisions we made in the wedding planning process was to take dancing lessons. It was the perfect excuse to get away for an hour per week and just dance, be with each other at the moment and have fun. It was something we looked forward to each week and on the wedding day, we got to do our favorite routine in front of all of our friends. Eliot lifted me in the air, sparklers went off in the perfect moment and it was pure magic.
Finish your registration for {City} Trunk Show