FREE SHIPPING & RETURNS WORLDWIDE!

DUTIES & TAXES COVERED WORLDWIDE
Find your nearest boutique
You're tying the knot with your ultimate soulmate, but that's not the only partnership involved with your upcoming nuptials. Given that you also need to find the ideal mate for your dream wedding gown: a bridesmaid dress (or dresses). Because you want to celebrate these special friends and family members in your life and express your love and appreciation through their wedding day ensemble.
Wedding and bridesmaid dress pairings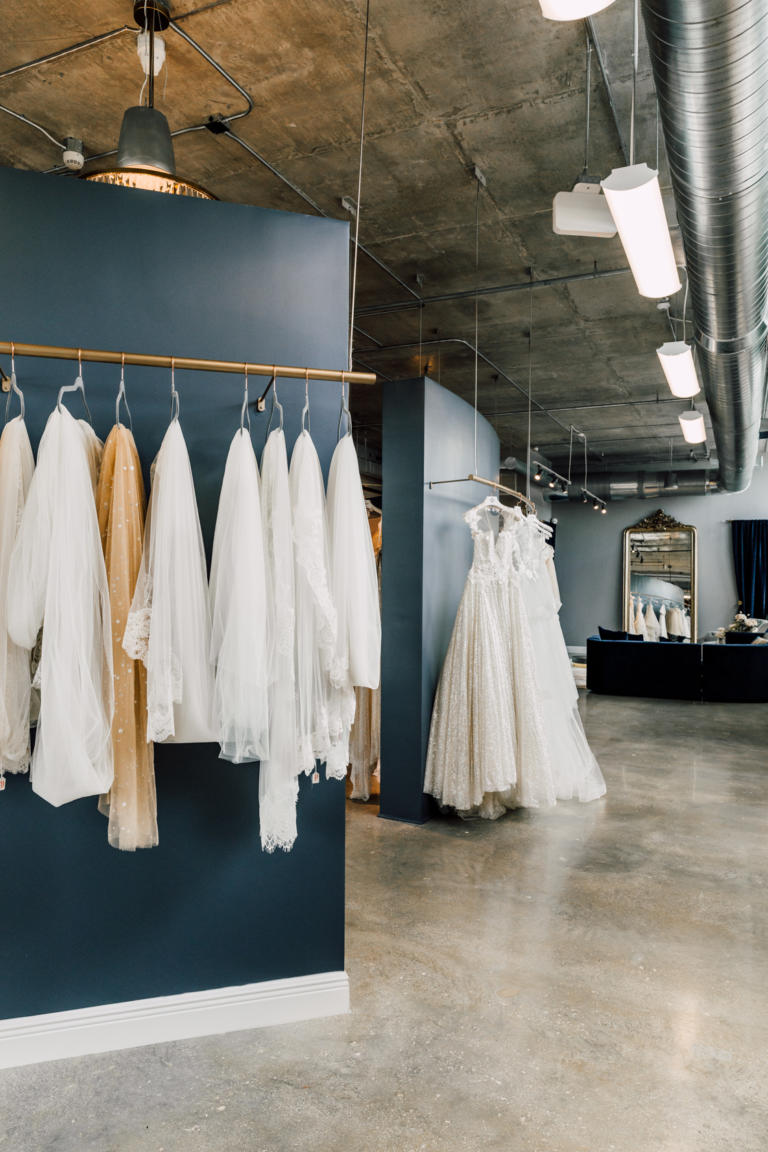 7 Dream Pairings of Wedding and Bridesmaid Dresses

So sartorially honor your close bonds — and what you love about them — through coordinating not just the aesthetics, but also the vibes of all your dresses. Pairing the looks may also involve an opposites attract situation, with, say, a minimalist silhouette complementing your elaborately embellished bridal confection. (Kind of like a social butterfly coaxing their quieter partner out of their shell.) Plus, the overall composition will also depict a complete love story that will also look amazing in the photos you'll treasure forever.

To start you on your journey, enjoy seven perfect pairings of wedding day gowns, below. Plus, with these incredibly chic options, your bridesmaids really will want to wear their dresses again.
Symphony of Detailing: Gold Halter Gown and Streamlined Crepe Mermaid Gown in Perfect Correlation

Meticulous micro-pleats and a sharp-angled deep-V neckline on a shimmering gold halter gown correlate with the precise detailing on a streamlined crepe mermaid gown: architectural scalloping on the corset bodice and a matching power-shouldered and high-neck bolero.
Mari Gold Evening Dress
Romantic Trumpet Wedding Gown and Lush Lilac Bridesmaid Dress: A Love Story

A trumpet wedding gown with floral lace embroidery, a décolleté-baring neckline with a keyhole cut-out, ethereal layers of sheer tulle and billowing lantern sleeves exudes pure romance. A bridesmaid dress, with a sweetheart neckline, exquisite draping and in a lush lilac hue, continues the epic love story.
Clare Wedding Gown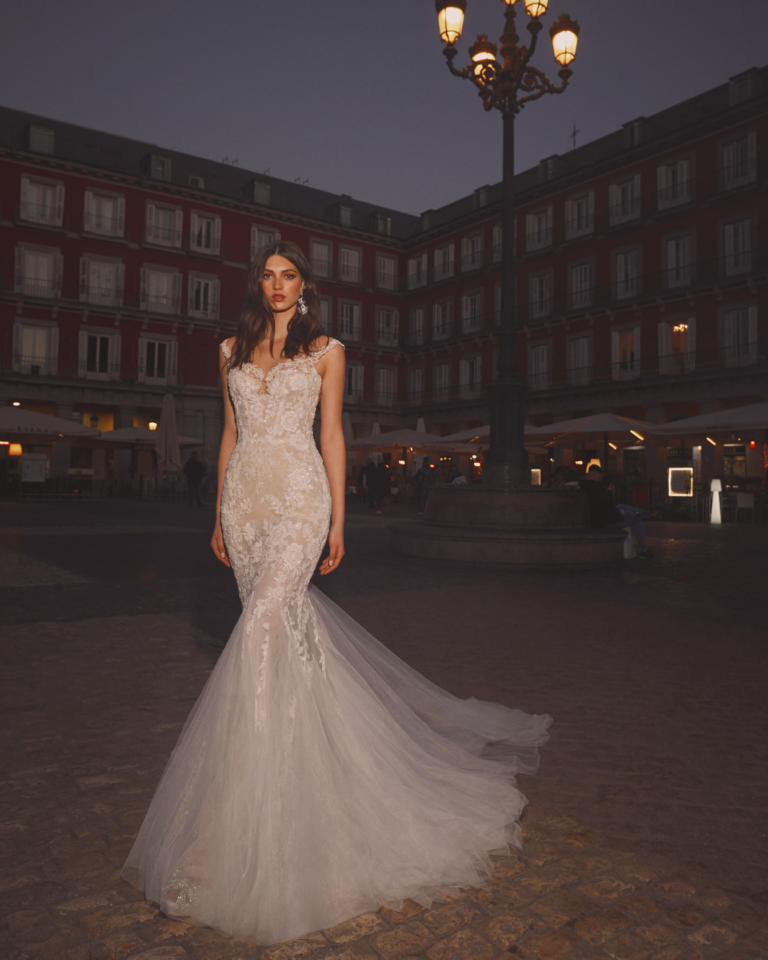 Sultry Fuchsia Slip Dress and Crystal-Embellished Bombshell Wedding Gown: A Dazzling Duo

A slinky, silky slip dress in a high-wattage fuchsia helps shine a sartorial spotlight on a bombshell wedding gown amped up with a low-plunge front and back and crystal-embellishments on sheer long-sleeves and sultry shoulder-to-heels side panels.
Elegance Unveiled: Navy Bias-Cut Dress and Iridescent Corset Ball-Gown in Perfect Harmony

Behold, a match made in pure elegance: A refined navy bias-cut dress, with intricate draping on an asymmetrical neckline, harmonizes with an iridescent corset ball-gown with sumptuous crystal and bead-embroidered trim
Elise Navy Evening Dress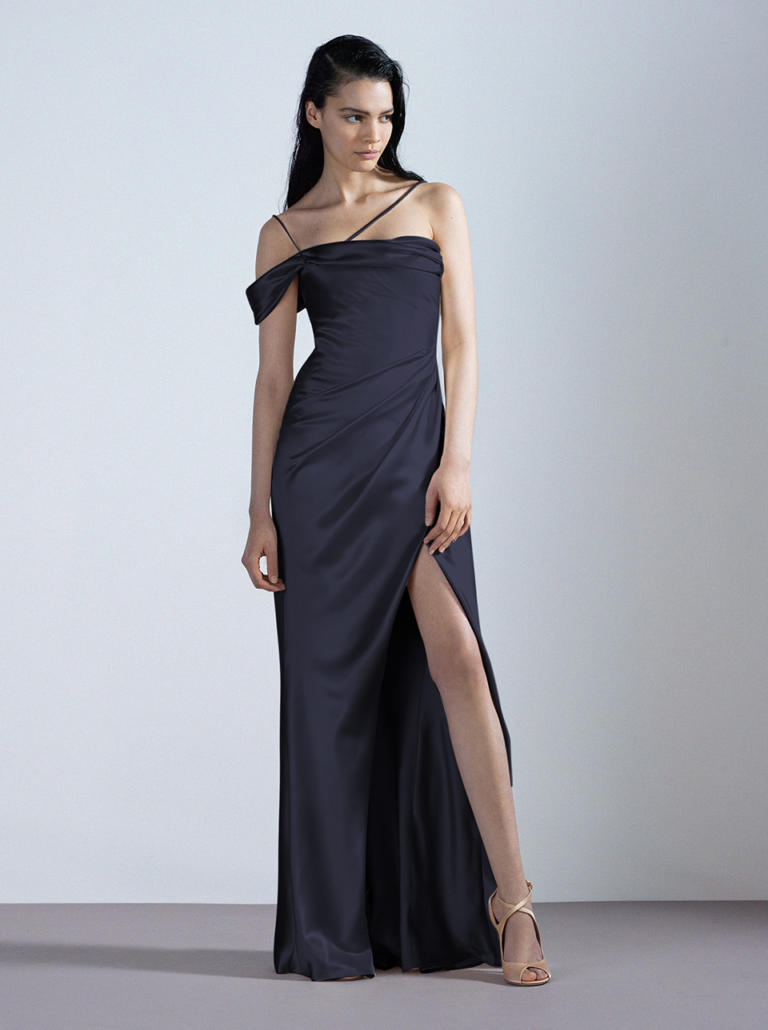 Fierce Harmony: Guipure Lace Wedding Gown and Muy Caliente Red Bridesmaid Dress

A figure-hugging guipure lace wedding gown, with exposed boning on the corset and alluring longline-seams, calls for a just as muy caliente bridesmaid dress: a silky, strappy slip in a fiery red.
Unconventional Elegance: Black French Lace Corset Gown and Golden Champagne Lamé Slip Dress

Go unconventional and ultimately unforgettable, starting with a stunning — and black — French lace corset wedding gown, which vivaciously flares out at the mermaid skirting with rows-and-rows of silk tulle and feathered ruffles. A lamé slip dress in golden champagne reflects the passionate energy with mesmerizing shimmer.
Finish your registration for {City} Trunk Show