FREE SHIPPING & RETURNS WORLDWIDE!

DUTIES & TAXES COVERED WORLDWIDE
Find your nearest boutique
As wedding season is upon us, dress trends are top of mind. From glamorous embroidered gowns to playful short looks and modern unique dresses, we have every type of dress to fit the most popular styles.

Wedding fashion design has immense depth—it's so much more than a simple white dress. Each year, our design team finds inspiration in everything from travel to poetry to current events, and uses that to craft gorgeous garments for strong and sexy women of all types. We aren't afraid to look out of the box, which is why this year's Couture Collection features innovative cuts, feminine embellishments, and even a black ball gown.
Chic and sophisticated boleros jackets are back in a big way: for wedding gowns. The petite shrugs were popular in the 1990s, and they emphasize shoulders and show off the décolletage. The new wedding look pairs a bolero jacket with the sweetheart necklines of a long, mermaid-style gown. It's a romantic aesthetic. Combined with the high neckline, which begs for a pulled-back hairstyle, it's a refined and feminine wedding gown trend. 
Ready to show off your wedding day shoes? Midi-length dresses are here for the ceremony and reception, with playful adornments like feathers and floral embellishments. The dress style, which hits just above the ankles, is both formal and fun, making it a prime choice for brides who want to add a whimsical and light-hearted flair to their day.
Who says wedding dresses need to be shades of white? In the past we've seen pastel hues, but this year, it's all about a dark and mysterious black. Like white, black showcases intricacies of lace, works well with illusion corsets, and creates drama for a voluminous skirt. Here, a mermaid-style silhouette and sweetheart neckline nod to traditional gowns, but the deep, black hue brings an unexpected element to a bridal gown. For a bride looking to make a grand entrance, this trend has it all.
Trend 4: Sheer Gloves with a Ball gown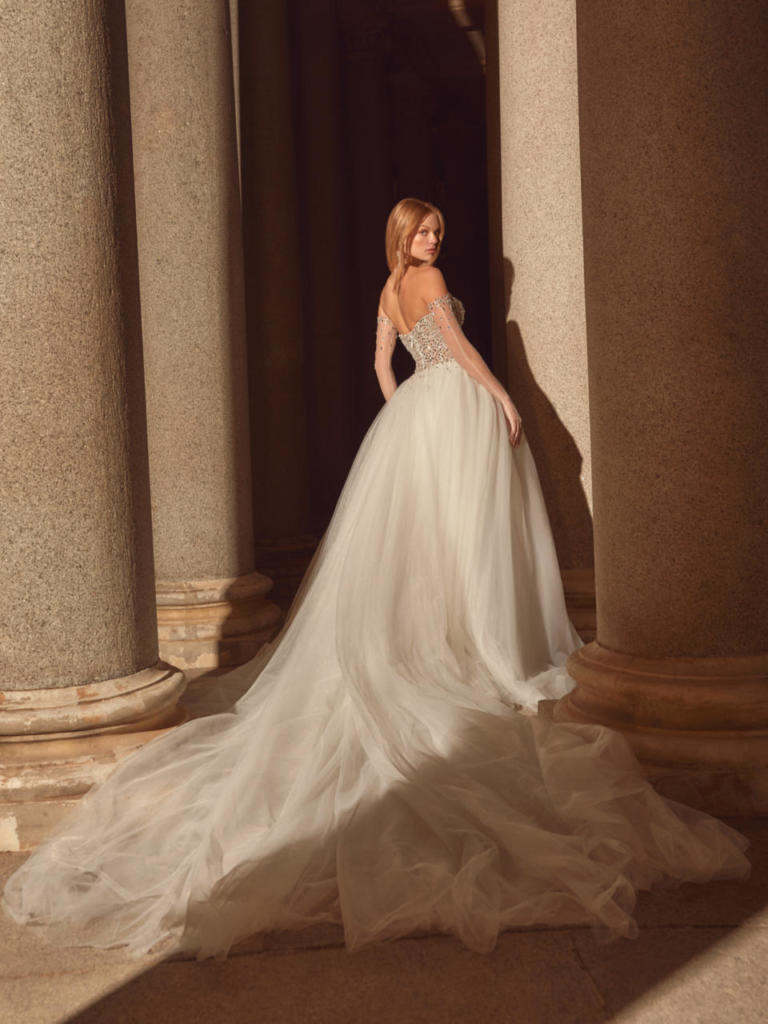 What says princess more than a ball gown glove? Instead of a stuffy Victorian-era glove, now these accessories come in sheer fabric adorned with crystals, pearls, or other gemstone. The sheer fabric gives iridescent shine to a bare arm for more vibrancy in the spotlight, and the embellishments add shimmer to the overall look. Add a pair of gloves to any ball gown, and you'll always be on trend. 
Chalk it up to Bridgerton: Corsets are in, but with their own modern spin. Instead of hiding beneath crepe and silk, today's corsets expose their boning in between sheer side panels. Dubbed an illusion corset, this bodice style shows off a bride's shape with a sexy edge. It's romantic and timeless among the floral embroidery of a ball gown and dazzling on the crystal-encrusted top of a sleek silk gown. 
Finish your registration for {City} Trunk Show