FREE SHIPPING & RETURNS WORLDWIDE!

DUTIES & TAXES COVERED WORLDWIDE
Find your nearest boutique
You already have your dream wedding day — or full celebratory weekend — envisioned: your show-stopping dress (and perhaps a second stunning look for the reception), the fantasy venue and Instagram-perfect décor. But take a step back and remember to establish your theme and high expectations from the get-to. In other words, design your wedding invitations as a hint of your impending and sure-to-be unforgettable nuptials.
In line with the Galia Lahav Couture "Make a Scene" musical extravaganza motif (and the Gala "Alice in Wonderland" literary inspiration), a wedding invitation is like a teaser poster or preview of your spectacular leading role to come. You could tie the invitation to your key colors and/or overall vibe, but definitely your gown — be it retro-influenced, bohemian or full-on Royal Wedding-inspired. Plus, here's your chance to exercise those creative skills you've been showing off on Pinterest by custom-designing your own cards. Or, if you need a little nudge, start with a pre-designed template and add your own personal touch, with preferred fonts, colors and graphics.
Even better: You don't need to leave your home to visit and negotiate with a printer because there are so many options online. To help you narrow the field — and to give you some inspiration — here are 10 dream invitation and dress pairings from the Galia Lahav Couture and Gala collections.
High Drama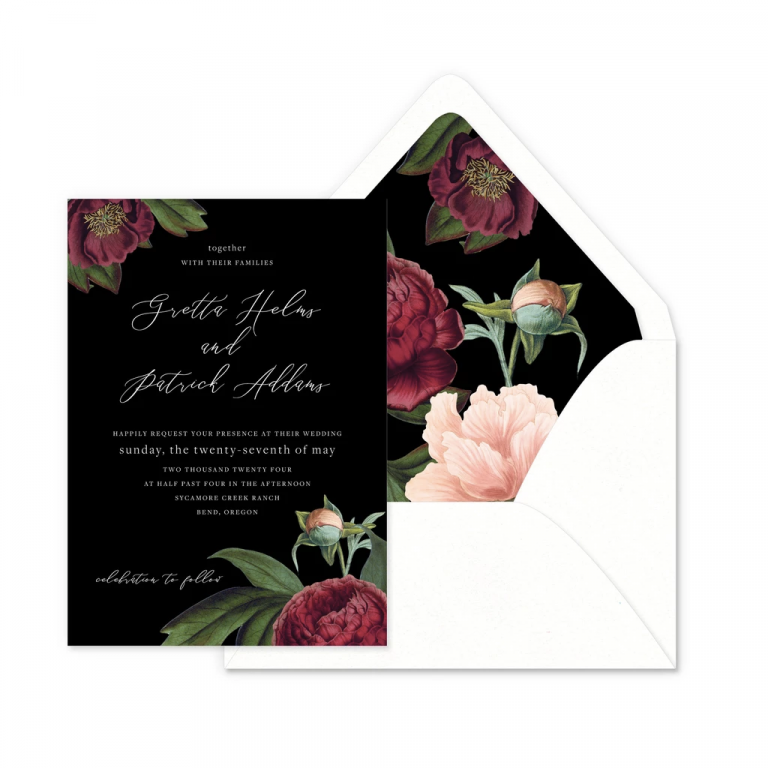 Picture this: You're the leading lady in an epic romance. Channel your story through rich floral hues and a mood-setting onyx background. The stunning floral artwork on the card links back to the intricate embroidery and 3D appliquéd bodice and long illusion sleeves on your gown — and maybe even matches your centerpieces. Gold foil accents bring the glamour.
Modern and Playful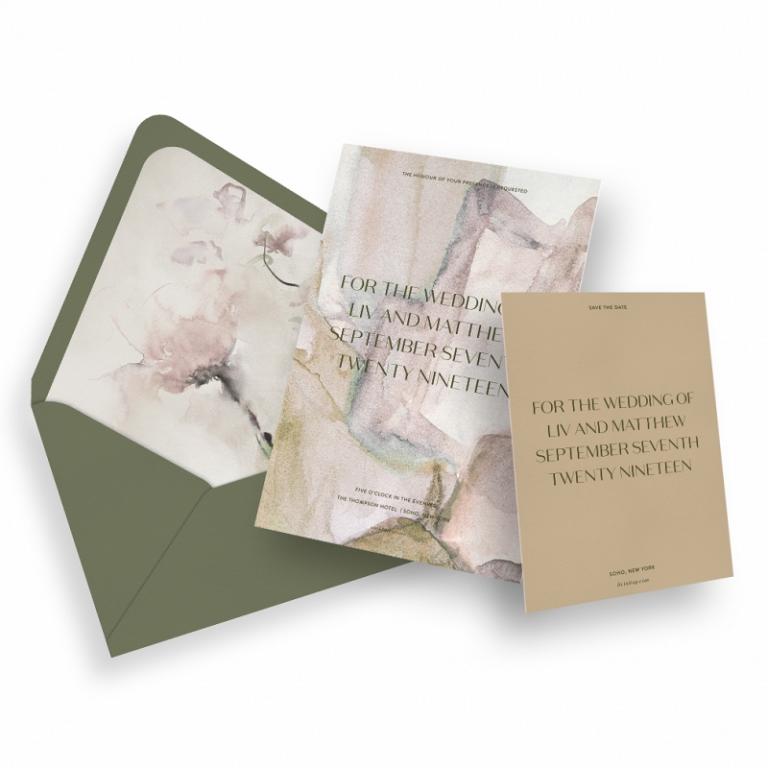 While you're going short and irreverent with your aesthetic, you want to keep the classic elements, like lush flower appliqués and a romantic puff sleeve and a high neck. So do the same with your invitations with an inspired — if not edgy — abstract watercolor twist on traditional bloom. The minimalist font keeps the look elegant, but modern, like your dress.
Hopeless Romantic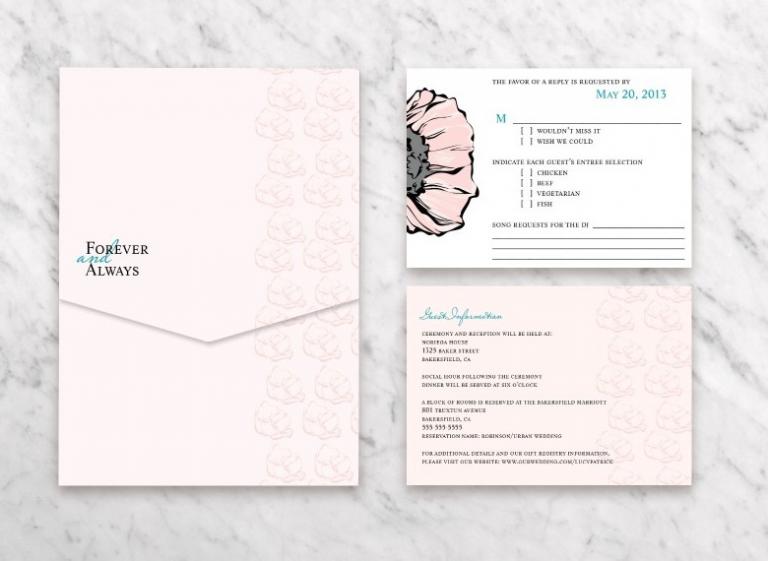 Showstopper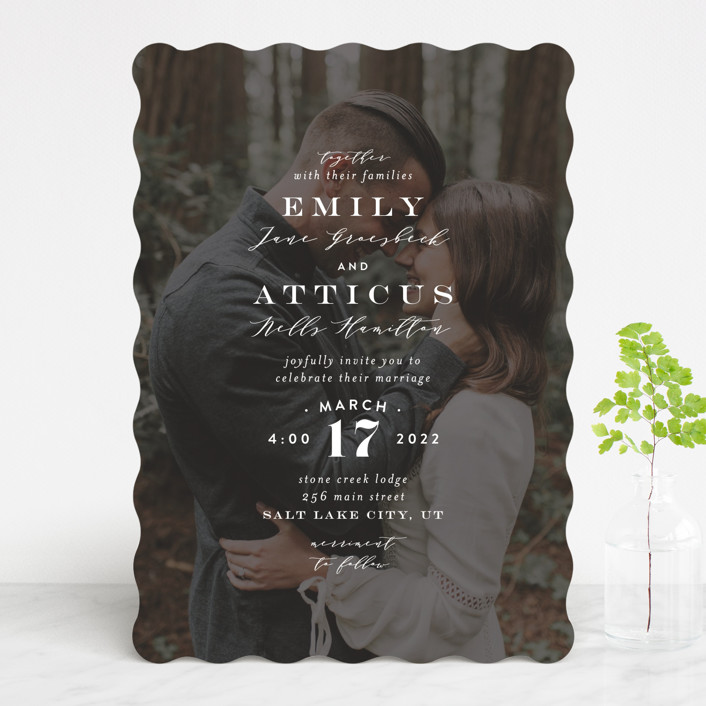 Nature Lover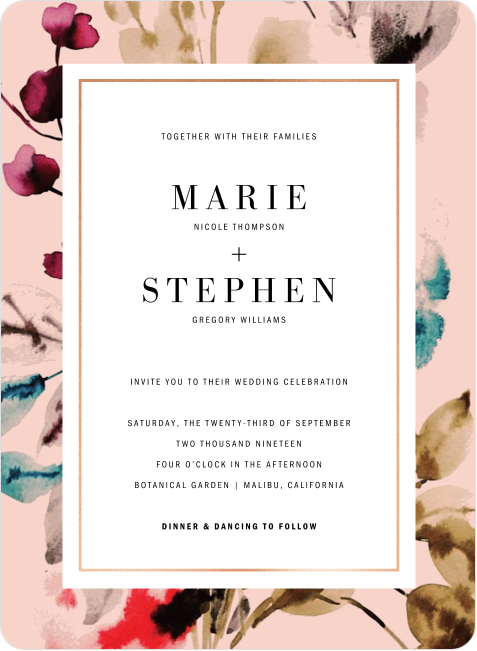 Royal Wedding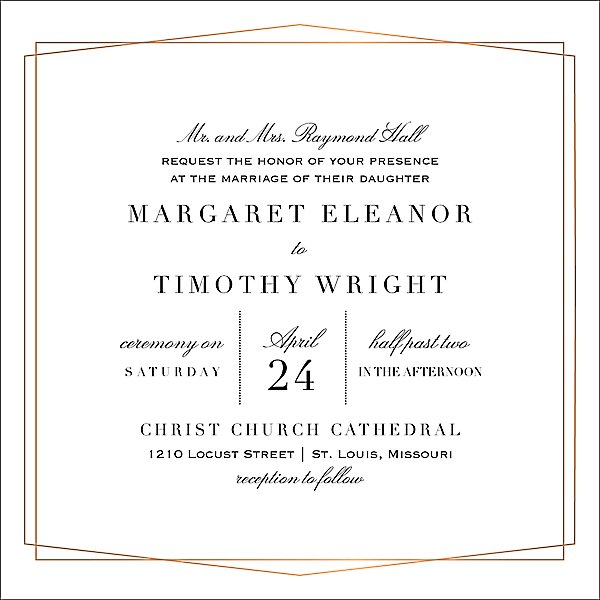 This elegant and refined invitation design is fit for a queen — that's you — to kick off your own version of a Royal Wedding. But you're giving your princess gown a modern twist with an inspired and unexpected handkerchief hem. The card's gilded overlay frame links back to the contemporary irregular ballgown skirting, but the classic black and white classic lettering harkens back to tradition. Can't you picture this invitation being delivered on a silver tray by an old timey butler?
https://www.papersource.com/wedding/fineline-foil-wedding-invitation-w924-195351205208.html
Fantasy Land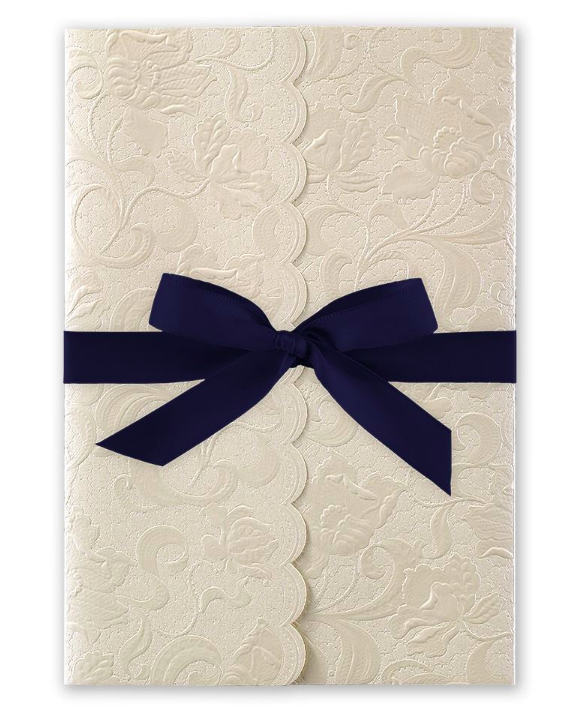 Like flipping the cover of a children's classic tale — or opening a royal decree in your favorite bedtime story — lifting the double gate fold on this invitation will bring a rush of anticipation and excitement for your wedding day. The satin rose ribbon matches the romantic ice pink hues of your dress — plus, the floral embossed texture creates a throughline to the 3D blossoms trickling down the bodice, draped shoulder straps and ethereal tulle layers of your fantastical gown.
https://www.invitationsbydawn.com/shop/candlelight-vines-invitation/
Disco Party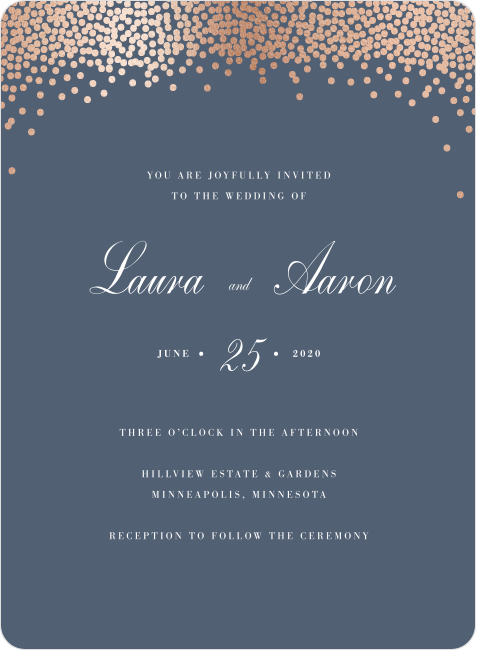 You're always the life of the party and will definitely dress the part, too — especially on your wedding day. The spotlight will be on you and your rebellious, but eternally-chic jumpsuit with all-over shimmer and asymmetrical one-shoulder silhouette. So channel the festive mood — and disco ball theme — with gilded confetti foil on your invitation.
https://www.paperculture.com/eco/confetti-joy-wedding-invitations-p-20833.html
The Roaring '20s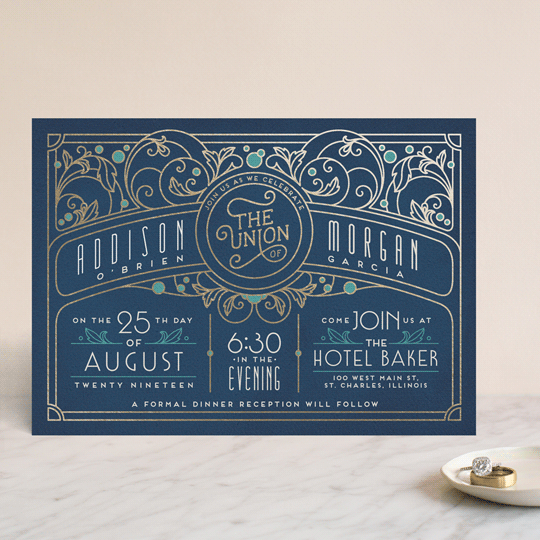 Bohemian Vibes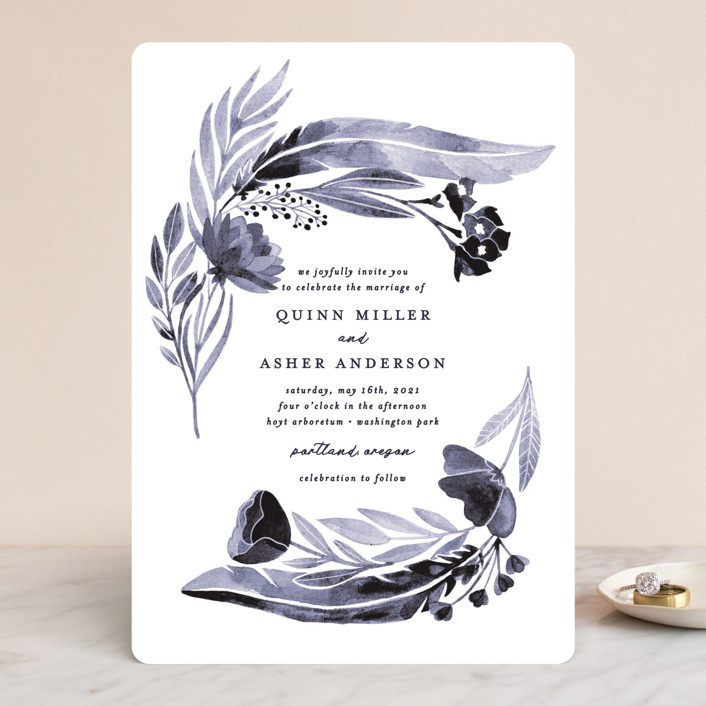 Finish your registration for {City} Trunk Show