FREE SHIPPING & RETURNS WORLDWIDE!

DUTIES & TAXES COVERED WORLDWIDE
Find your nearest boutique
So, you've already secured a dreamy engagement ring and the absolutely perfect dress for your big day. What comes next? Picking out jewelry, of course!
This is definitely the chance to invest in a memorable diamond or gemstone bauble you'll wear for years to come (and hopefully pass along to your daughter). But for now, it's wise to focus on how your chosen piece will work with your dress. Here, we figured out the best sparkling addition to six common necklines, for your most romantic day yet.
Off-the-Shoulder Dress + Chandelier Earrings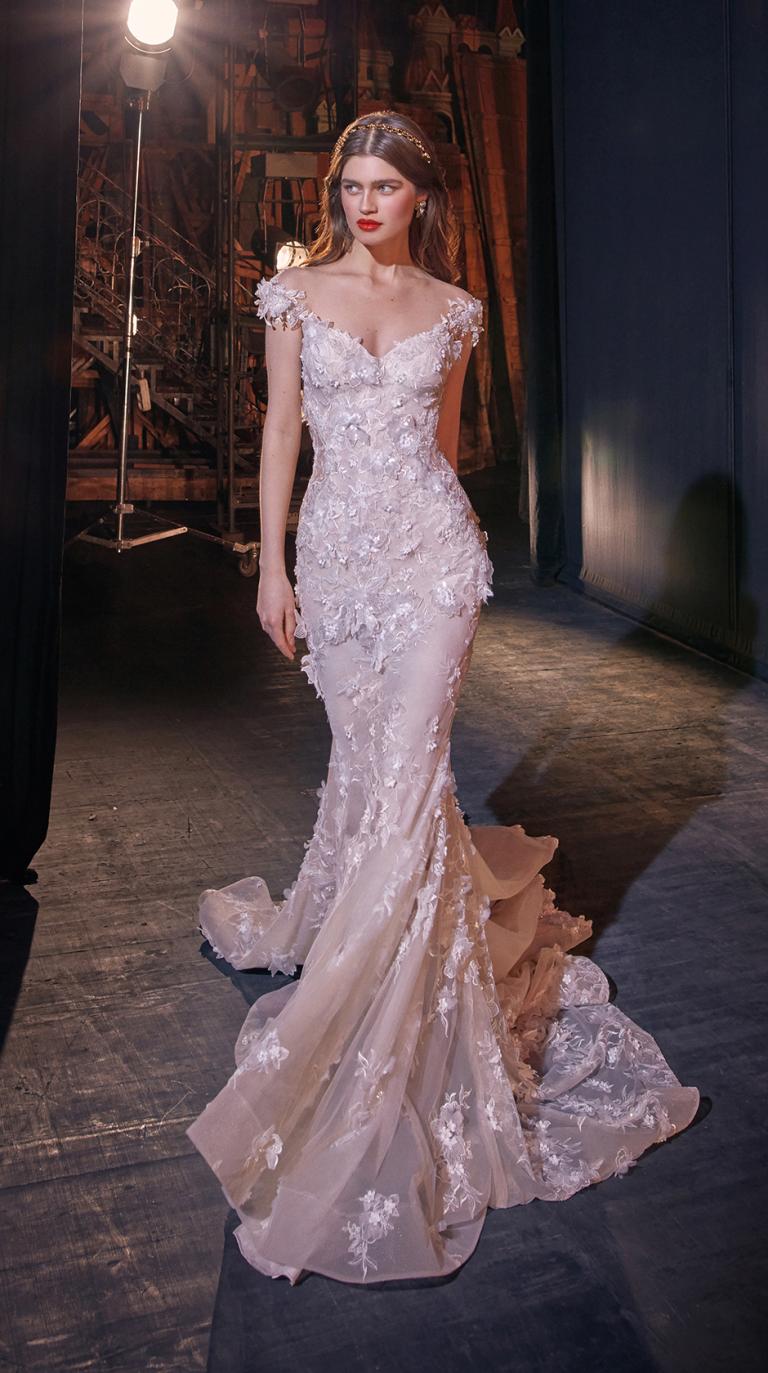 While a wide-open neckline might seem like the obvious opportunity to wear a huge, glistening necklace, you might be surprised what happens if you buck that trend. When it comes to off-the-shoulder necklines, like the Martha's, the addition of a beautiful dangling earring—and no necklace at all—makes for a beautiful statement. These romantic chandelier earrings from Anabela Chan, set with diamonds, pink sapphires and citrines, will add a playful punch of color to your big day.
Anabela Chan Fuschia Chandelier, $3,395
Corset Top + Choker Necklace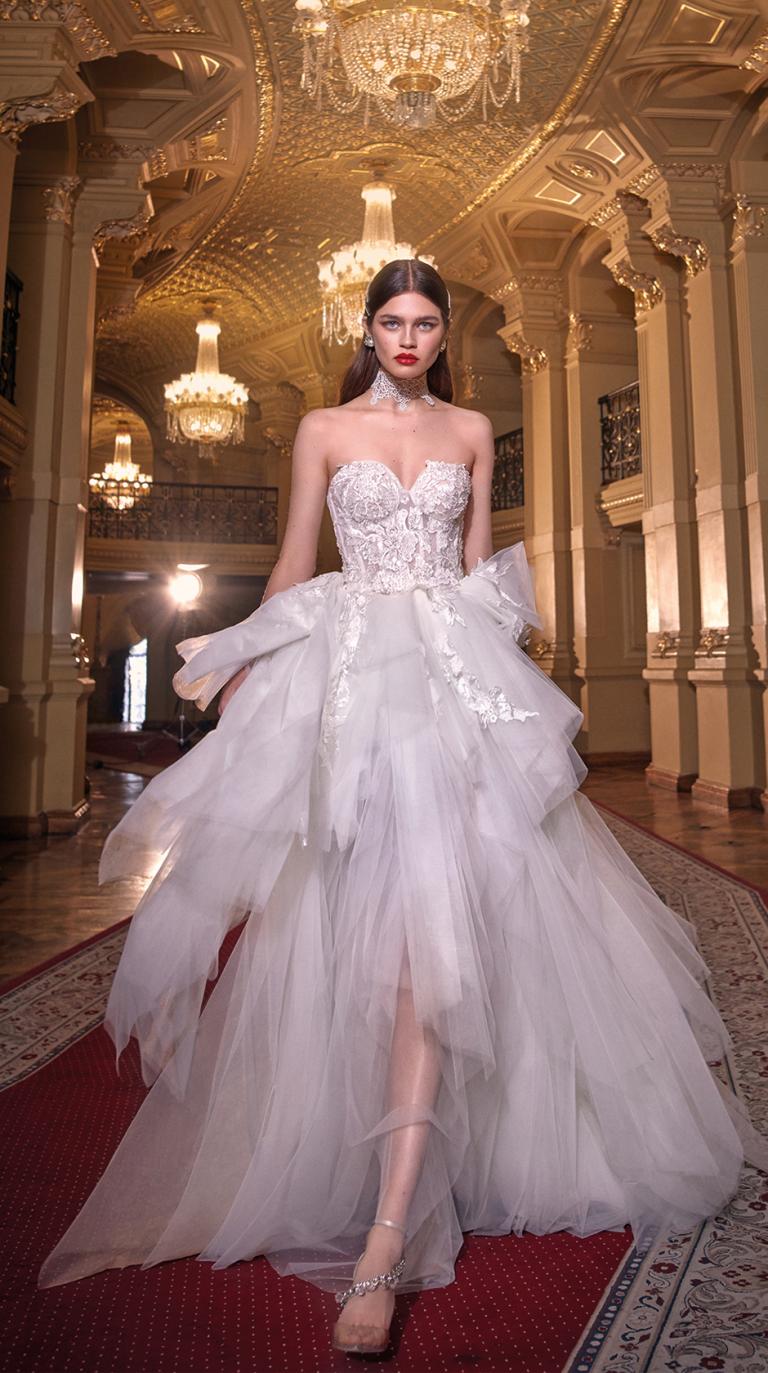 Go big or go home is our mentality when it comes to diamonds. And a gown with a corset top simply begs for a huge dose of diamonds. Luckily Suzanne Kalan makes this megawatt diamond choker, that will pair with the Alexa dress like a dream. If this particular choker is a bit too much for you, this jeweler offers a ton of more delicate choker styles that should do the trick.
It might be your big day, but a deep V-neck will be the center of attention as you walk down the aisle (or show up for your first dance). Don't take anything away from that moment—keep your neck free of necklaces and keep your earrings on the minimal side. You can, however, play up your wrists in a big way with a bold cluster of diamonds and pearls, à la Nancy Newberg's incredible cuff. To really go in on this striking look, wear one on each wrist.
Sweetheart Neckline + Delicate Necklace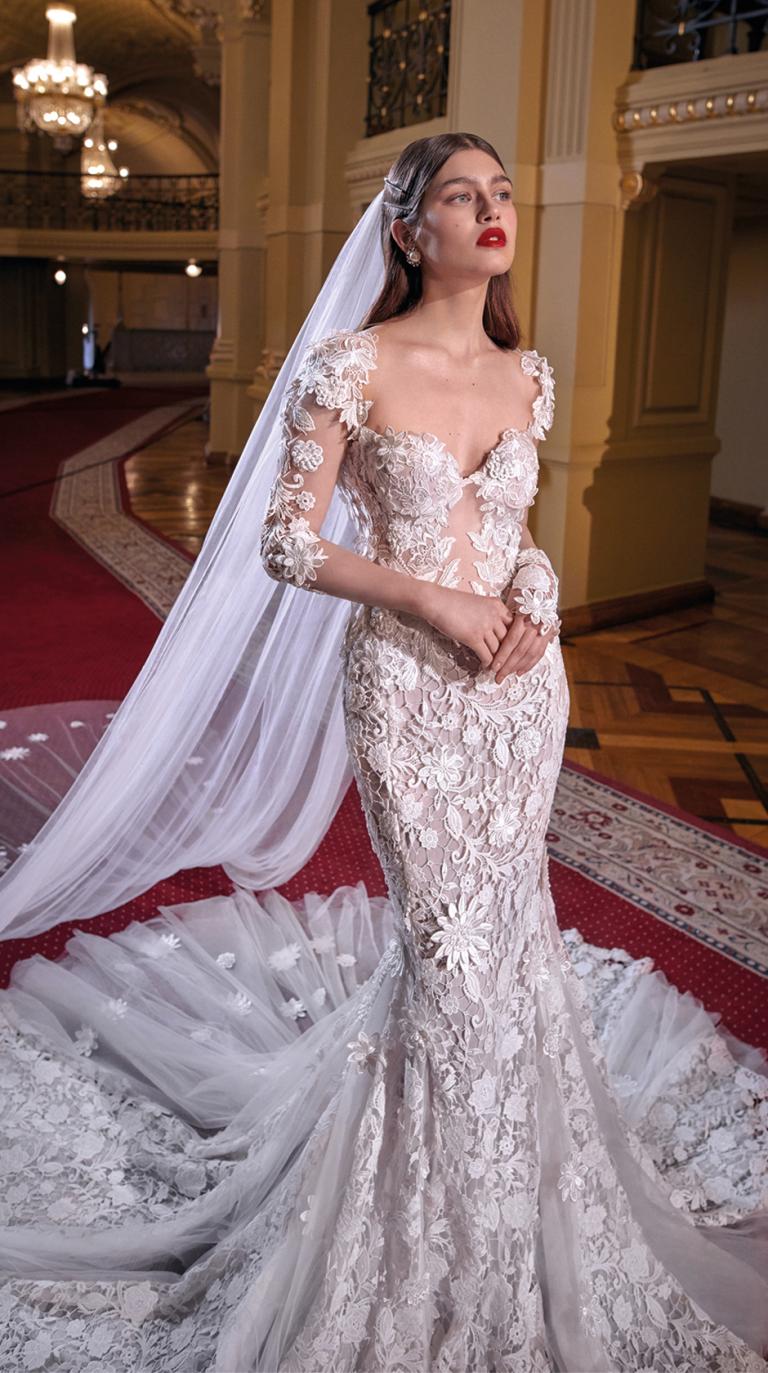 Play up your dainty side by opting for jewelry that lends a barely-there vibe to your nuptials. A sweetheart neckline, like the Lindsay dress, sets the scene for a super sweet jewelry moment. Take the opportunity to spring for a piece that represents the bond between you and your betrothed, like State Property's 18-karat gold pendant. The two solid gold links are punctuated with pearls, offering a sweet interpretation for you to wear for years to come.
State Property Inversion Pendant, Contact for Pricing
Big and Bold Sleeve + Graphic Ear Crawler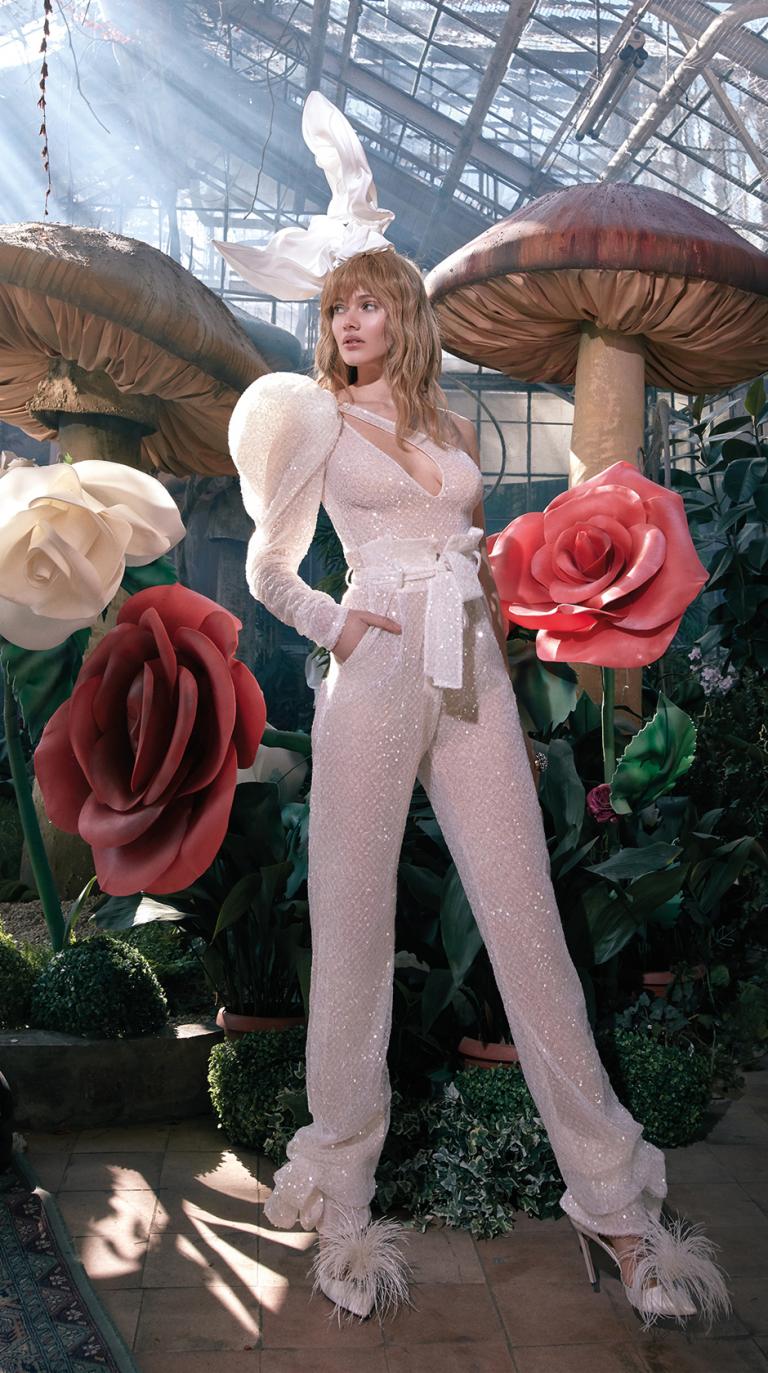 A bride who springs for a bold shoulder knows what she likes…and she obviously loves to stay on top of the trends. Such a major fashion moment requires coordinating jewelry that conveys the same exact message. This is the perfect time to load your ear with diamonds (or rubies…or emeralds), with a beautifully detailed earring that climbs up your lobe. We love this graphic shape from Stephen Webster, as it's daring, but certainly won't get snagged on your big, beautiful sleeve.
Stephen Webster Lady Stardust 18K White Gold and Diamond Earrings, $12,000
Super Embellished + Not-So-Basic Studs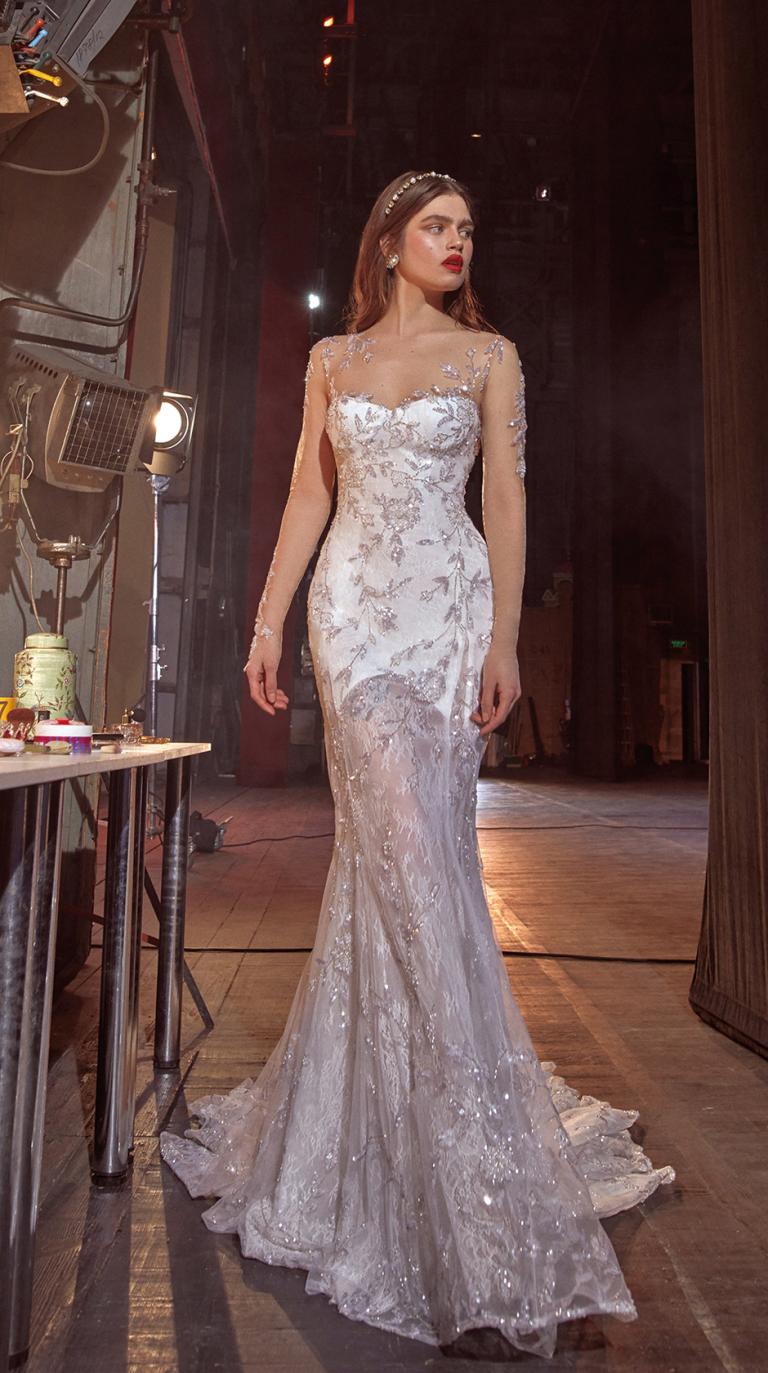 Your gorgeous gown already has a hefty dose of sparkle, thanks to intricate hand-embroidered tulle that shimmers in the light (and also the dark!). Just as the Brenna has embellished details that crawl up the shoulder and down your arms, there's glimmer all over! So opt for jewelry that adds just an extra whisper, as it will be an understated addition. Anyways, you're bound to get lots of wear out of Cartier's playful take on the classic diamond studs.
Finish your registration for {City} Trunk Show