FREE SHIPPING & RETURNS WORLDWIDE!

DUTIES & TAXES COVERED WORLDWIDE
Find your nearest boutique
Once upon a time, a soon-to-be bride embarked on exciting new adventures. Along the way, maybe she kissed some frogs or figuratively lost her voice — not due to a scheming witch under the sea — but only she gained it back even stronger. She perhaps even encountered some beasts before finding her dream partner. Although, we can all agree that a well-timed kiss just perks up any mood.

Throughout her real life fable, she learned the lesson that powerful women will write their own happy endings and determine their futures with their soul mates into the thrilling sequels and beyond. Of course, there's a wedding gown to evoke that sentiment, whether you're feeling like a nature-whisperer Aurora or want to conjure even more magic on your big day. Here are a few ideas to pen your next chapter:
Evoke the ethereal princess who brings out the wondrous beauty (and chatty animals) in the lush forests of the magical kingdom. Intricate corsetry brings a breathless, period costume drama element, while glorious 3D florals, whether oversize or dainty, enthralling sparkles and sheer gossamer layers complete the fantastical story.
Gimaya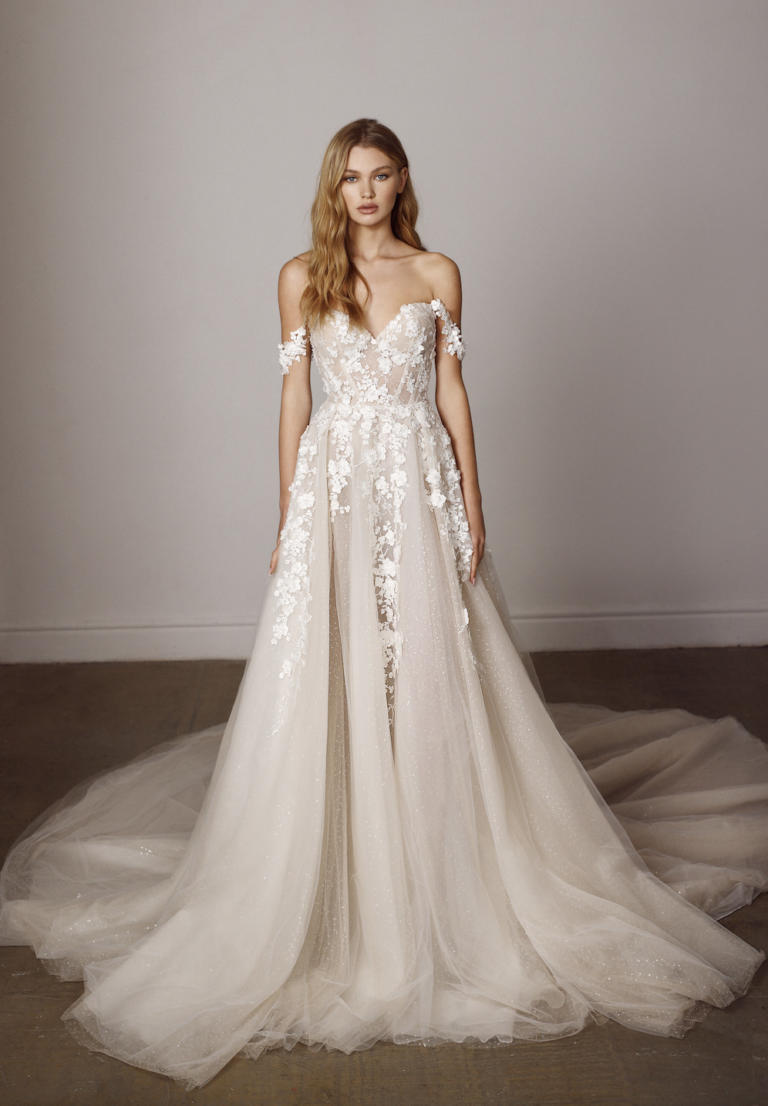 You confidently make the decisions and take the lead in your own life, so you obviously don't need a fairy godmother to make your dreams come true. You're doing it on your own — and in your own way — so embody that magical power through your gown. Command the room in a mélange of geometric cut-outs, sumptuous layers of ruffles and hypnotizing beaded-lace. Or take control over all your options with a gleaming, peplum corset-topped ball-gown with detachable statement puff-sleeves.
Embody the enchantress in your story — i.e., your wedding day — and mesmerize the room with strong, defined angles and hypnotizing details. Captivate in a French lace-embroidered corset gown, with an unexpected sharp angle detail, and romantic matching glove-sleeves.
The finale grand ball in the kingdom castle is a childhood fairytale staple. So bring that magnificent moment to life with the most splendid ball-gown of your dreams. Make your own Hollywood princess dreams with a red carpet-ready corseted confection with layer-upon-layer of tulle ruffles, a drop-waist crystal-encrusted corset and sultry glimmering off-the-shoulder draped straps. Celestial layers of silk ivory and blush tulle and sheer billowing puff-sleeves, cinched with a charming black ribbon bow, evoke that royal transformation of your storybook dreams.
Finish your registration for {City} Trunk Show