FREE SHIPPING & RETURNS WORLDWIDE!

DUTIES & TAXES COVERED WORLDWIDE
Find your nearest boutique
Our #GLBride of the week is the beautiful Sylvie Meis, who tied the knot with her fiancé in two customized couture wedding dresses. In the midst of unprecedented change, the couple was able to celebrate their nuptials with a romantic wedding at the exquisite Villa Cora in Florence Italy. In the following interview, Sylvie shares with us the moments she will forever cherish and how she made her dream GL dress a reality. As told by Sylvie:
How did you meet your husband?

I met my now-husband during the wedding of Barbara Meier and Klemens Hallmann in Venice. The couple decided upfront that we might be a great match and placed us next to each other during the reception dinner. We fell in love immediately. Since that time we've shared and worked on the same dreams and our common future.

We gave this first romance moment a special part during our own wedding and named the reception dinner place like the place we first met, "The Secret Garden". 
How did he propose?

Niclas proposed during our vacation in Los Angeles. It was magical and of course, I didn't hesitate a second to say YES. It was a very intimate moment with just us two deciding to spend the rest of our lives together.
How did you start planning your wedding? What were the first steps?

I was in the very lucky position that my husband took care of the whole planning process. My only job was to decide on the flowers, music, cake, and of course, my dresses.

My first call after coming back from LA was from my dear friend Vera Wolber from Galia Lahav Germany to ask her if we could go through the journey of creating the perfect dress together. I was very happy when she said yes, and we started working on design options immediately.
Did you do any beauty or fitness prep for your big day?

Of course, I did. This was a big day for all of us and I wanted to be the best version of myself – for sure.

Anyhow, I have a very strict sports schedule due to my job as a lingerie model and host. I am 42 now and I have learned how much time my body needs to get in perfect shape. Therefore, I started 8 weeks in advance of our big day with a higher frequency in my workout as well as watching my diet more strictly.

The beauty program was scheduled a bit closer to the wedding day. New extensions, new hyaluronic fresh up, new nails, a way of hydrating my skin all the time, and of course a refresh on the hair color.
What was your wedding theme?

We did not have a real theme. It should be the most romantic days we could imagine – this worked out. It was all about LOVE.
How did you choose your location?

We both love Italy, as we also met there. Friends recommended the beautiful Villa Cora and after visiting it on our location check, we agreed on this magical place.
What was it like having your wedding during COVID-19 times?

That was hard in many ways. Normally you do worry about flowers and the cake. We worried until the last minute if the wedding is allowed to take place and if the guest can arrive from the different destinations.

Our initial wedding day was postponed already due to COVID and looking back, it really was this two-week time slot when you were allowed to travel that freely.

We are very thankful and grateful that we made it.
How did you decide on your bridesmaid style?

There was no bridesmaid style. It was a coincidence that my girls decided to wear the nearly same color. 
How did you find your perfect dress?

My dream was to wear a dress that supports my personality. It should totally reflect me. I searched for inspiration on Instagram and Pinterest to get an idea of what's possible. So I had a few ideas in mind before I traveled to Tel Aviv to meet the amazing Sharon Sever at Galia Lahav Head Quarters.

On-site it was a really easy way to combine my ideas with the professional input of the designer. We made some sketches to get a good feeling for the dress and the proportions. I took a few options of the sketches with me and decided together with my mum and best friends which would suit me best.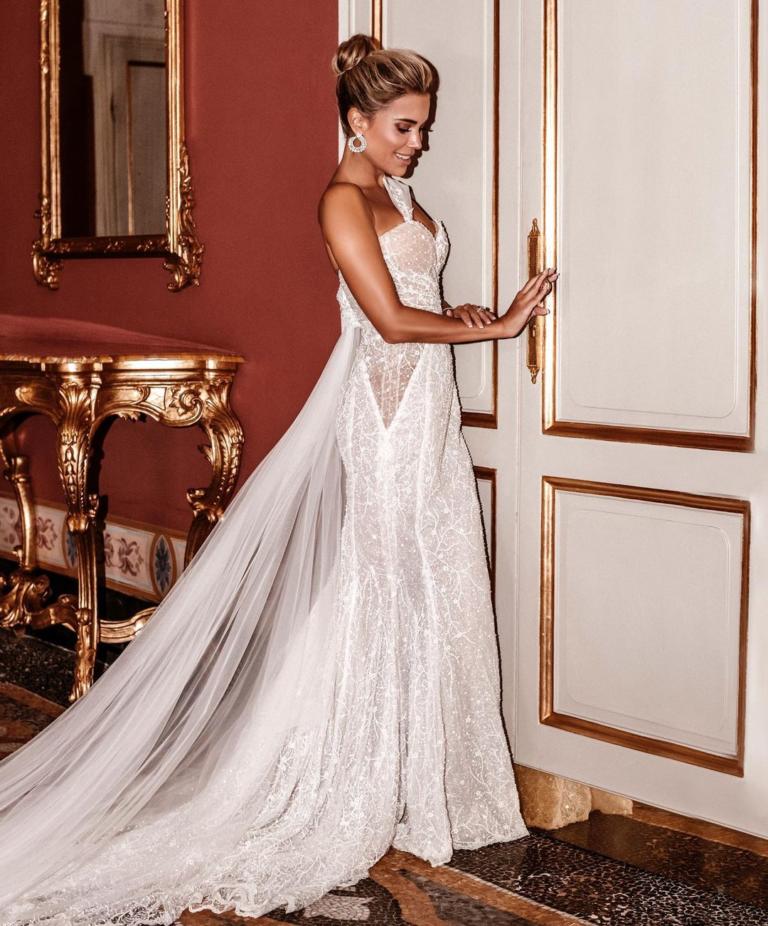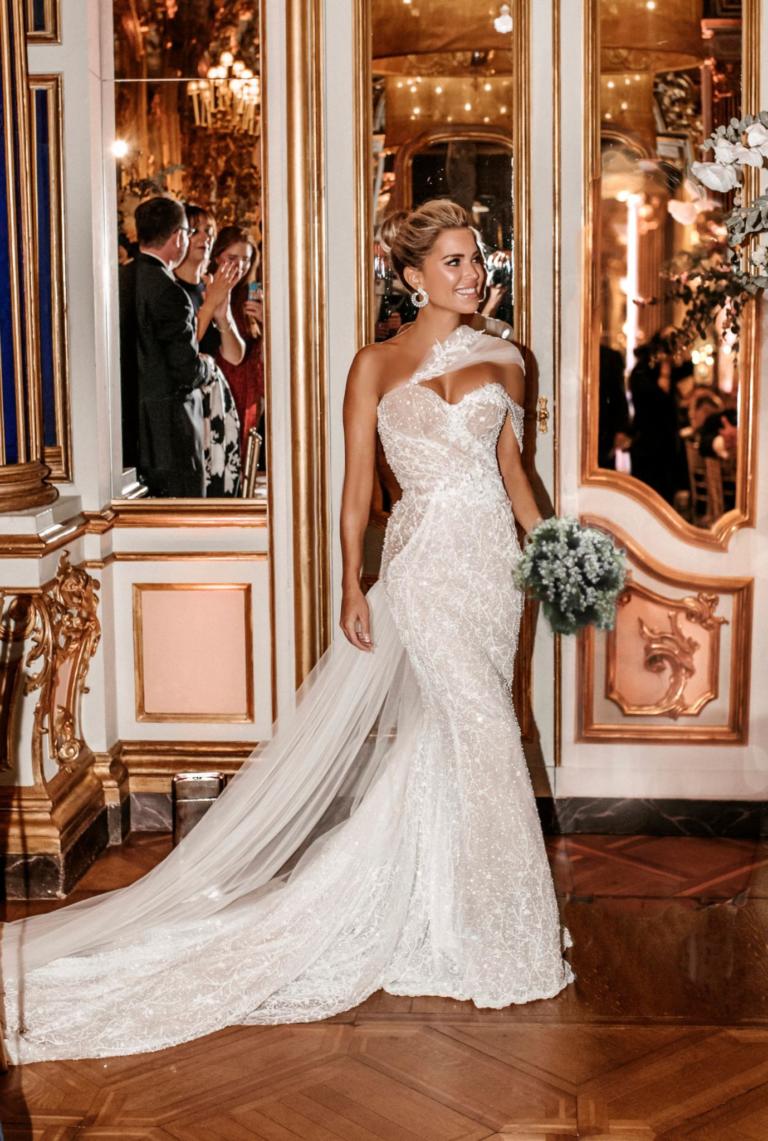 How was your experience with the Galia Lahav brand?

I am not planning to marry again, but for sure, I would do it with Galia Lahav! It was an unbelievable experience working together on such a beautiful couture dress. The selection of fabrics, laces, the professional eye of the team regarding shapes, and usability. It was a one-of-a-kind experience that I can truly recommend to everybody.
What was the most important thing for you and your husband when planning your wedding?

Most important for us was to give the wedding weekend this mutual feeling of love.
What was your first wedding song?

The Big Entrance was to Diana Krall – Look of Love and Our First Dance was to Etta James – At Last.  
What did you enjoy the most about planning your wedding?

It was for sure the ongoing progress of the wedding dress. I was nervous as a little child each fitting day. 
What advice would you give to all our future brides?

Do not stress out on anything and enjoy the moment. It is the day of love. Whatever is going to happen, it will be a story to tell.
What moment from your wedding will you never forget?

When my 14-year-old son handed me over to my now-husband that was the most emotional part. All in all the wedding itself is the moment we will always remember by heart. We had an amazing wedding weekend with our family and our best and closest friends.
Wedding Planner : Victoria Donkina 
Hair & Make up: Serena Goldenbaum
Florist: Simone Bertini Floral Designer
Service (lighting, sound, technicians, string quartet and band) : WEMV Studio
Videography: Emotional Movie
Gift for guests: La Confetteria Firenze, Vedder & Vedder
Finish your registration for {City} Trunk Show