FREE SHIPPING & RETURNS WORLDWIDE!

DUTIES & TAXES COVERED WORLDWIDE
Find your nearest boutique
Our #GLBride of the week is Shannon Hebroni. Beautiful Shannon and her husband Naveed got married last May in LA after dating for 2 and a half years. We asked Shannon to share with us some of her bridal moments and we got the hear the most touching ceremony story you don't want to miss! As told by Shenon:
How did you meet your husband?

Naveed saw my picture on Facebook, and he friend requested me. A few months later, he asked a mutual friend to set us up. After the first date, we did not stop talking and saw each other almost every day! We ended up dating for 3 years and got married on May 27, 2018.
How did he propose?

Naveed proposed to me after 2 and 1/2 years of dating. I am a 5th grade teacher, and it is my first year teaching. He came to the school I teach at on a Friday around 12 while I was in a staff meeting. I left my students with a substitute teacher while I attended my meeting. However, Nav took over my class while I was in the meeting and set up our proposal. He stood outside the staff meeting and had my kids hold up a sign that said: "will you marry me?". Of course, all our families, cousins, and close friends were there to see it all happen. He is so romantic! I was completely shocked and caught off guard.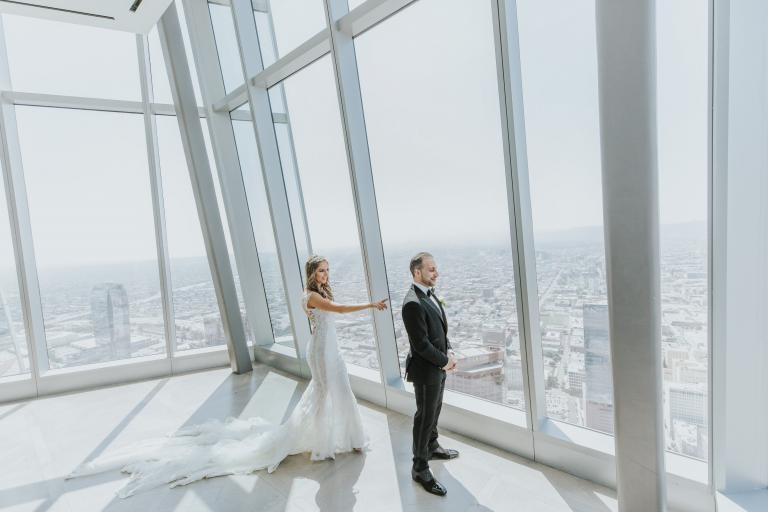 How did you find your perfect dress? And how did you decide to buy it?

The way I found my dress is quite the story! I began to follow Galia Lahav on Instagram after my cousin told me about the upcoming trunk show. After closely following their Instagram account, I kept seeing the Madison dress and fell more and more in love with it each time. Interestingly so, my best friend also mentioned how I need to wear that dress at my wedding. Finally, my appointment for the trunk show came around and I took my mother, mother-in-law, and sister-in-law with me. It was our FIRST dress fitting ever together. The best part was that Galia was there as a surprise to her customers just for the day! We were all so excited to meet her and hang out with her. Galia sat with us through my entire appointment and watched me try on about 6 different dresses. After debating for about two hours, we all decided that the Madison is THE dress after all. Because I had Galia's personal stamp of approval, I felt so certain about my decision.
Where was your wedding?

Our wedding was at the Intercontinental Downtown Los Angeles.
What was the theme? Did it require special planning? Share with us.

The hotel has a very modern vibe, as they just remodeled it a few months ago. I am a very classic girl and always envisioned a classical themed wedding. In order to make my dreams come true in a modern hotel, we decided on draping the entire room in white. I also went with silver mirrored tables on an extended white dance floor. Everything was either white, silver, mirrored, or clear. It ended up looking amazing!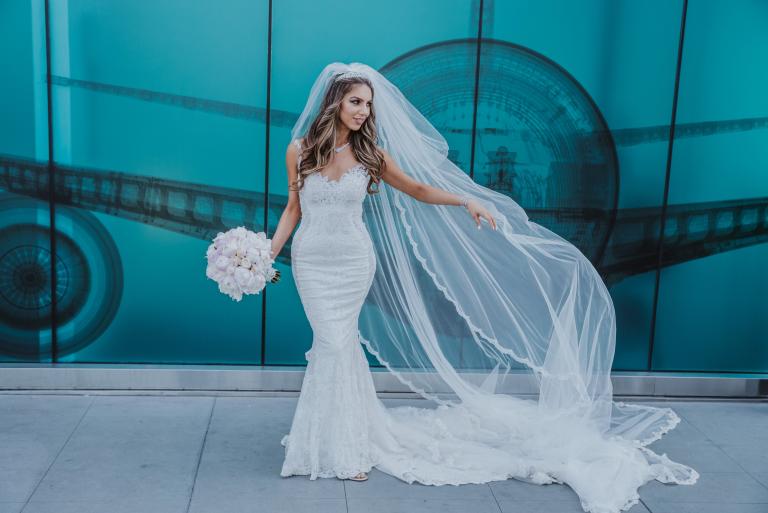 Which was your favorite part?

My favorite part of my wedding was during the ceremony, as Naveed planned a surprise right before I walked down the aisle. As I was standing behind the curtain, waiting to walk down the aisle, a video began to play for our guests on two large TV screens. Simultaneously, the wedding planner was showing me the same video on her iPhone. It was a recording of Nav singing a song in Hebrew that is very special to us. He took voice lessons for two months and did not tell me about it! The recording of his singing was paired with a slideshow of pictures of us. It was SO meaningful and I was crying my eyes out. This video was a complete surprise to everyone at our wedding, except for the coordinator and DJ. As you can imagine, it was emotional for all our guests too. As soon as the song/video was over, I walked down the aisle and felt the most surreal feeling ever. It was truly magical.
Where did you purchase the dress?

I purchased the dress at the Galia Lahav store in Los Angeles.
What did you enjoy the most about planning your wedding?

My favorite part about planning my wedding was how much time I was able to spend with my (now) sister-in-law. We both had a couple weeks off from work right before the wedding and spent so much quality time together.
Was your wedding the way you dreamed it?
Finish your registration for {City} Trunk Show