FREE SHIPPING & RETURNS WORLDWIDE!

DUTIES & TAXES COVERED WORLDWIDE
Find your nearest boutique
Our #GLBride of the week is the beautiful Nneka Araraume, who walked down the aisle in our GALA-1010 dress to marry the love of her life, Koyin. The couple held an elegant affair to officially celebrate their nuptials with family and friends. In the following interview, Nneka shares with us the details behind her magical day and the moment she knew our Solange dress was the one. As told by Nneka: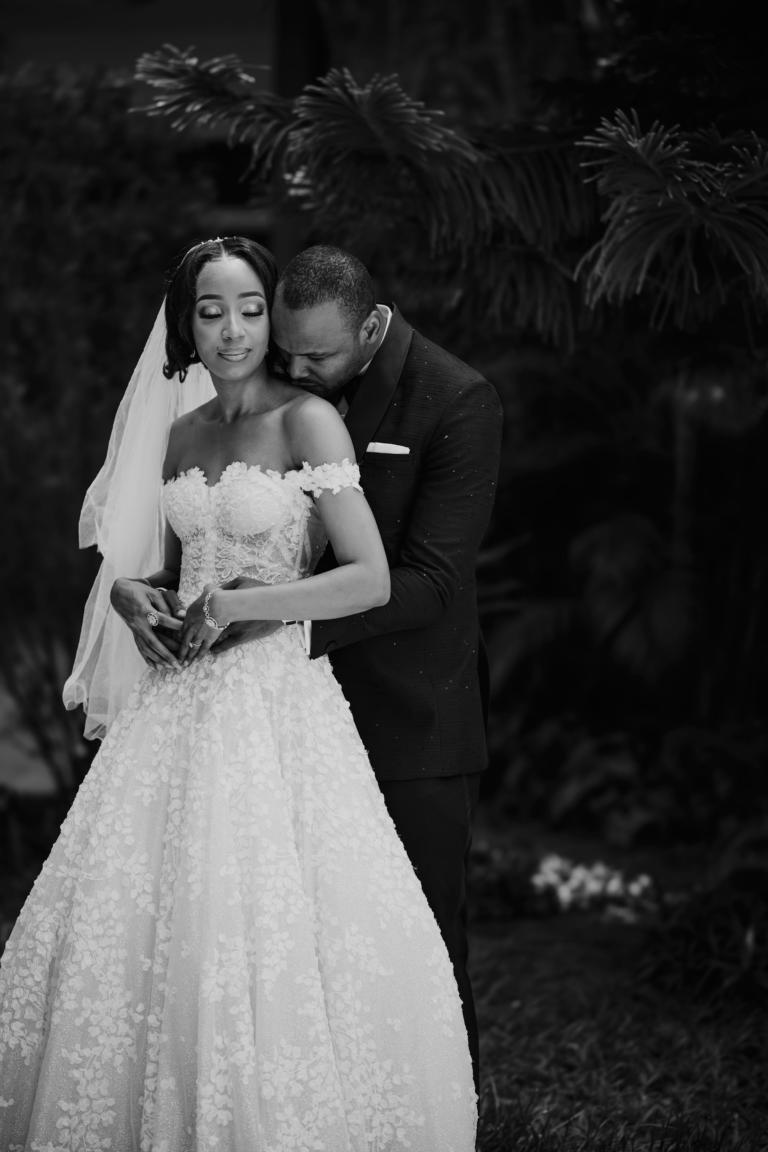 How did you meet your husband? Tell us a little bit about your relationship.

Koyin and I met when I moved to a new city a couple of years ago for work. A mutual friend kept on hounding me to meet this "amazing guy" but I said no because I moved for work and I wanted to focus on that for a while. Fast forward a year later, the same friend asked me to have drinks and as soon as I walked in, I saw my husband. Within minutes of talking, I knew this was different but I was about to leave for a 3 weeks vacation. While I was on vacation we spoke every day and we bonded over our love for food and film. The day after I got back, we had our first official date and I never looked back. Our relationship is built on love and friendship, we bonded over our love for food, films (cartoons), and travel. Over the last few years, his dedication to our love, growth, and friendship makes me love him more every day. Koyin is not a romantic person and I'm probably the most romantic/cheesiest person, my favorite movies are A Walk to Remember and The Notebook so I make him watch them at least once a month and he does it with the biggest smile on his face. Being with him, I know I've found my forever.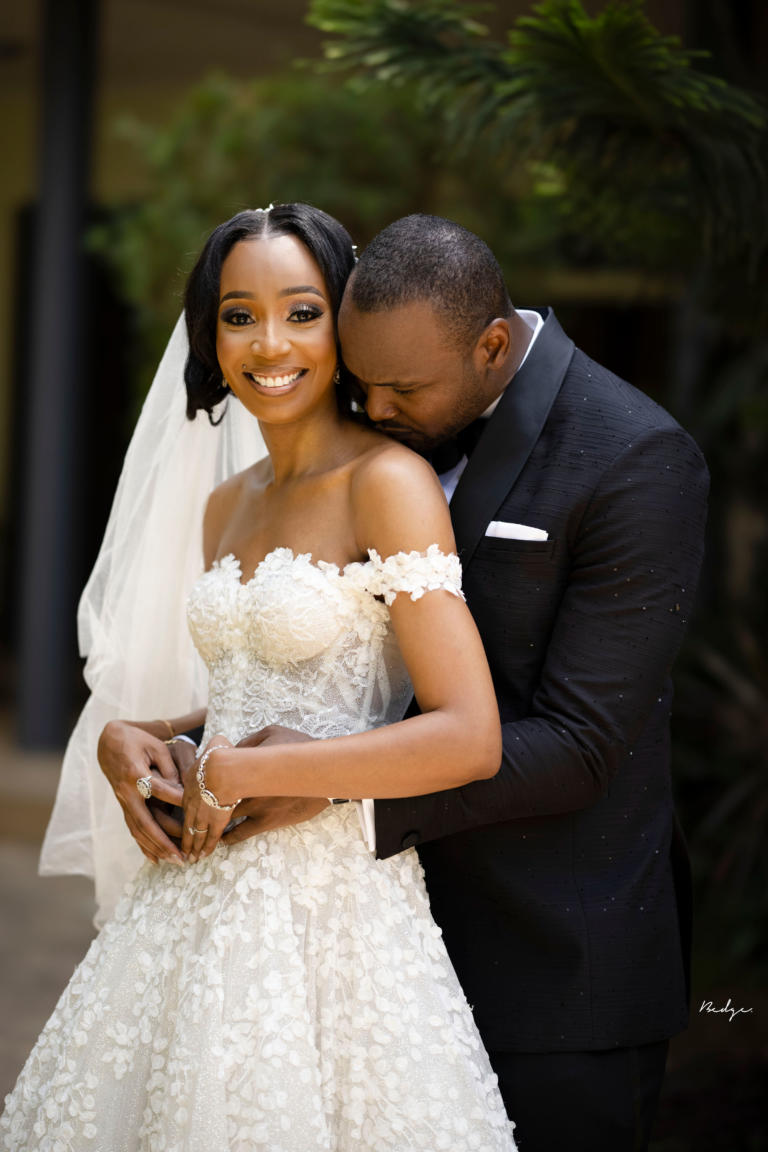 How did he propose?

Growing up, my parents used to take us to Paris. I never liked going to Paris. It was so romantic and I was with family so I made a promise to myself to experience Paris when I was in love. 4 months into our relationship, he took me to Paris. One evening we went for dinner at the Eiffel Tower and that was the first time he told me he was going to marry me. A year later I came home to dozens of roses and a very nervous boyfriend, the roses weren't that unusual, but the nervous boyfriend was. He got down on one knee and started talking about knowing from our first date that I was the one, telling me all the things he loved about me, and then he asked me to marry him…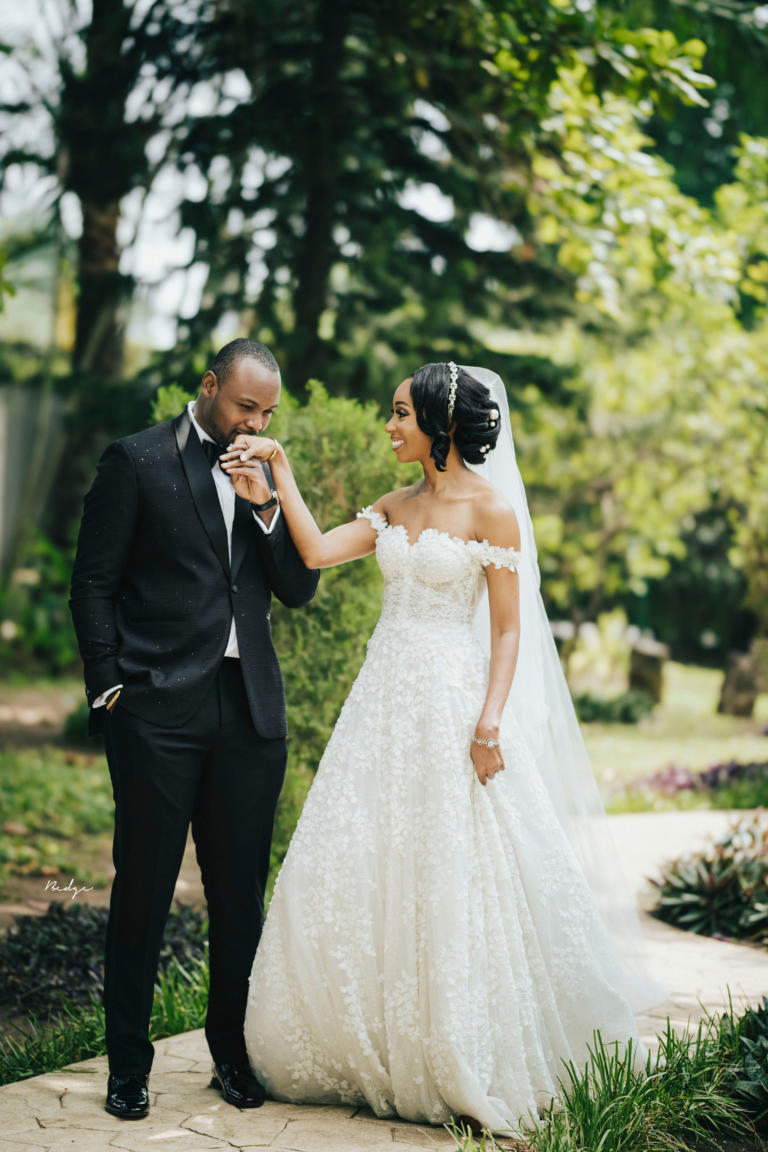 How did you start planning your wedding? What were the first steps?

We always wanted a destination wedding, we picked out a location and visited in September 2019 but unfortunately, the pandemic happened so we had to go back to the drawing board. Plans changed again due to the pandemic and we had to change the wedding venue a week before our big day. We got so lucky with our amazing planner who helped us with everything. Timi from Idoweddingsng was great. It was a very exciting yet stressful period, I can't actually believe it's over. Our biggest priority for our wedding was making sure we had a magical day filled with love, beautiful decor, alcohol, food, fun, family, and friends and we got everything we wanted and then some. It was truly the best day
What was your wedding theme?

The theme for our wedding was romantic pink. I always wanted a traditional, elegant, timeless, and delicate feel and that's why I chose ethereal details.
How did you choose your location?

To be honest, our venue wasn't my first, second or third option because we wanted a destination wedding but when we saw it, immediately fell in love with it.
How did you decide on your bridesmaid style?

My sister and maid of honor is the most stylish person I know so she helped pick out the dress and I picked the color.
How did you find your perfect dress?

Growing up I was obsessed with bridal magazines, I loved how beautiful and elegant the women in the magazines looked. I knew when the time came, I was going to be a classic bride with a bit of sparkle. When Koyin proposed, I immediately booked my ticket to London and an appointment at Browns Bride. I tried on a few dresses but the Galia Lahav Solange dress was the dress I couldn't take off, it had everything I wanted in a dress and more.
How was your experience with the Galia Lahav brand?

I've followed the brand for years and I was and still am in awe of the attention to detail, feminine yet strong and beautiful works of art. I always knew I wanted to be a Galia Lahav Bride, it was a top priority for me to have a dress that represented who I am and I certainly think I got that.
What was the most important thing for you and your husband when planning your wedding?

The biggest priority for our wedding was making sure we had a magical day filled with beautiful decor, love, alcohol, food, fun, family, and friends and we got everything we wanted. It was truly the best day.
What was your first wedding song?

Chasing Cars by Boyce Avenue.
What did you enjoy the most about planning your wedding?

I enjoyed the simple things about wedding planning like picking our wedding songs, dress shopping, and choosing our wedding cake.
What moment from your wedding will you never forget?

My favorite memory from my wedding was during our first dance when our song started playing and my husband got very emotional, then I got emotional because he isn't normally an emotional person. It was a beautiful vulnerable moment between us and I will cherish the memory.
Finish your registration for {City} Trunk Show