FREE SHIPPING & RETURNS WORLDWIDE!

DUTIES & TAXES COVERED WORLDWIDE
Find your nearest boutique
By Dena Silver
The concept of over-the-top glamour surely existed long before the 1970s and 1980s, but it was during those two decades when dressing in the glorious excess of sparkle, glitter, and steamy sex appeal reached its pinnacle. Well, to be fair, the teetering height of glitz might have had something to do with Bianca Jagger, Cher, and Jerry Hall strutting into Studio 54 wearing a slinky silk dress and their tallest platform heels.
For Galia Lahav designer Sharon Sever, the closing night at the iconic New York City club actually informed the brand's newest luxury apparel collection, There She Goes Again. After attending a Studio 54 tribute party in that very city, he began researching what actually went down during the last days of disco.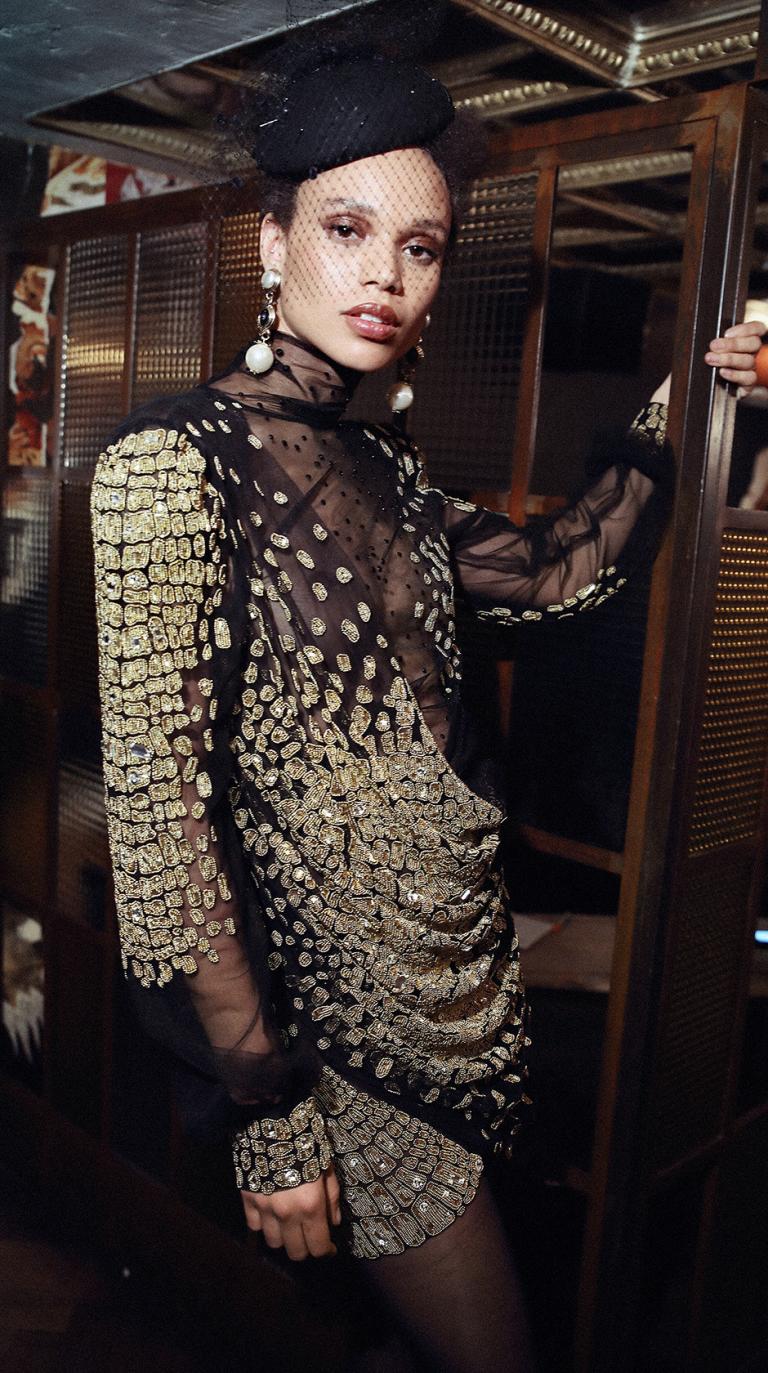 "At the final Studio 54 party they were showering everyone with glitter. Everyone was dressed in glitter and there were about 4 inches of glitter on the floor," Sharon said, describing his findings of the opulent scene. Galia Lahav's Fall/Winter 2019 collection embodies this glimmering and shimmering moment vividly with a plethora of sequins, incredibly artful draping, and, of course, tastefully over-the-top silhouettes.
Constructed from the richest velvet and the softest silk, this undeniably glamorous range nearly eliminates the need for accessories. Oversized bows provide a cheeky wink above plunging necklines, a swinging tassel emerges from a brooch that sparkles with crystals, and wide sparkle-encrusted cuffs double as bracelets. While most of the range can be intricately customized, shoppers might find that these outfits need only a pair of disco-apropos stilettos and a coupe of champagne to be party-ready.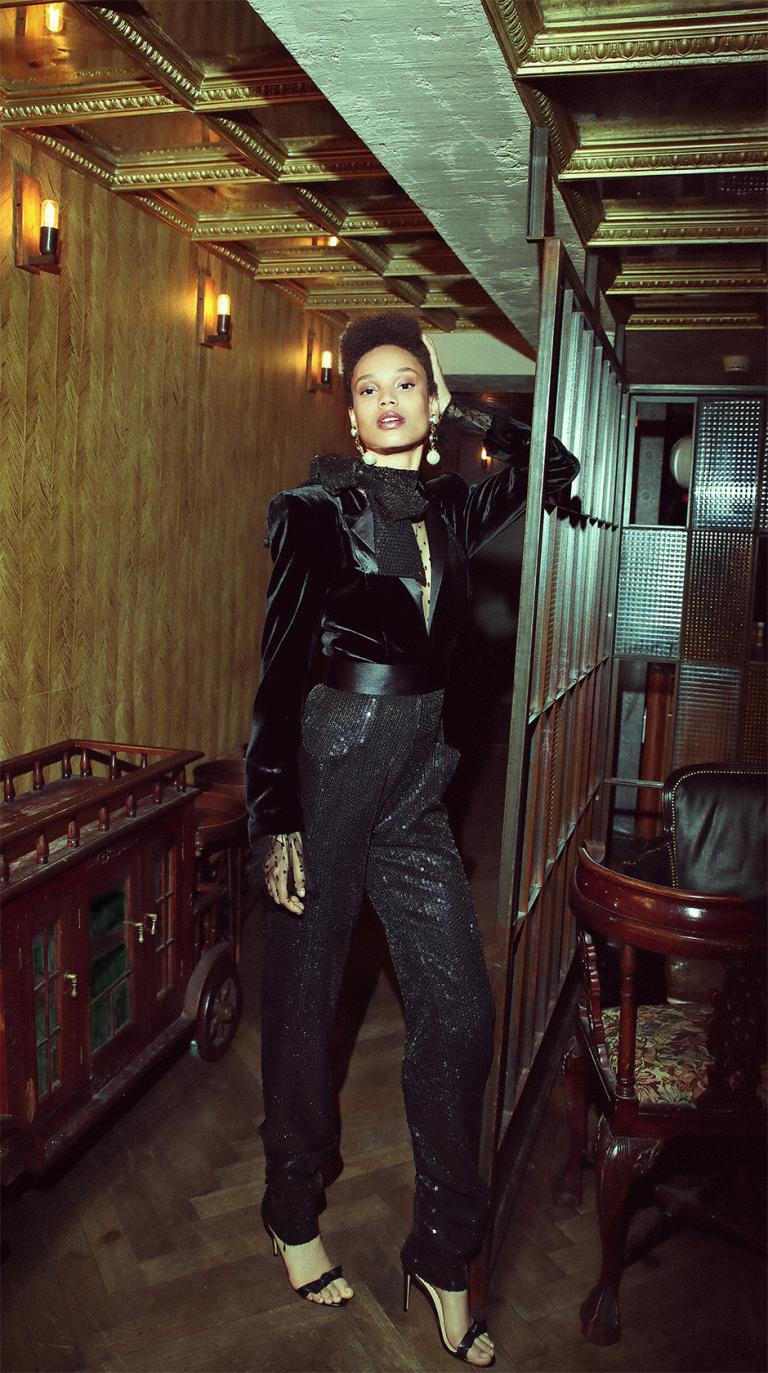 But beyond the lavish party gowns, rich with cascading ruffles and strong shoulders, Sharon incorporated a handful of classic silhouettes reflect a decidedly refined air. "The tailored pieces were a new adventure and they took a fairly long time to make," he explained. But they were clearly worth the time; crisp shoulders and notched lapels were made to fit and flatter, while a sequin-adorned jumpsuit was meticulously cut to lengthen the appearance of legs.
While Sharon was fully inspired this season by the flashy decades of disco, the designer made sure his creations were fit for a thoroughly modern black-tie gala, a posh wedding or just dressing up for a long night out.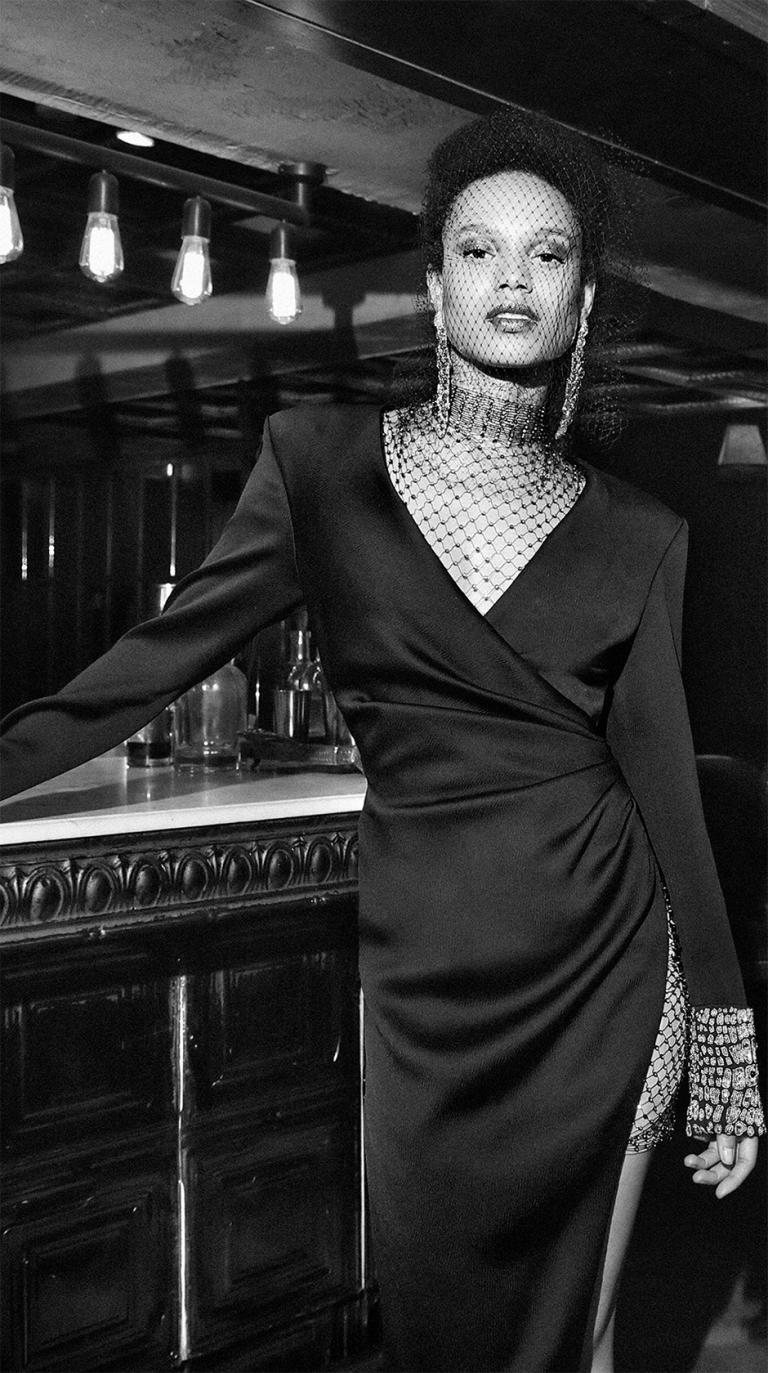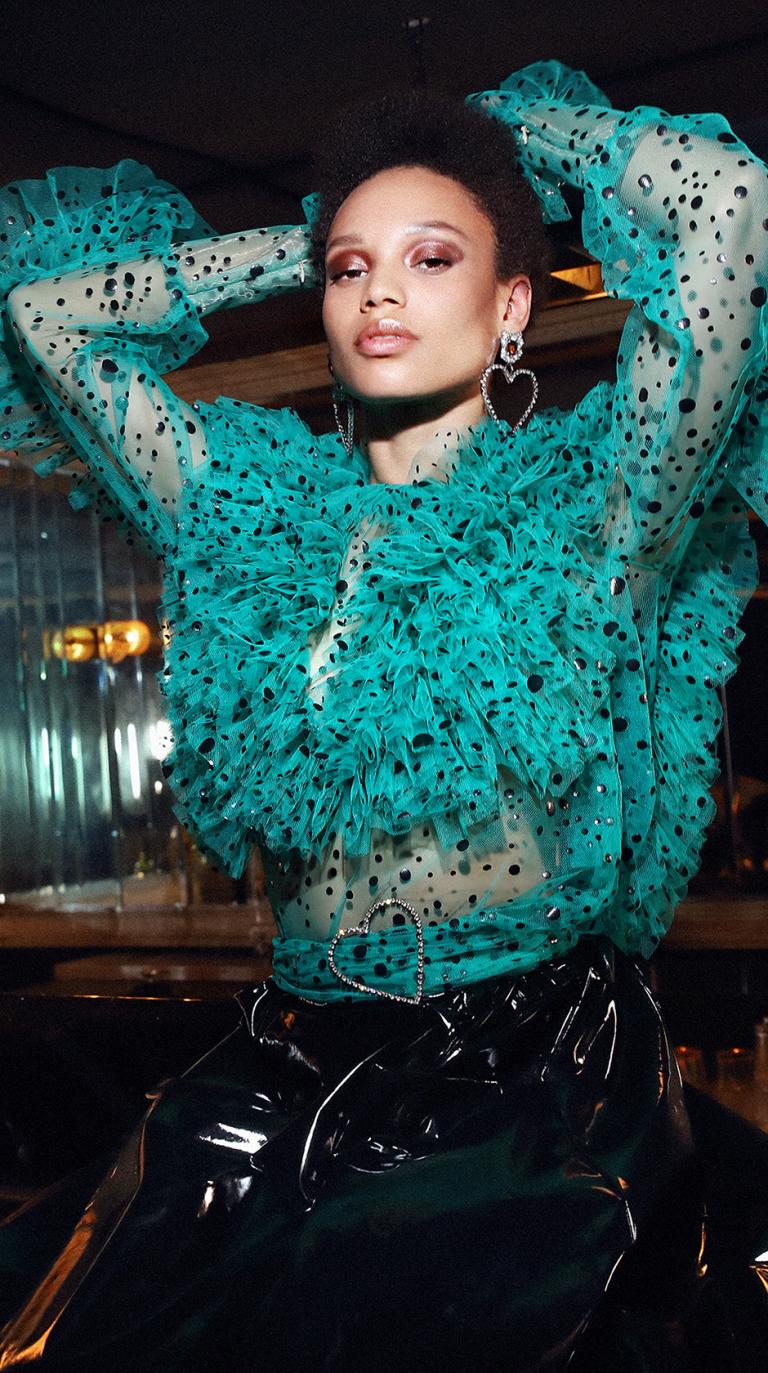 "Our girls will always be the one who stands out in the crowd," he said—and the There She Goes Again collection will ensure that the Galia Lahav girl is no wallflower. Indeed, even the smallest details in the range—an netted neckline dusted with crystals, sleeves concluding with a ruffle and a fringed high-low hem—are deserving of fawning attention.
During the design process of this Fall/Winter range, Sharon built a mood board that was centered around an image of his all-time favorite glam girl, Diana Ross, rocking a sequin top. As There She Goes Again began coming together, the designer decided that the range was fit to celebrate iconic and glamorous individuals from every era. So he named each dress after a distinct—and easily recognizable—personality.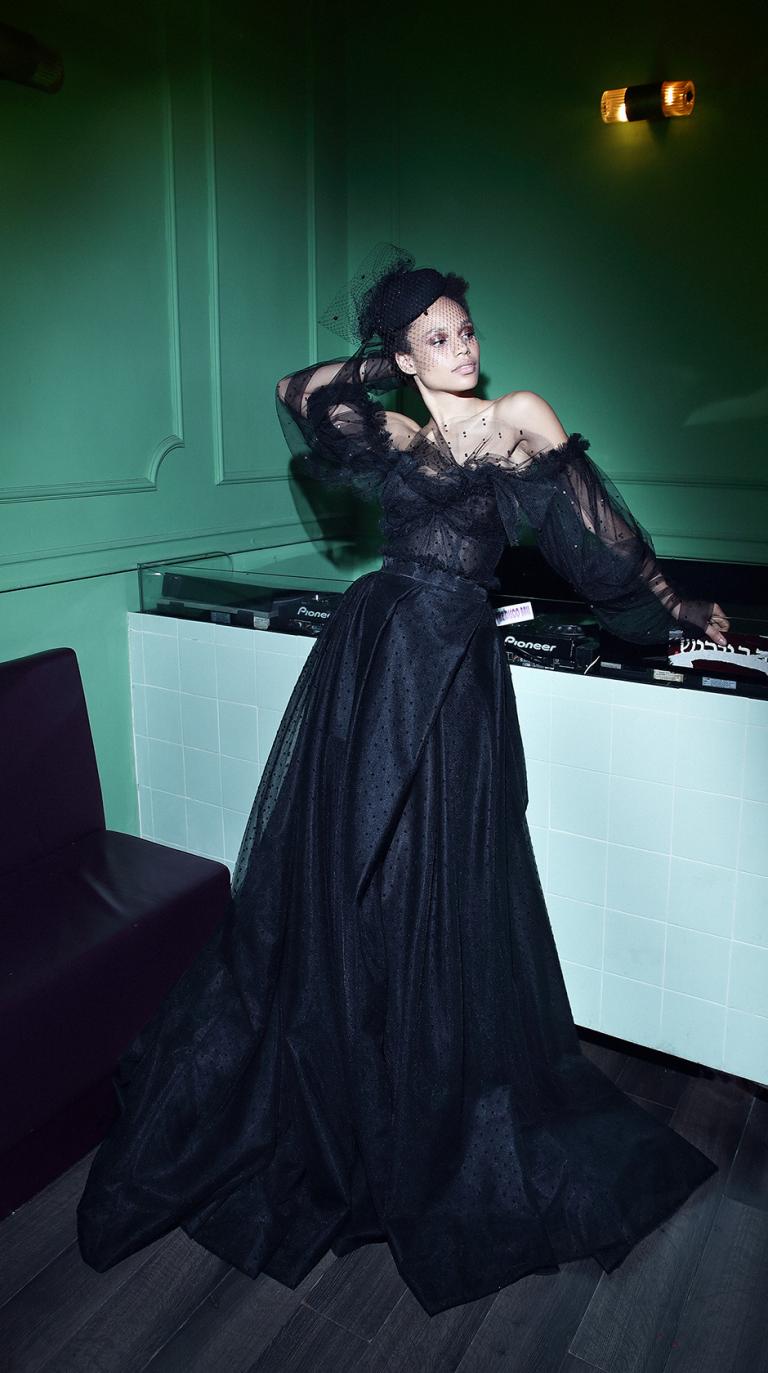 The vivacious Gloria Gaynor is symbolized by the sheer turtleneck mini dress with a smattering of hand-embroidered gold crocodile scales. The mysteriously sexy Kurt Kobain lives on through a slinky silver embroidered trench dress with fringed accents, while a voluminous off-the-shoulder ball gown in dramatic black and crystal polka dot channels Kylie Minogue. What about the brilliant crepe silk wrap dress with a massive hot pink bow? Well, that dramatic number is a stunning homage to David Bowie.
The name of the collection, There She Goes Again, is actually the title of a Velvet Underground song. In it, lead singer Lou Reed croons the sad lyrics in a velvety smooth voice, "Like a bird, you know she will fly, fly, fly away." Which sounds just like the Galia Lahav girl who is just out of reach—and oh, there she goes, en route to the next party!
Finish your registration for {City} Trunk Show