FREE SHIPPING & RETURNS WORLDWIDE!

DUTIES & TAXES COVERED WORLDWIDE
Find your nearest boutique
Today's GL Bride is the beautiful Danielle Dubert! This GLBride celebrated her nuptials in our Rhiannon dress from the royalty-inspired Queen of Hearts Collection. Surrounded by family and friends, Danielle and her fiancé celebrated their nuptials with an elegant wedding at NYC's Gotham Hall. In the following interview, Danielle shares what she loved about her wedding along with some tips for future GL Brides! As told by Danielle:
A moment of your wedding day will you never forget?

Walking down the aisle with my dad, looking around, and taking it all in. I saw my husband, Scott, crying and all of our friends and family smiling and crying. At that moment, I was thinking: "I get to marry the love of my life and everyone I love is here to celebrate with us". It was so surreal, I could not help but tear up.
One thing you wish you knew as a new bride? What advice would you give to future brides?

Plan YOUR dream wedding – not the wedding someone else wants you to have. There were many things that were not traditional that I did as a bride like having a bridal shower with men and women, not getting married in a church, and doing our cake-cutting privately. But this is a once-in-a-lifetime opportunity, so you don't want to look back on it and have any regrets.
A detail that made your wedding special/unique?

Our wedding cake design was based off my dress – it had the matching lace applique and strings of pearls. And there was Mister Softee truck to end the night.
How did you know your dress was 'the one'?

My wedding was at a 1920's bank in New York City so I wanted everything to embody the timelessness and elegance of New York during that time. The back of the Rhiannon dress perfectly captured that feeling for me, which was what initially drew me to the dress. When I put on the dress, my mom and sister started crying. But because I am incredibly indecisive, I wanted to make sure I explored every possible option and continued my dress search. Every dress I tried on after, I was constantly comparing it back to the Rhiannon, which reassured me that it was 'the one'.
How did it feel when you put on your dress the day of the wedding? What was everyone's reaction to the dress?

I have never felt more beautiful in my life. Scott had no idea what to expect before our first look but he was smiling and crying when he turned around, so I think he loved it.
Would you have done anything differently?

I wouldn't have to sweat the small stuff. Leading up to the wedding, every little detail stressed me out, down to what brand of water bottles to put in our welcome bags. On my wedding day, even when things didn't go according to plan (they never do), I was so busy having the best day of my life that none of those details mattered or ever crossed my mind.
What was your favouritepart of the wedding to plan/you were most looking forward to?

The details that Scott and I had planned together. First, the ceremony! Not only did we write our own vows, but we also helped our officiant personalize the ceremony to tell our love story. Second, we did a choreographed first dance to an acoustic cover of Whitney Houston's 'I Wanna Dance With Somebody', and we played the original version as our last song of the night.
How did you meet your husband? How did he propose?

Scott and I met at work. The running joke was that "he was my boss" and now that we are married "I'm his boss". We would often go on walks to Turtle Pond in Central Park when we were dating, so it was very fitting that that is where he proposed. The proposal was extra special because 1) he made an elaborate plan to get me into the park under the premise that I was doing a photoshoot for my best friend's jewelry company and 2) there was a surprise party afterward with all my family and best friends. I loved that everyone special to me got to be a part of it.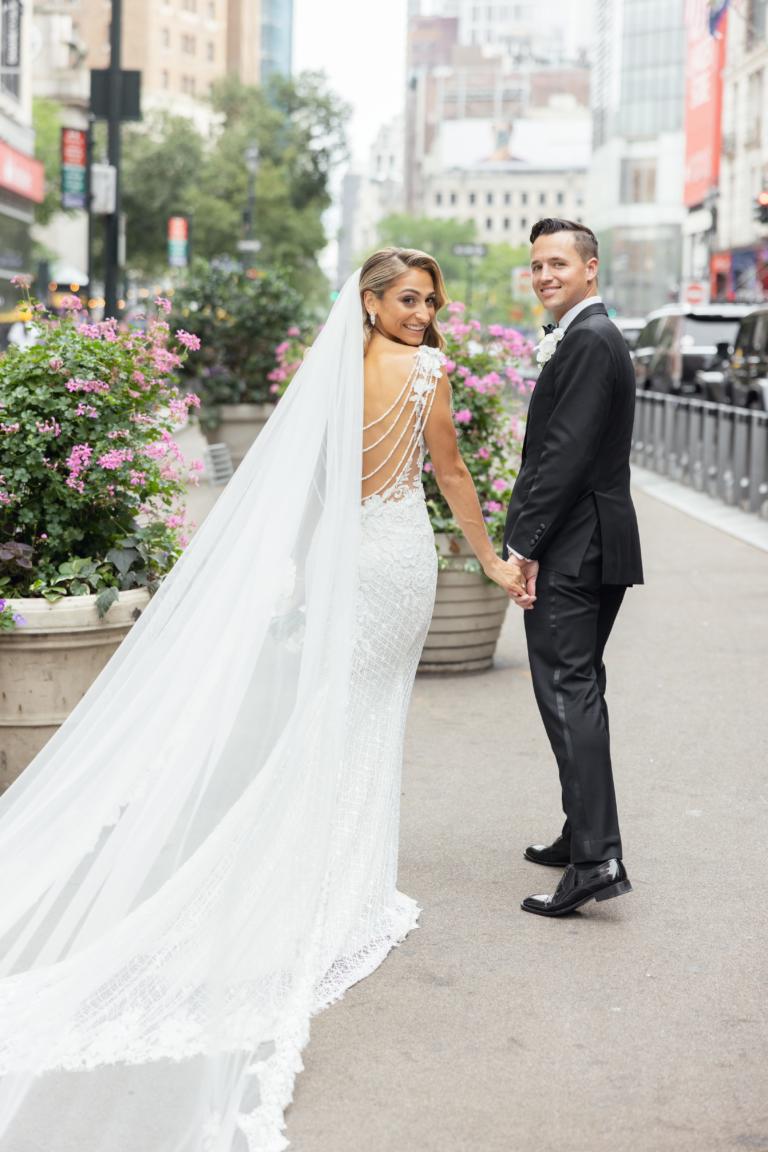 How did you find working with the team at GaliaLahav?

I purchased my dress at Bridal Reflections and both the store's team and the Galia Design team were so accommodating in helping me create my dream dress. Because my wedding was in July, I did not want the sleeves from the original design. I also wanted some changes to the lining, appliques, and matching veil. The whole look turned out even better than I could have ever envisioned.
How many dresses did you try on before you found it?
Finish your registration for {City} Trunk Show