FREE SHIPPING & RETURNS WORLDWIDE!

DUTIES & TAXES COVERED WORLDWIDE
Find your nearest boutique
Our #GLBride of the week is the beautiful Christina Castellano, who wore not one but three GL gowns on her wedding day. Surrounded by family and friends, the two held their garden glam wedding at the Saddlerock Ranch's Malibu Wine Safaris. In the following interview, Christina shares with us the details of her breathtaking wedding in California and her experience finding three dream gowns with us. As told by Christina:
How did you meet your husband? Tell us a little bit about your relationship.

I met my husband at a brunch in NYC.  After brunch, a group of my friends went to a pizzeria.  I was sitting with him and he was taking the cheese off his pizza (he's lactose intolerant). Ironically, I wasn't eating pizza because I was on a low-carb diet.  He offered me his mozzarella cheese so I didn't have to eat the bread. It really was love at first sight… Or should I say bite!
How did he propose?

Frank proposed at a Christmas lantern festival on December 1, 2018.  He walked me through a light tunnel and I remember thinking "Wow, this is whimsical!"  He tapped my shoulder and when I turned around he was down on one knee. I was so surprised and excited.  After we left, he had a surprise party waiting for me with all our friends and family. It was very well-planned and thoughtful.
How did you start planning your wedding? What were the first steps?

Since we already knew what venue we wanted, we booked a flight to go to pick the location as there were many locations on the property. We went with the hilltop site, for an intimate experience with breathtaking views.  Our next step was to book all our vendors!  
Did you do any beauty or fitness prep for your big day?

I am very into keeping my skin and body healthy.  I go for facials once a month and do a combination of running and Hot Yoga for fitness. Unfortunately, due to COVID-19, all gyms and salons were closed.  

Obviously, I was not going to give up hope on my wedding, so I did virtual workout classes on my laptop.  My favorites were kickboxing, HIIT, and Yoga.  I would do 1-2 classes a day 5 times a week.  I would go for long walks on the other two days.  As for salons, my facial girl started taking me and only me because she knew I had a wedding coming up (I got very lucky!). 
What was your wedding theme?

Our wedding theme was 'Garden Glam'.
How did you choose your location?

The first time Frank took me to Los Angeles, he planned a day where he took me to the Malibu Wine Safaris at Saddlerock Ranch.  We drank wine and enjoyed the beautiful grounds.  When we got engaged, we both wanted Saddlerock Ranch as our venue!
How did you decide on your bridesmaid style?

I wanted my bridesmaids to feel beautiful and like themselves!  Personally,  I hated being a bridesmaid and feeling like I was in a uniform.  I chose 9 bridesmaids' dresses that I loved and let them all choose one that they loved and felt amazing in, too!
How did you find your perfect dress?

I knew I wanted to be a Galia bride way before I was even engaged.  Me and my best friend Rosalia would send each other Galia Lahav dresses for three years before we were engaged!  I was never going to pick another dress designer.  As soon as I was ready to pick a dress, I went straight to Bridal Reflections in Manhattan. I ended up wearing three Galia Lahav dresses, one for the day of my wedding, one for my rehearsal dinner, and one for my bridal shower.  Fun fact: Sharon Sever was at Bridal Reflections that day and actually took my measurements!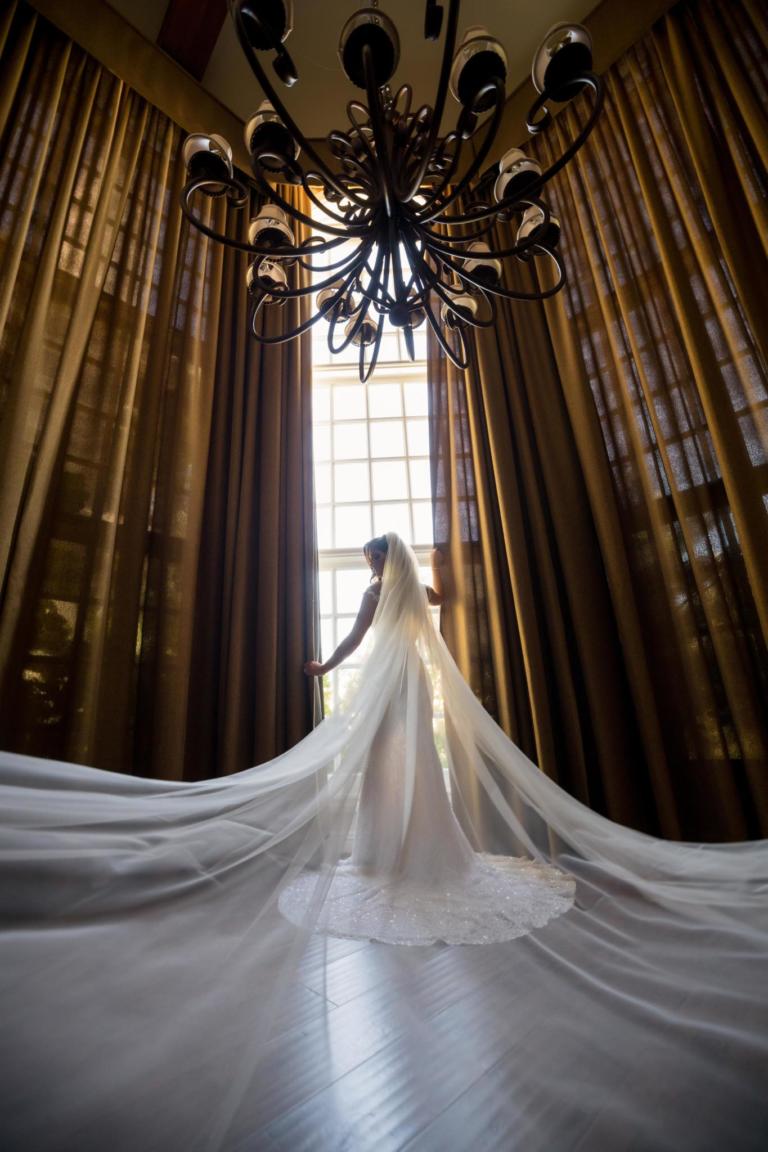 How was your experience with the Galia Lahav brand?

 My entire experience from start to finish was absolutely amazing. These dresses are made perfectly for each and every bride who wears them. I really could not be happier! These dresses were so important to me that they were packaged with care from the staff at Bridal Reflections, Manhattan for my travels from JFK to LAX.  I brought my dresses on the plane as a carry-on, I wasn't going to let them out of my sight!
What was the most important thing for you and your husband when planning your wedding?

I would have to say that the most important thing for my husband and me was to give our guests an unforgettable experience. I remember the first time my husband and I went to Malibu together, it was just an amazing trip full of love, laughter, and memories. That trip was the blueprint of the experience we wanted our guests to have!
What was your first wedding song?

Our first wedding song was "Lost Without U" By Robin Thicke.
What did you enjoy the most about planning your wedding?

Since I live in New York and my wedding was in Malibu, planning was so much fun! Every time we had to go plan, it was another vacation!  It was always exciting to plan and vacation at the same time.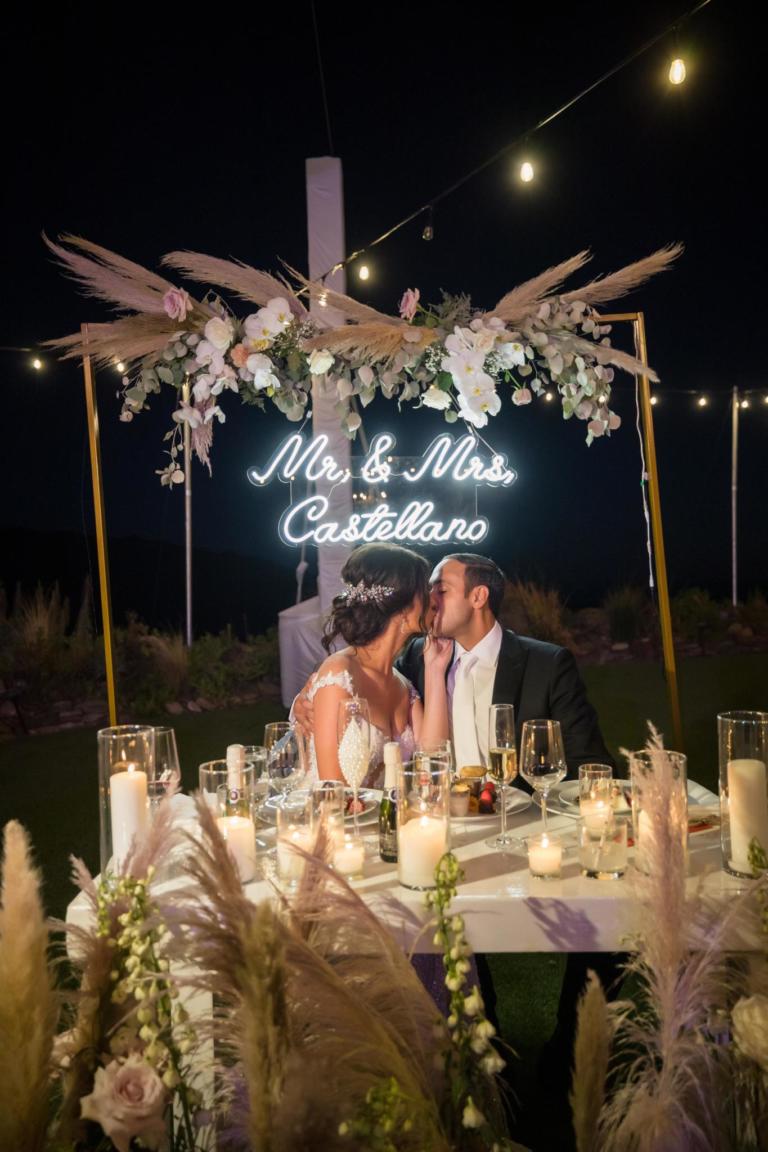 What advice would you give to all our future brides?

My biggest advice for future brides is to really explore when choosing your vendors.  I would choose vendors you mesh well with and trust. I experienced having a wedding during COVID-19 and my vendors were solid!  

My planner Meg was a key component for making my wedding happen.  She would talk to me every day and never gave up on making this wedding work while still bringing my vision to life.  We worked down to the last possible second making modifications due to restrictions and the necessary safety measures!

My venue, photographer, florist, hairstylist, videographer, DJ, and caterer were also so supportive!  My makeup artist, Lauren D'Amelio, who was a huge vendor for me, actually flew from the Eastcoast to the Westcoast to do my wedding with all this craziness going on.  I really put all my trust in my vendors and I have to say they really made my entire wedding everything I'd ever dreamed of!  My wedding would not be what it was without them.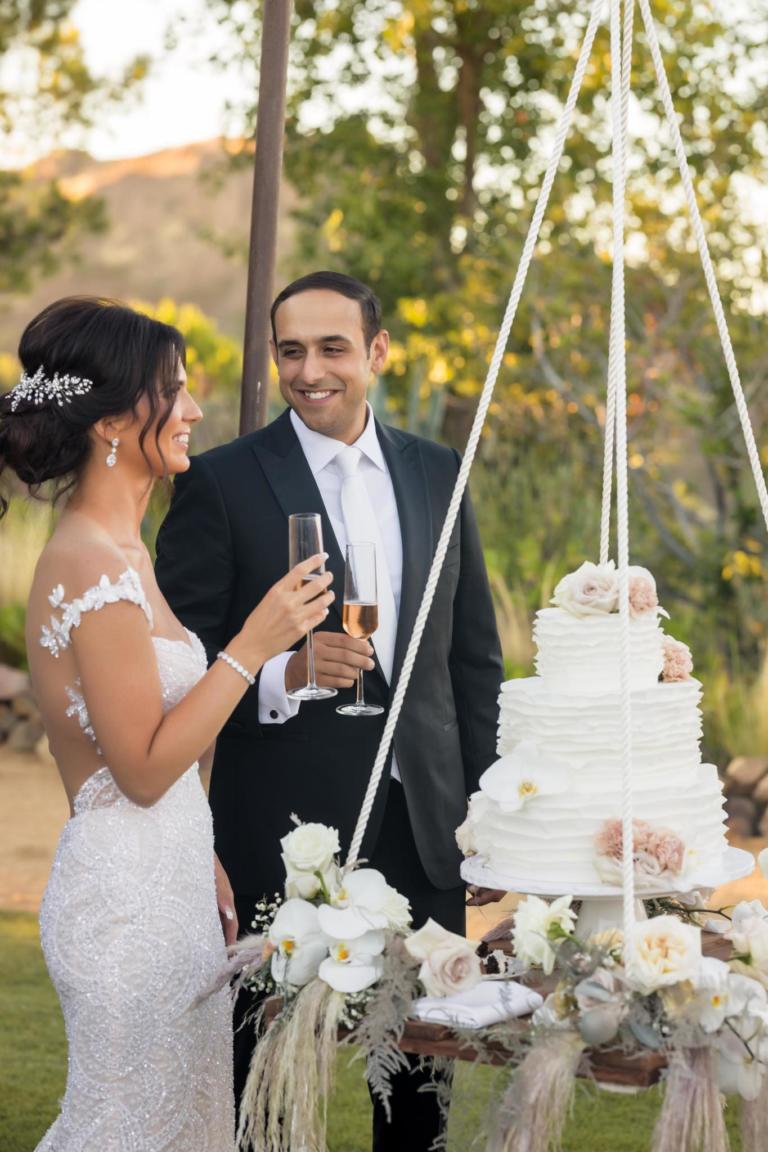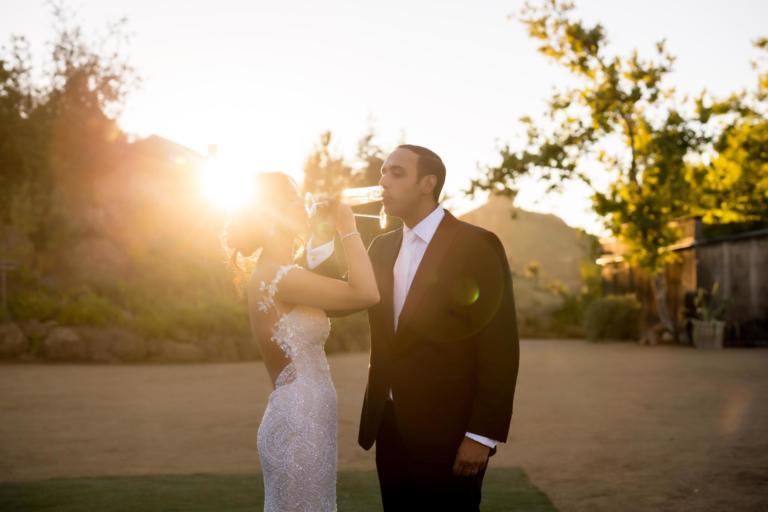 What moment from your wedding will you never forget?

The biggest thing for me was when I arrived at the Saddlerock Ranch and saw my vision brought to life. I remember seeing all the chandeliers, draping, champagne walls, and beautiful flowers. This was such a surreal moment because I was planning for a year and a half and took four trips to Los Angeles during this time. For months, I didn't even know if my wedding was going to happen due to COVID-19.  I remember looking at my husband and thinking "Wow! We really did it!"
Finish your registration for {City} Trunk Show