FREE SHIPPING & RETURNS WORLDWIDE!

DUTIES & TAXES COVERED WORLDWIDE
Find your nearest boutique
Our #GLBride of the week is the stunning Valerie Larsen Carpender, who wore our Blossom dress as she wed the love of her life in Hawaii. The couple held their destination wedding on the island of Ko 'Olina at the sacred beach of Lanikuhonua. In the following interview, Valerie shares with us the behind-the-scenes details of her wedding and how she found the gown she always envisioned. As told by Valerie:
How did you meet your husband? Tell us a little bit about your relationship.

We love to tell the story of how we met! My husband, Nik, actually tells our story beautifully on our website, NikandVal.com. 
How did he propose?

At the top of a mountain while we were on vacation in St. Lucia!  He left our room before I woke up and arranged for video "clues" to be given to me at certain times in the morning that lead me to the top of a mountain overlooking the ocean.  I literally had to climb for two and a half hours to get to him- I knew he'd be waiting for me at the top!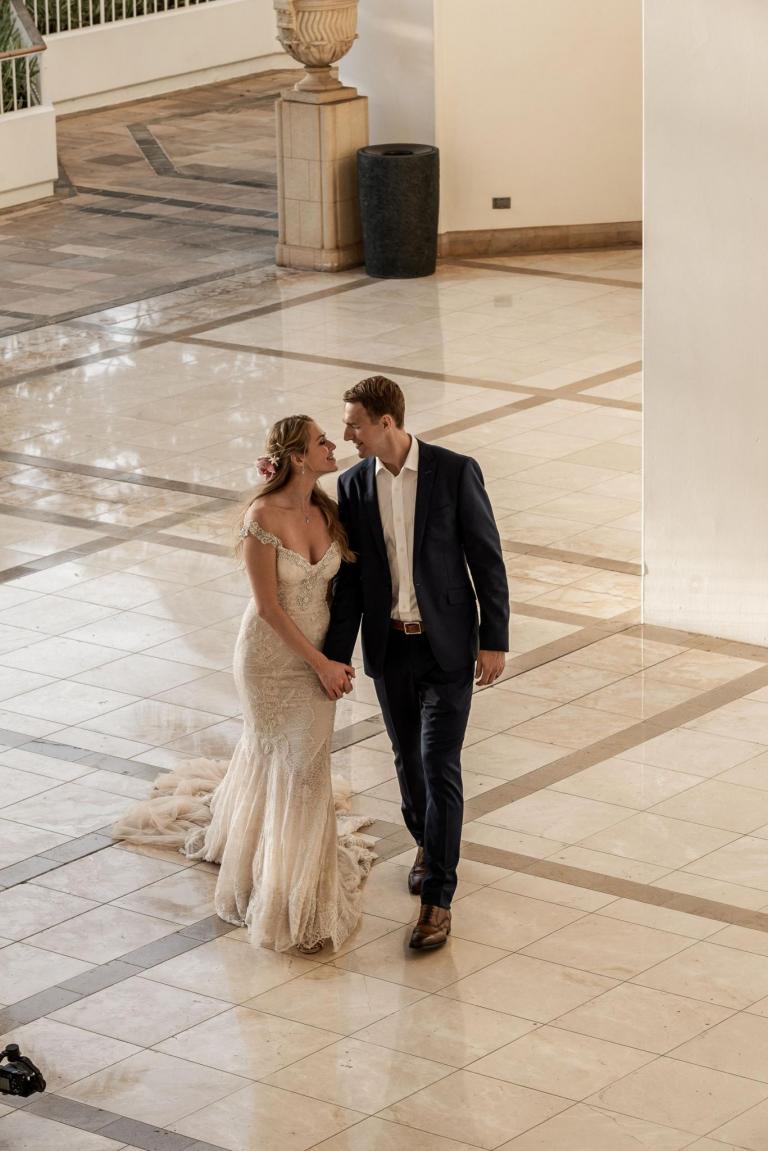 How did you start planning your wedding? What were the first steps?

The first step for Nik and I was planning the location.  This was actually the hardest part because every other detail would stem from this first decision! We knew we wanted to get married on a beach in a beautiful setting, and we ended up picking Hawaii because it is a special place for both of us.

The next step was the invite! I designed the invite and hand-illustrated all of the flowers and foliage myself.  Because I am an artist, I wanted to create a special and unique invite. Nik and I had a lot of fun working on our invite, and our guests agreed that it was one of the best invites they'd received.

 Very shortly after the invites went out, I began my search for the perfect dress!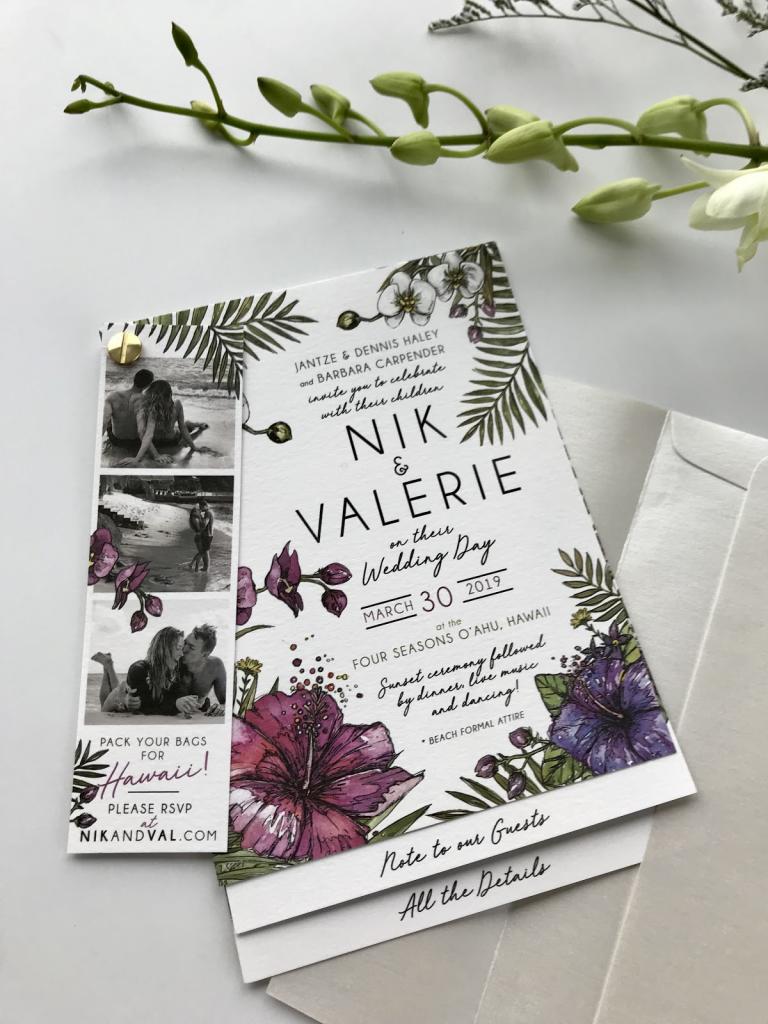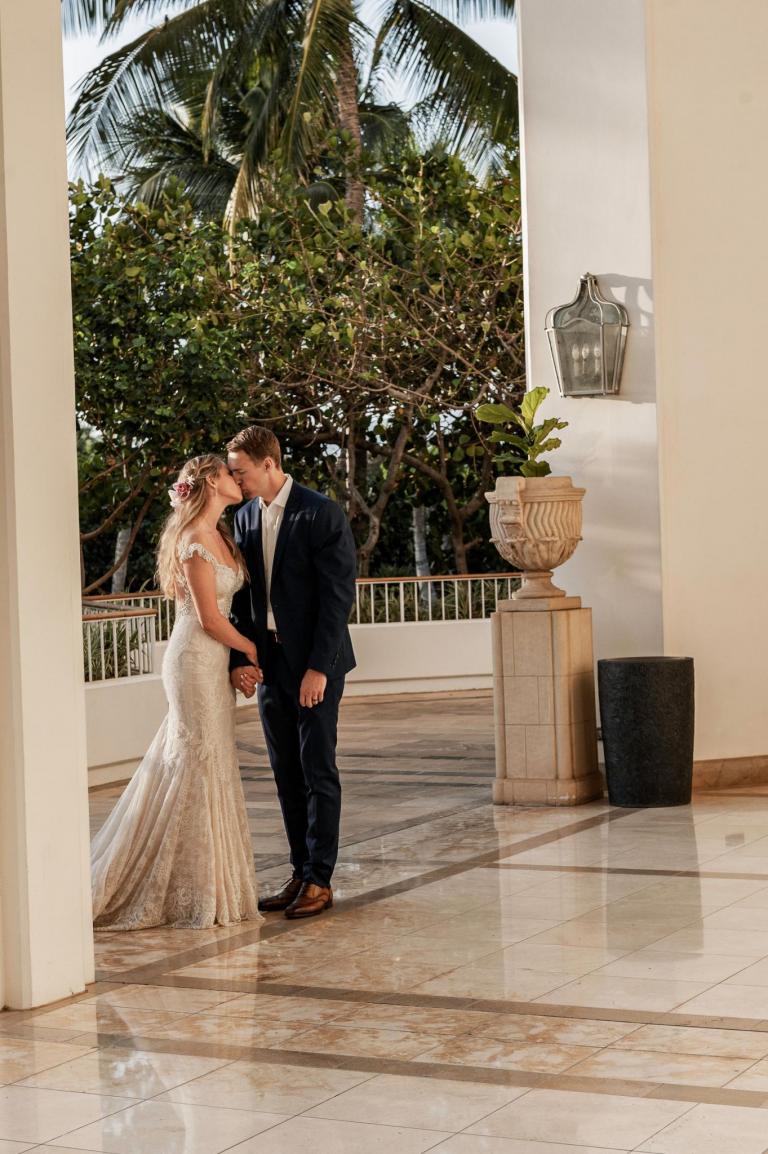 Did you do any beauty or fitness prep for your big day?

I was not one of those brides who go crazy about their beauty and fitness routine just before their big day.  My plan was simply to be me leading up to, during and after, because that is the girl my husband fell in love with.  I had my makeup artist create a very natural makeup look with beachy hair and a couple of giant braids held in place with real flowers. I didn't waste a thought worrying about any beauty imperfections, I knew they'd be there, but no one would notice, and no one would care! 
What was your wedding theme?

Our four theme words for our wedding were: Modern, Elegant, Approachable and Memorable.
How did you choose your location?

We decided on a destination because we both love the beach, and we wanted a beautiful tropical backdrop and warm weather!  We thought it was important to pick a destination that was special to both of us and would also make for a memorable vacation for our guests.  Hawaii was at the top of our list! When we found wedding planners, Morgan and Jennifer at Moana Events in Oahu, our decision was final. We got married at Lanikuhonua in Ko 'Olina and had our reception at the Four Seasons Oahu.  It was magical!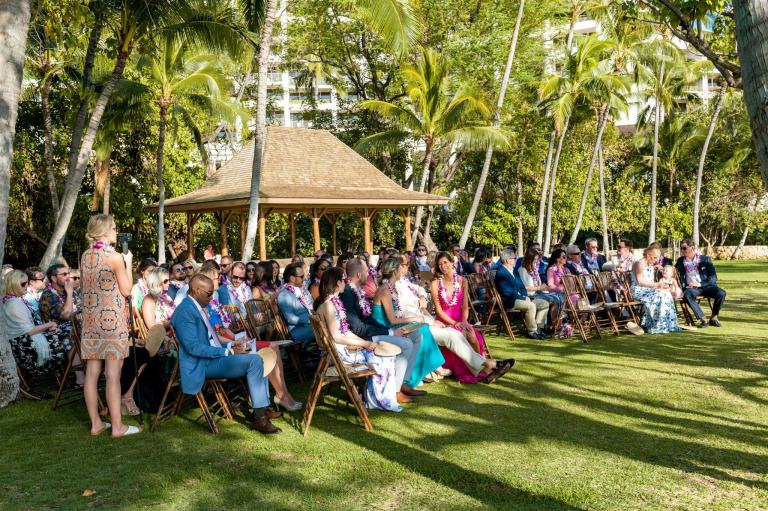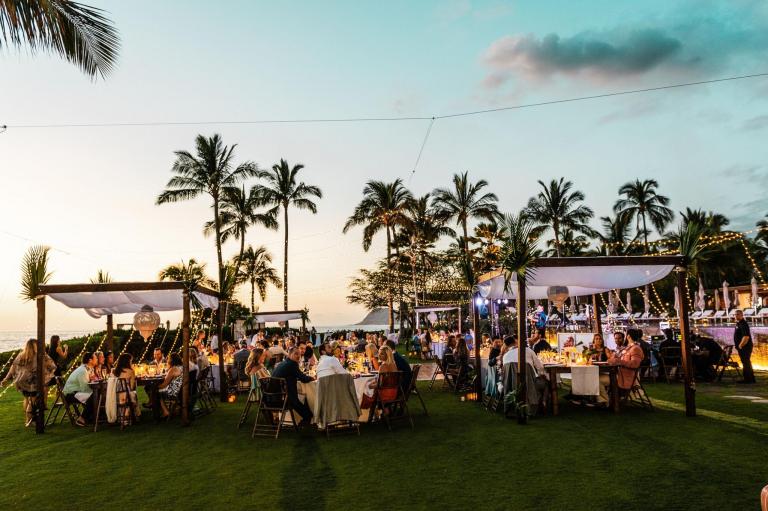 How did you decide on your bridesmaid style?

I did not choose a bridesmaid style, because I did not choose a bridesmaid!  Everyone attending our wedding was a part of our wedding party! Yes, I am for real.  Nik and I aren't afraid of breaking rules that don't feel "right" for us, and having a bridal party was one of them.  Even though Nik and I have plenty of very close friends who would have loved to be in our wedding, we knew from the beginning that we didn't want to have to rank our friends and cause possible hurt feelings that would distract from the reason we were there… to get married… to each other.  As far as we were concerned, everyone who took the 8-hour flight to attend our wedding was a part of our bridal party, and we made sure they all felt like they were appreciated and loved by us just the same.  

Nik and I did, however, give our friends and family special "roles" before, during or after our wedding, or set aside alone time with them individually or in small groups to ensure they all knew I cared about them.  To name just a few ways we did this, we had a group of friends get ready with us before our wedding, a different group sit with us at our dinner reception, one friend was our official "emcee",  the couple who introduced us lead a "ring warming" before the ceremony, another friend did a reading from one of Nik and I's favorite books and our Mothers walked us down the aisle since our fathers are both no longer with us.  It was so special, and much more meaningful to us than a traditional wedding party would have been. 

Everyone could wear what they wanted and the only guidelines they were given was colorful beach formal while still being comfortable in humid weather!  Our guests really had fun with this. There was not one person who didn't show up looking amazing at our wedding!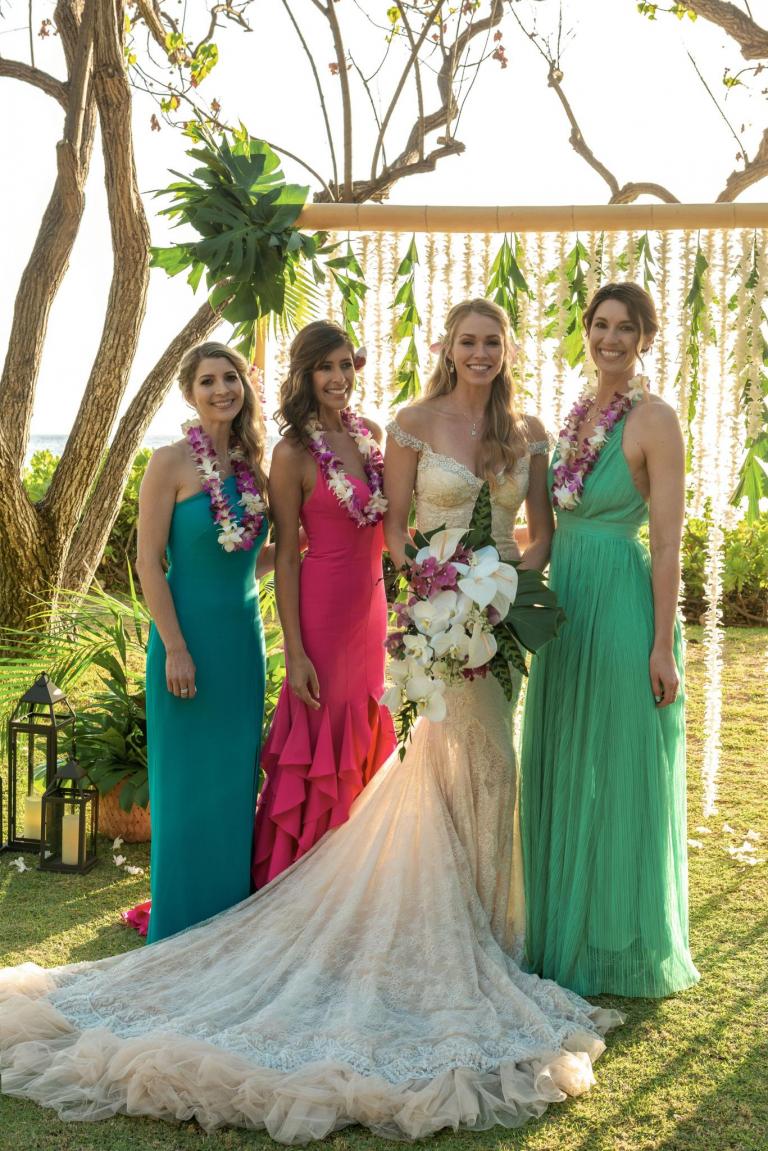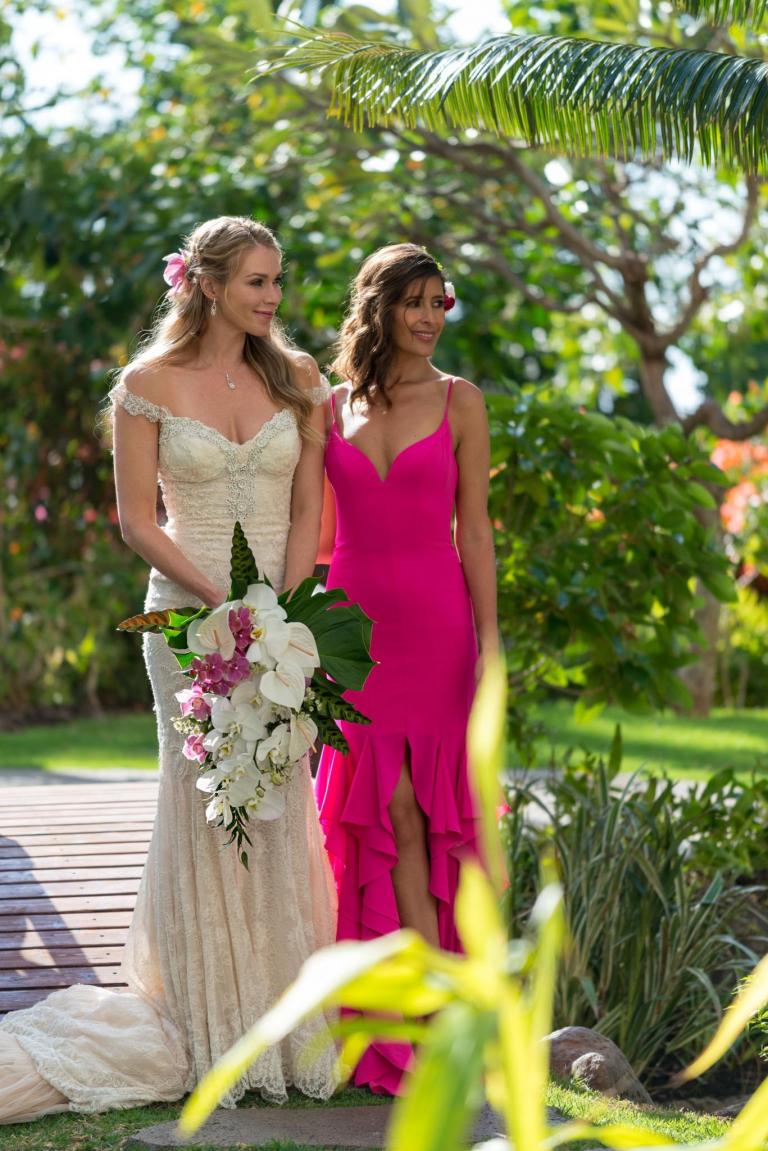 How did you find your perfect dress?

My wedding dress was actually one of the first dresses I tried on.  I walked into Annika Bridal in Edina, MN and told the store owner, Annie, what I was looking for. I showed her a sketch I had done of the kind of dress style I was hoping to find. She said she had the perfect dress designer for me.  She brought me two Galia Lahav gowns. They both fit perfectly. Right from the rack and they were STUNNING. I couldn't believe it. I didn't want to believe it could be that easy, so didn't buy one that day. I had to try on a few more before I could make my final decision.  But, every dress I tried on from that day was instantly compared to the Galia gown and nothing else came close!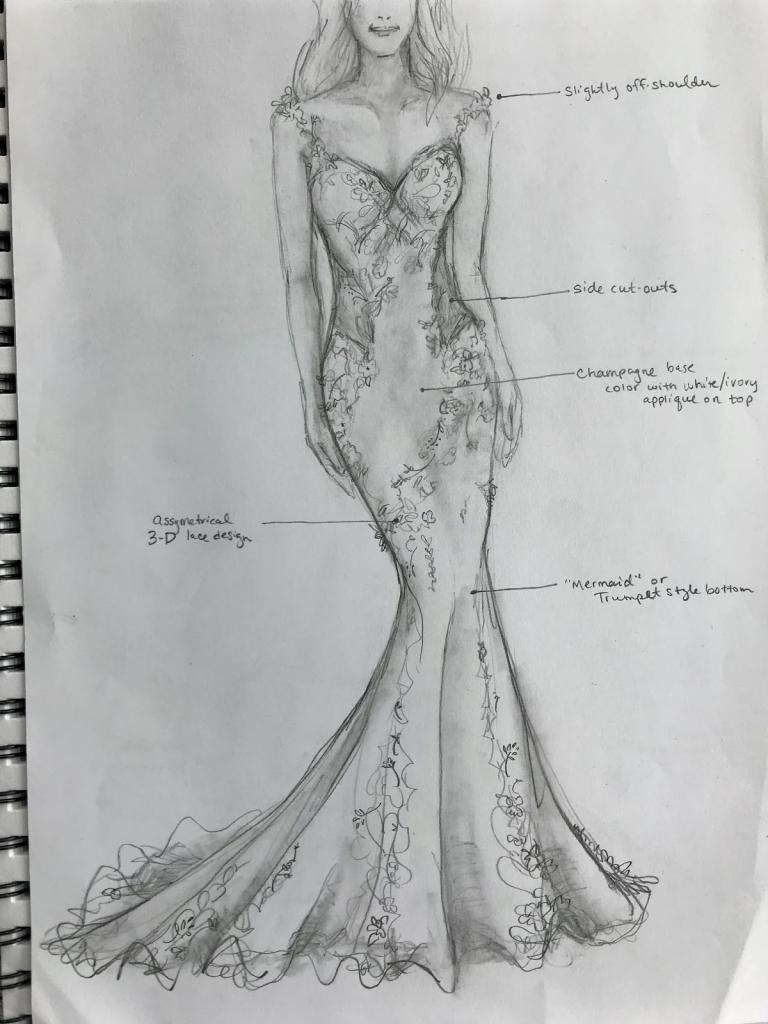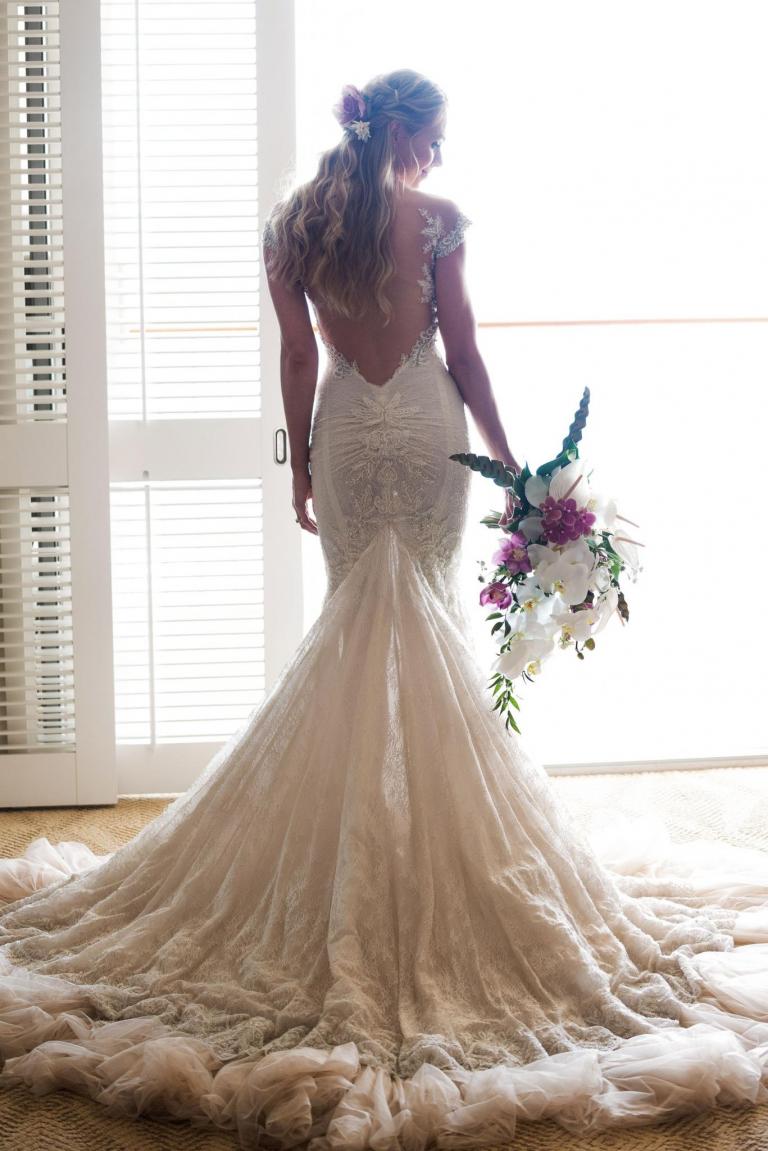 How was your experience with the Galia Lahav brand?

The dress was absolutely stunning!  It fit like a glove- I felt like it was made just for me!  I loved the modern lace details (especially on the back) and the soft sandy-colored tulle underneath- this gown was truly special and so unique.  The fabric was breathable for the beach and moved with me when I danced all night long! It was literally like a second skin.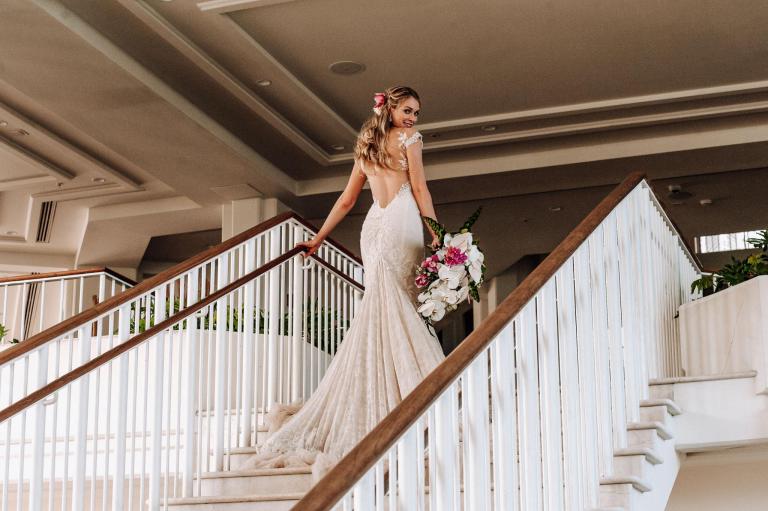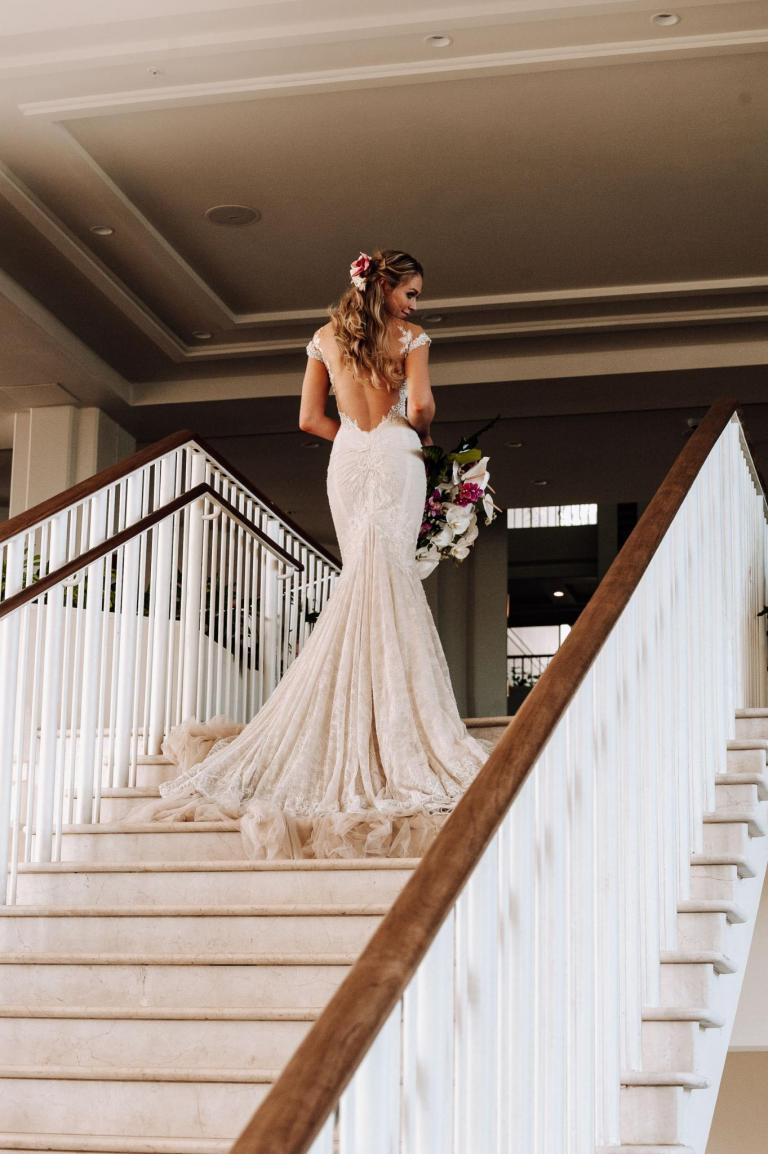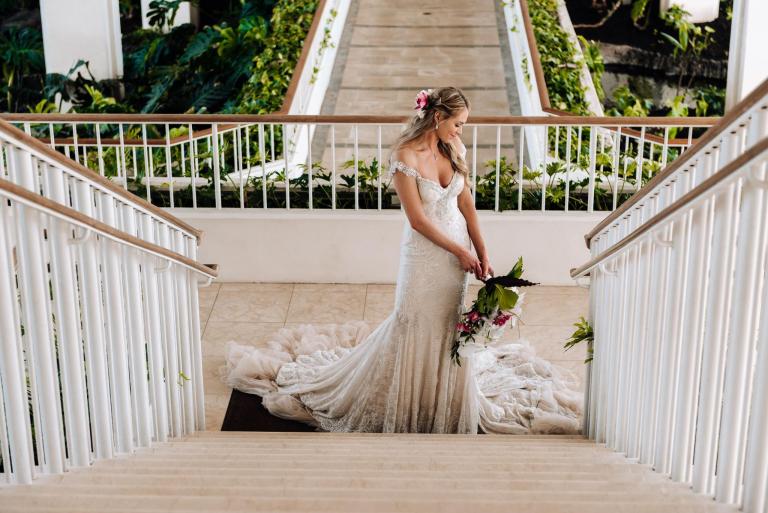 What was the most important thing for you and your husband when planning your wedding?

The most important thing for us was to make our wedding a meaningful experience for us, and memorable for our guests. Nik and I put an enormous amount of thought into how we could honor our mothers and those with a special role in our lives.  Our top priority, however, was making sure that we put our love for each other on the highest pedestal- we wanted to make sure that above all else, Nik and I could feel our very real love and respect for each other the whole time. When we wrote our own vows and read those promises to each other in front of our family and friends, everyone felt it.  Our guests mentioned they fell in love with their husbands all over again after watching our wedding!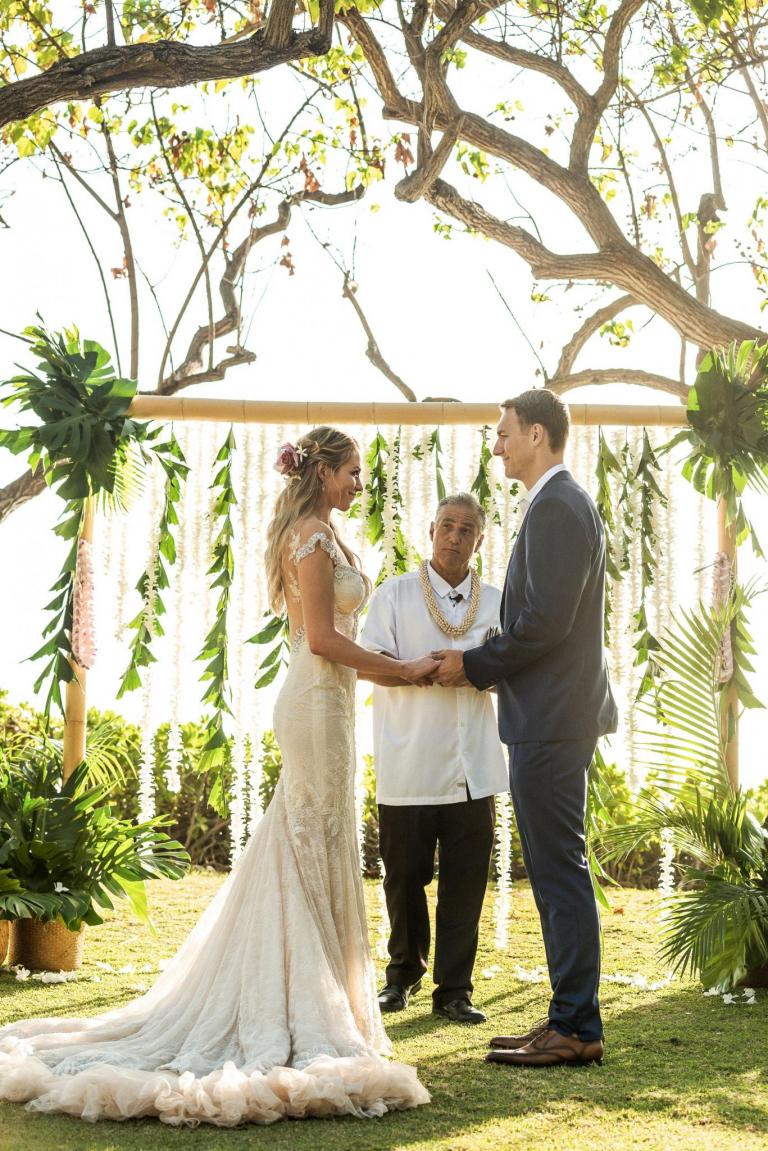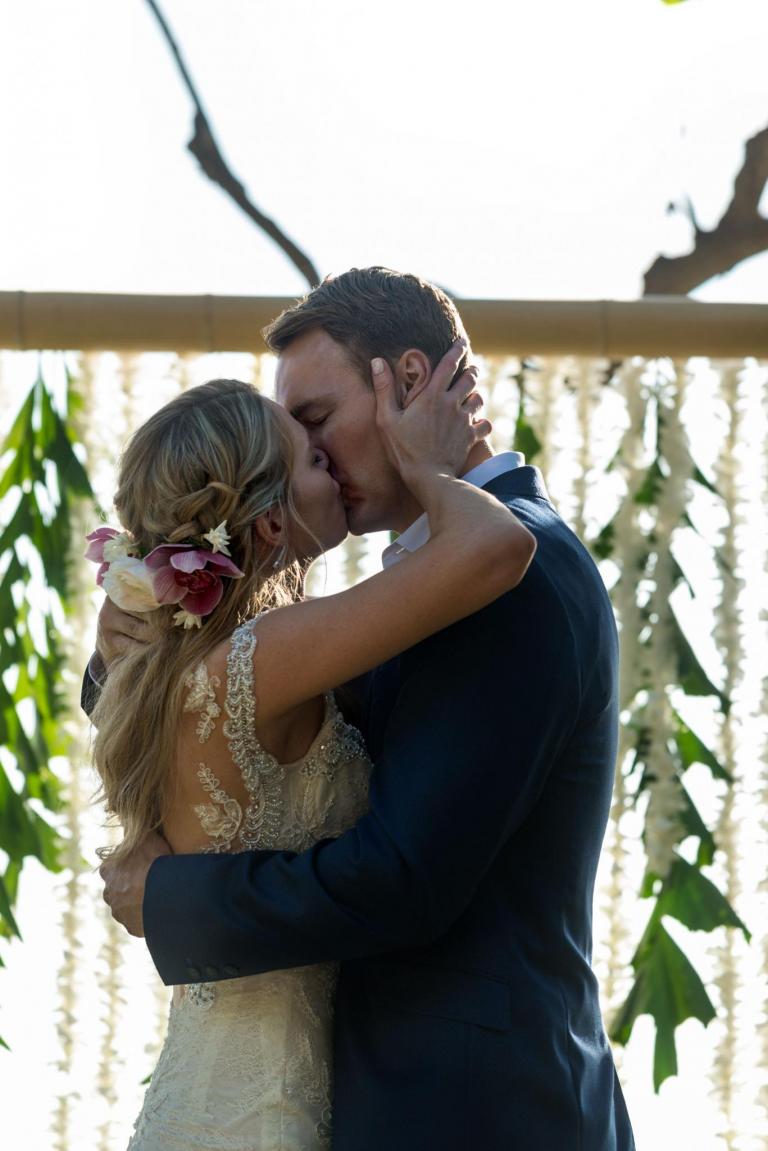 What was your first wedding song?

Our first dance song was "Tiny Dancer" by Elton John.  This song came on while we were in my art studio one night and I first told Nik that I loved him!  It's always been a special song to us.
What did you enjoy the most about planning your wedding?

I enjoyed creating all of the personal touches! I loved making the illustrations, designing the invitations, the website, the custom tote-bags for our guests and even designing the menu and bar napkins with my Hawaiian-inspired illustrations.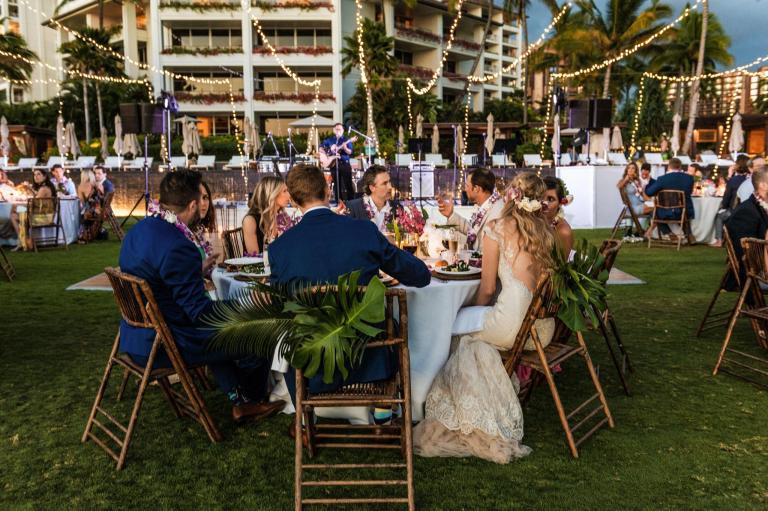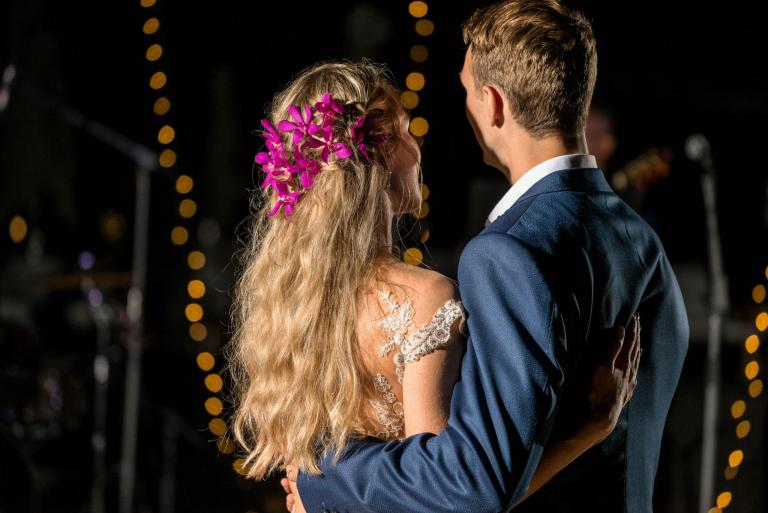 What advice would you give to all our future brides?

My advice to future brides would be to make sure you've planned every detail well in advance so that you can relax and enjoy on your Big Day!  Be sure everyone involved knows exactly what they are expected to do ahead of time so that everyone can run on auto-pilot without needing clarification on the day-of.  Appoint a friend to be on mom-duty… Mom's tend to get emotional on wedding days, and you won't want her to be alone if she's going through all the Mom-feels.

The photographer and makeup artist usually have the most stressful jobs, so help them do their job stress-free by giving them clear instructions ahead of time.  I gave my photographer and makeup artist a list of specific photos I wanted to capture as well as times and locations, I also printed some inspiration photos to help give them direction without him needing to ask me.  My photographer and makeup artist worked together seamlessly and captured all of the photos I wanted beautifully (and then some) and kept the day moving along without a single issue!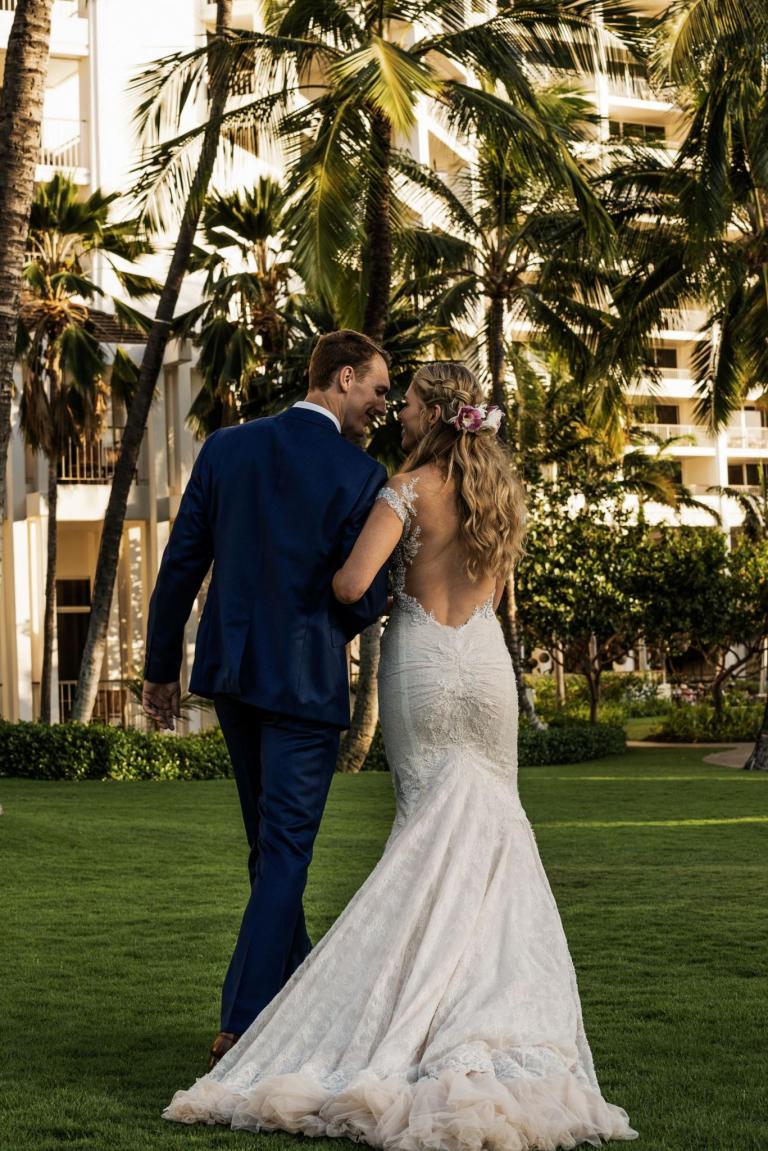 What moment from your wedding will you never forget?

I will never forget my Mother walking me down the aisle to meet my husband standing there waiting for me!  When he saw me for the first time, he cried so hard! It took everything I had not to fall apart myself. Our ceremony was perfect… The sun setting over the ocean, our vows, seeing all of our friends and family there with us. We felt our fathers' smiling down on us!  We couldn't have asked for a more special wedding ceremony.
Finish your registration for {City} Trunk Show