FREE SHIPPING & RETURNS WORLDWIDE!

DUTIES & TAXES COVERED WORLDWIDE
Find your nearest boutique
Our #GLBride of the week is the elegant Stephanie Crosier, who tied the knot with her fiancé in our Rhiannon gown. The two held a stunning wedding at the beautiful Montebello Estate in Lemont, Illinois. In the following interview, Stephanie shares the details of her serene estate wedding and the moment she fell in love with our Rhiannon gown. As told by Stephanie:
How did you meet your husband? Tell us a little bit about your relationship.

We met freshman year of college while we were both dating other people. Over the next decade, we became close friends and one another's plus one to weddings when we were single. We were just friends for 12 years before he'd shoot his shot on St. Patrick's Day with a little liquid courage. It was a little rocky at first because I was apprehensive about moving him out of the friend zone since we had been friends for so long! However, my girls told me that he was my whole husband and that I should stop blocking my blessing, and well, they were right!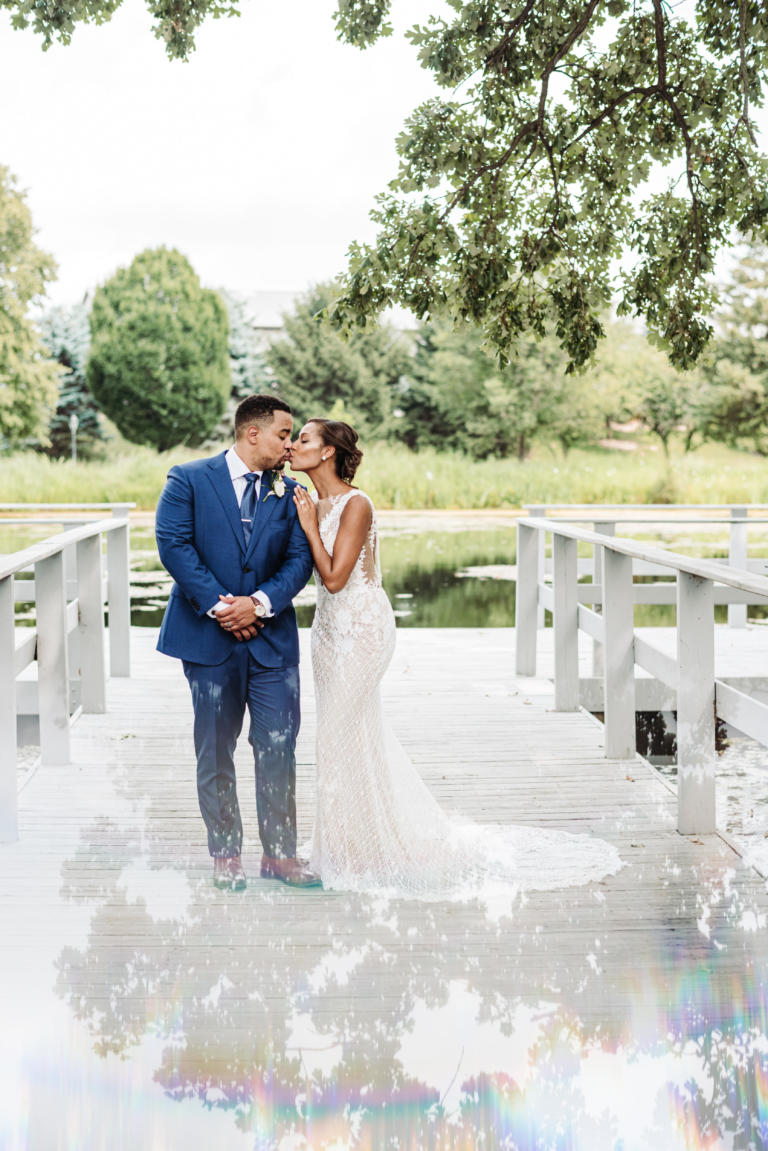 How did he propose?

He rented out a club in Chicago and planned a fake COVID is over party (once Chicago began to open back up). Although he was drinking an unusual amount of Jameson during the pregame I was surprised by all the people in the room when we arrived. I vividly remember a lot of masks and a lot of camera lights. We had always joked about him being the decision-maker in our relationship, so before he got down on one knee he said, "Well today, you get to make the decision." I thought it was cute! Obviously, I said yes!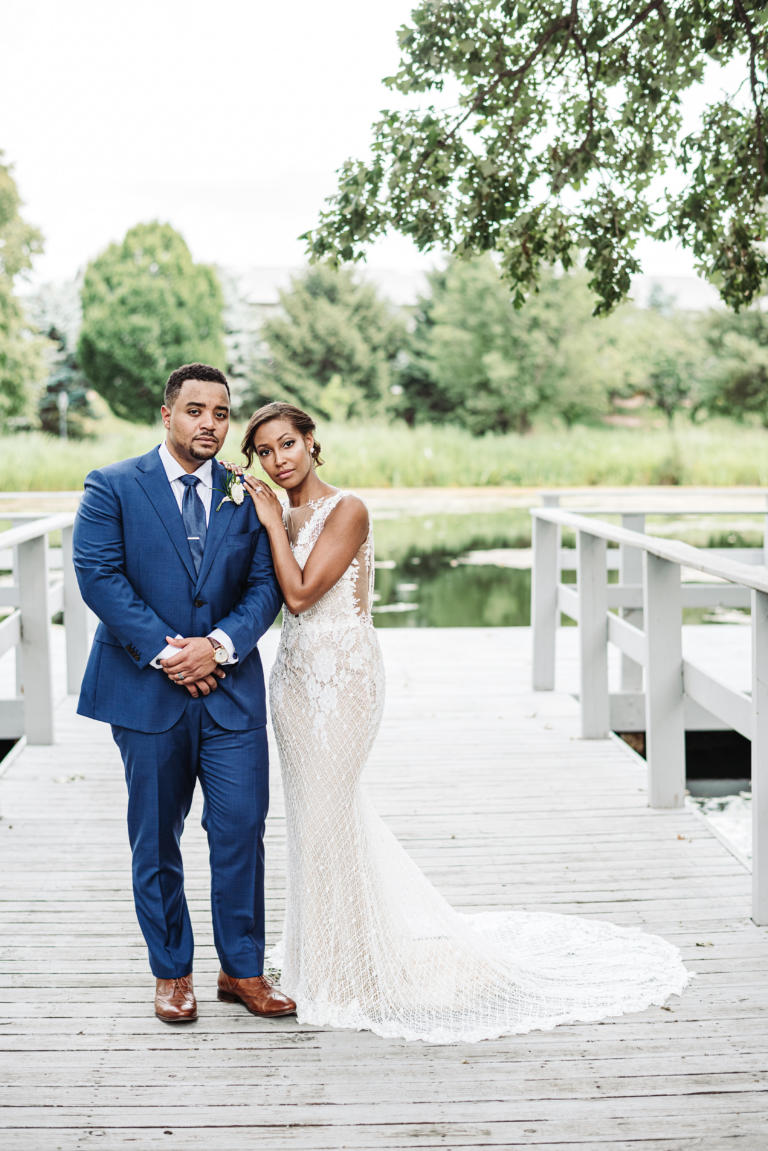 How did you start planning your wedding? What were the first steps?

Since we got engaged during COVID I immediately began booking vendors. There was a culture of postponing and all vendors were booking up fast for 2021. I began interviewing wedding planners, photographers, touring venues etc. I booked all of our vendors within the first month of us being engaged. I felt at peace having all of the big building blocks of our wedding completed so early on, that way I could begin focusing on the details.
What was your wedding theme?

Our theme was really about romantic charm and black love.
How did you choose your location?

I wanted to choose a venue where the wedding could be outside, however, if the weather did not hold up, I wanted to be at peace if the wedding were moved inside. I picked the Montebello Estate in Lemont, IL, it is just as beautiful inside as the outside estate grounds. What a great decision, because it began to rain right before our ceremony, so the event was moved indoors.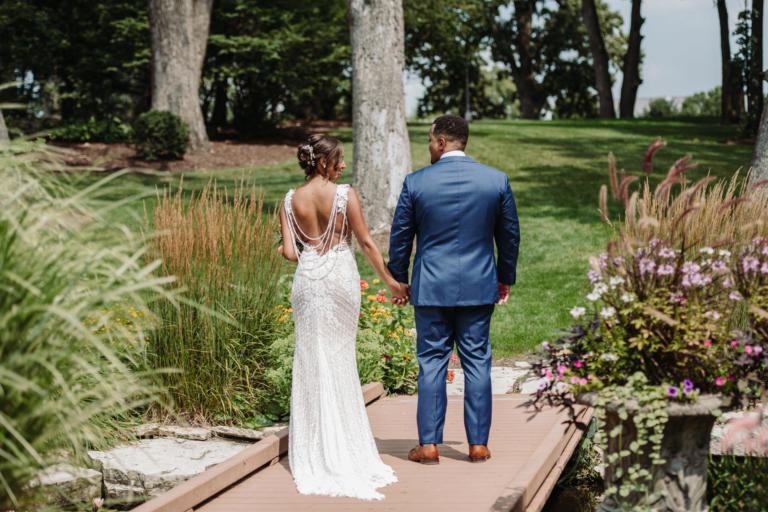 How did you decide on your bridesmaid style?

I wanted everyone to look and feel their best. I picked a variety of colors and styles to ensure that the girls had options that felt good against their skin tone and body shape. I had ten bridesmaids, two of them wore champagne gold, three deserts rose and three cinnamon rose. In addition, the maid of honor wore a full sequin dress in rose gold, and the best woman wore a sequin crop top, also in rose gold. Each girl got to pick the style of dress and color they wanted. It was really important to me that they had the option to wear the dress again in the future so it had to be their choice with a little bit of guidance.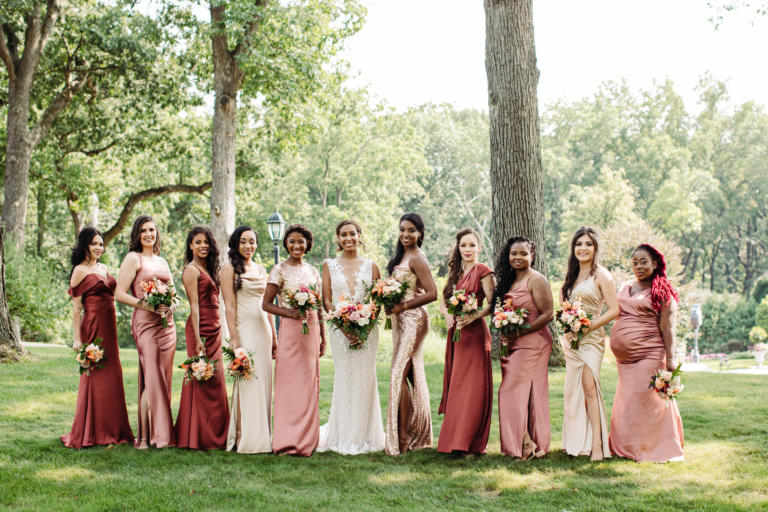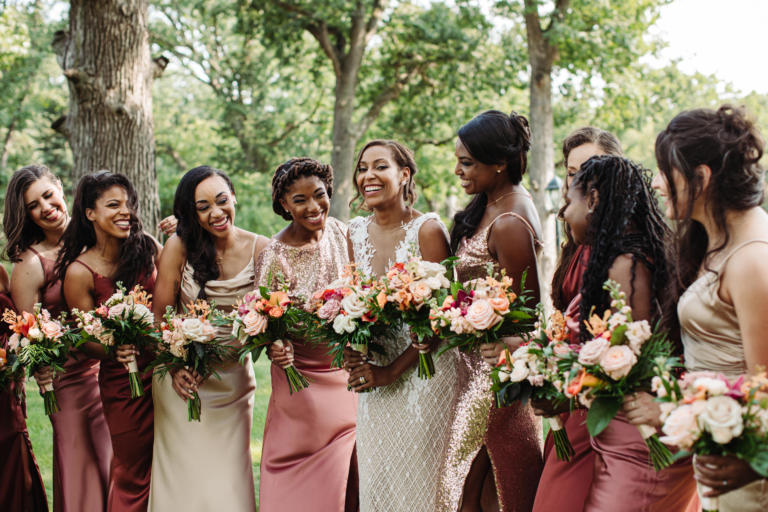 How did you find your perfect dress?

This was a process! I feel like I tried on every dress in the city of Chicago. I could tell early on though that I just had a natural lean towards anything by Galia Lahav. I prefer to be different/unique and I wanted my dress to be a conversation starter. I tried on two looks that I liked but I just didn't get that feeling that you think is going to happen from watching "Say Yes to the Dress". My stylist at Bella Bianca Bridal Couture (shout out to Jenna) actually called me and told me she specifically requested a Galia Lahav dress that she believed would make me have all the feels. I'll be honest, once I saw Rhiannon, I was in love. It was unique, did a lot for my shape, and simply put the details were to die for.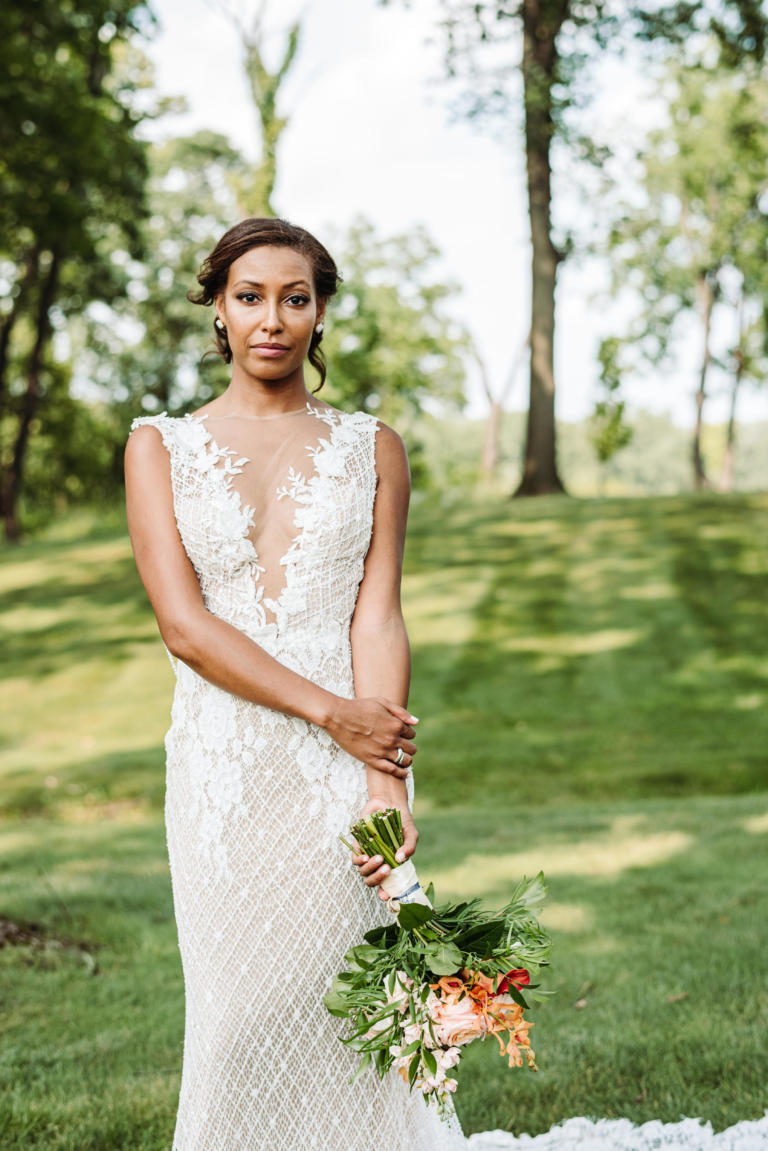 How was your experience with the Galia Lahav brand?

It was fantastic. I appreciate Galia Lahav's commitment to transparency (inside Sundays) and showcasing all different types of love on their web based pages. I am proud to have been a Galia Lahav bride.
What was the most important thing for you and your husband when planning your wedding?

We wanted to make sure that our guests had a really good time and never felt bored. We had a lot of vendors such as: live painter, cigar roller, boomerang photo booth, yard games, wine tasting, wedding singer and tons of food. The past year with the pandemic was hard on everyone and we wanted our guests to be able to let their hair down and forget about their worries. 
What was your first wedding song?

Chocolate High – India Arie
What did you enjoy the most about planning your wedding?

I am a type A personality, so I actually planned the entire thing! I only had a day of coordinator to support with execution. I loved that the details were unique to us and our style. There were a lot of personalized touches for our guests such as wooden name plates on each place setting so that they could feel that we really wanted them to be there to celebrate with us.
What advice would you give to all our future brides?

One of the biggest lessons I learned while planning is that people have a lot of feelings  and opinions about YOUR wedding. Pretty early on I got to a point where I became super selfish and began to block out the noise. This day was about love, joy and celebration and I didn't let anyone else cloud that in anyway because I prioritized us. I will also say, I made sure to spend time with my husband, we had little moments on our timeline where we snuck off to just take it all in and that was the best.
What moment from your wedding will you never forget?

I thoroughly enjoyed jumping the broom right after our ceremony. Since It was not always legal for Black couples to marry in the United States this is how they cemented their union and we are proud to carry on a tradition that showcases where we have been and how far we have come.
Finish your registration for {City} Trunk Show