FREE SHIPPING & RETURNS WORLDWIDE!

DUTIES & TAXES COVERED WORLDWIDE
Find your nearest boutique
Our #GLBride of the week is the lovely Nicole Rose, who made it official with her fiance Andonios in our Samantha gown. The couple decided on a small wedding ceremony held at the Tuscany inspired Lakefield venue in Long Island. In the following interview, Nicole shares how she brought her wedding vision to life and celebrated this new chapter with her husband. As told by Nicole: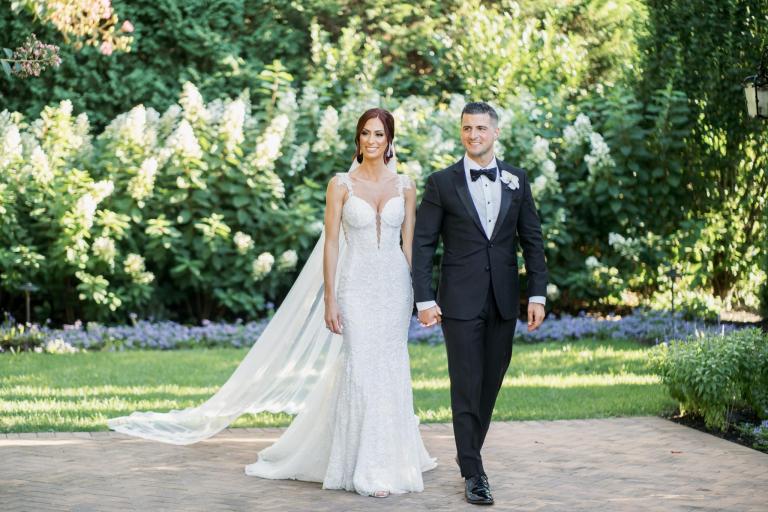 How did you meet your husband? Tell us a little bit about your relationship.

I met my husband through my friend from childhood and her husband, who is best friends with my now-husband. I went to Boston a few years ago to visit Jenna and Gary. They said, "We have the perfect guy for you!" Andonios lives on Long Island, where I'm from, we work in the same industry and we are both of Greek descent. Jenna and Gary connected Andonios and me via Facebook. We were messaging for a bit and I wasn't into it so I ended up deleting him. I had just gotten out of a long relationship and just didn't think I was ready to start over.

A few weeks went by and a message popped up from Andonios asking if I'd want to grab a drink. Everyone was telling me to "Just go!" So, I did. We met at a local restaurant on Long Island. We got to talking and we realized how we must have crossed paths in our youth without knowing it. There were so many stores and places and people we had in common. At the beginning of the date, Andonios told me he had to work a night shift. We talked so much, he was almost late to work. When we made plans to get together after the first date, Andonios never told me where we were going. It was always "I'll pick you up at whatever time- be ready." He kept me on my toes. I was always wondering when I would hear from him next. One day he picked me up and I was in a dress — we were headed to a Met's game. He did bring me a Mets t-shirt though!

After a few dates, he cooked dinner for me at his house — he asked me if there was anything I didn't eat — I said fish. He cooked salmon! It obviously wasn't a deal-breaker. Normally I would be very picky about these kinds of things but this time was different. I was definitely cautious at first, but something told me I was going to marry him. We got engaged 6 months later. Thanks Jenna and Gary!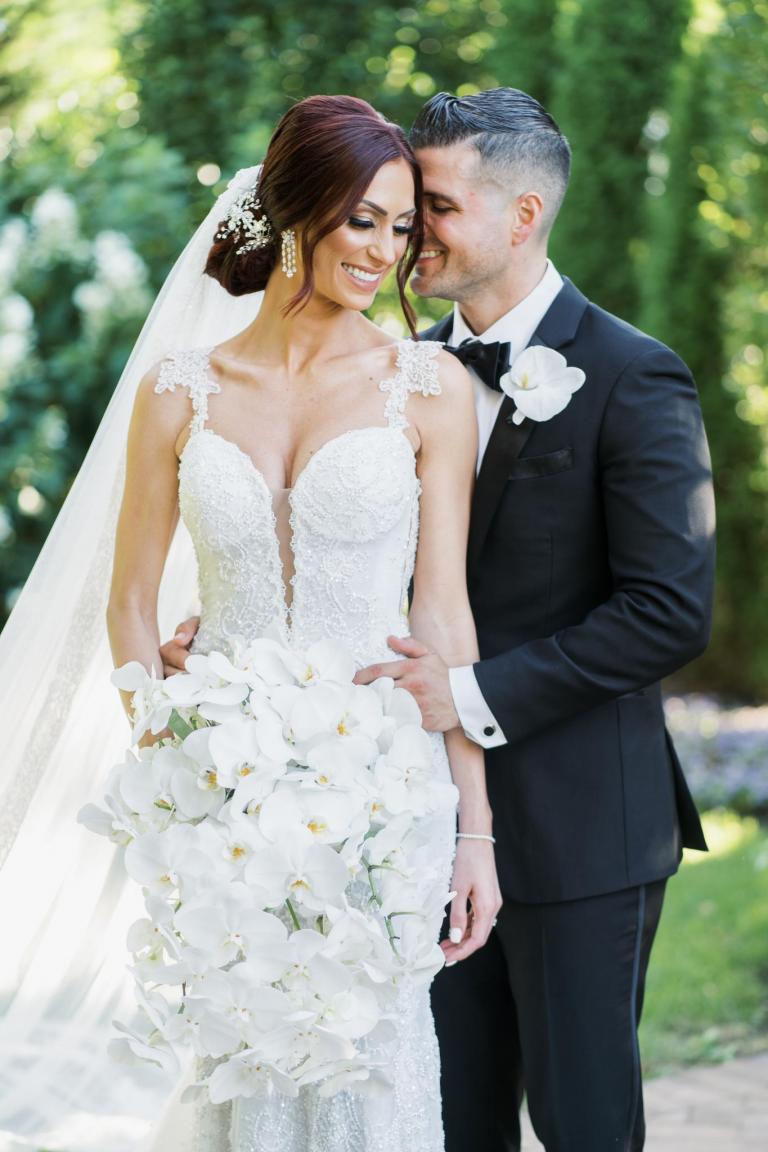 How did he propose?

We had plans to visit a winery on Long Island. It seemed like any ordinary Sunday because we always went to the wineries. Andonios suggested going outside and take a walk down to the water but it was a chilly, fall day and I preferred to stay inside by the fire instead. Finally, we walked down to the beach. He got down on one knee and all I saw was a ring inside of an illuminating box in his hand. I thought it was a joke. I quickly shut the box and said, "Stop playing around." He then replied, "So are you going to answer my question?!" I was in total shock but I said yes! We told our families and Andonios had already made reservations at another restaurant. By the time we got there, our families were already there, waiting for us with champagne on hand!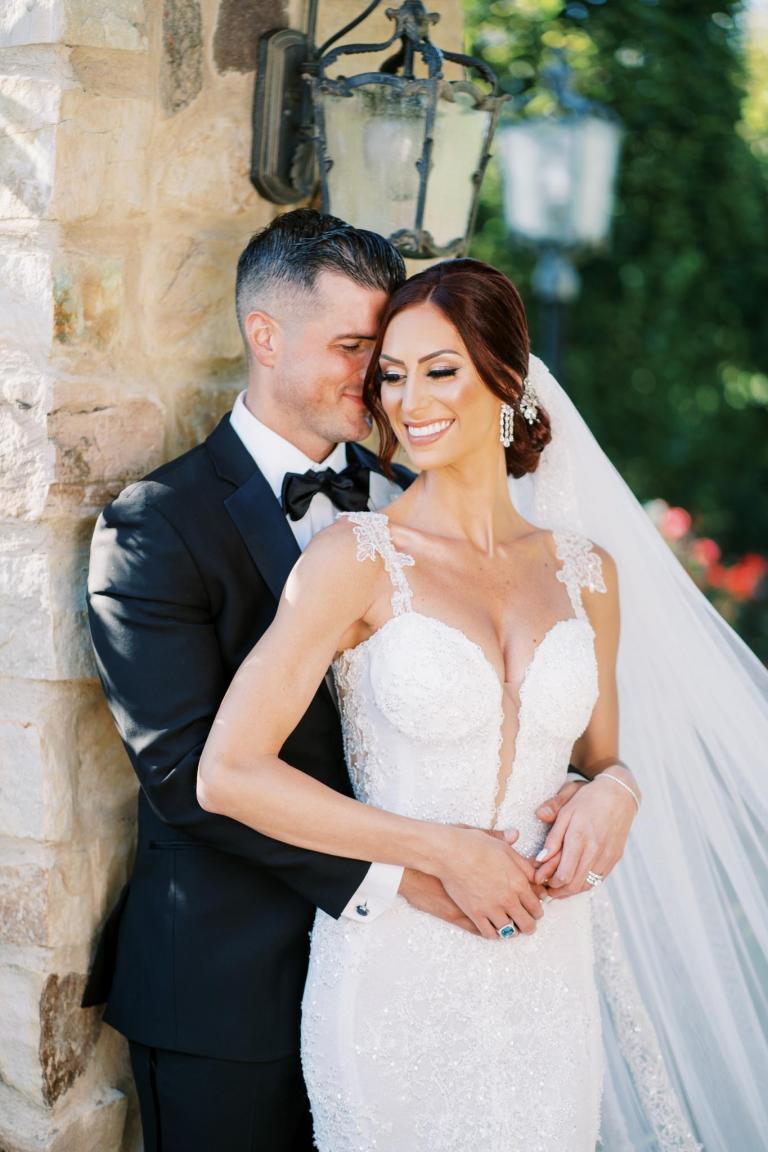 When did you first hear that your wedding day couldn't go as planned? How did this make you feel?

When the pandemic first hit, Andonios and I wasn't sure if this was going to affect our wedding day. We discussed that we were definitely not going to postpone and that we would get married on the day we planned, regardless. Yet there was still so much uncertainty. We heard from our venue in mid-July that we had the option to postpone our wedding day if we wished. Our venue reached out to us again, to let us know that we could have a maximum of 50 people and there would be other restrictions along with the capacity decrease. I was devastated. I was forced to cut down my guest list by 250 people and of course, I was concerned about my friends and family's well-being. I was worried about my vendors, too. I was nervous people would not want to work indoors. My amazing wedding planner, Jennifer, advised me and suggested I call each of them to ask what protocols they had put in place to be sure they felt safe. They ended up wearing masks, they social distanced, and were happy to be working. It was a sigh of relief. My fiancé, my wedding planner, and my vendors really helped determine my final decision by keeping the original date. And I can't thank them all enough for their hard work, talent, and commitment to making our day so extraordinary.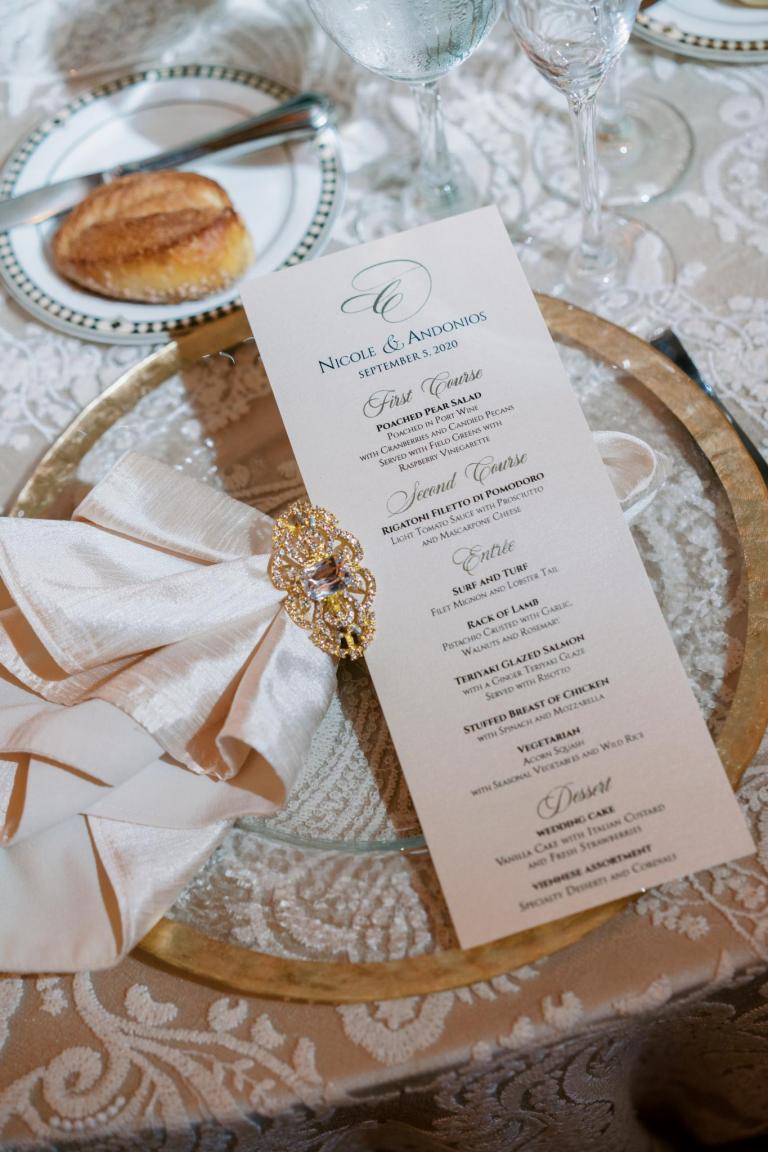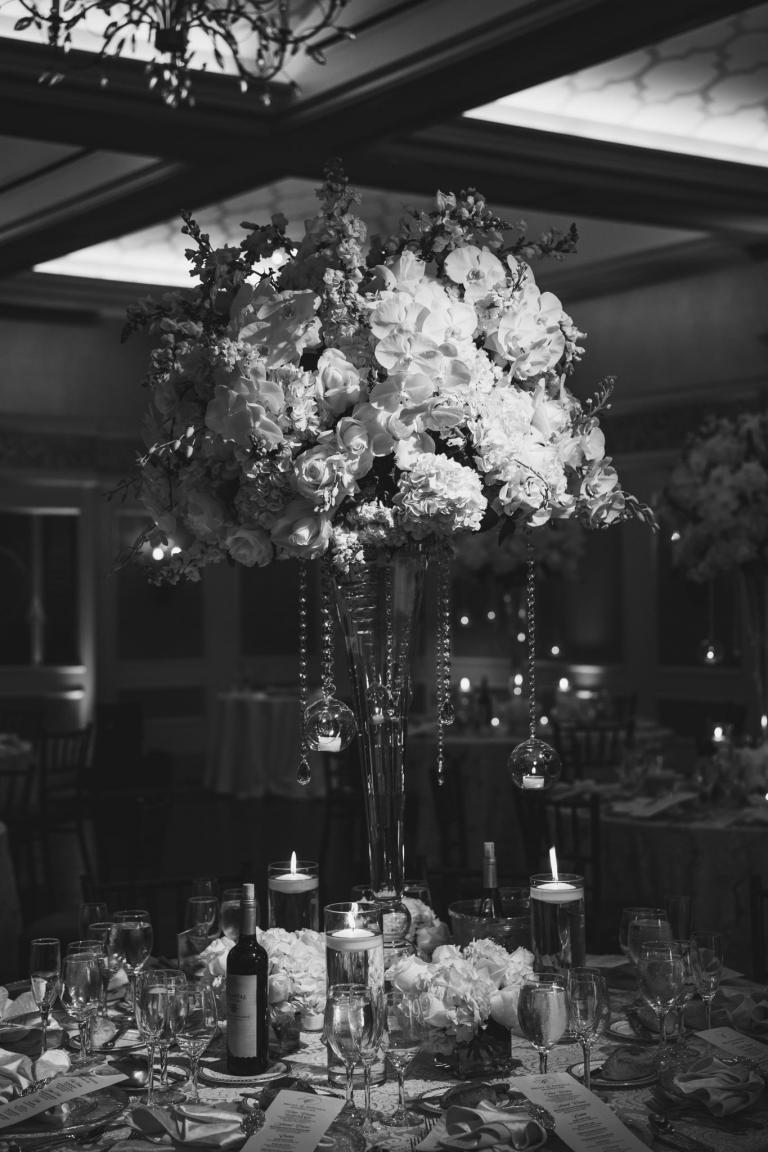 How did you choose your location?

We knew from the beginning we wanted to have a traditional church and indoor reception-style wedding. We visited about a dozen venues all over Long Island. The venue we chose for our reception is located on the North Shore of Long Island, where most of our friends and family live. The venue felt like a Mediterranean holiday. It is warm and inviting with high ceilings, new wooden floors, and beautiful chandeliers. The outdoor garden was full of lush flowers and water fountains — the perfect spot for a photo op!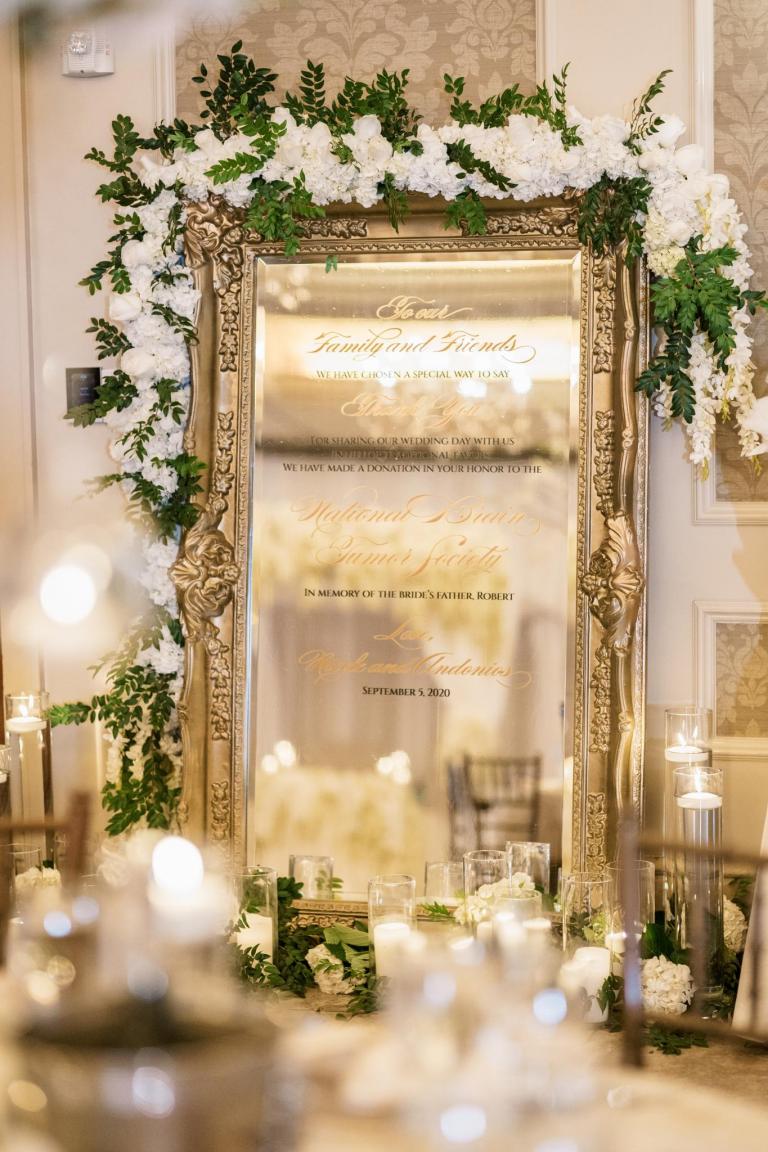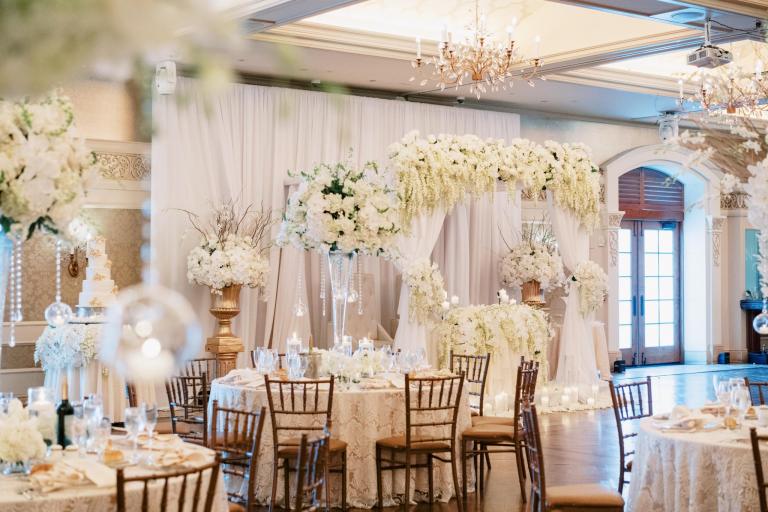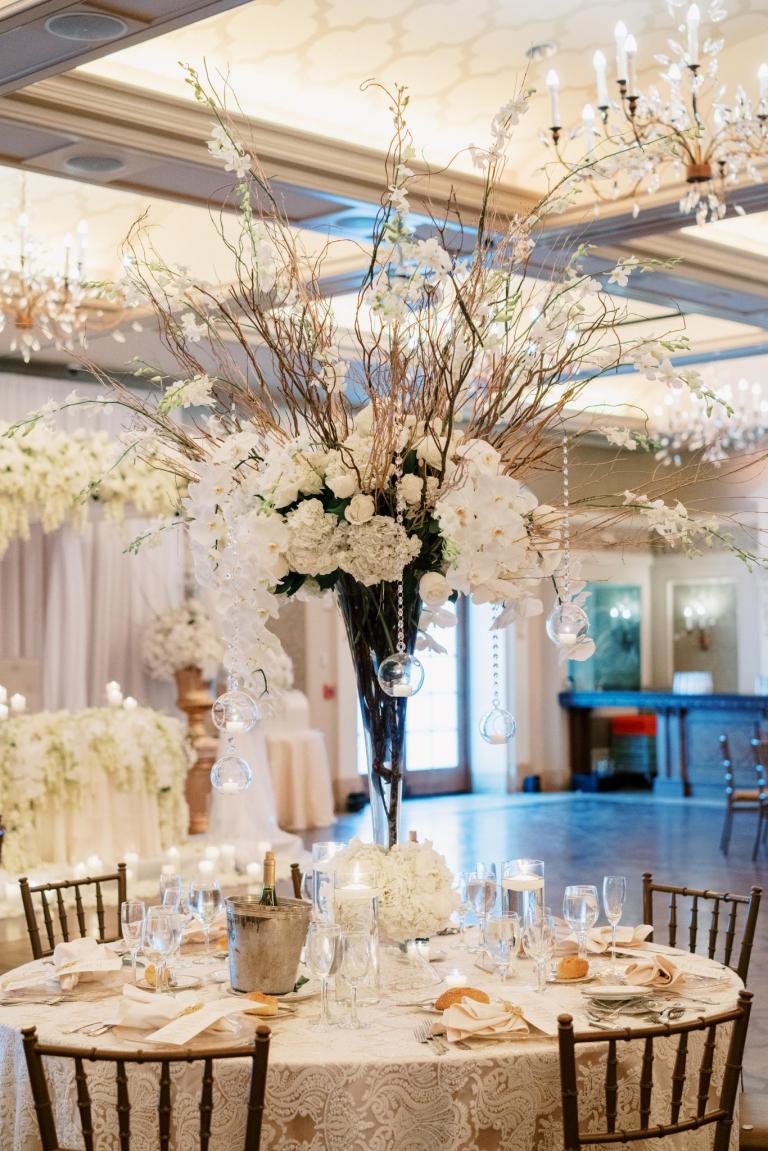 What was the most important thing for you and your husband when re-planning your wedding?

The most important thing for us was being able to still have our closest friends and family wherever the venue was. We started to look at outdoor venues as a plan B and many of the locations were too far. We finally decided to go with our original venue, so our guests didn't have to travel on top of all the other concerns they were faced with during the pandemic. We wanted to accommodate everyone and make them feel safe. The patio space off of our dining area was a great addition. This allowed our guests the option to be outside and still feel a part of the evening. We ended up with the best of both worlds.
How many guests did you have? Were your family able to make it to your small event?

We had 50 guests. Yes, our closest friends and family were there to celebrate our special day.
Are you planning on having another bigger celebration when you are able to?

No, we are not having another celebration. We had the most perfect day.
Looking back, would you have rather had the original wedding you planned or the smaller ceremony you ended up having?

We basically had the original wedding we initially planned, but with a much smaller capacity. We were saddened that we had to cut the guest list short, but it turned out to be a magnificent day.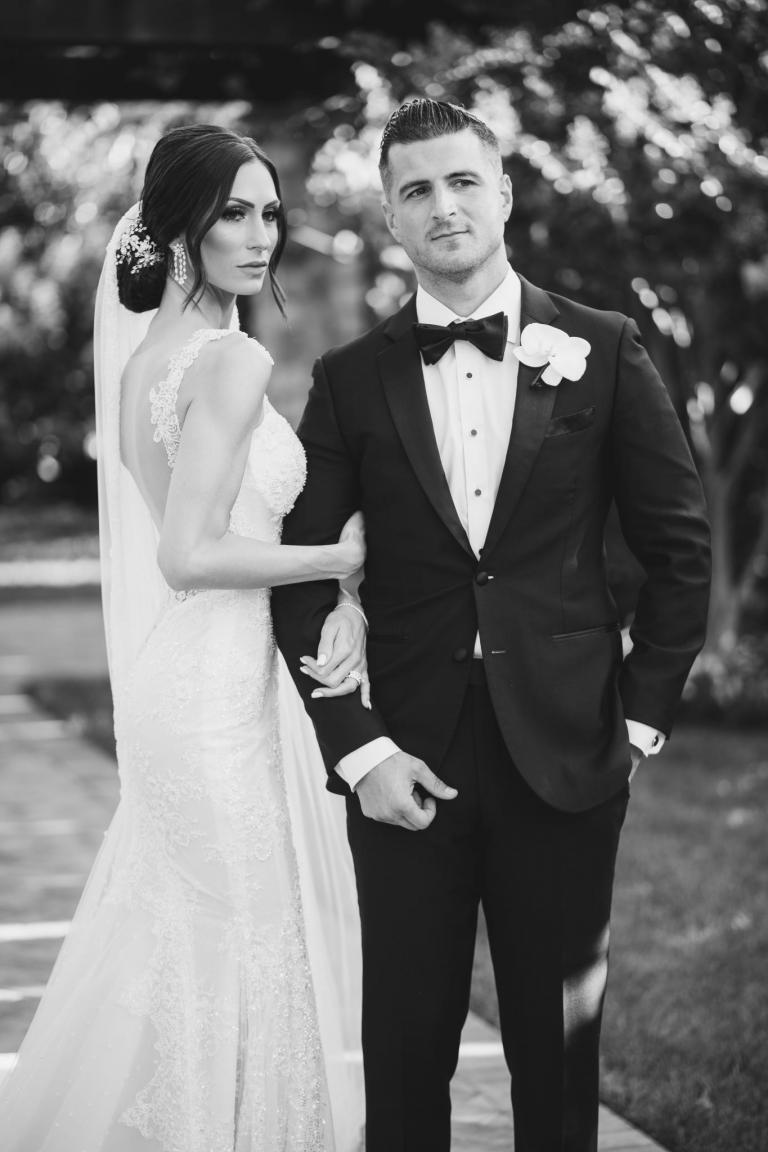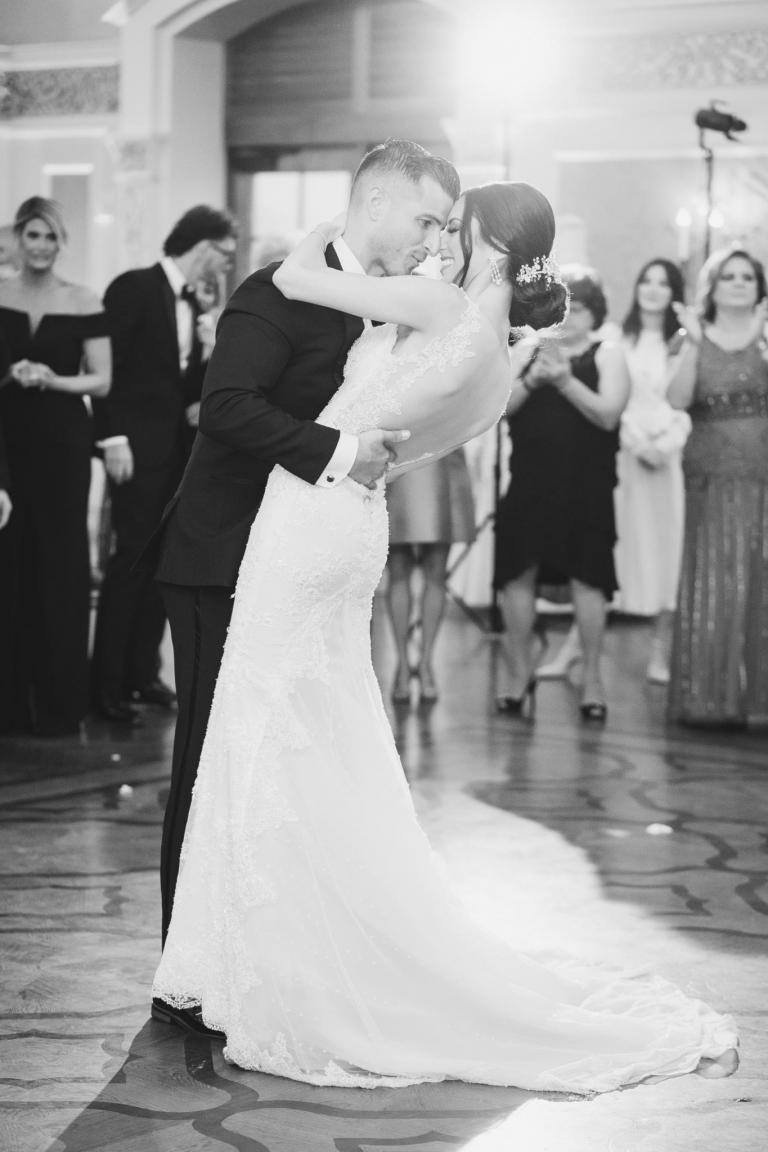 How did you find your perfect dress?

Prior to trying anything on, I searched for the perfect dress online. My eye kept going back to the same designer, Galia Lahav. Many of her designs are avant-garde, which I absolutely love. My family and I showed up at Bridal Reflections in NYC. I did try on some ball gown styles, whimsical, flowing dresses, and regal A-line dresses, then I found "the one!" I thought this tight-fitted style was elegant, modern, and very high fashion — like something I would see in Vogue Magazine. I knew I wanted straps so I wouldn't have to worry about the dress moving all night. I loved the low back. It was so form-fitting and lightweight, I didn't feel constricted in it at all. The v-neckline had mesh covering which gave the look the perfect balance between sexy and sophisticated. The Galia Lahav veil and headpiece by Christie Lauren was the piece de resistance. The whole look was just stunning. My vision exactly!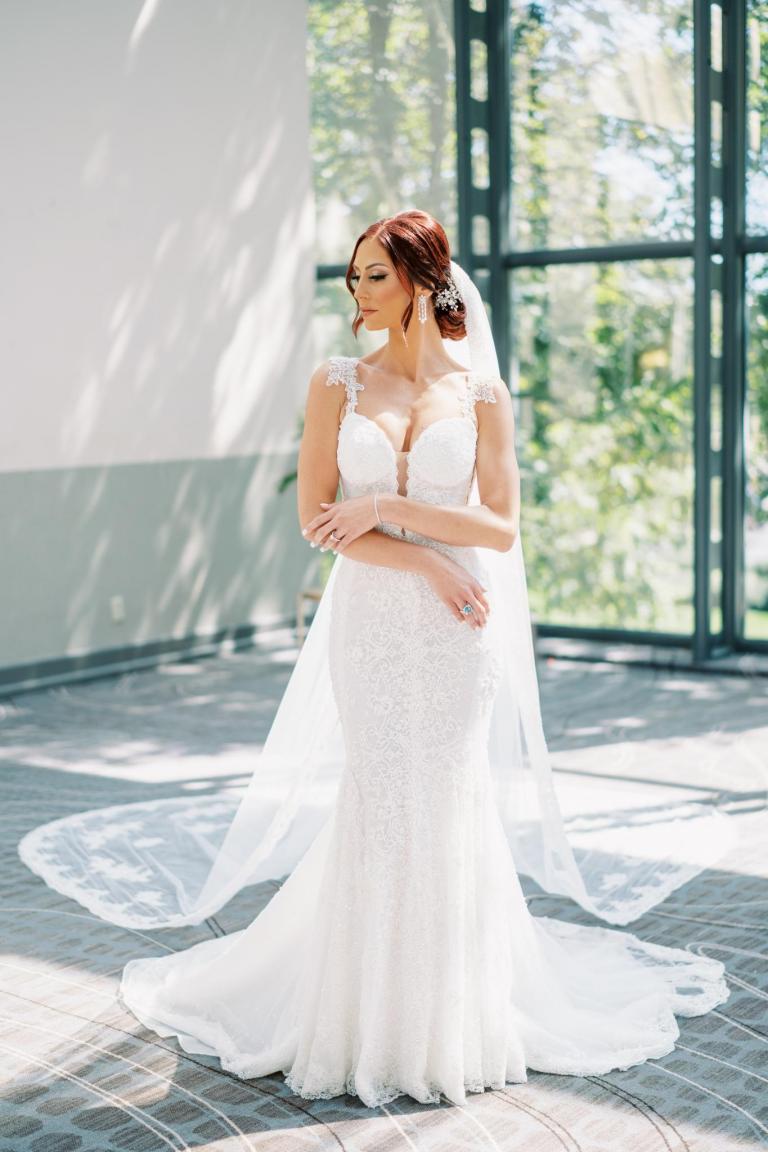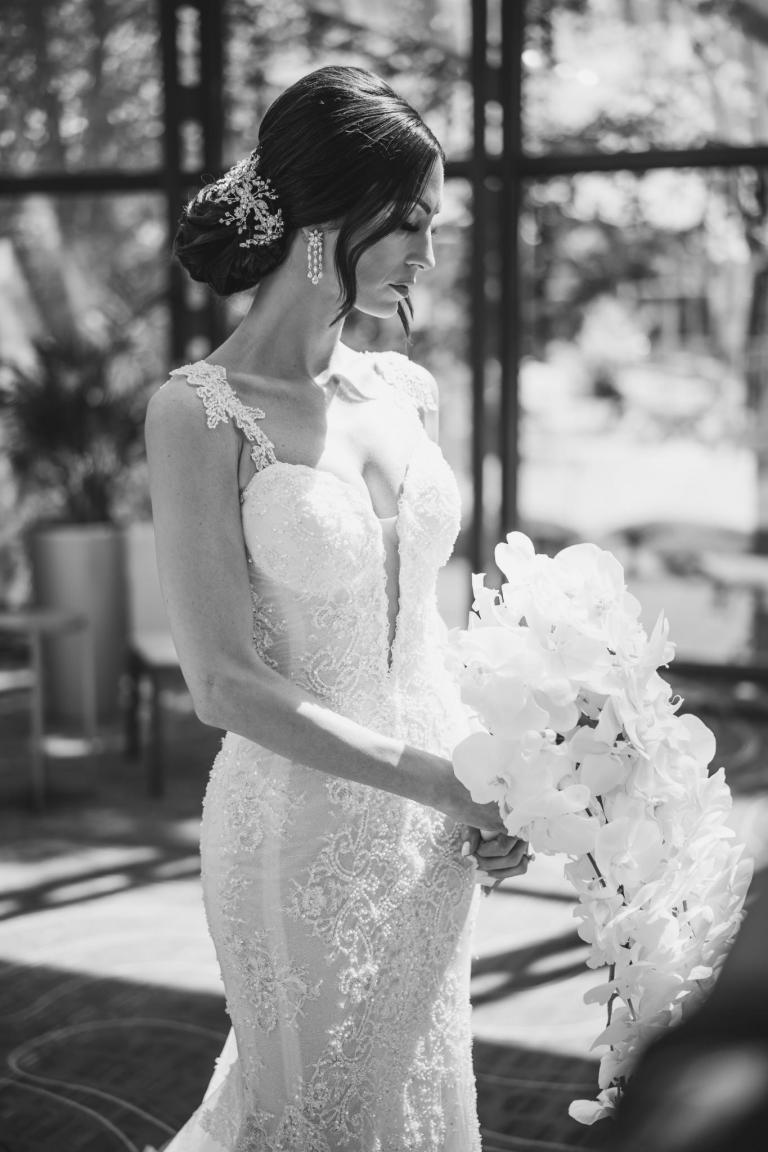 How was your experience with the Galia Lahav brand?

My experience with Galia Lahav was stellar. We arrived at the Bridal Reflections showroom in NYC and were immediately greeted by my stylist, Mary Jo. Of course, my family and I were awestruck by all of the beautiful gowns. The showroom was decadent. I felt like I was debuting to be on the red carpet. It was my first and last stop. We put a deposit down that day and they ordered my gown. My stylist periodically checked in with me and even more so after the pandemic. She reassured me that my dress would be here, which put me at ease. Everyone I dealt with was professional and timely, which made this one of the most effortless parts of my wedding planning experience.
What was your first wedding song?

"Say You Won't Let Go" by James Arthur and Camila Cabello.
What advice would you give to brides during corona that are having the same experience as yours?

Do whatever you feel is right for you, but also consider the people working for you and the friends and family attending your party.

There's no shame in having a micro-wedding. They can be just as elaborate, detailed, and luxurious.

Try setting aside the fact that it's during a pandemic by focusing on the journey, not the destination. As they say, it's supposed to be the most special time of your life — so enjoy it!
What moment from your wedding will you never forget?

The moment I'll never forget was our first dance as husband and wife. It hit me like, "This is it!" It was just such an emotional moment. I felt proud and happy to celebrate that, after so much deliberation during the pandemic, with the people who rooted us on through all of the ups and downs. I'm honored to be Mrs. Constantatos!
Finish your registration for {City} Trunk Show