FREE SHIPPING & RETURNS WORLDWIDE!

DUTIES & TAXES COVERED WORLDWIDE
Find your nearest boutique
Our GL Bride of the week is the stunning Lauren Trainer, who married her longtime friend and fiancé in our GALA 104 gown. Lauren and her fiancé held a dreamy fairytale wedding in Ayrshire Scottland surrounded by friends and family. In the following interview, Lauren shares with us the details behind her special day and the moment she fell in love with the GALA 104. As told by Lauren:
How did you meet your husband? Tell us a little bit about your relationship.

I met my husband John 11 years ago through a mutual friend in Glasgow.We have been together for 11 years and live together in Sheffield where my husband plays football for premier league team Sheffield United. We have 2 amazing boys Hudson 6 Ari 3 and they both keep us on our toes on a daily basis.
How did he propose?

John proposed in our favourite holiday destination in Dubai he proposed to me with a ring he had first bought me the very first time we had been in Dubai and was kind enough to let me pick and design my own engagement ring the day after with a jewellers in Dubai.
How did you start planning your wedding? What were the first steps?

I planned my wedding in 10 months, with my husband's job he only has June off for holidays so we had to have a June wedding so when we arrived back from Dubai it was all going with the planning we knew we wanted to do it quickly and not wait around. My first step was calling the lady who helped me plan my wedding decor Jordan Patrick at Jordana events she advised me on venues etc as well she was a great help to me over the 10 months I couldn't thank her enough.
Did you do any beauty or fitness prep for your big day?

I had regular facials every 4 weeks and tried to work out at least 3 – 4 times a week
What was your wedding theme?

When I picked my wedding dress we decided to go with the theme around my dress
Romantic I choose the gala 104 it was my dream dress.
How did you choose your location?

I got married at trump turnberry hotel in Ayrshire in the Donald trump ballroom the room itself it's breathtaking and had the most amazing chandeliers you'll ever see it's a real fairytale room.
How did you decide on your bridesmaid style?

I wanted the bridesmaids dresses to be plain but still glam as I had some tulle on my dress with the bows so we had some tulle on the dresses with bows at the back for the girls.
How did you find your perfect dress?

I found my perfect dress at the Galia trunk show in London I attended the trunk show in August last year at browns bride and got to meet Sharon. I had seen the dress on the Instagram page and was so excited when I saw it in the shop. Sharon was lovely and soon as I had tried the dress on he said that's the one when I looked at my mum and saw she was crying then I knew it was the one. It came with a matching veil which was ideal also as I didn't have the stress of finding one that went with the dress. It was perfect very simple and light and had the embroidered flowers going round the bottom to compliment the long train of the dress.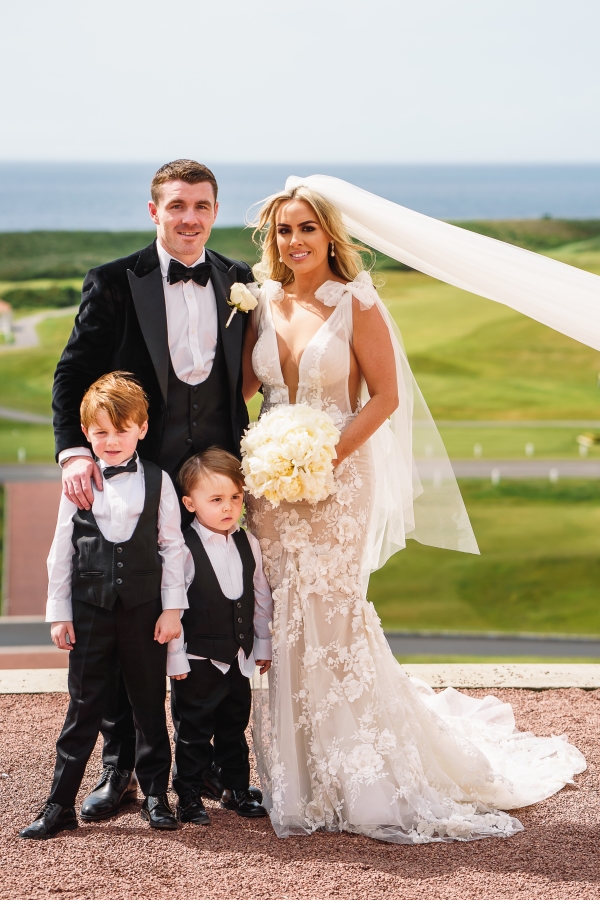 How was your experience with the Galia Lahav brand?

My experience with Galia has been fantastic. Sharon was so lovely and took my measurements himself in the shop the day I ordered my dress when it arrived in the shop I fell in love with it all over again and couldn't wait to wear it. Galia dresses are definitely my favourite wedding dresses the detail is second to none and I was so glad I had picked the Galia design after visiting a few shops and not fallen in love with any the pieces. I was so happy with my dress I wish I could wear it again I suppose I need to have a daughter now to pass it down to.
What was the most important thing for you and your husband when planning your wedding?

My husband would say the food. But deep down for both of us we wanted it to be a day to remember for the guests and us especially and that it was everything went to plan it couldn't of gone any better it was my dream day and one of the best days of my life.
What was your first wedding song?

Paolo Nutini better man. it's my husbands favourite song I can still remember the day he voice noted it to me back in 2014 just after our first child Hudson was born I cried then and still cry every time I hear it. It's a special song to us both.
What did you enjoy the most about planning your wedding?

I loved planning the decor with jordana as soon as she saw my dress she set the theme around it. She got special linen made for the tables matching the flowers on my dress
What advice would you give to all our future brides?

Do not stress and take it all in. Enjoy the planning stage as it honestly goes by so fast you do all the planning for one day and it goes by in a flash.
What moment from your wedding will you never forget?

The fireworks. I was born in November 5th soo guy Fawkes night in the uk is big its my favourite night of the year so my husband made sure we had a big display at the end of the evening.
Finish your registration for {City} Trunk Show