FREE SHIPPING & RETURNS WORLDWIDE!

DUTIES & TAXES COVERED WORLDWIDE
Find your nearest boutique
Our #GLBride of the week is the stunning Lauren Arcoleo, who walked down the aisle of her beachside wedding in our Gala 104. Surrounded by breathtaking ocean views, Lauren and her fiancé Issac held their whimsical garden-themed nuptials at the Hotel Casa Del Mar in Santa Monica. In the following interview, Lauren shares with us the details of her dream Californian wedding and how she found the perfect GL dress to match. As told by Lauren: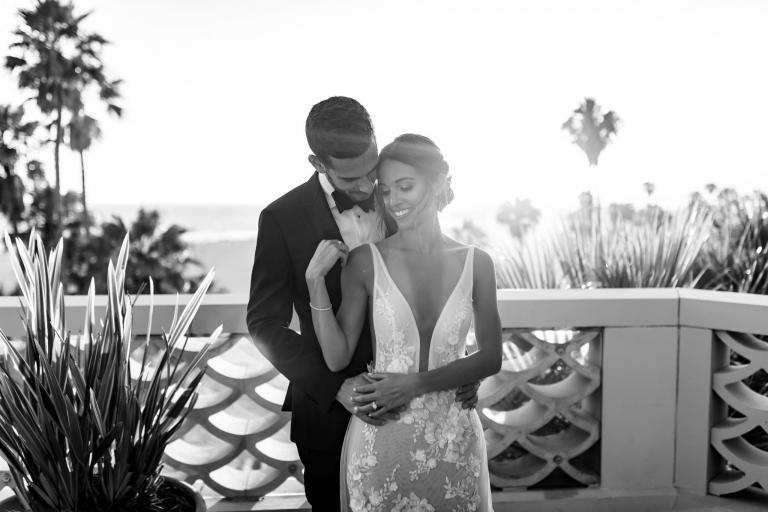 How did you meet your husband? Tell us a little bit about your relationship.

Isaac and I met at the University of Florida at a fraternity party.  At first, we started off as friends, he would pick me up for class every day on his super cool blue Vespa and we'd drink five-dollar buckets at Swamp, the local bar.  But as we started to spend more and more time together, we started to fall in love. After college, Isaac moved to LA and I moved to New York, but we FaceTimed everyday and maintained a long-distance relationship for three and a half years until we finally moved in together in Santa Monica.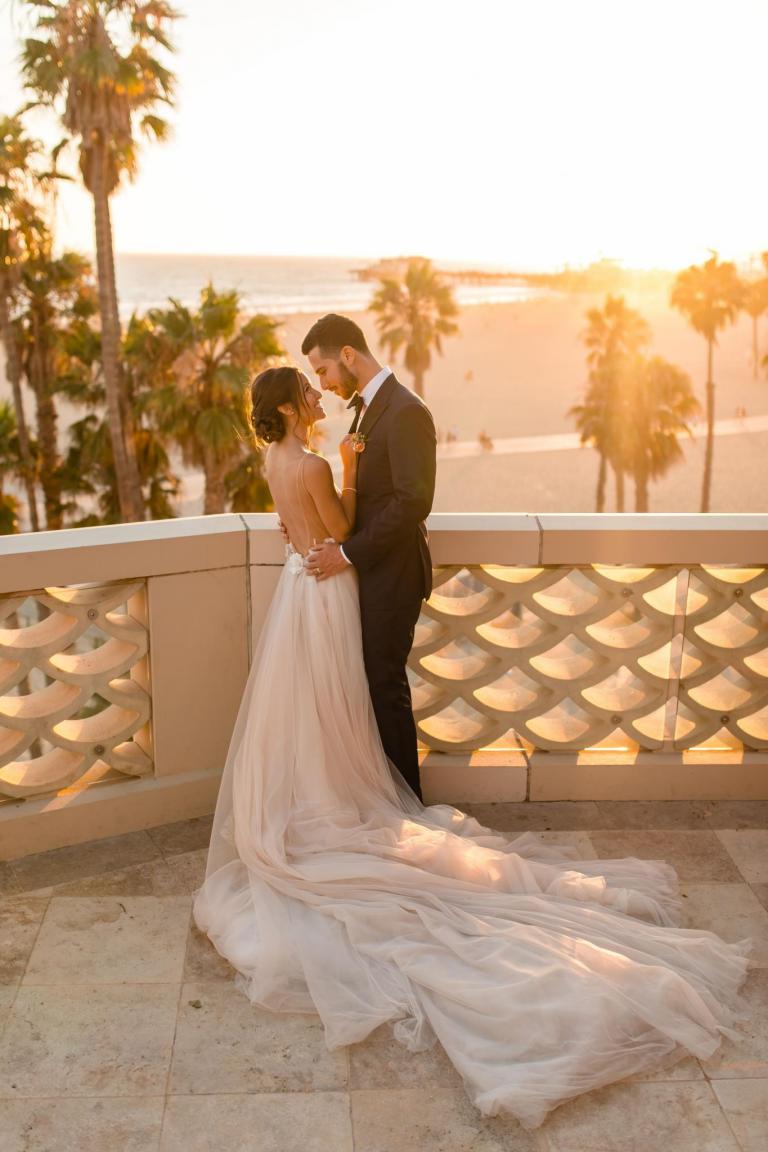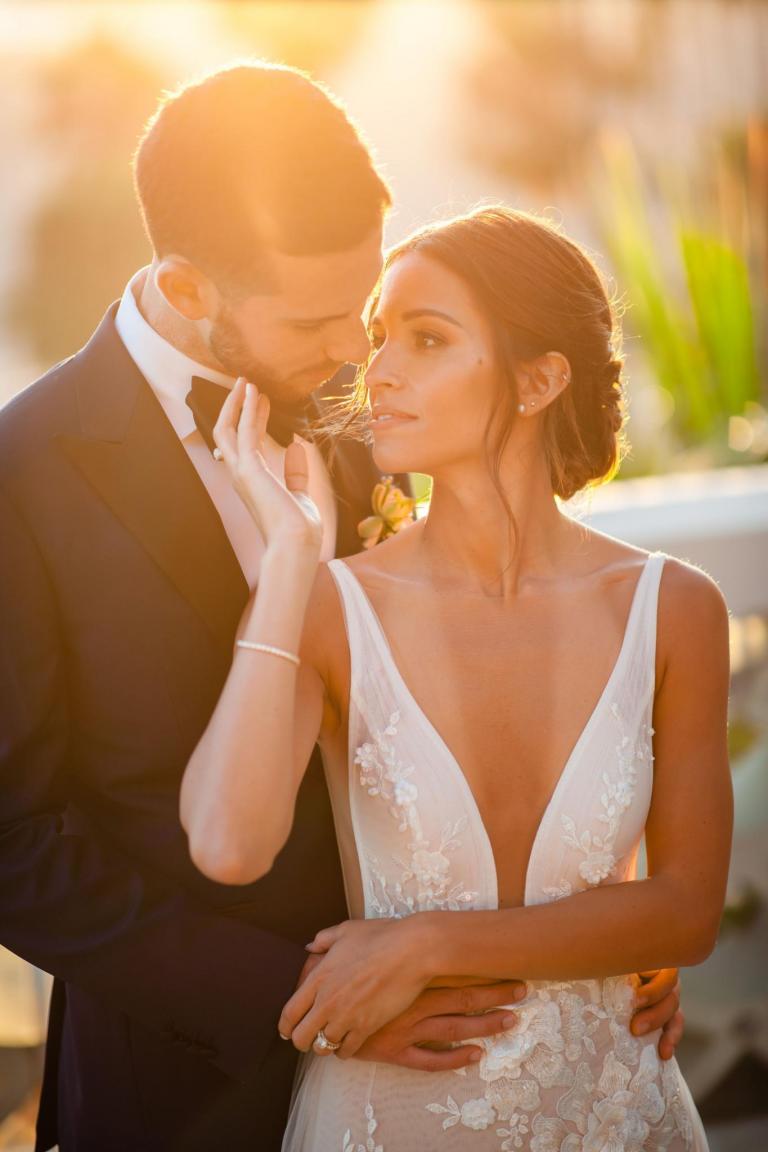 How did he propose?

We were visiting my family in New York for Christmas.  One night we had plans to go to dinner by Central Park but before we got to the restaurant, the cab pulled over by the reservoir where Isaac got down on one knee.  Then my brother, who is a photographer, jumped out of the bushes to surprise me – he had been taking photos of the whole thing. After that, we went to dinner with both of our families, and then to a nearby bar where our friends were waiting to celebrate with us!
How did you start planning your wedding? What were the first steps?

First, we had to choose a location and a venue.  We went back and forth trying to figure out where to get married for a while, but we landed on Hotel Casa Del Mar in Santa Monica.  We wanted the wedding to really represent "us" and since we live nearby and spend so many of our weekends at the beach, we thought it would be the perfect place.
Did you do any beauty or fitness prep for your big day?

I am a member of Platefit in Brentwood so I just did my usual routine.  I also booked a class for my bridesmaids the day before the wedding so we could all work out together!
What was your wedding theme?

I had envisioned a whimsical garden with a beach backdrop.  We used bright and bold colors like pinks, oranges, and blues, as well as different textures including driftwood, succulents, and pampas grass.
How did you decide on your bridesmaid style?

My bridesmaids wore a light blue tulle dress that could be worn in multiple ways.  I thought it would be fun for each girl to put their personal style on the dress, and the tulle fabric added to our whimsical garden theme because of how flowy and airy it was.  Most importantly I wanted it to be comfortable so they could dance and have the best time!
How did you find your perfect dress?

I started my wedding dress research on Instagram.  I had my "dream dress" pinned down, but when I went to try it on, I knew it wasn't right.  I went to ten different boutiques, still looking for something that I couldn't seem to find.  One of my good friends wore a Galia Lahav dress at her wedding and sent me one of their new designs on Instagram.  I went to the Galia Lahav flagship in Los Angeles, tried on the dress, and immediately fell in love.
How was your experience with the Galia Lahav brand?

I felt incredibly comfortable in what can be an overwhelming and exhausting experience.  I loved that I was able to pair a GALA dress with the couture skirt. It made it feel like I was able to customize my own look without having to build a dress from scratch.  With every fitting, I felt at home and even though I had requested two alterations the week of my wedding, they were able to accommodate me without a problem.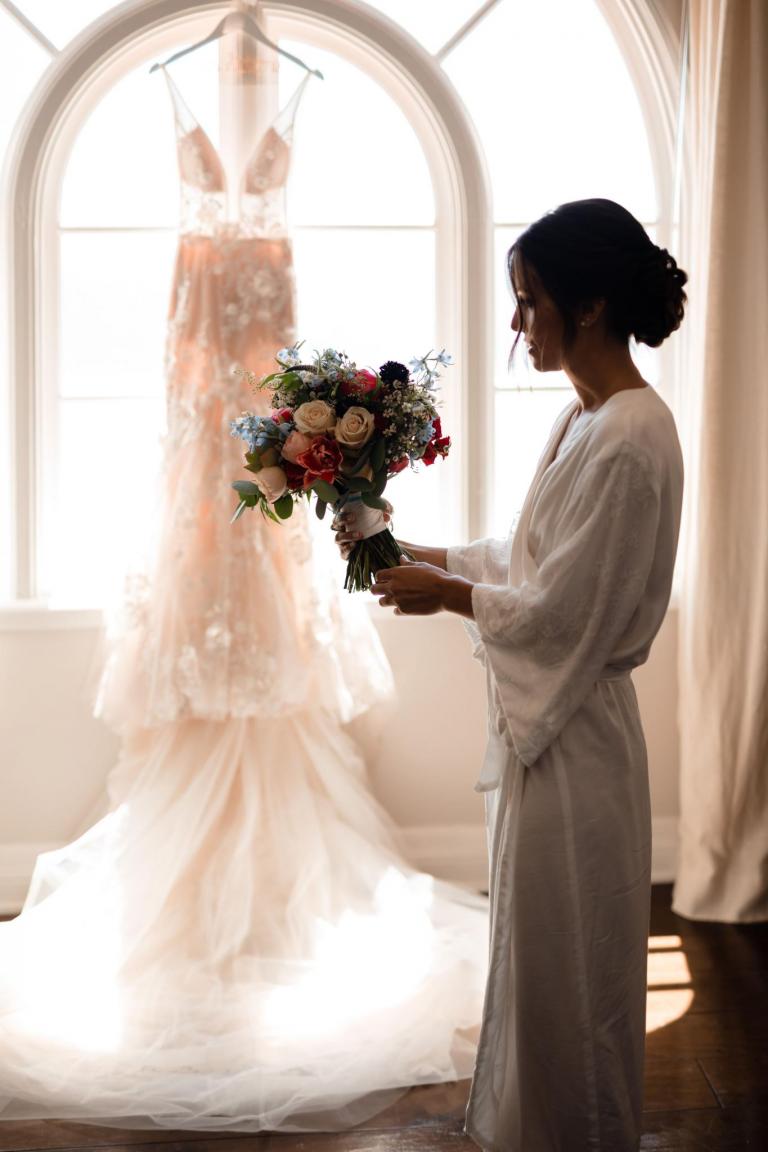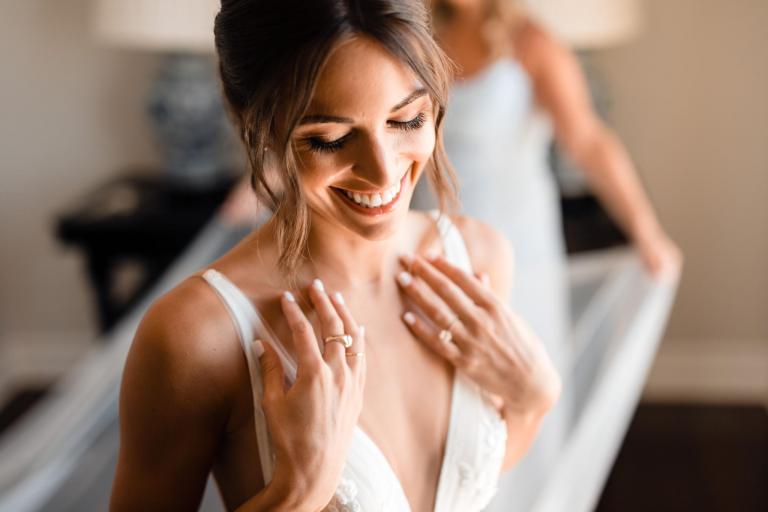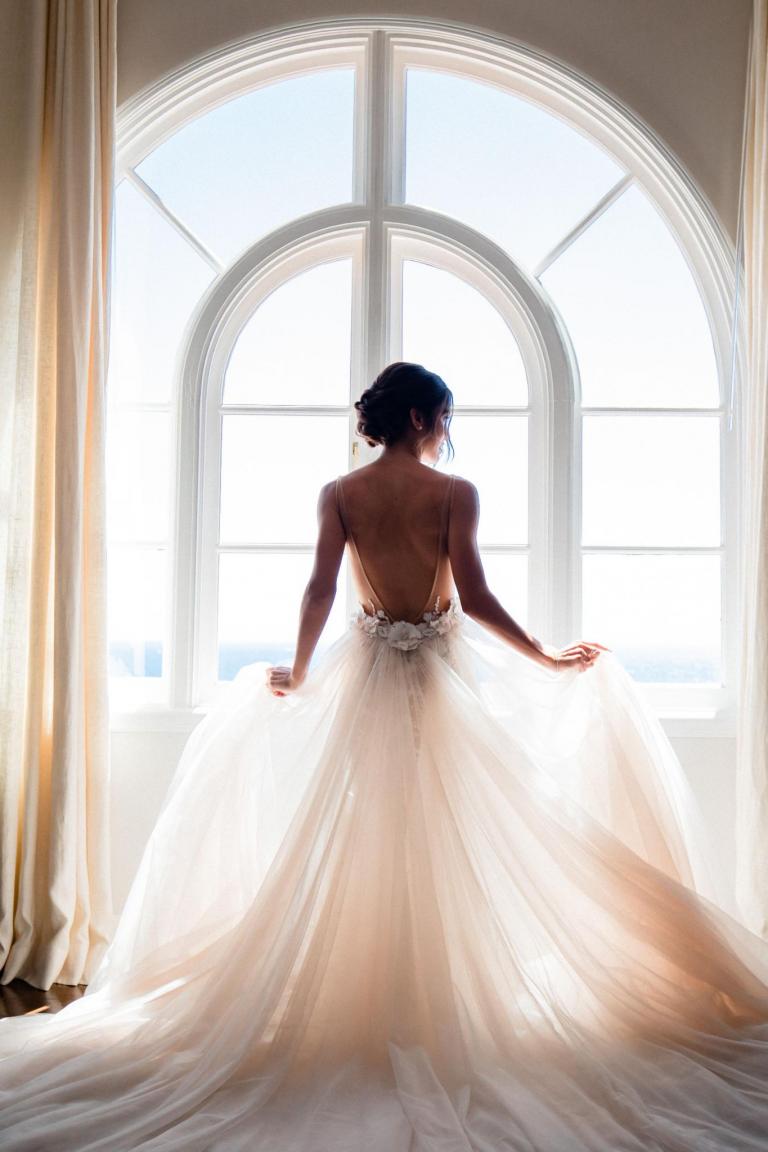 What was the most important thing for you and your husband when planning your wedding?

We wanted the people closest to us to feel like they were a big part of our big day, so we made sure to plan different aspects including them all.  For instance, my brother drove my one-year-old nephew down the aisle in an electric convertible car with the rings, and I and a few of my friends did a surprise live performance of my late father's favorite song, Take it Easy, by the Eagles.  Those types of things made our wedding so special, not only to us but to everyone we love.
What was your first wedding song?
What did you enjoy the most about planning your wedding?

It was stressful, exhausting, expensive, and overwhelming… but it brought us so much closer together!  We spent countless nights and weekends talking and laughing and drinking and picking out flowers and songs and outfits that we got to watch all of our friends and family enjoy and celebrate our love.  It was an incredibly rewarding and bonding experience!
What advice would you give to all our future brides?

Enjoy the process of planning!  When the day arrives and you get to see it all come together, you'll appreciate all the time and energy you put in to make it so specifically your own day!
What moment from your wedding will you never forget?

Our first look!  My dress was the only part of the entire wedding we didn't plan together and I was looking forward to surprising Isaac with the dress I spent so much time looking for.  He loved it!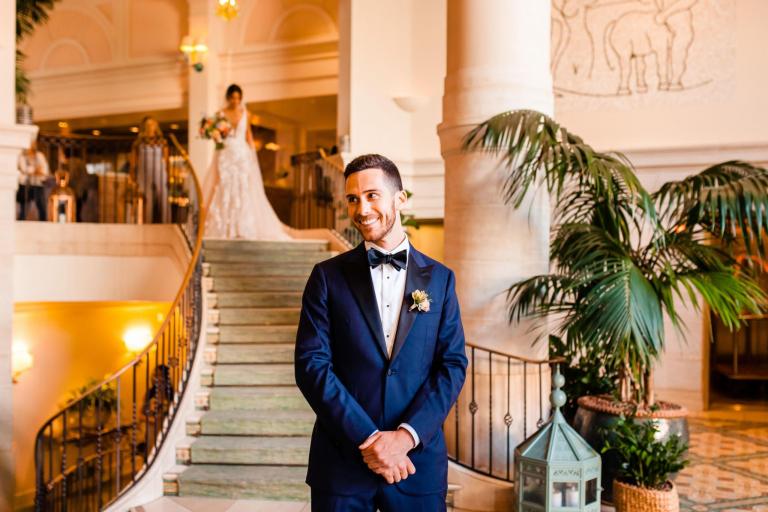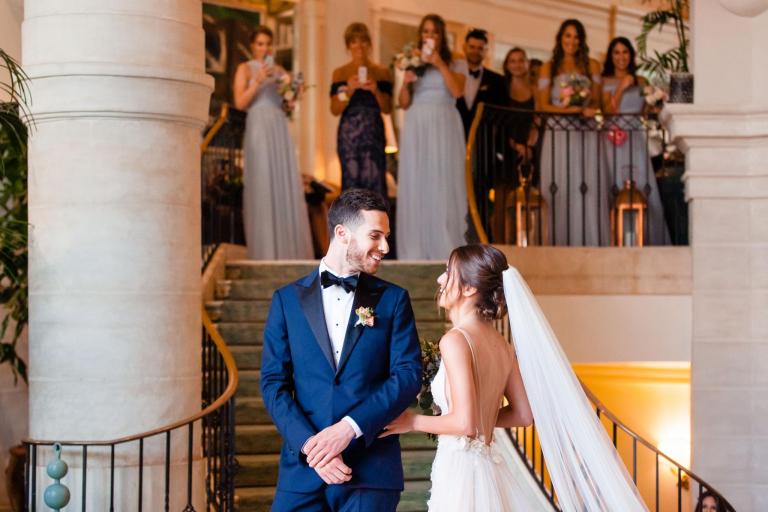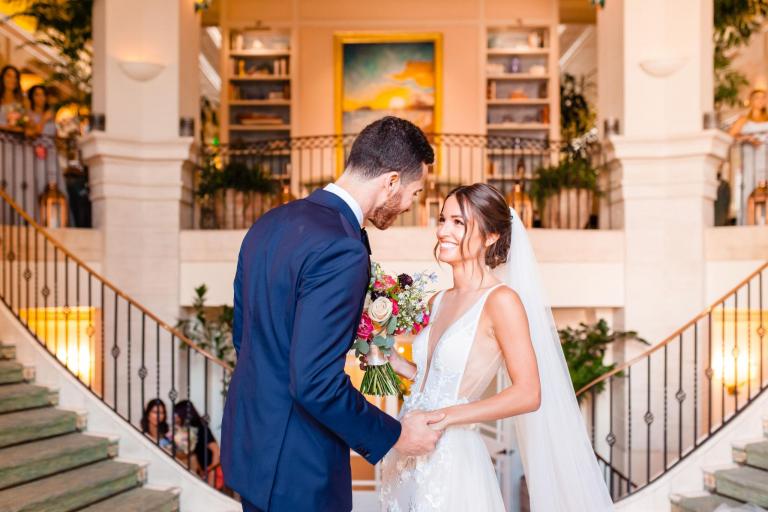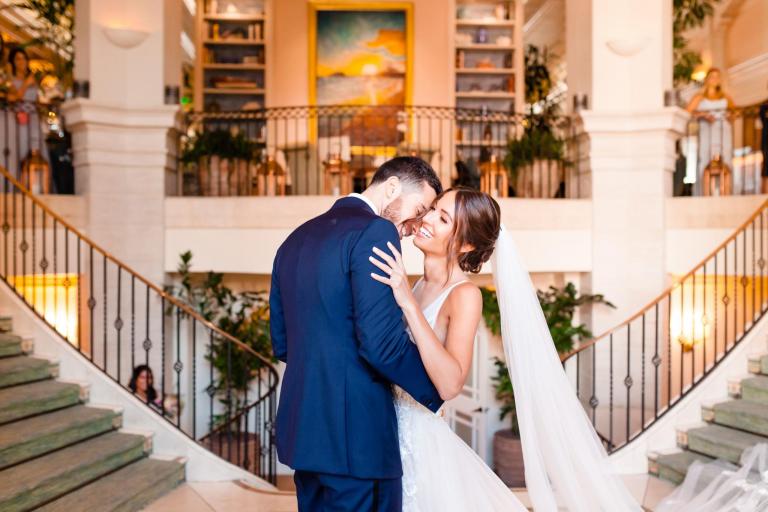 Beauty
Makeup & Hair Stylist/Salon Name:  Meg O'Hare Beauty
Bridesmaid Gowns
Brand's Name:  Jenny Yoo | BHLDN
Cake
Company Name:  Vanilla Bake Shop
Catering
Name:  Hotel Casa Del Mar
Consulting
*** Month-Of Planner ***
Name: Lindsay Newby @ Tessa Lyn Events
Company Phone Email/Website: tessa@tessa.com& lindsay.newby@gmail.com// 213-842-2788
Social Media Handles (Facebook/Twitter/Instagram): IG: @tessalynevents
Entertainment (Music)
Ceremony & Reception
Name: LivEnt Group
Company Phone Email/Website: liventgroup.com // 310-699-9825// Info@liventgroup.com
Favors
Custom Candles from RX Candles
Floral Design
Company Name: Lilla Bello
Invitations
Company Name: Minted
Jewelry
Engagement RingDesigner/Jeweler:Inta Gems
Bride's Wedding Band Designer/Jeweler: Inta Gems
Bride's Day-Of Jewelry Designer:  Ina Gems (tennis bracelet)
Groom's Wedding Band Designer/Jeweler: Inta Gems
Lighting Design
Company Name: LivEnt Group liventgroup.com
Linens
Company Name:  BBJ Linen
Photography
Name: Marlies Hartmann – M. Hart Photography
Photobooth
Name: Hashtag Photobooth
Rehearsal Dinner
Location Name:  2000 Main Events
Company Phone Number/Email: stellabarraparties@leye.com
Rentals (furniture & tabletop)
Company Name: Luna Party Rentals
Company Phone Email/Website: info@lunapartyrentals.com// 562-474-8222
Shoes
Brand: Sophia Webster
customerservice@sophiawebster.com
Venue(s)
Ceremony 
Property Name: Hotel Casa Del Mar
Reception 
Property Name: Hotel Casa Del Mar
Videography
Company Name:  White Rose Productions
Finish your registration for {City} Trunk Show