FREE SHIPPING & RETURNS WORLDWIDE!

DUTIES & TAXES COVERED WORLDWIDE
Find your nearest boutique
Aylin Koenig looked incredible in her Gia gown for her marriage to Tobias Freund last month.
As a fashion and lifestyle blogger, Aylin travels the world looking for inspiration. Her dress is unmatched in beauty and detail, featuring a semi-sheer ballgown skirt and ribbed bodice with dozens of floral appliques. It's one of those dresses that lasts centuries and never ages in taste. A bit risqué, but nonetheless classy and ethereal. We recently sat down to talk with Aylin about the planning process and how she chose her dress – read ahead.
Tell us about how you two met and how you knew Tobias was the man you would marry.
Aylin: We met 10 years ago at a sports club – the tennis club to be precise. Back then we played in the particular teams, Tobias in the men's and me in the women's team. Then in summer of 2008 Tobias approached me and asked whether I wanted to play a mixed double. Even though I already had a partner for the match, I decided to play with him. Afterward, we ended up playing in our private life too. Even when we were young in a new city and had to live on little money, I knew that I could always rely on him. He always offered support and helped me grow as a person. Even though we only got married this year, I knew that he was the man that I wanted to marry for a long time.
How did he propose? Did you talk about getting married beforehand or was it a surprise?
I was proposed to on April 1st of 2017 on the Maldives. To be honest, I had been hoping that he would propose during this special holiday, but I was never 100% sure even though we had spoken about it multiple times before. He then got down on one knee in the sunset on the terrace of our villa by the water and got the ring out. He had never been as emotional before and was barely even able to say a word. But of course, I said YES straight away.
Did you start planning right away or did you have a longer engagement?
We had been engaged for 15 months. We knew that a wedding during the summer of 2017 would not work out time wise. Additionally, the summer of 2017 was very rainy in Germany, which is why we decided to celebrate the wedding in Mallorca, Spain instead. We got the confirmation in September of 2017 for our dream location and are very happy with July 7th of 2018 as our wedding day.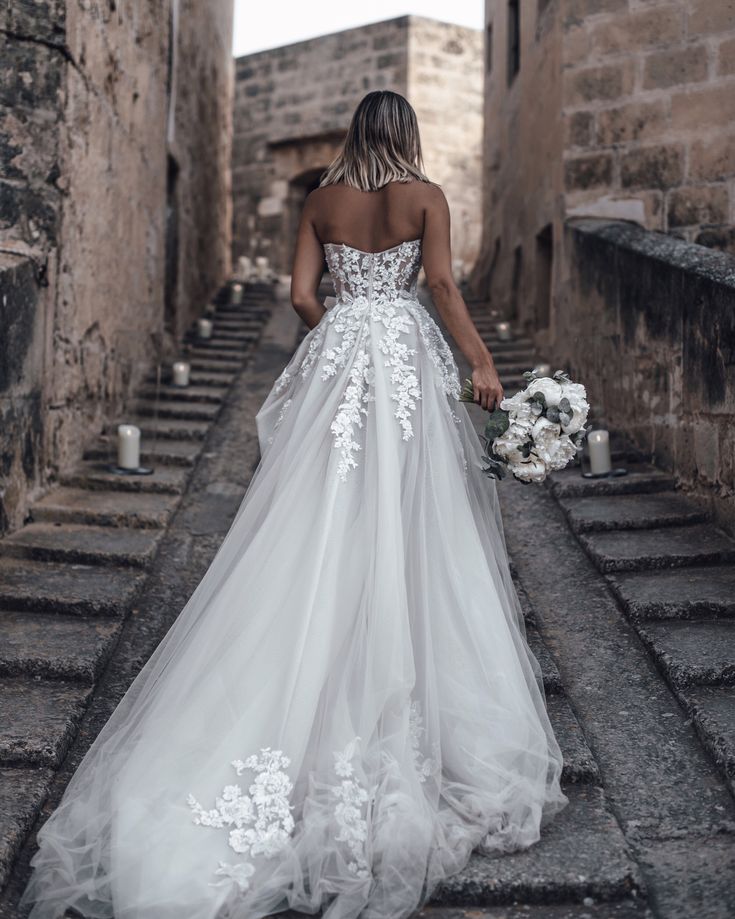 How did you decide Galia Lahav would be the perfect dress for you?
I had been looking at wedding dresses for a really long time, but I'm sure that most brides feel the same way. I had a different label in mind originally, since I didn't know that Galia Lahav had a boutique in my hometown of Hamburg. My first visit to the boutique was with my mother and bridesmaid. When I tried on the wedding dress for the first time, everyone started crying immediately and I knew right away: this was the dress!
Adding to this, when you tried on this beautiful wedding dress, did you know immediately this was the right fit for you?
I was in love with this couture wedding dress right from the start, even though I originally had a different style in mind. Overall, I tried on a number of dresses, but am very happy that I discovered Galia Lahav for me in the end. The feedback from all the wedding guests was very positive. Many said the princess wedding dress was perfect for me and were just blown away by it.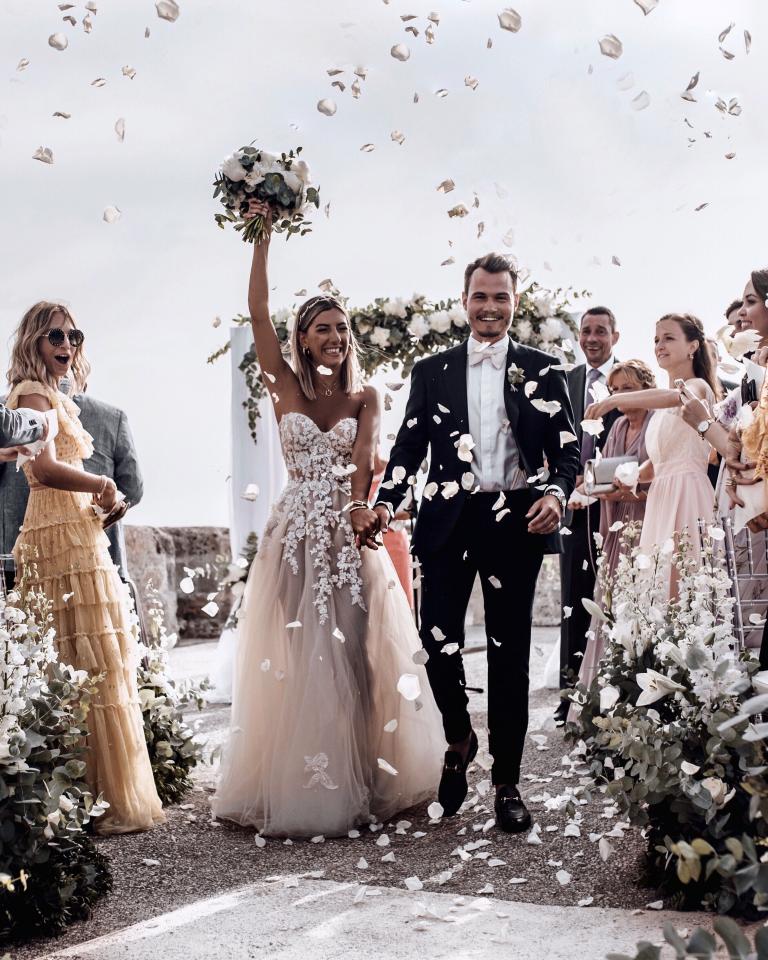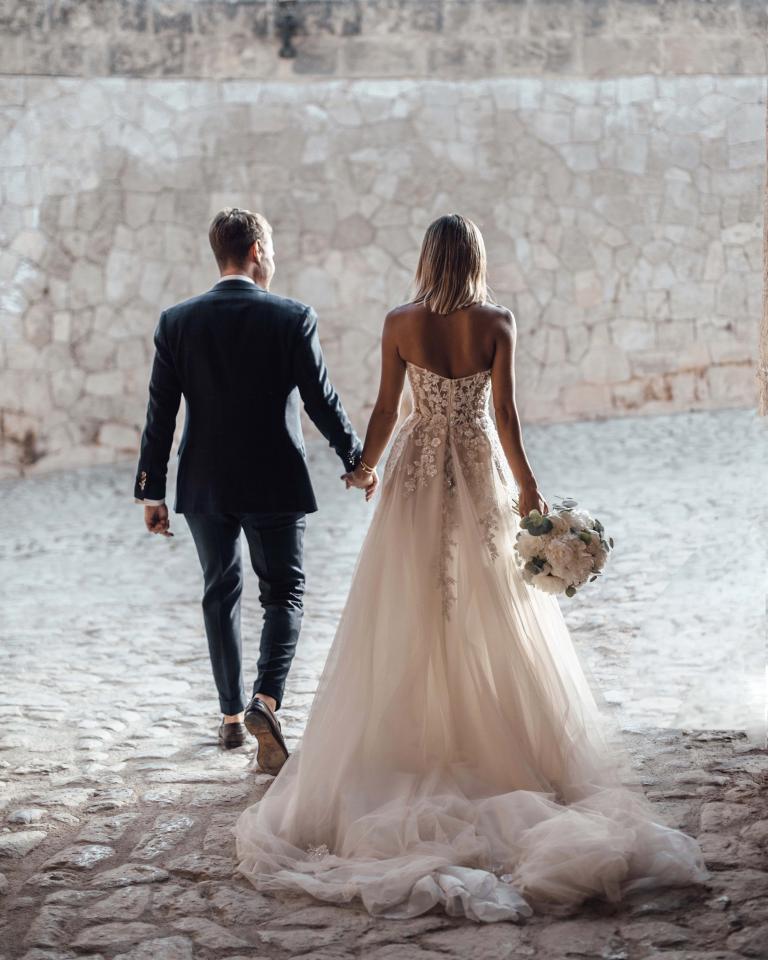 Tell us about how you felt when you walked toward your husband in the couture Galia gown?
That definitely was a very special moment. My dad walked me down the aisle to Tobias, and I tried to enjoy these few minutes, but when I heard the voice of our singer and saw him at the end of the isle, I naturally had tears in my eyes. A very special moment that probably only brides know.
Tobias – how did you feel when you first saw the dress?
I immediately had tears in my eyes too, was very emotional and just overwhelmed by the moment. Aylin looked great, all the wedding guests were happy and the location looked perfect. It was definitely one of the best moments of my life.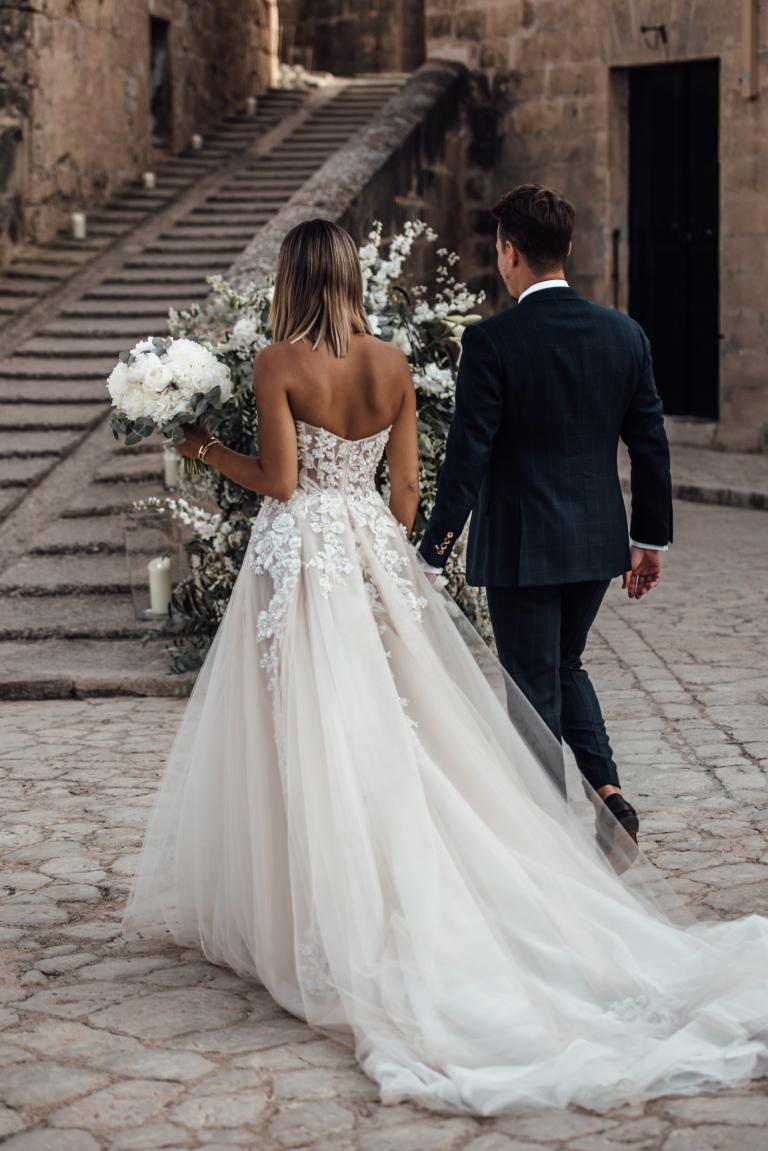 Where is the dress now? How are you storing it and maintaining it? Do you plan on giving it to your children (if you decide to have any) in the future to wear? The dress is classic and sexy, and will never go out of style like our parents' and grandparents' dresses. The dress is in our apartment. I look at it daily and love to remember that special day. I have already gotten many inquiries by followers who asked whether I want to sell or loan the dress, but that is out of the question for me. It has an honorary place in our house.
How did you decide on the color theme of your wedding?
I always loved the color white and wanted the flowers and table decorations to include many white elements. The combination with gold fits the wedding theme really well, which is why the overall picture of the wedding was dominated by those colors.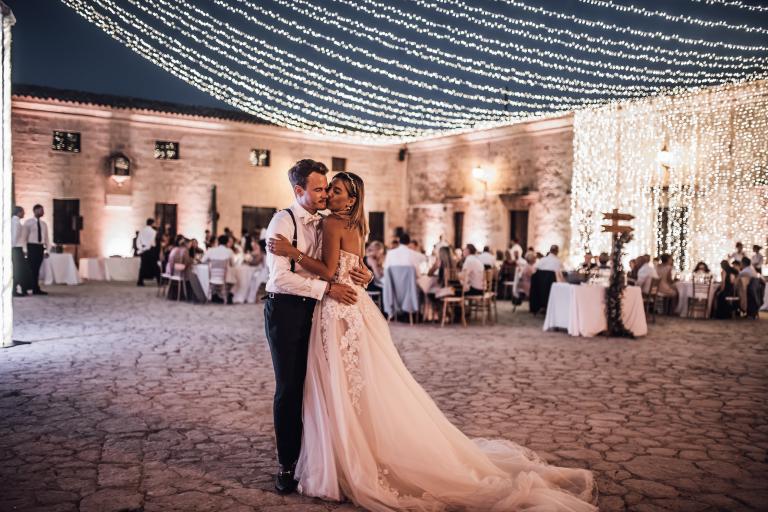 How and why did you settle on Mallorca for your wedding?
For us, it was mostly about being able to celebrate outdoors and with sunshine. Because of how much the weather changes in Germany, we chose Mallorca, since many people speak German on the island and almost any German airport flies directly to the island too. We never thought that so many wedding guests would be able to make it to Mallorca, but in the end, everyone made it a little holiday.
What are some hurdles and challenges you went through in the beginning stages of planning your wedding?
The biggest problem at first was the location. We had to wait for the confirmation for over two months since it's a very exclusive place and three other couples had inquired for the same day. When we got the confirmation we then had regular conversations and meetings with it wedding planner for everything from catering, decoration, party etc. some of the partners were easier to communicate with, others were more difficult. But since our wedding planner Katja was always there and available and speaks German, English, and Spanish fluently, we always had a good feeling.
What is the hardest part about planning a wedding?
I believe the most important thing is to stick to yourself. Tobias and I had very similar ideas on how the wedding was supposed to be, but over time there are many ideas and recommendations by friends and family that can lead to some insecurities. In the end, it is supposed to be the day of the bride and groom, and that is something to keep in mind until the end. All brides and grooms are supposed to really think about themselves. It is about being comfortable, not to dress up in something that is not you or proving anything to anyone. The fitting should happen in time, since changes are mostly necessary, which can be time-consuming. In the end, you should always stay calm, even if there are a few setbacks – the work and dedication are worth it. Definitely!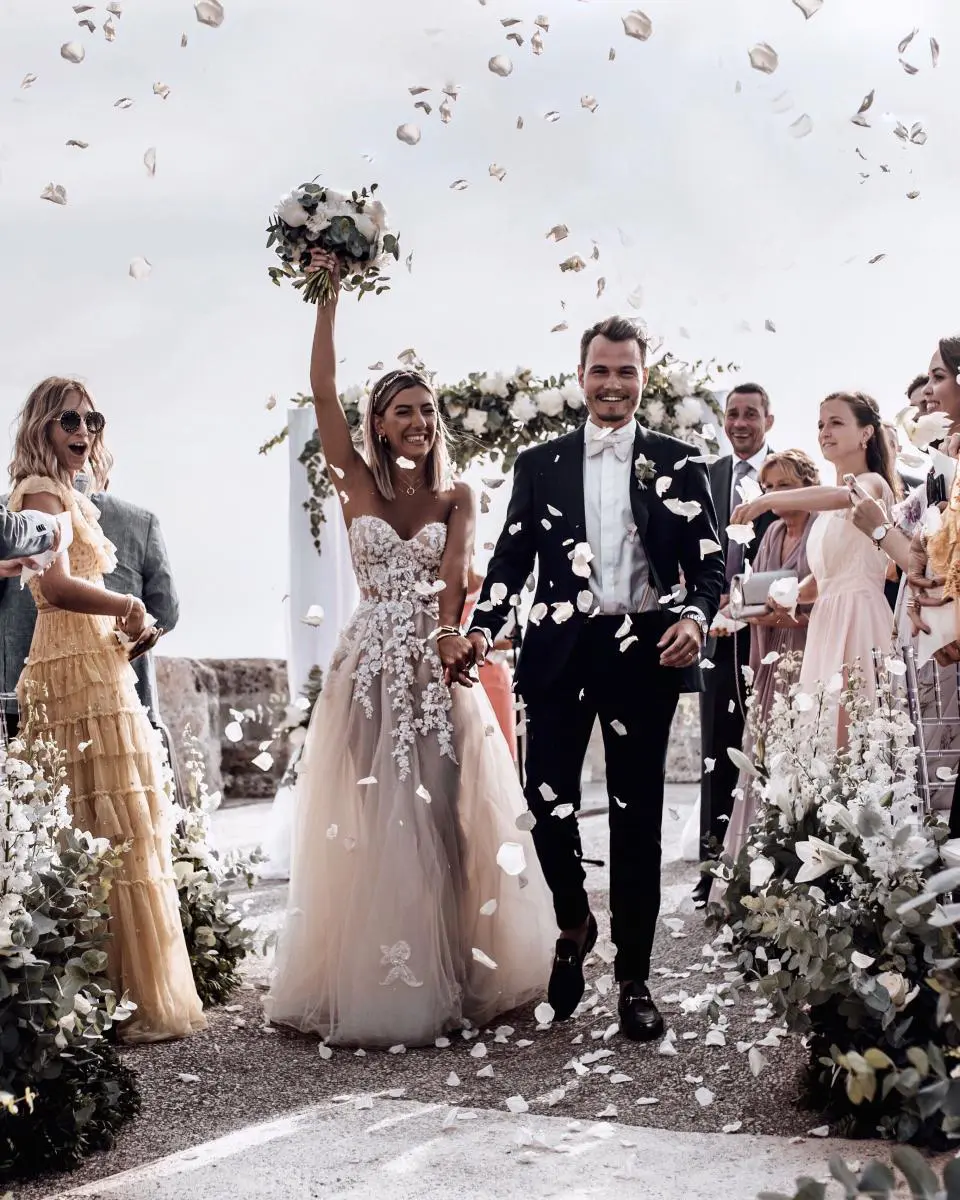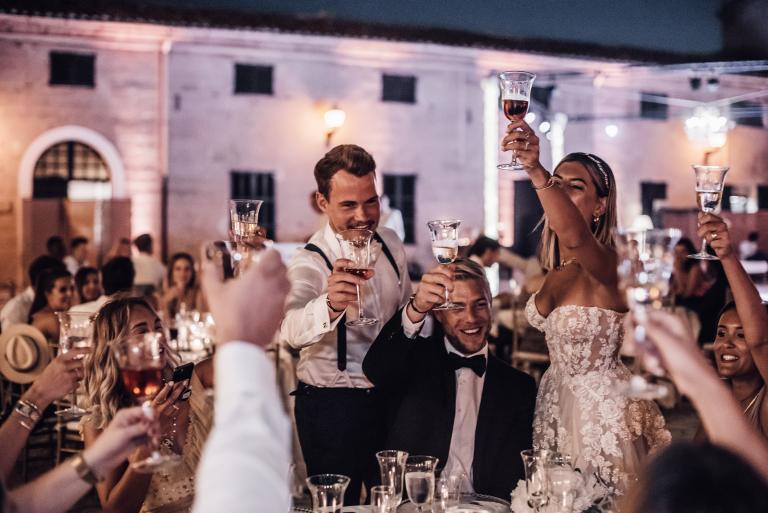 Finish your registration for {City} Trunk Show