FREE SHIPPING & RETURNS WORLDWIDE!

DUTIES & TAXES COVERED WORLDWIDE
Find your nearest boutique
Our #GLBride of the week is the gorgeous Alyssa White Mamolen, who married her one and only love, Matt in our Bella gown. The two exchanged vows and celebrated their nuptials at the scenic Mountain Shadows venue in Arizona. In the following interview, Alyssa shares the moments she'll cherish forever and how she became a GL Bride. As told by Alyssa: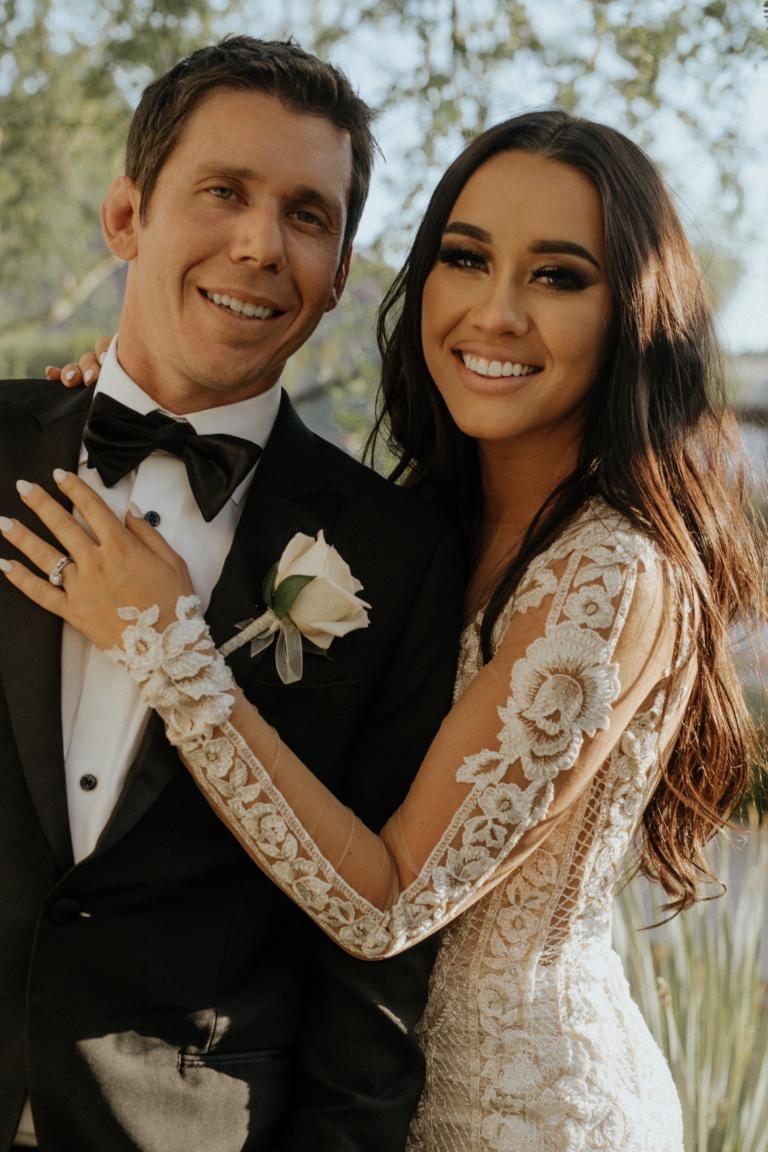 How did you meet your husband? Tell us a little bit about your relationship.

I officially met my husband, Matt, while working for his financial planning firm. I always had the biggest crush on him but never acted on it while working together. He was so smart and confident, and I remember just listening to him talk with big heart eyes hah! I think every single one of my friends and entire family knew how perfect I thought Matt was. I specifically remember calling my mom after work one day. She asked me how work was, and naturally, I replied, "work was good.. Matt is perfect as usual." After a few years of working together, I left his firm to go work for my current employer, Intel, but my feelings for him still didn't fade. I constantly thought about him and how I might have let him slip through my fingers, so a few months later, I finally decided to take my mom's advice and tell him how I felt. I walked into his office, basically confessed my love for him, and told him that I wouldn't be opposed to going on a date one day. I still don't know how I got up the courage, but am so thankful I did. I also like to tell people that for the record, I asked Matt out!

Matt and I both share a passion for martial arts and used to cross paths before we ever worked together or started dating at jiu-jitsu tournaments. Matt, in fact, is a black belt in Brazilian jiu-jitsu and competes all around the country. We of course work in similar fields in the finance industry, so we love to bounce ideas off each other and support one another in our career aspirations. We also love to travel and were even lucky enough to go to beautiful Bora Bora for our honeymoon, and let me tell you. WOW, I've never seen anywhere as beautiful! It is like something out of a dream! In our downtime, we love to binge-watch our favorite shows like The Bachelor/Bachelorette. Every season we do a draft and make bets on who we think will win. Matt may not admit it, but he's become quite the superfan LOL! There are so many reasons why I love Matt and the time we spend together, but one of the most simple things about our relationship is our ability to make each other laugh. We bring out each other's funny side and act like total goofball behind closed doors.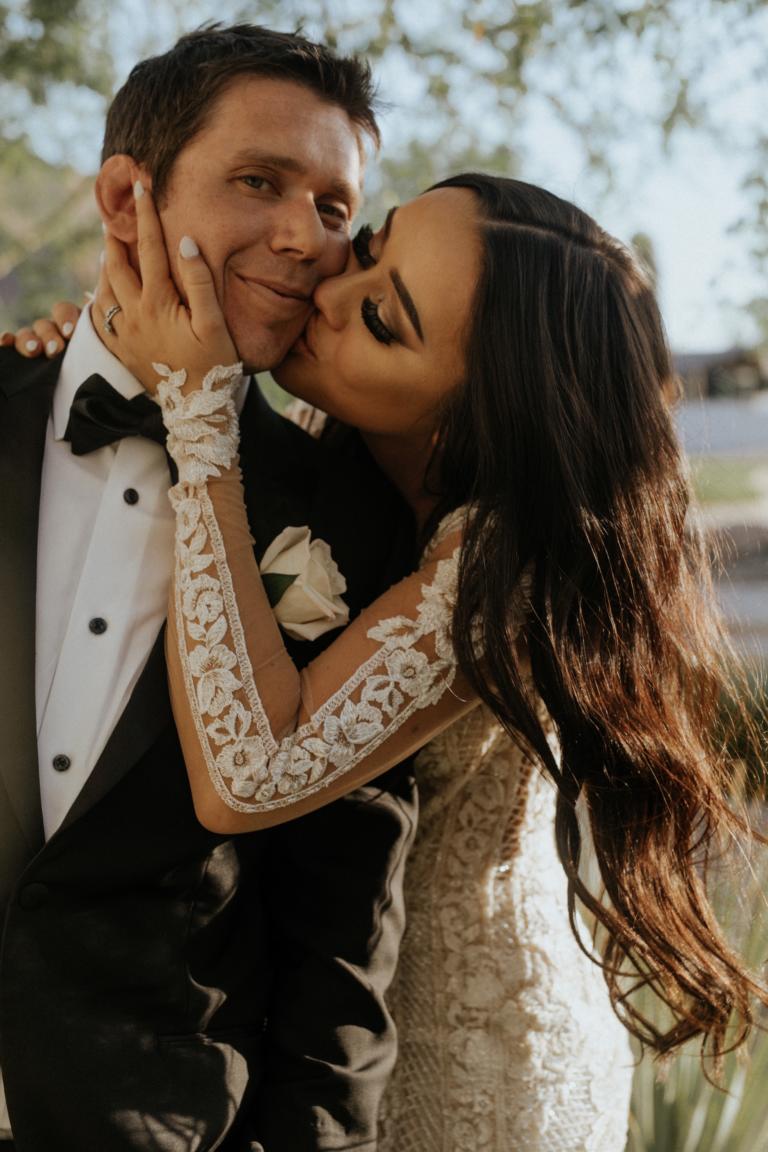 How did he propose?

I love wine and have always wanted to go to Napa, so Matt took me for what I thought was a birthday trip. He said that he had some excursions planned for each day and that he was going to keep them a surprise and just take me from place to place. The first day in Napa, he took me to a private wine tasting and vineyard tour at Peju Winery. We started by tasting some wine, then it was time for the vineyard tour and lunch. After the tour, our guide walked us up to a beautiful table in the middle of the vineyard set up with champagne, rose petals, and "Mamolen reserved" written on a chalkboard. It was so beautiful, and I remember turning to Matt and saying, "Wow, this is so extra for just a birthday!" I still did not suspect a thing! Matt then had the waitress bring out a bottle of red wine, and this was their sign that he was going to ask her to take a picture of us a.k.a. was going to propose. Everyone at the winery, even the waitress was in on it! So I gave my phone to the waitress, of course started fixing my hair, fidgeting with my clothes, and trying to get my pose for the picture. Matt and I get in position, turn to the camera to smile, and I feel him pull away from me. It was so cute how nervous he was, and as he started fumbling through the sweetest speech, all of a sudden it clicked that he was proposing!! He got down on one knee, I said yes (of course!), and we enjoyed the most magical day enjoying the beautiful weather, free bottles of wine (perks of getting engaged at a winery hah!), and the bliss of being a newly engaged couple that has just committed their lives to each other. This was the proposal, but Matt also planned grape stomping and a hot air balloon as the other surprises for the remainder of the weekend. It was the most romantic proposal and trip, and I'll always be so thankful for how much thought and love Matt put into planning it.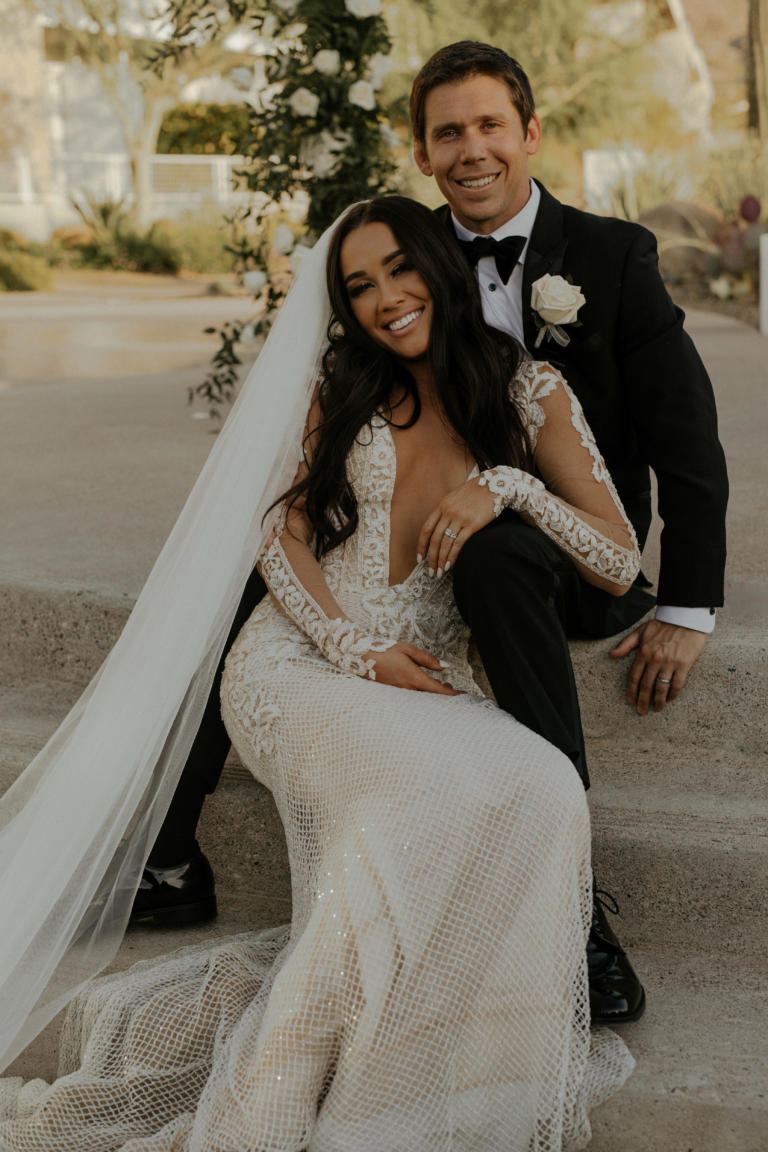 How did you start planning your wedding? What were the first steps?

As I'm sure most couples do, we started loosely planning our wedding as soon as we got engaged! How fun to get engaged and start dreaming about what your wedding will be like. We got engaged in October of 2018 and we're planning to get married in May of 2020. We were in no rush and wanted to have a relatively long engagement to really enjoy the process of planning a wedding. Our first step was booking the venue so that we could secure a date to start working towards. As luck may have it, our original wedding date of May 2, 2020, was right in the middle of the surging COVID-19 pandemic. I was actually at my bachelorette party in Puerto Vallarta the week that the world "shut down". We came home to unprecedented times and a seemingly impossible decision to postpone our wedding. We had to sit down and decide what was important to us for our wedding day, and after determining that being with our loved ones was of extremely high importance to us, we finally got the clarity we needed and postponed our wedding an entire year to May of 2021. Even then, we didn't know what the state of the pandemic would be but hoped and prayed for the best. I had a plan to start graduate school in the Fall of 2020, so in the year leading up to the new wedding date of May 8, 2021, I had to juggle working full time, being in my master's program, and the logistics that come along with postponing a wedding. Luckily, Matt helped with a huge portion of the logistics, and all of our vendors were wonderful and worked with us to seamlessly transition to the new date.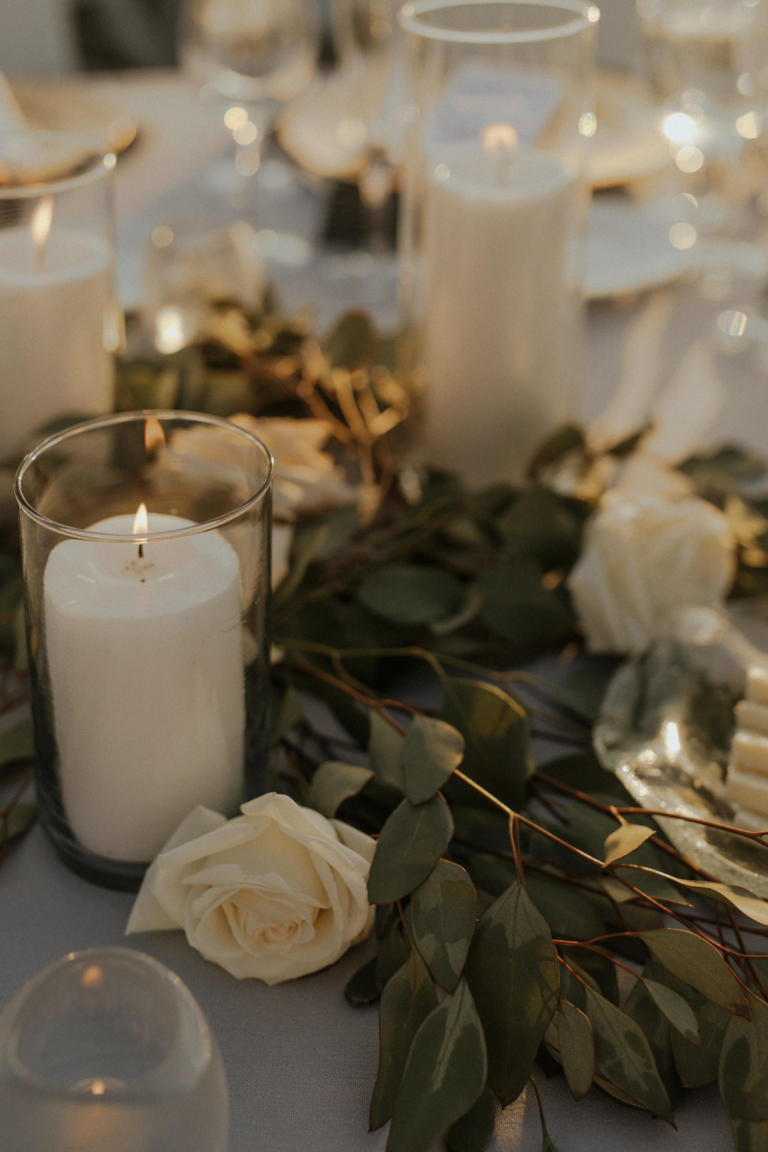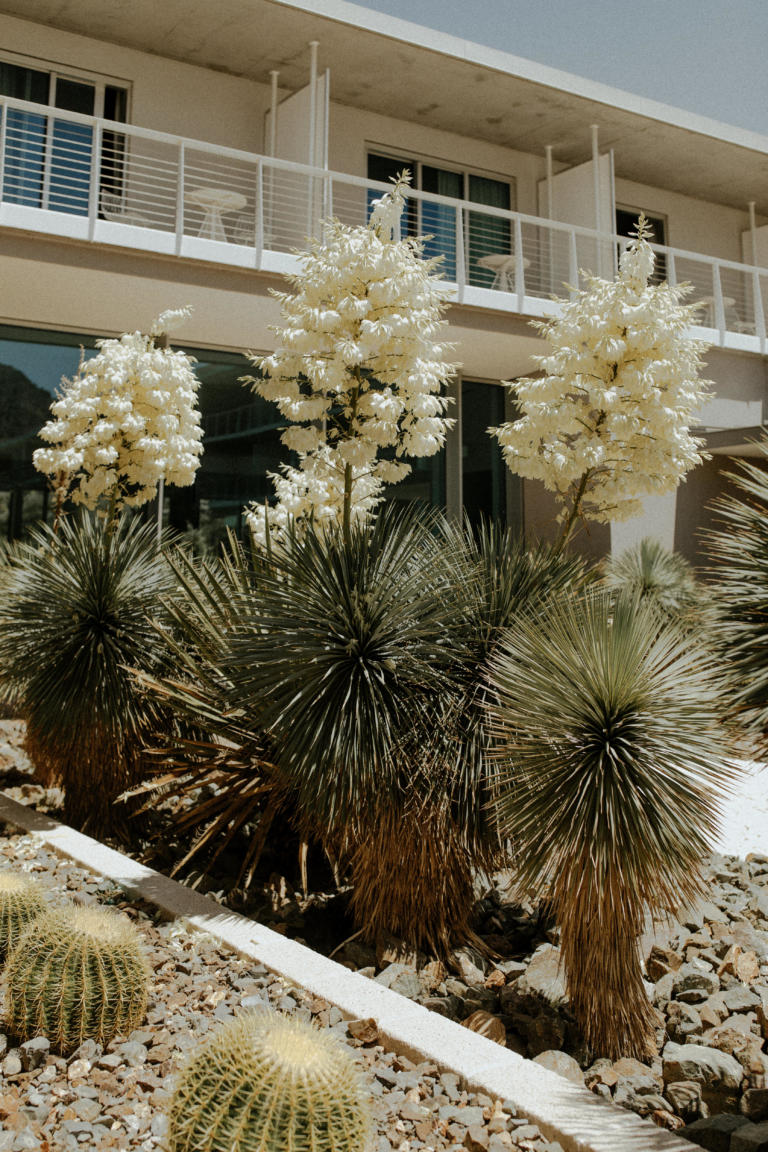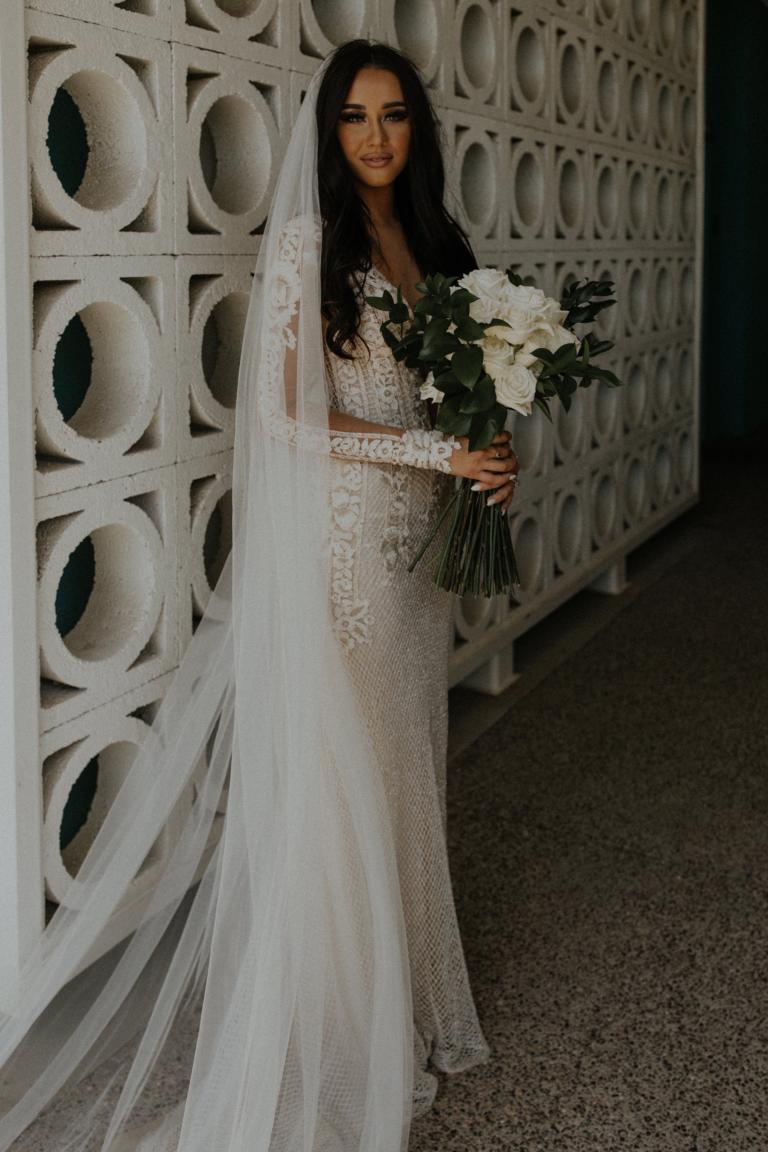 What was your wedding theme?

Our wedding theme was modern yet classic. Sounds like a contrasting statement, but there were specific things we wanted to be more modern and edgy and certain things that we wanted to be elegant and timeless. Our venue, Mountain Shadows, was mid-century modern, so we chose more modern options like the floral inside of lucite columns, sharp corners with clean lines for our arbor, and of course the beautiful Bella dress with its unique features. We also kept classic touches like black tuxedos, having a live orchestra play for the ceremony and cocktail hour, and having simple, white floral that we felt was timeless and wouldn't distract from the beauty of the venue.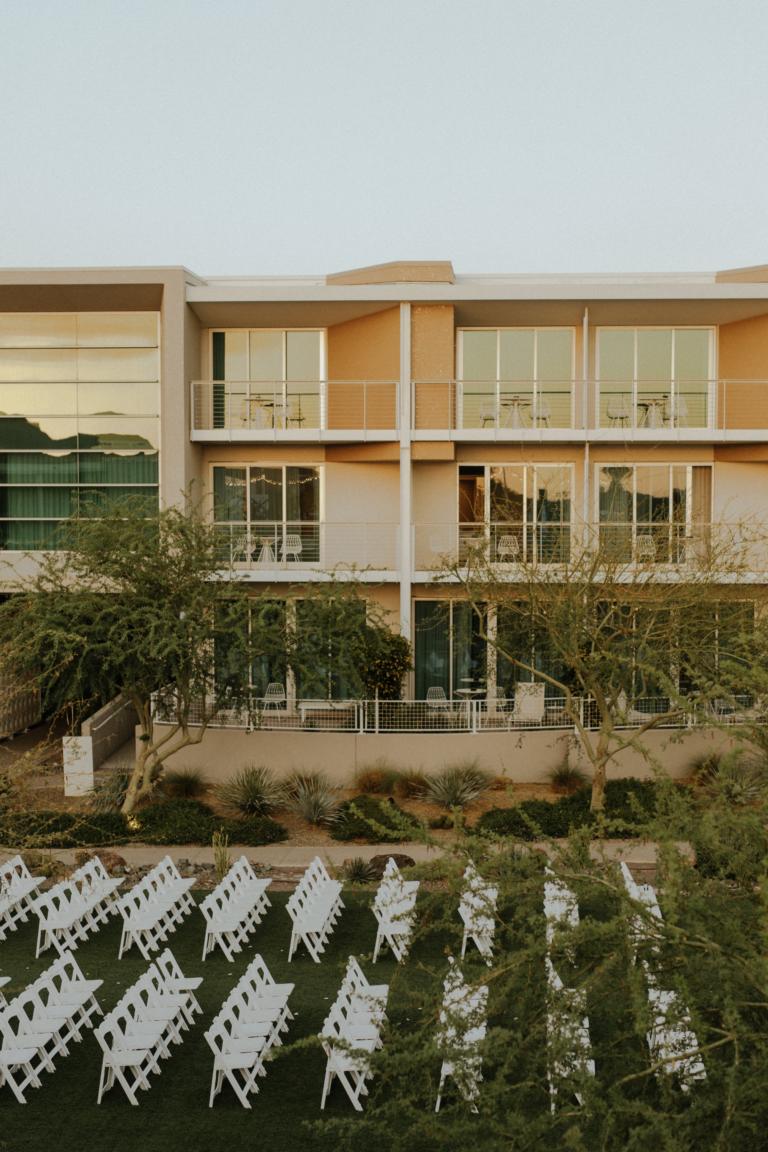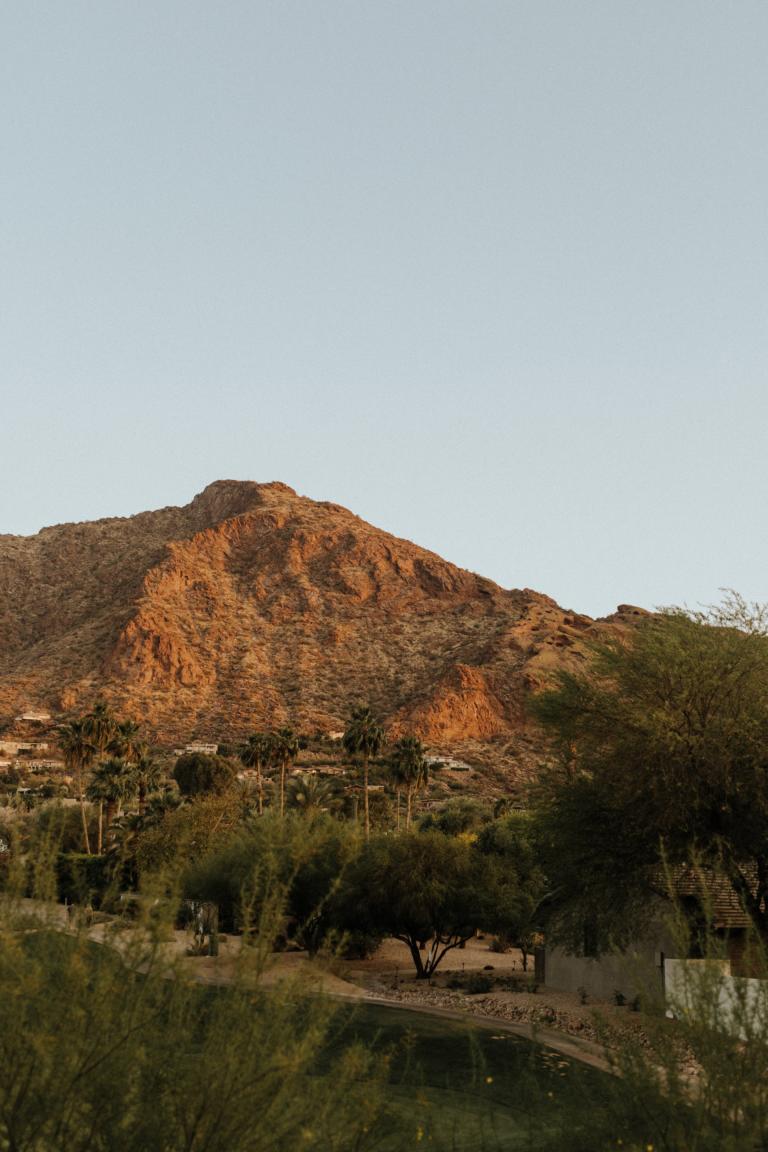 How did you choose your location?

We knew we wanted to get married in Arizona where we live and had our eyes set on some beautiful venues in Paradise Valley. Our dream venue was Mountain Shadows Resort, but we tried to go into it with an open mind. As soon as we walked into the venue, we were in awe of the unobstructed views of Camelback Mountain and the rooftop reception area that was the perfect combination of Arizona's natural beauty and mid-century modern vibes. We also loved that it was a resort, so our friends and family could stay for the weekend to celebrate with us. The staff at Mountain Shadows was absolutely phenomenal and really put us at ease. After walking the grounds and meeting the staff, we could absolutely picture our wedding there and were in love with everything about it. Over the course of the year after postponing due to the pandemic, Matt and I would go to Mountain Shadows and just walk the lawn, dreaming about the day that seemed so far in the future. When the day finally came, and I made that final walk down the aisle, it felt surreal after practicing and dreaming about it for years. One fun and unique feature is the staircase that leads from the reception area to the ceremony lawn. I was given an opportunity for a dramatic entrance down the stairs, around the guest seating, and finally down the aisle, and I took it haha!! I wore flat shoes to mitigate my chances of falling down the stairs as I made my entrance. That would have been memorable… not in a good way!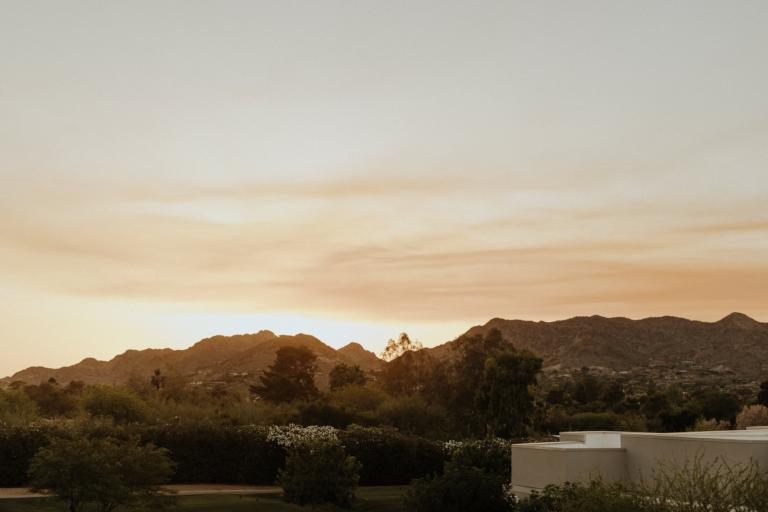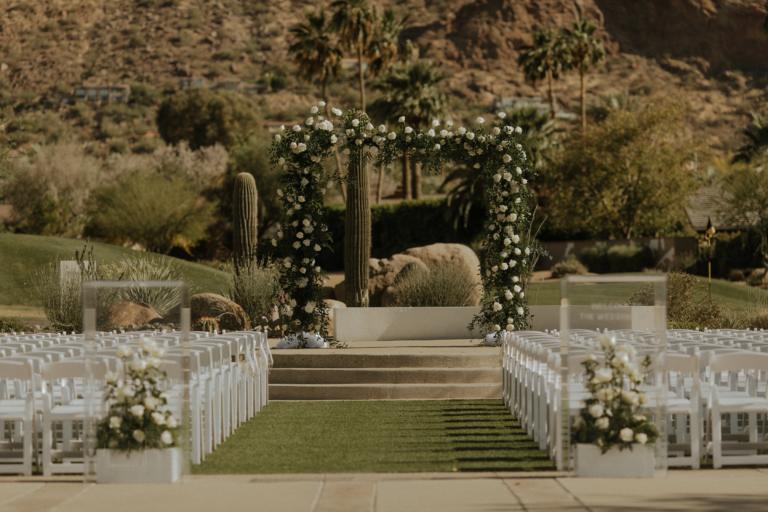 How did you decide on your bridesmaid style?

I love all things backless (as you can tell from the beautiful Bella that I chose for my wedding dress). I really had my heart set on a backless style as well for my bridesmaids with a very simple, classic color like taupe. I searched far and wide, and found the perfect dresses on Show Me Your Mumu. They had low backs that tied, simple thin straps, and the perfect light taupe color that I was hoping for. I know a lot of brides nowadays do different styles in the same color shade, but for whatever reason, I really liked the simplicity of everyone wearing the exact same dress. I always joke that I like things to be boring, but I think it's just the sleek simplicity that I look at and go, "ahh". I wouldn't have been opposed to different styles if that's what my bridesmaids wanted either, but they all looked so stunning in this dress, so it worked out perfectly!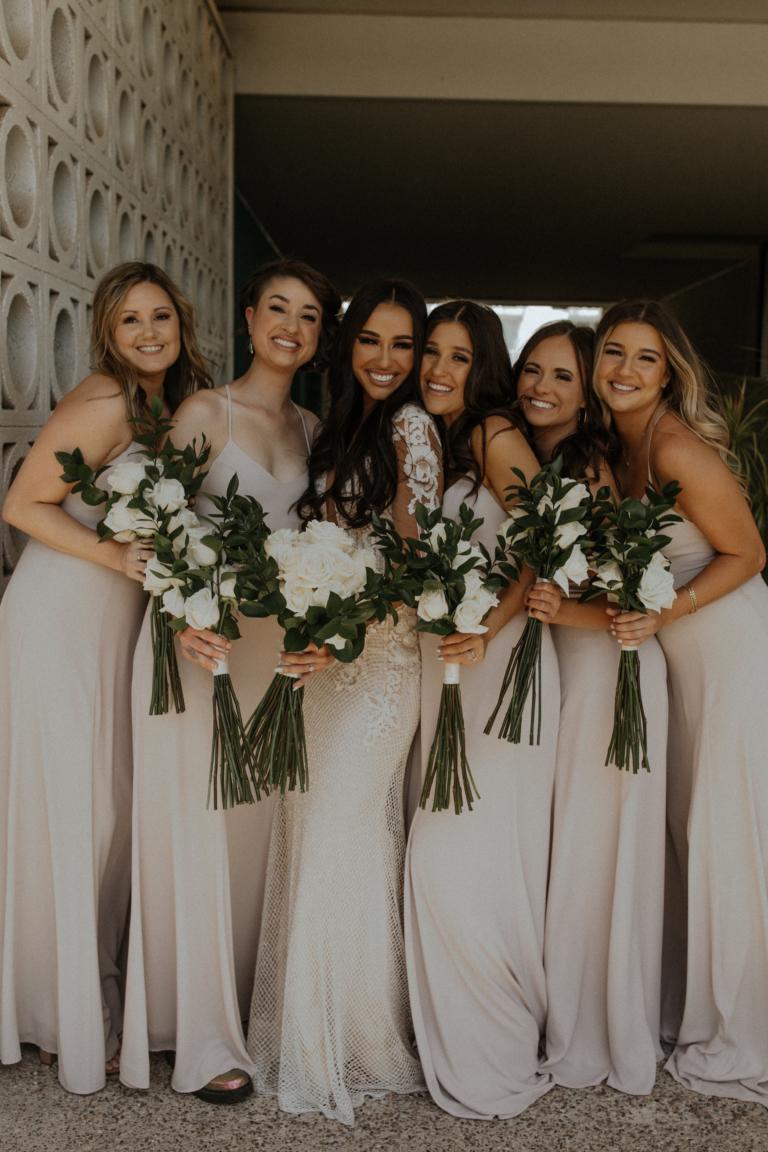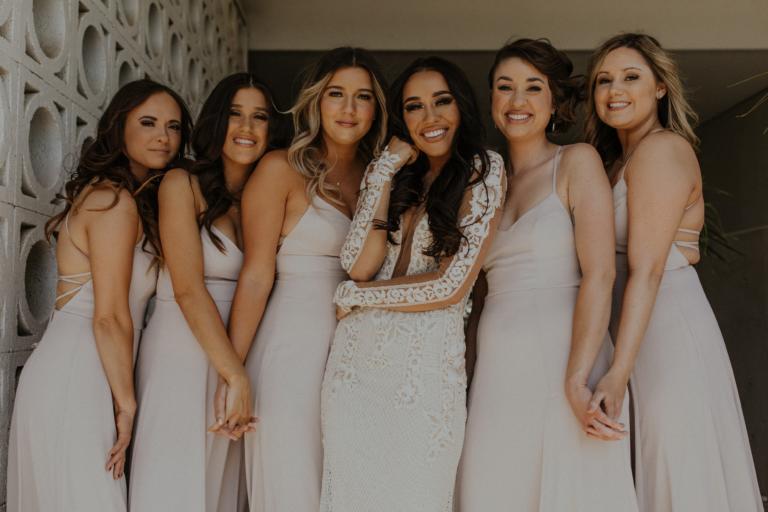 How did you find your perfect dress?

This is a fun story. It wasn't in the traditional way AT ALL! As a bride, you always dream of going dress shopping with your family and friends to share the special moment of finding "The one". A few months after getting engaged, I went dress shopping at some boutiques in Arizona with my mother, grandmother, mother-in-law, and sister. I knew EXACTLY what I wanted going into it, and funny enough, I brought in pictures of Galia Lahav's Bella gown. Long before dress shopping, the "algorithms that be" kept bringing The Bella to my social media feeds on Instagram and Pinterest. I have probably "re-pinned" and screenshotted that dress over 50 times. I was so in love with it, but thought, maybe I won't splurge and I can find something similar at a local boutique. So we went dress shopping, and there were beautiful gowns, but none really gave me "that feeling". At one of the last boutiques, the lady helping us brought me this gown with a relatively low back and "V" neckline, but not as pronounced as I was hoping for and thin straps instead of sleeves. I was skeptical about it, but after trying it on I really liked the beautiful train. So I decided I could just alter the dress to have the sleeves, low back, and deep "V" neckline that I wanted and purchased it. I was in the process of altering the dress when the COVID-19 pandemic hit, and we had to make the heartbreaking decision to postpone our wedding. That's when I realized that I had another year until the wedding, and still couldn't get The Bella out of my head. It sounds so funny and silly, but I literally remember looking at pictures of The Bella one night after our wedding postponement. I lay in bed restless because I couldn't stand the thought of looking back one day and regretting not wearing my dream dress on my wedding day. So at that moment, I made the crazy decision to scrap the original dress entirely and start the process of purchasing my dream dress with Galia Lahav. I really lived by the "YOLO" mentality at that moment, and I will forever be thankful that I did because all of my wildest dreams came true with my Galia Lahav gown.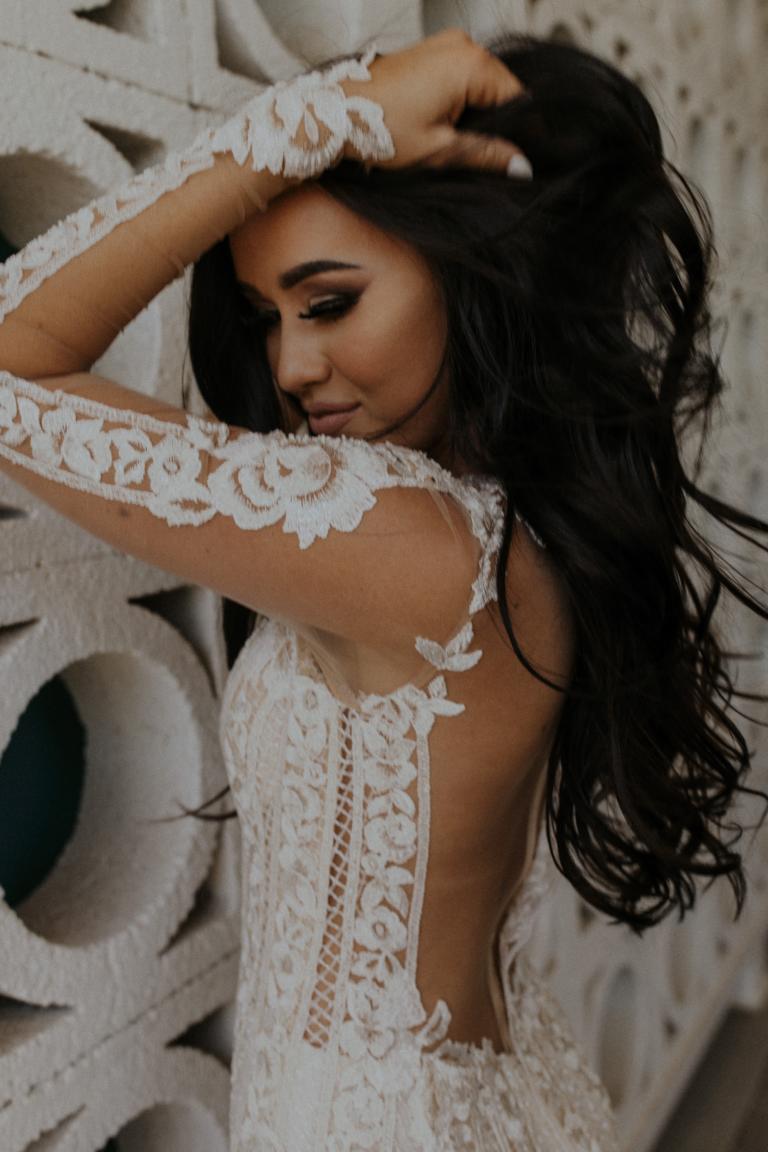 How was your experience with the Galia Lahav brand?

I had the most wonderful experience with Galia Lahav! I live in Arizona and didn't have time to make it out to the beautiful flagship store in LA to try dresses on, as I made this last-minute decision while the pandemic was still surging. Because of this unique scenario, I worked directly with the team in Israel. Michelle was so sweet, helpful, and wonderful, and was by my side throughout the entire process. She was extremely responsive, and we even met via Zoom a few times. Virtually ordering my dress during the pandemic was initially very nerve wracking, but the team made me feel so confident and at ease. The team tried on several dresses for me in their atelier so I could be absolutely certain about what dress I wanted. I was like a kid in a candy shop seeing all of the jaw dropping dresses. They were all so stunning, and I actually almost bought the Rhiannon gown, but The Bella always had my heart, so I just knew it had to be the one. After officially deciding on The Bella, Michelle set up a Zoom meeting with the seamstress in Israel to take my exact measurements. The wonderful seamstress was extremely thorough, and I was confident that she captured everything correctly even via Zoom. The team kept me updated as my gown was being made and even gave me status updates and helped with things like clearing customs as my dress was shipping from Israel to Arizona. When my dress arrived, I remember saying "oh my gosh" repeatedly as I unboxed the gown that I had dreamt off for years. I sobbed when I finally saw her. I finally had that emotional moment when you try on your dream dress and know it's the one. The most amazing part was that my dress fit like a glove! The Galia Lahav team is so incredibly talented and executed a perfect fit without ever meeting me in person. I just love the entire team and felt so supported, loved, and celebrated.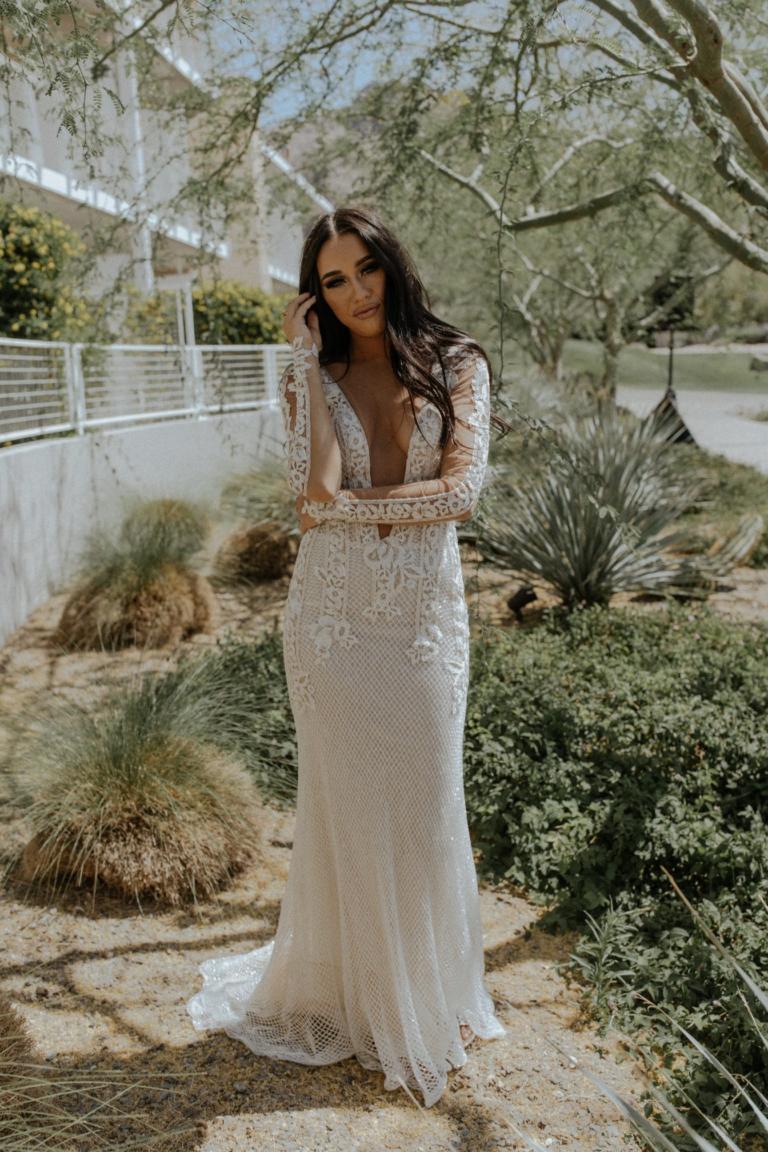 What was the most important thing for you and your husband when planning your wedding?

The most important thing for Matt and I when planning our wedding was first and foremost to remain stress-free. We knew we wanted to thoroughly enjoy the process of planning and soak in all of the special once-in-a-lifetime moments. That's why we originally chose a year-long engagement that of course turned into two years, hah! Plenty of time to enjoy planning!
What was your first wedding song?

Our first wedding song was "Stand By Me" by Skylar Grey. It's a classic song that was beautifully redone and makes me cry just about every time I listen to it.
What did you enjoy the most about planning your wedding?

I loved how Matt and I were able to put our personal touch on every little detail. Weddings are so personal, and you can really see a couple's style shine through in the decisions they make. We spent two years curating our dream day, and to see it all come to life was an indescribable feeling.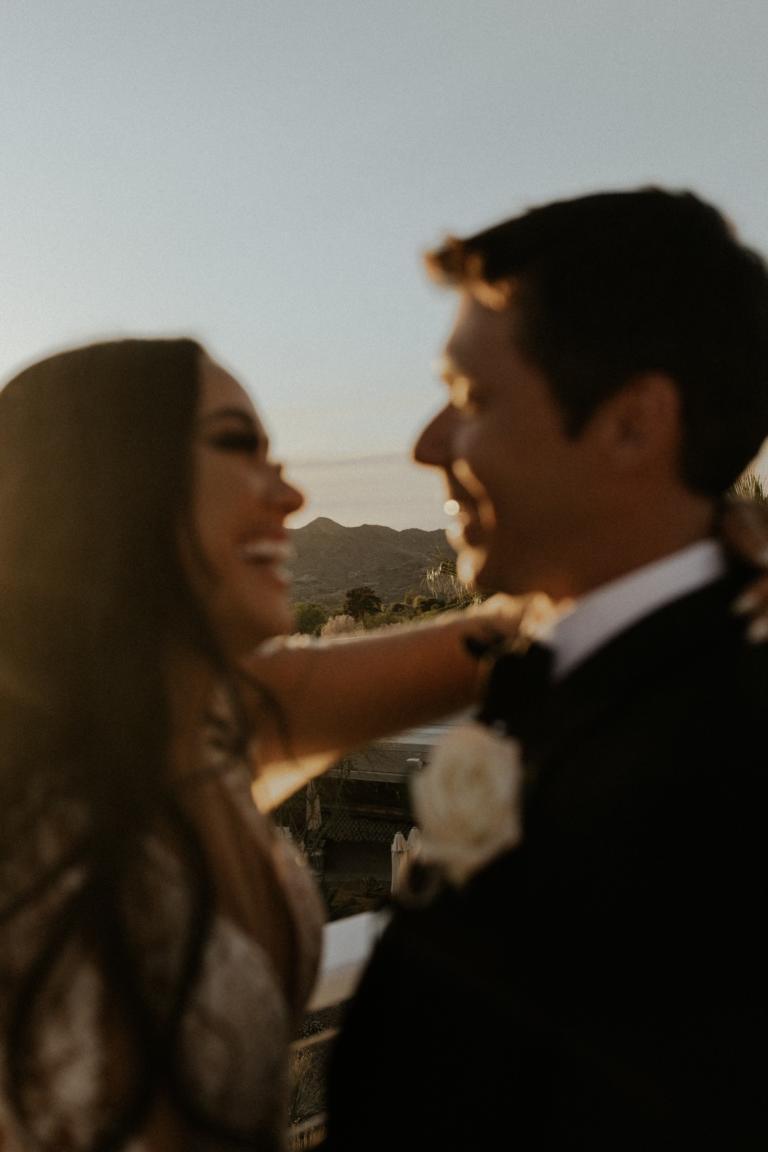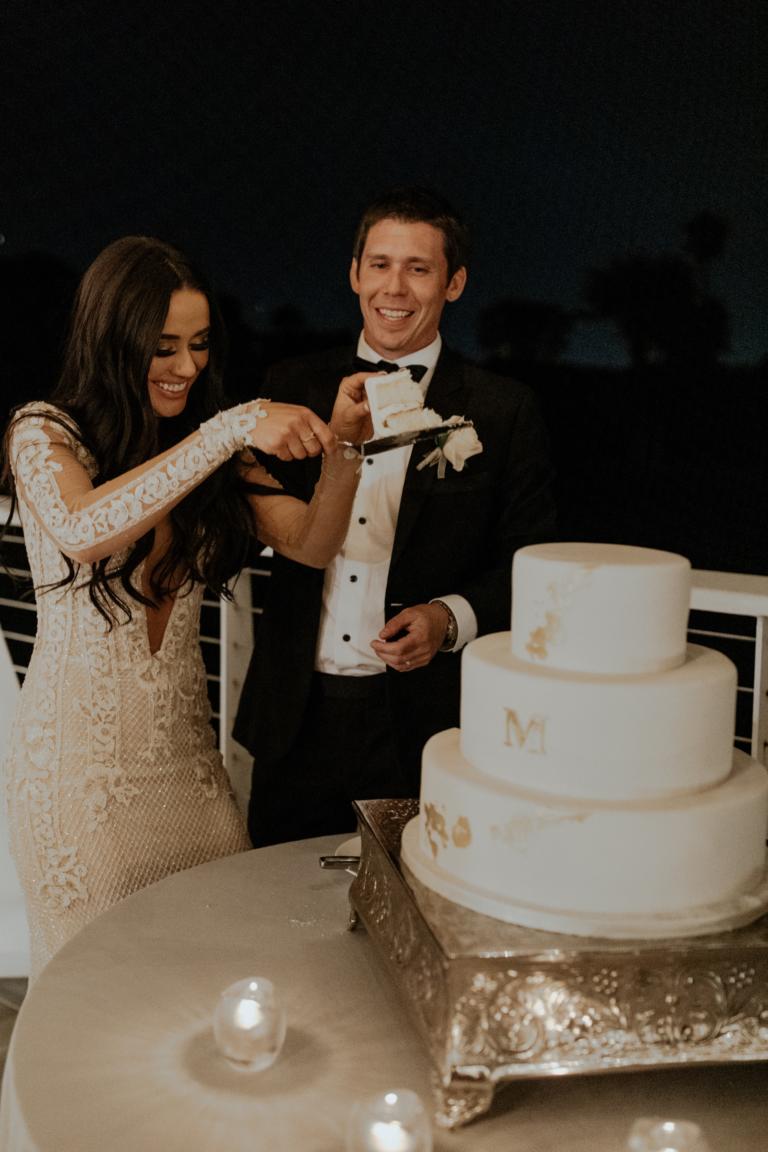 What advice would you give to all our future brides?

First, splurge on your dream dress! If there is a dress that you just can't get out of your head, buy it! I promise you will not regret it, and you'll feel your most beautiful and confident on your wedding day. Also, buy a Galia Lahav dress, duh! They are the absolute best in the industry and I cannot express how lucky I feel to have been able to wear one of their gowns. Second, remember that the day is about you and your husband. A great friend of ours gave us a piece of advice to check in with each other and take "mental pictures" together throughout the night. You can get so caught up in saying hi to friends and family that you forget to soak in the special memories with your husband. So throughout the night, Matt and I would grab each other, take in our surroundings, and say "mental picture" to stash that memory away forever. Here is a sweet photo that our photographer actually captured of us taking it all in.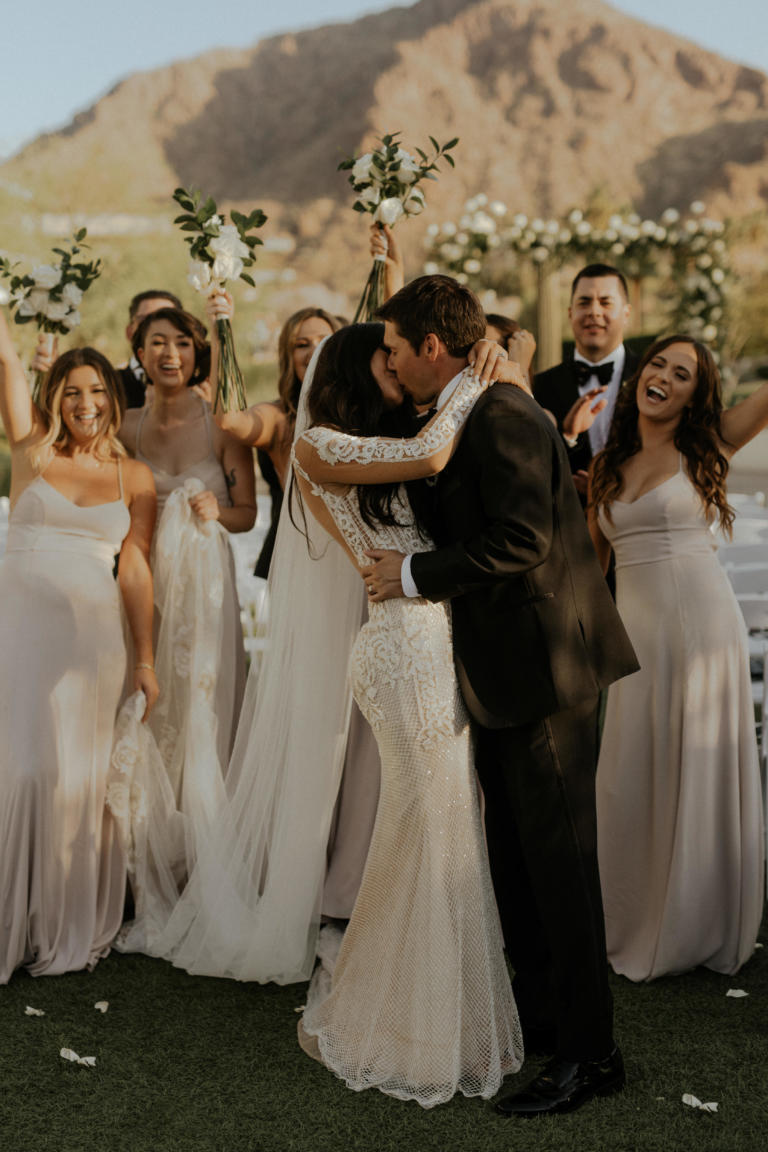 What moment from your wedding will you never forget?

A moment I will never forget from our wedding is a section of Matt's vows. My sweet, sweet grandmother talked about our wedding for years. She would always brag to her friends about her granddaughter's "wedding of the century". She too, picked out an outfit for the original date in 2020, and then picked out a new outfit for the 2021 date. Like grandmother, like granddaughter! She could hardly wait for the wedding, and for the year leading up to the new date, we couldn't physically see her, as she was quarantined in her assisted living facility due to the COVID-19 pandemic. I couldn't wait to finally be able to put my arms around her and hug her on my wedding day, but unfortunately, she passed away just a few months short of the wedding at 94 years old. My grandmother was the kind of person that everyone fell in love with as soon as they met her. She was optimistic and rambunctious all the way up until her last days on this earth. Matt loved her as if she was his own grandmother, and helped me put one foot in front of the other after her devastating passing. We honored her at the wedding by walking a beautiful floral arrangement of white roses down the aisle and placing them on her seat, and Matt had the most touching tribute to her in his vows. He said, "Your late grandmother, Libby, who I wish could be here with us today, but I know has the best seat looking down, used to say that you were full of 'piss and vinegar', and that she loved that about you. Well, I adored Libby, and while you can be a challenge at times, I couldn't agree with her more. I promise not to try to change you and I'll let you be that rambunctious granddaughter that Libby knew and loved." It was the most beautiful and thoughtful tribute, and I know my grandma was looking down on us with a big smile on her face. A husband is someone who loves and supports you through the good and the bad. They pick you up when you fall and relentlessly love you, and Matt's vows were such a beautiful example of how he loves me, understands me, and stands by my side no matter what.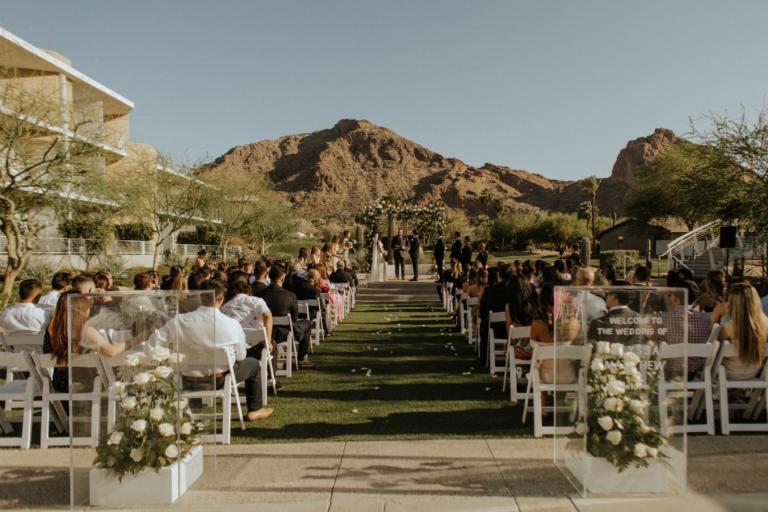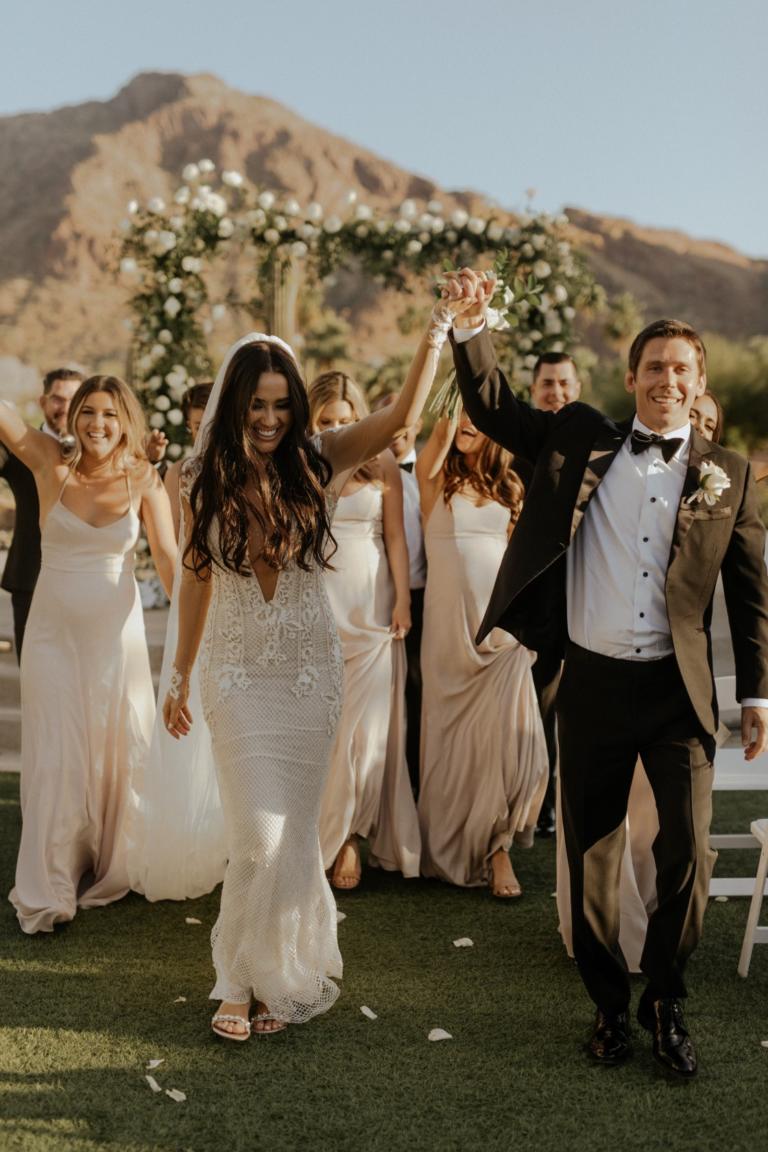 Finish your registration for {City} Trunk Show