FREE SHIPPING & RETURNS WORLDWIDE!

DUTIES & TAXES COVERED WORLDWIDE
Find your nearest boutique
Our Bride of the week is the gorgeous Abigayle Horrell, who walked down the aisle to wed her fiancé Evan in our starry Gala 1002. The couple held their nuptials at the unique Marathon Music Works in Nashville surrounded by family and friends. In the following interview, Abigayle shares with us her favorite moments and how her dream dress inspired her one-of-a-kind wedding theme.

How did you meet your husband? Tell us a little bit about your relationship.

My husband, Evan, and I were both born and raised in Nashville, Tennessee and met our first day of high school. We were friends for years and, on a whim, went on a date when we were 17. We dated for a year in high school and then long distance while we attended different colleges in New York and North Carolina. After a year, Evan transferred schools and moved to New York, where we've been ever since.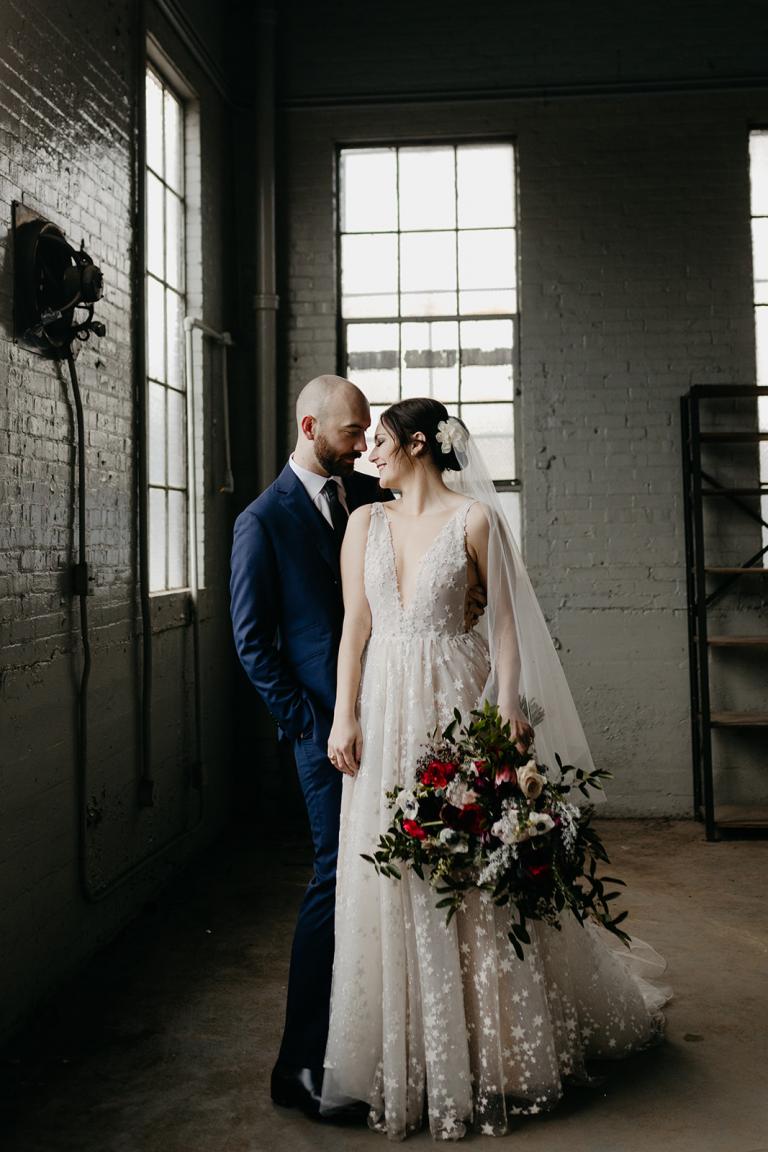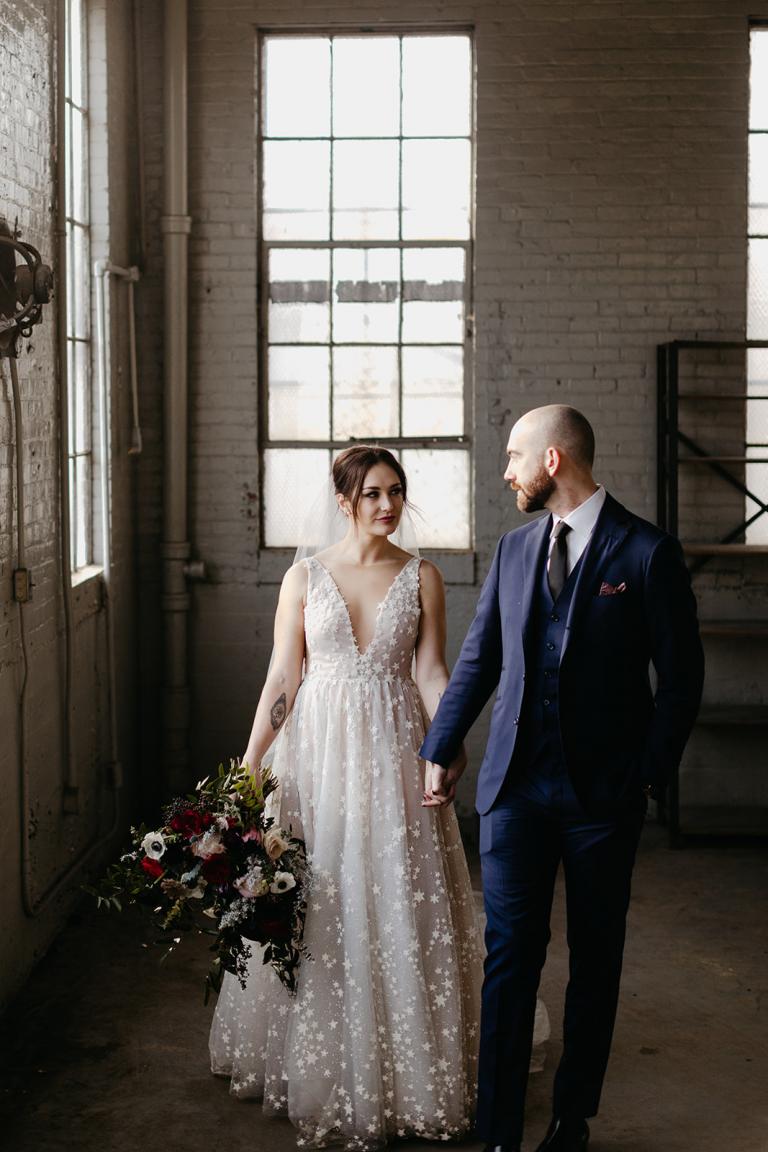 How did you he propose?

We were engaged November 9th, 2017 in our backyard in Brooklyn, just the two of us.  I was expecting a proposal soon, but had no idea when, where, or how. I came home from work on a random Thursday night and our entire apartment was dark.

I went outside to our backyard which was covered in lights, flowers, and my now husband standing by a fire pit. Years before, my grandmother gave us her art deco ring from the 50's; Evan worked with our close friend and jeweler, Alec Seelig, and used her center stone in an new, updated version for me. My grandmother was the most influential person in my life and wearing her love and blessing on my hand every day is priceless.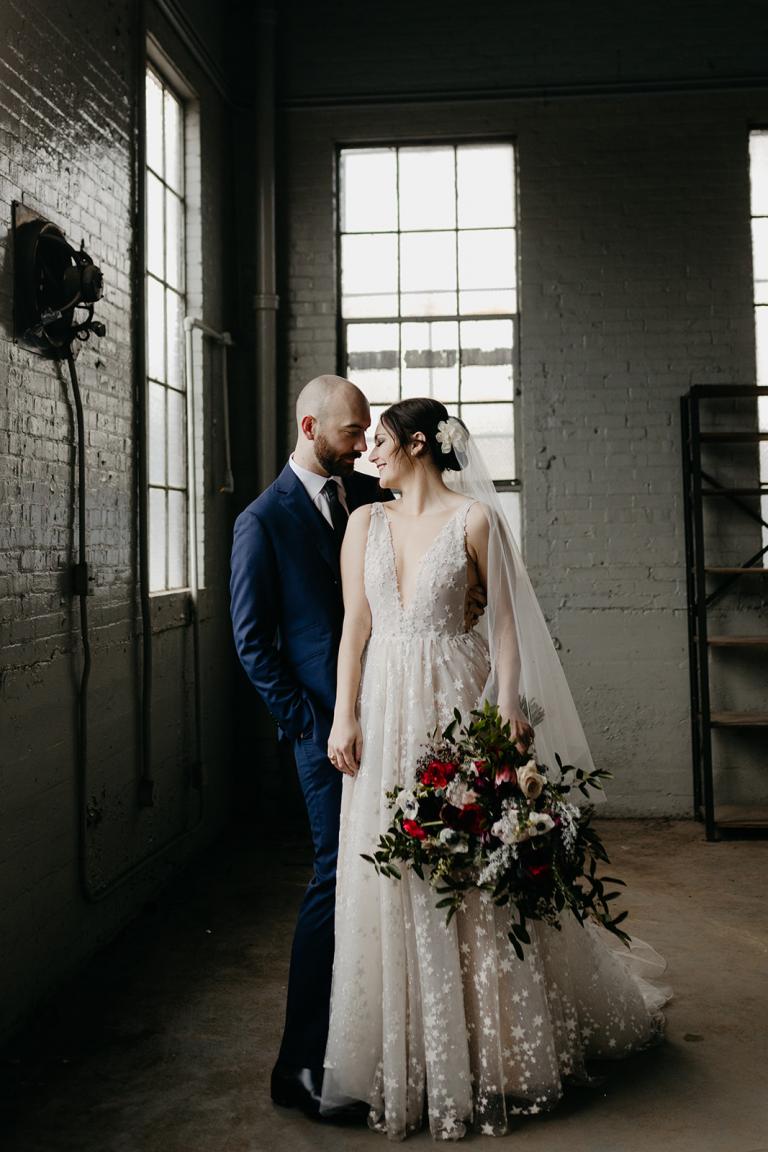 How did you find your perfect dress? And how did you decide to buy it?

Galia Lahav's Fall 2018 Gala collection debuted a few weeks before we got engaged. I saw my dress (the starry Gala 1002) on the runway and immediately knew it was my dress.

A few weeks after getting engaged, I called the only Galia Lahav stockist in New York, Bridal Reflections, to ask about my dress. They said it wouldn't be in regular stock in time for my January 2019 wedding without a rush, but that it would be part of a trunk show the coming weekend. I made an appointment, brought my two best friends with me, and facetimed my mom. My dress was the first one I tried on and I wanted to stop there! My friends made me try on a few more, but nothing could compare. It even framed the star tattoo on my ribs perfectly!

I have an edgy and artistic personality and I knew I needed a dress that could reflect that, but still be timeless years later.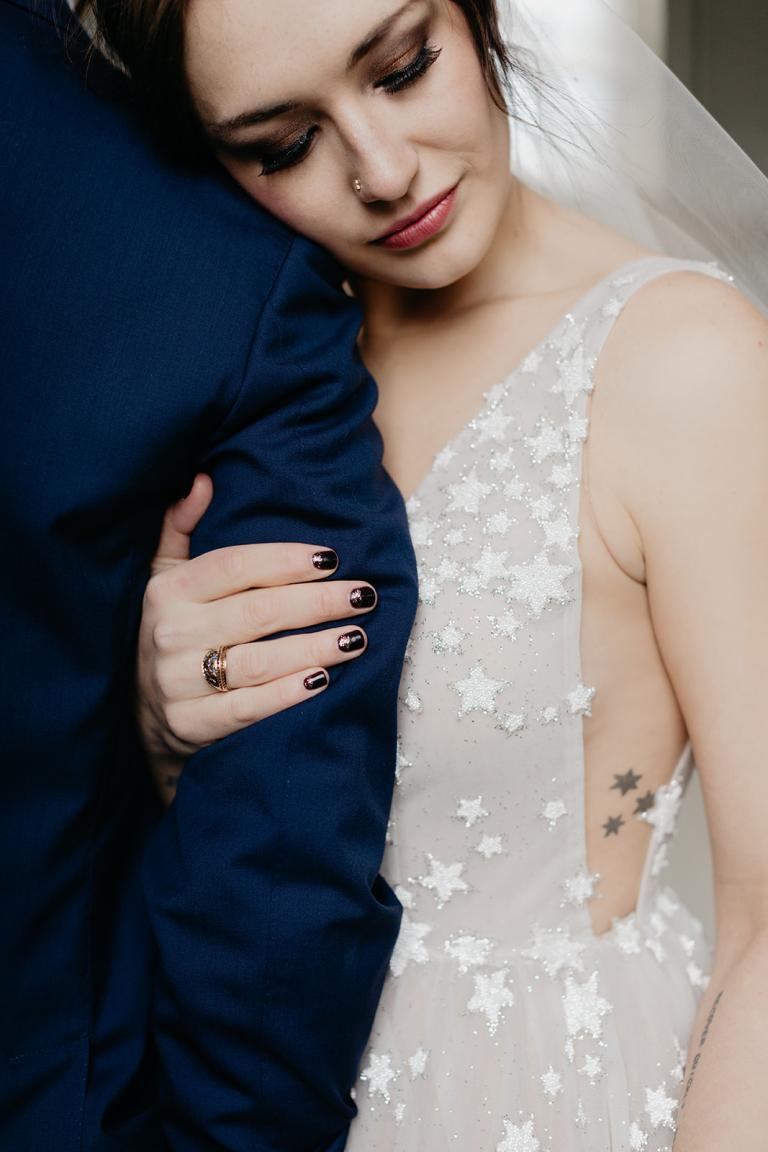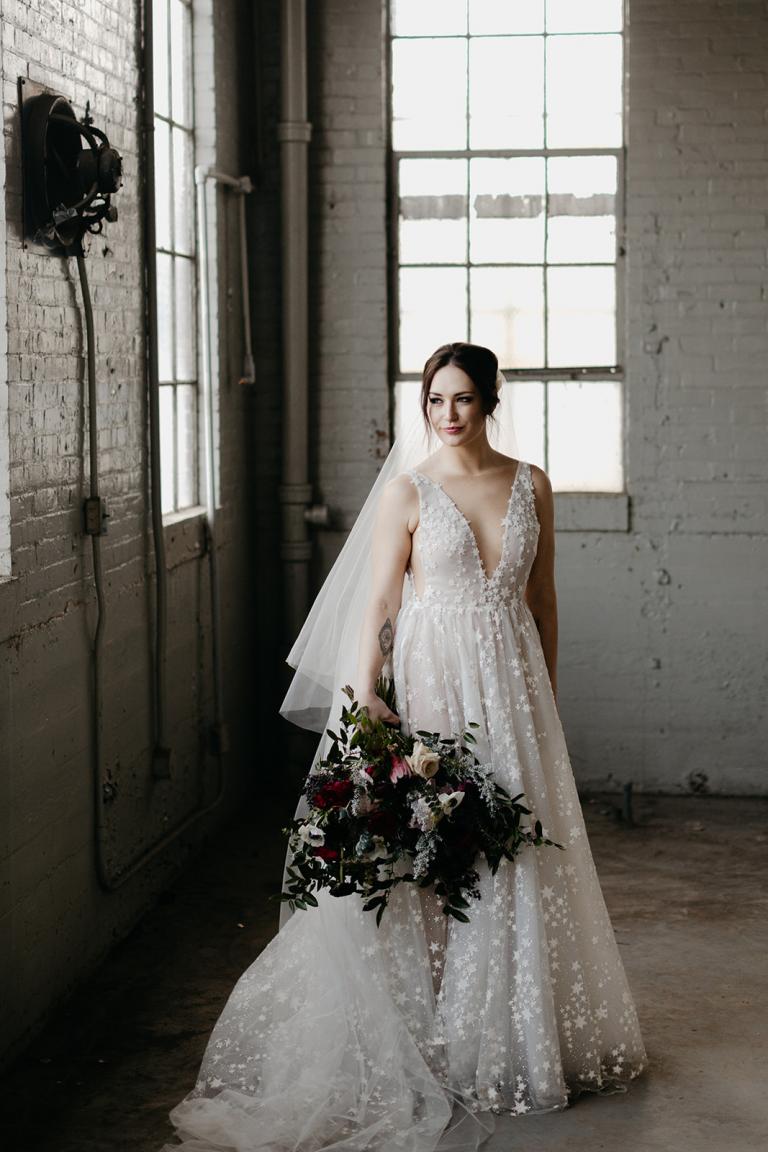 Where was your wedding?

Our wedding was at Marathon Music Works in Nashville on 1/19/19. It's an old car factory that since been turned into an event space. We went to concerts there together in high school!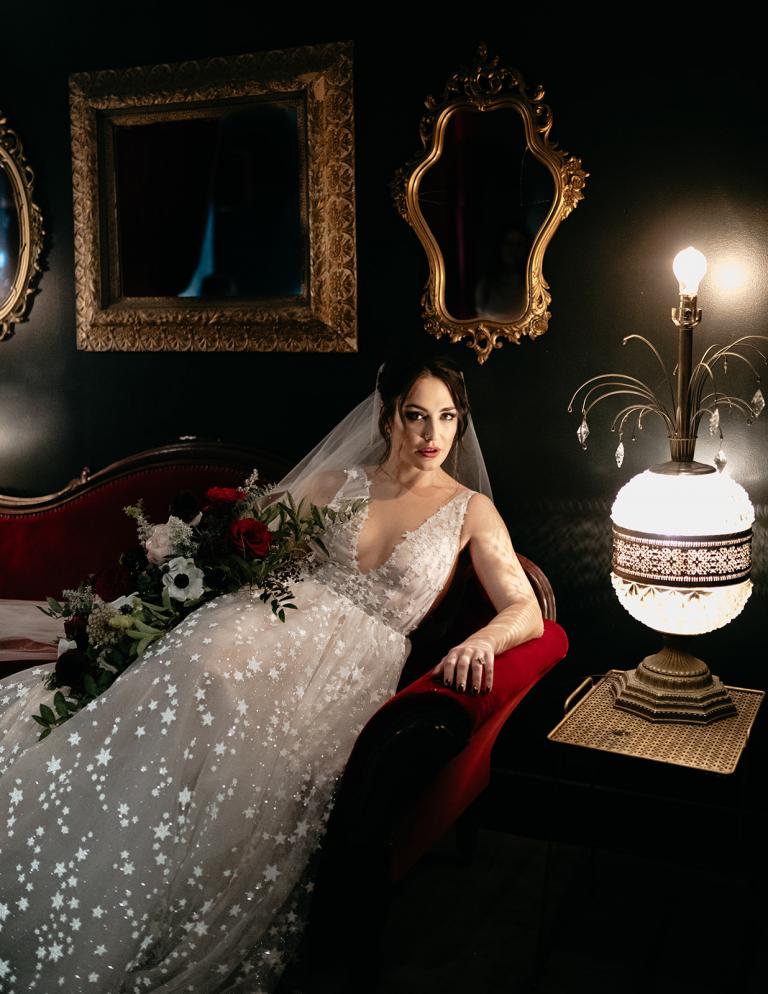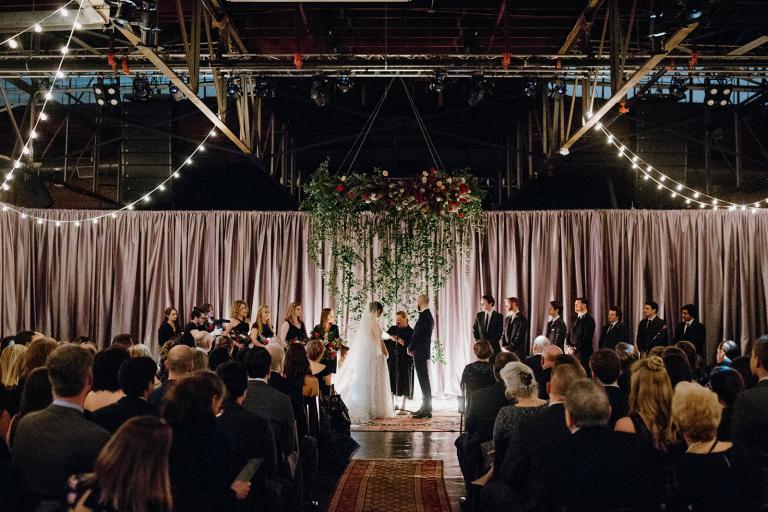 What was the theme? Did it require special planning? Share with us.

Our goal was to have a wedding that was eclectic and edgy and merged our Southern upbringing with our modern New York adulthood.

It was very important to us to honor our families throughout the wedding. Our venue was covered in antique oriental rugs that used to be in my grandparent's home. The runner I walked down the aisle on was the same one I played on as a little girl! My brother in law spoke during our ceremony, and my dad gave a traditional southern blessing before dinner.

My dress inspired a lot of our wedding! Stars were on our invitations, flower girl dresses, the floor, and in the hands of guests by way of candles. Instead of a traditional bright and clean palette, we leaned into moody, dark, and mysterious. We used jewel tones, velvet, lots of black, draping, and strategic lighting to make the large space feel romantic and intimate.

Our planner, Josiah Carr of Ninth and Everett, was unbelievable. He was more interested in creating a unique experience that represented us as a couple versus recreating a trend. He took my wild ideas and created an experience that was completely us.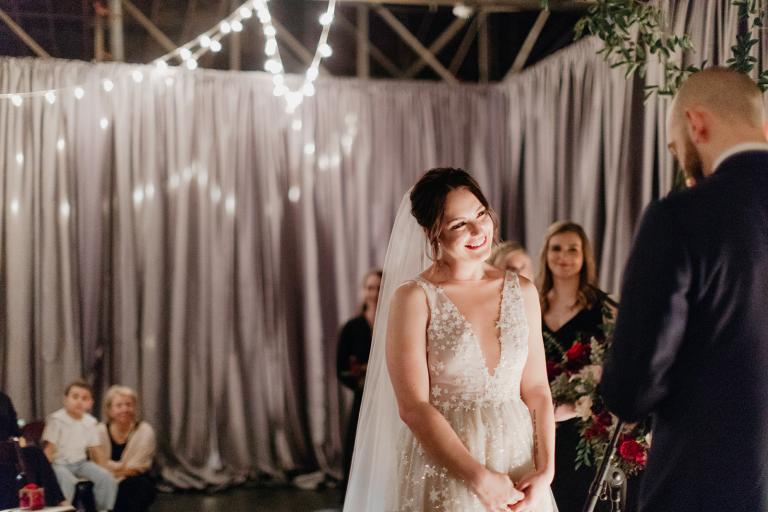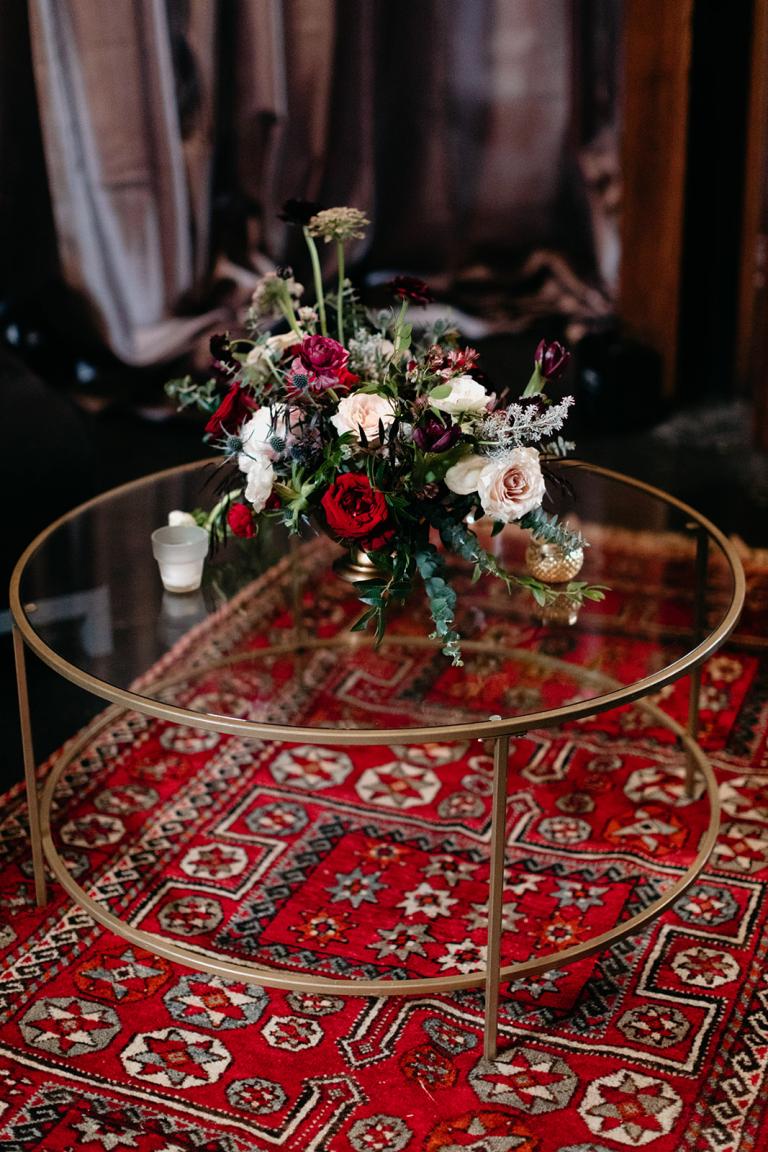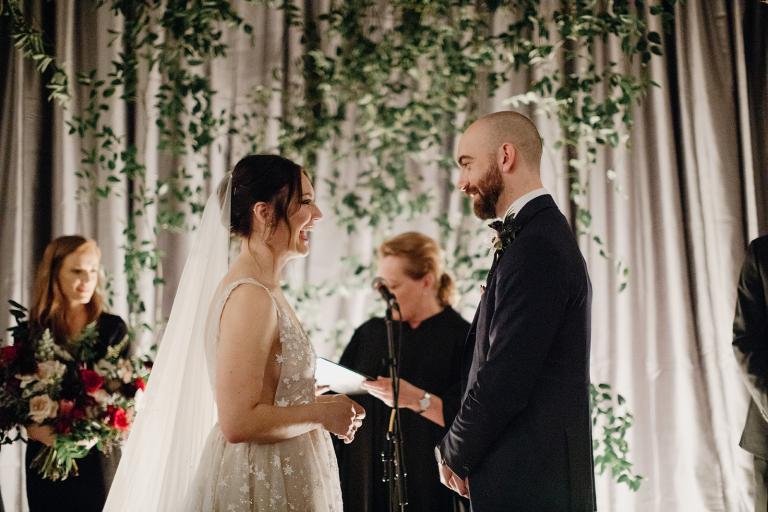 Which was your favorite part?

Walking down the aisle with my dad to my now husband will forever be the best moment of my life. My wedding planner had the idea to turn our ceremony into a candlelit service. Each guest was given a small black candle and passed a flame through the crowd. By the time I walked down the aisle, every face was lit by candlelight, like a sea of stars.

My mom and stepdad flew my favorite musician, Jeremy Kittel, to Nashville to play us down the aisle with a song I put on a mix CD for Evan when we were 18.
How was your experience with the Galia Lahav brand?

I have followed and loved the bridal industry since I was young, but never connected with a brand on a personal level until I discovered Galia Lahav. The dresses are breathtakingly beautiful, even more so in person, and push the boundaries of bridal. Each dress is truly a work of art. It takes a strong personality to pull off a Galia Lahav dress.
Where did you purchase the dress?

I bought my dress at Bridal Reflections in New York! I had a wonderful experience and always felt very taken care of.
What did you enjoy the most about planning your wedding?

I can honestly say I loved pretty much every part of planning our wedding. I think that goes to show how incredible our planner was, because he didn't let the stressful parts get near us unless they absolutely had to. I enjoyed anything aesthetic; decor, florals, invitations, and photography; while my husband was more excited about experiential elements like the food and music.
What advice would you give to all our future GL brides?

Instead of finding vendors to replicate things you've seen, find artists whose work you love and let them create something new and unique just for you. Invest your personal time (and any micro-managing tendencies) in the details only you can bring to fruition, like writing your own vows, finding ways to honor family or friends, or selecting music that matters to you and your spouse.
Was your wedding the way you dreamed it?

What I loved about our wedding was that it wasn't only how I dreamed it, but how an entire team dreamed it. Our planner, photographer, florist, lighting designer, friends, family and countless others were all excited to be a part of our wedding and that amount of love and energy is what made it magical- and what made it happen.
Planning: @ninthandeverett
Photography: @katherinejoyphoto
Florals: @maryloverichardson
Lighting and Draping: @tn_event_design
Rings: @alec.seelig_jewelry
Abigayle's Instagram: @abbymoskal
Finish your registration for {City} Trunk Show