FREE SHIPPING & RETURNS WORLDWIDE!

DUTIES & TAXES COVERED WORLDWIDE
Find your nearest boutique
Galia Lahav's bride of the Day is Ariana Janetakis, who dreamt of a Grecian Cinderella story and conquered. It is inspiring to see our brides fulfill their dreams, Ariana dreamt of the blue Cinderella dress and grasped her dreams together.
We are with utmost honor to be a part of such a magical moment to such a wonderful spirited bride. The greek setting and the extravagant Cinderella dress solves the puzzle for this amazing dream! Congratulations!
I've always wanted a blue dress. I'm obsessed with the color blue. I honestly thought I was going to have to get it made. My sister spotted Galia Lahav's Cinderella dress on Pinterest and I knew I needed to try it on. Bridal Reflections in Manhattan was having a Galia Lahav trunk show. Sharon Sever was actually there. The Cinderella dress was the first I tried on. I knew immediately it was the one. I put my order in that day.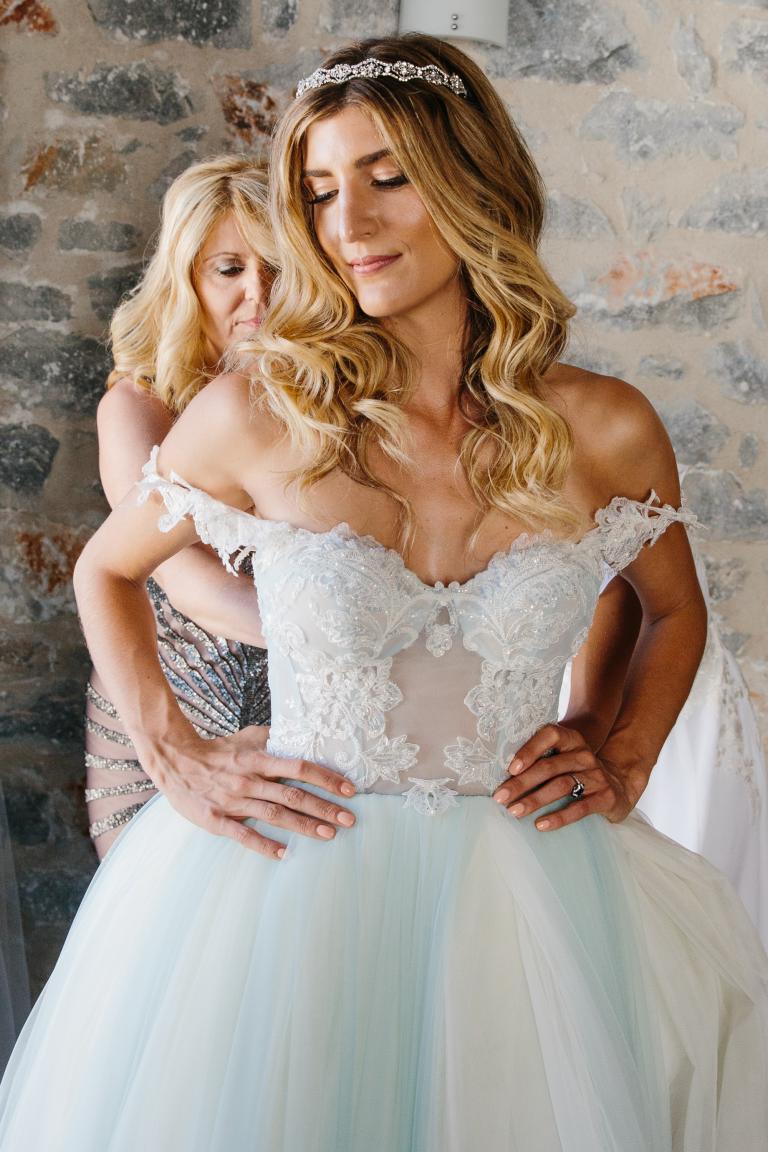 I met my husband Nate through a friend. She was a hostess at a restaurant and he was the chef. We both expressed our interest for each other to our friend and he asked me out soon after. Our first date was one of the best dates I've ever been on. He took me to a Lee Fields concert and the night was filled with amazing soul music, drinks, dancing and a kiss of course. He was the one.
Well – I have two. 1. The ceremony was so special – the weather was just right and I was accompanied by my parents and an incredible greek band. In a traditional Greek wedding your soon to be husband is waiting for you with your bouquet. It was a priceless moment. 2. My second favorite moment was when we all jumped in the pool (including our parents) and partied until 5 am.
My sister sang Sea of Love with the band that learned the song on the day of the wedding. It was pure magic.
My experience with the Galia Lahav staff and Bridal Reflections couldn't have been better. Everyone was so warm and welcoming from the moment I tried on the dress until the day picked it up. Thank you for helping make my fairytale wedding come true.
Finish your registration for {City} Trunk Show