FREE SHIPPING & RETURNS WORLDWIDE!

DUTIES & TAXES COVERED WORLDWIDE
Find your nearest boutique
Galia Lahav's bride of the day is Allie Hines, a courageous, beautiful, outgoing, and of course a spectacular Galia Lahav bride.
Allie had an inspirational beach wedding, and nevertheless showed utmost beauty in the Loretta, and guess what? She also jumped in the pool in our best selling gown! We love this fun anecdote and free will! Our bride Allie Hines brought wedding inspiration to a whole different level, from the cactus boutique to an intimate beach wedding with her loved ones. Congratulations to you and your husband!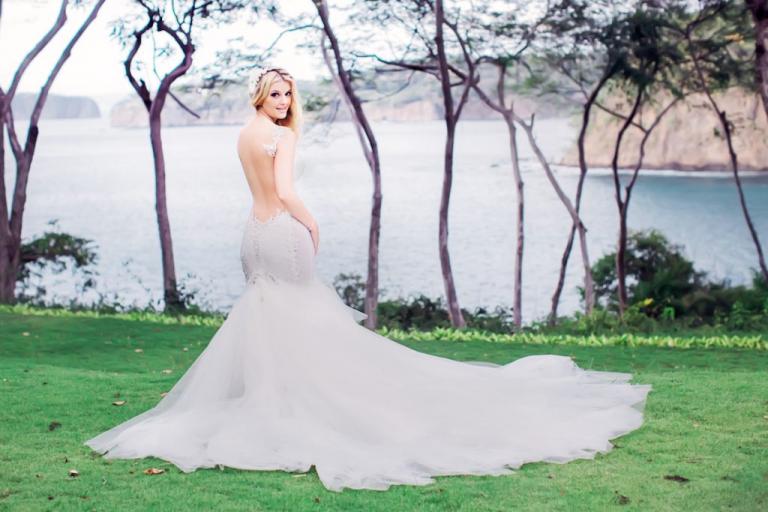 It was honestly meant to be. My now husband and I had recently moved from The Bay Area, CA to Dallas, TX when he proposed, and at the time I was working in the corporate office of a large luxury retailer. The day after he proposed I was checking Pinterest for dress inspiration and noticed that all of the dresses I liked were by Galia Lahav. I immediately called the bridal department to see if we carried the gowns and was disappointed to find out that we didn't.
About 5 minutes later I received a call back from bridal letting me know that although we did not currently carry the line, Galia Lahav was actually going to be coming in for a trunk show, in 2 days! I quickly made an appointment and knew within seconds of seeing the dress in person that I was saying, "Yes to the Dress". I had only been engaged for 5 days, and we had not even started to think about wedding plans yet, but I knew this was the dress I would be getting married in.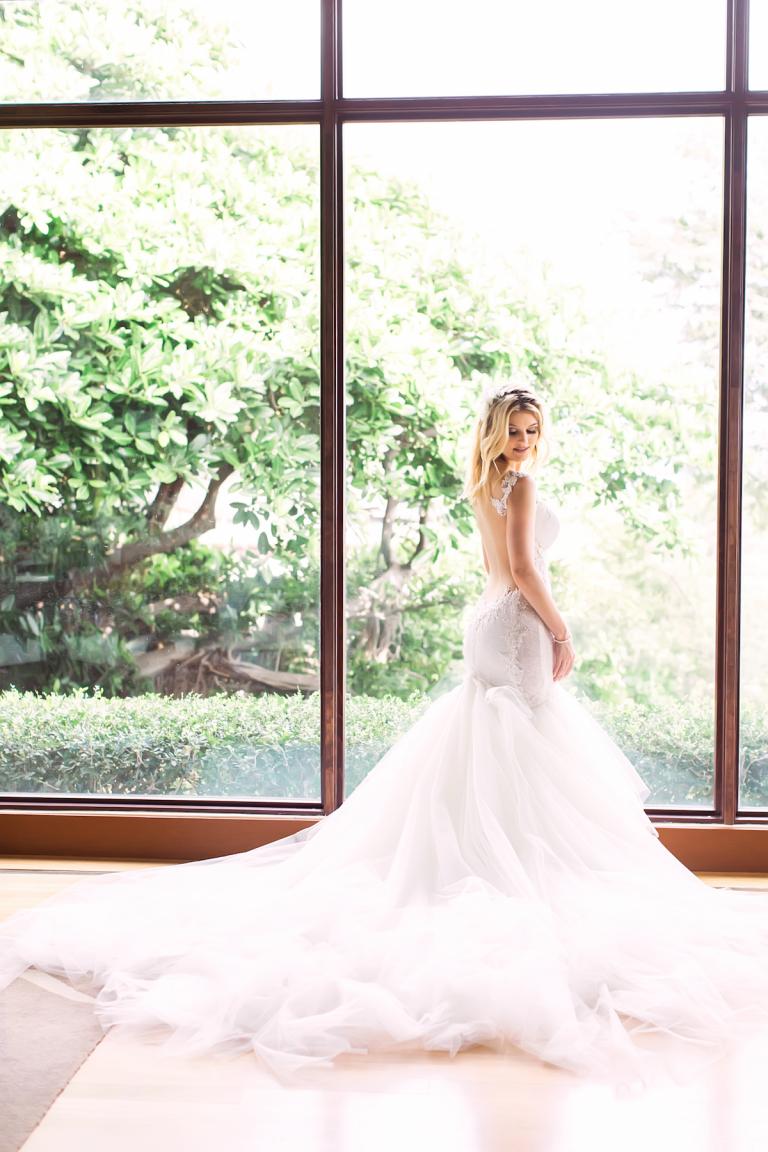 Jeff and I met in the late summer of 2012 at a country bar near San Francisco, CA. It was a mutual friend's birthday and by the end of the night my girlfriends (and later bridesmaids), had to practically beg me to leave, we couldn't stop talking, dancing and getting to know each other. He called me a few days later to go out for dinner and we have been inseparable ever since.
It was always important to me that our wedding was also a celebration of the love and support from our family and friends. I wanted to find a way to recognize the people in our lives that would be there for us throughout our marriage. We decided to have a smaller wedding in Costa Rica and make it intimate enough to enjoy every moment we had with our guests. Being able to remember the details of our wedding weekend and spend quality time with our guests meant so much to me and my husband.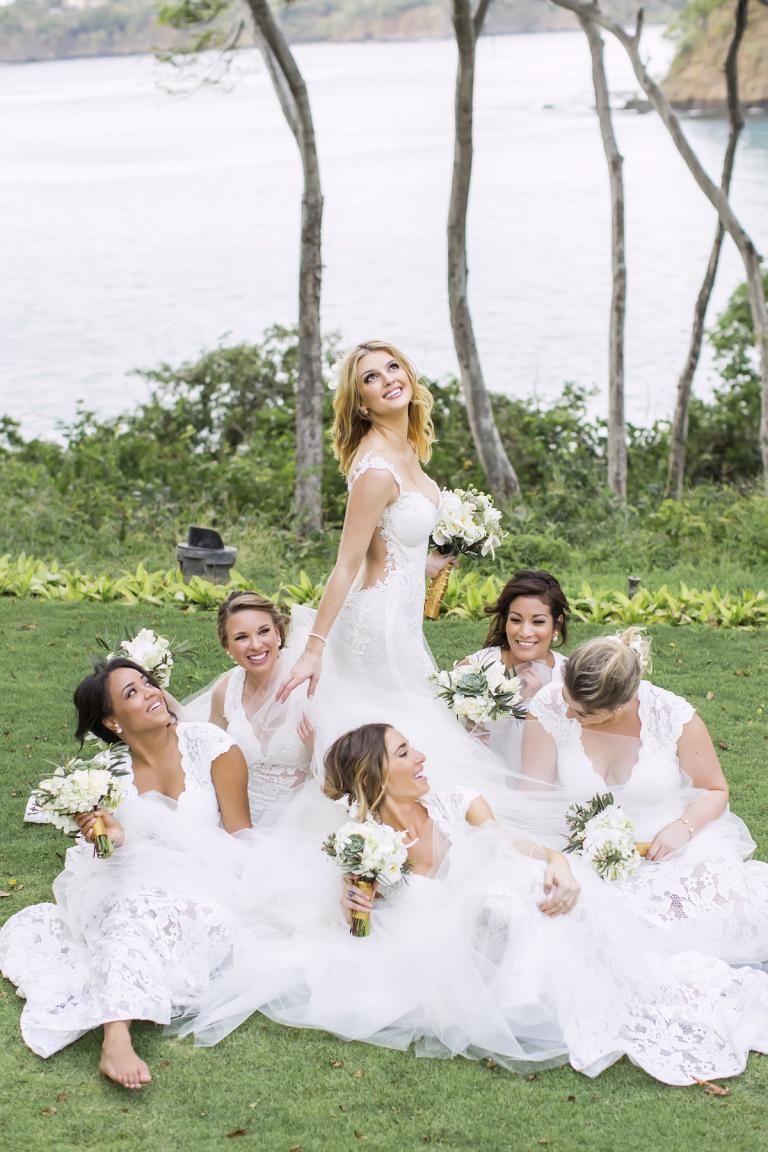 The entire week we were in Costa Rica for the festivities was amazing, but to know me and my family is to know that nothing will ever go as planned, for better or worse. There was a lot going on behind the scenes, and looking back, most of it was hilarious, but the one "surprise" that is the most memorable for me happened during the ceremony. My bridesmaids and I went barefoot down the aisle (walking with any type of shoes in the sand is difficult, let alone heels), and the resort staff had raked and smoothed out the area beforehand to prepare for the big event. As I was standing with my husband, saying our vows, I noticed that our best man and maid of honor were starting to get a little anxious and motioning to each other about something. Things seemed to calm down after a few minutes and we carried on as if nothing had happened.
It wasn't until later in the evening that they told me a crab had managed to crawl up the beach and had made its way under my dress! Knowing that I was barefoot they got a little nervous that the crab would have crawled across my foot and sent me running down the shore. Fortunately though, after a few panicked minutes they saw the crab make its way out the other side of my dress and the crisis was over. Never a dull moment!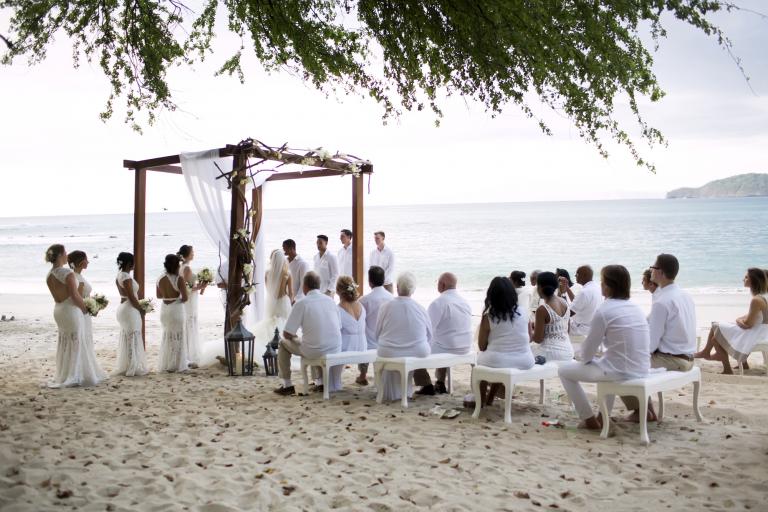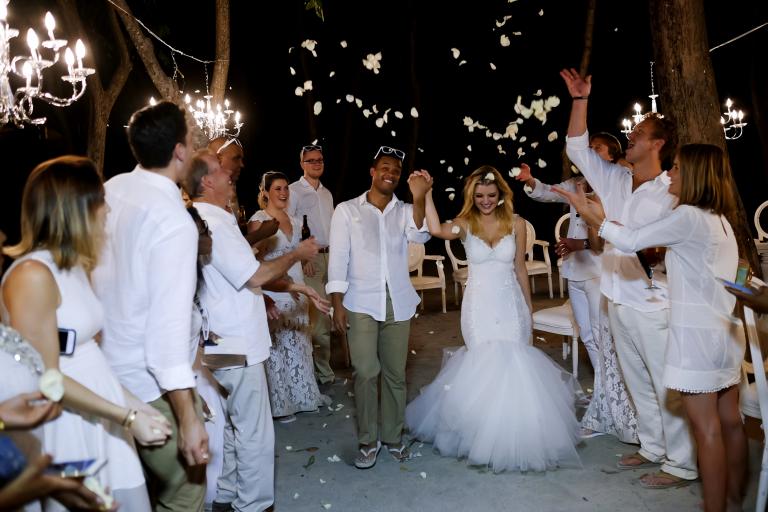 I wasn't exactly sure what to expect during the appointment and was a little nervous, but as soon as I met with Galia Lahav's team I knew that I was in great hands. Traveling all the way to Dallas, TX from Israel for the trunk show was probably exhausting, but their bubbly and upbeat personalities were a breath of fresh air. The experience of being meticulously sized for a gown made everything feel so unique and special. I was measured every inch over and after several calls to their Israel location to make sure every detail was accurate, the appointment was a success. Having such an amazing gown being created by hand to fit me perfectly is something I will never forget. Galia Lahav is a truly gifted one-of-a-kind designer. Thank you for making my day so special.
Finish your registration for {City} Trunk Show